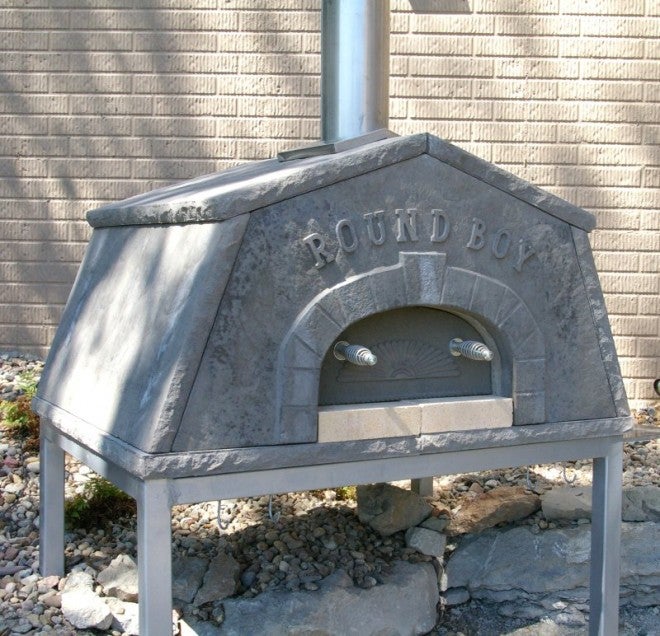 Installing an outdoor, wood- or coal-fired oven does not have to be expensive or a tough project, and it does increase your home value. Such an oven requires no gas or electricity to operate, and if insulated will hold cooking heat for 10 hours. Plus, with a little fire it can become a huge capacity smoker. In all, outdoor ovens are considered to be the most efficient option for extended cooking operations.
If ample wood supply is available, an outdoor oven can cook continuously for an indefinite period without maintenance other than ash removal, done while hot. Such an oven does not have to be wood — middle-eastern countries fire their ovens with dried camel dung (no, it does not make the bread taste like crap). Wood-fired ovens have top temperatures that reach 1000 degrees, and they hold in heat far after the fire has gone out (temps drop about 75 degrees per hour). With a door in place, a oven will still be a hot temperature of 400-500 degrees six hours after the fire is out, and still in 200-250 range another three hours later.
The Roundboy oven that I reviewed only cost $1850 as tested, and was quick two hours DIY setup with two people. The best part was that we were cooking pizzas in it that evening because we did not have to wait for mortar to dry.
About Roundboy
Roundboy was founded by two trade masons, brothers Karl and Harry, who have over five generations of mason experience in their family.
Over the years they specialized in building outdoor living spaces, including retaining walls, fire pits, outdoor fireplaces, and of course outdoor pizza ovens. Talking with Karl, he indicated that he had a large number of customers who wanted an inexpensive, flexible option for a DIY outdoor oven and were frustrated by the post-purchase finishing cost of those on the market. Karl and Harry knew they could come up with a better and easier option for an outdoor oven.
What the brothers now offer is a simple but effective kit where no part weighs more than 75 lbs and that can be assembled with only two people and no special tools or training. Currently, Roundboy offers a DIY internal oven core ($1395) for those that want to brick in their own oven, a complete oven kit ($1695) like the one I selected, and a complete oven kit plus steel stand ($1995), with an decorative upgraded stand option.
Fit, feel, and features
I stumbled on the Roundboy because it is the least expensive all-in-one wood fired oven kit I could find, and as a bonus is 100% US made. The Roundboy is designed to be so flexible that it can be stained, bricked, or disassembled & rebuilt at any point using just the oven base, core, and insulation — a perfect option for those who may move and want to take it with them.
Should you decide to disassemble the unit, you will just need pop a couple of adhesive points, lift the pieces, and shop vac out the loose fill insulation (the new versions have ceramic blankets), load it into a truck than can handle 1700 lbs, and reassemble where you want. It is far from a portable oven, but it is the only outdoor oven option that can be moved without a forklift after it has been assembled.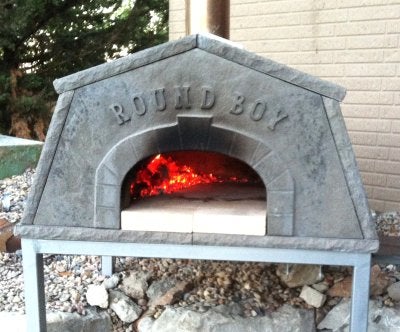 The oven is set up like most other outdoor ovens with an inner cooking chamber surrounded by insulation, covered with an outer shell. Both the inner chamber and outer shell of the Roundboy are made of refractory concrete to withstand high heat. The inner chamber should be so well insulated that the outside should be cool enough that you can leave your hand on the outside as the internal temp reaches 1000 degrees.
I chose the slate grey Roundboy Oven with the optional chimney cover and door, which put my oven just over $1850, as tested. The unit arrived via common carrier with pieces packed on pallet, two weeks after my order was processed. The entire oven went together exactly as detailed and sealed up perfectly.