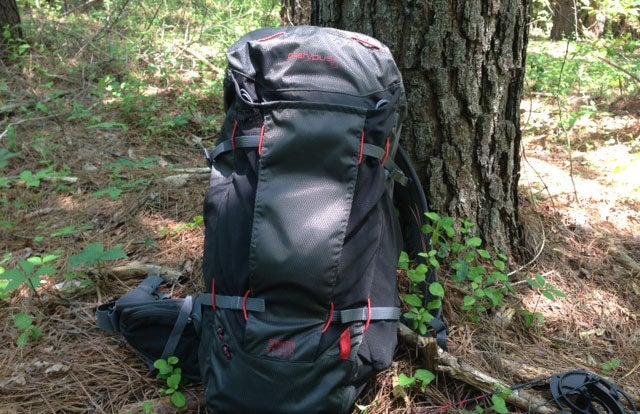 Platypus is extremely well known for their water bladders and bottles. I use and love their PlatyBottle and Big Zip SL, and now they've branched into a new market with their line of hydration packs that greatly vary in size. Given that Platypus's parent company, Cascade Designs, also owns quality brands like MSR, Thermarest, and Packtowl, it should be no surprise that Platypus's new packs are top-notch.
The Sprinter XT 35 is the largest in the company's pack line up. I got the M/L, which is the larger of the two available versions of the XT 35. The M/L has 2560 cubic inches of space, and its little brother, the S/M, has 2200 cubic inches.
The XT 35 has one main compartment with a top-load design and a zippered pocket in the lid. There is also a separate compartment that holds a 3L Big Zip SL water bladder. The pack has a built in suspension system to hold the bladder into place very nicely. What's great about these packs is they all come with either a 2L or 3L Big Zip SL. Within the water bladder compartment you can access a small pouch where the backing and aluminum stay are located; the stay is easily removed via this pouch. The packs weighs in 2 lbs 7 oz, and incorporates ripstop fabric and waterproof YKK zippers.
In addition to the large main compartment, the pack also boasts side elastic mesh pouches, a large center exterior pouch, and two cinching straps on either side. These 3 external compartments, with the 4 cinch straps and other attachment points, offer a plethora of options for attaching gear. The pack has some elastic straps for carrying poles, and a loop for an ice pick.
There are multiple options for running your hydration tube out of the pack, and the presence of some nicely incorporated clips keeps your drinking tube secure. There is an adjustable chest strap along with a waist belt, and the waist belt has a stash pocket on either side. Conveniently, you can stash the entire belt or just the pockets into the lower portion of the pack.
Now that we've gone over the features, I'll say that this is a super-comfortable pack. The placements of the pads allows for comfort without making you sweat too much. Similarly, the shoulder straps are very comfortable and vented. Overall, it's a very comfortable pack that can handle a load and still feel great on your back for a quick day trip or a few days on the trail.
The retail price of $159.95, which includes the pack and the 3L Big Zip SL hydration bladder, makes this a great deal for the money. The immense number of features, quality materials, and great design makes it a great pack that I love using even when I don't need the extra space. I can quickly fill it with some water and a few items, and cinch it down for light loads or cram it full of gear for a multiday trip.

SHOP NOW