Vanguard Endeavor spotting scopes
Phil White 07.17.13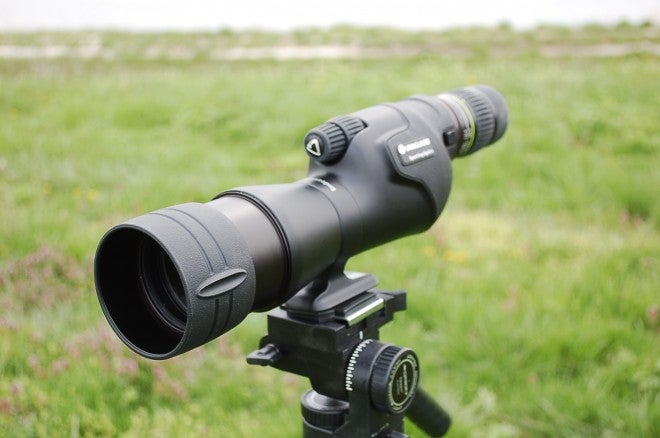 This is not my first opportunity to test a Vanguard product. I recently reviewed a set of Vanguard Spirit binoculars, so I was rather looking forward to working with these two spotting scopes.
Hunters need a quality optic in order to take full advantage of the area in which they hunt. In the midwest, a good set of binoculars is usually all that's needed. Out west the distances are usually a good deal farther and require a spotting scope with increased magnification. The clarity at distance that western hunters needs in an optic comes from the type of glass, coating of the glass, type of prism, magnification and general quality of the build.
(Of course, spotting scopes have more uses than hunting. The spotting scope is often used for bird watching, near Earth astronomy, ad spotting strikes on targets at the shooting range. The handicapped also use spotting scopes for bird watching by means of a car window mount.)
The scopes reviewed are the Vanguard Endeavor XF 60S and the Endeavor HD 65 S. The price points are approximately $350 and $700 respectively. Let me cover the common features of each, followed by the differences between the two scopes.
Both Vanguard scopes share the following features: 15~45 magnification, BaK-4 roof prisms, completely waterproof, shock resistant, center focus, and fully coated lenses. Both have an extendable sunshade. As far as extras, both come with a protective carry bag. The carry bag can be used when the sportsman carries the scope to a tree stand, for instance, or other location where operating the scope works well without a tripod or car window mount.
The Endeavor HD 65S has a 65 mm objective lens, while the XF 60S has a 60mm objective lens. The HD has a gross center focus wheel and a fine focus wheel. The XF uses a gross focus wheel only. I didn't find 60S's lack of fine focus a real handicap, but it certainly made focusing at 500 yard distances a bit more time consuming than on the 60S with its fine focus wheel.
The HD also has the ability to be used in digiscoping. Digiscoping is simply using a spotting scope as a telephoto lens. This can be accomplished with the Vanguard HD by removing the ocular lens. The HD uses a bayonet mount, much like those used in Nikon cameras. The user depresses a button on the left side and the lens is rotated until the line on the lens and line on the spotting scope body line up. The lens then comes off very easily. A camera adapter is mounted in place of the lens, then the camera is mounted to the adapter. Using the HD for photography is much more economical than buying a lens of the same magnification. We're comparing hundreds of dollars compared too many thousands of dollars for a high magnification telephoto camera lens.
HD Stats
Power:
15 ~ 45
Diameter of objectives:
60
Prism Type:
BaK4 Roof prism
Waterproof:
Yes
View Angle:
2.7° ~ 1.3°
Field of [email protected]:
47 ~ 23
Eye Relief:
19.0 ~ 20.0
Near focus(m):
≦5.00 ~ 6.00
Focus System:
Center focus
Lens coating:
Fully multi coated
Phase coating:
No
Dimensions (L x W):
350 x 182 mm
Weight (g):
1,280
XF Stats
Power:
15 ~ 45
Diameter of objectives:
65
Prism Type:
BaK4 prism
Waterproof:
Yes
View Angle:
2.7° ~ 1.3°
Field of [email protected]:
48 ~ 23
Eye Relief:
19.0 ~ 20.0
Near focus(m):
≦4.50 ~ 5.50
Focus System:
Center focus
Lens coating:
Fully multi coated
Phase coating:
No
Dimensions (L x W):
345 x 180 mm
Weight (g):
1,450
Over the time I've had both scopes they have been used for target spotting on the range as well as during turkey season. A Turkey usually moves as slow as molasses, so spotting one in the woods can be difficult. Both Vanguard scopes made spotting much easier because of the clarity and color differential.
I must say I've been leery of claims of optics being waterproof. So this time I tested it. I used a clear plastic container and left one of the spotting scopes in a foot of water overnight. Hey, nobody told me I couldn't! The next day, there was no sign of water inside the scope and all of the controls worked as they did before the soaking. I don't advise trying this at home, but in this case I needed to know. They are in fact waterproof.
Now which scope should you purchase HD or XF? That really depends on what you intend to use the spotting scope for and which features you value. If you want to consider photography, the obvious answer is the HD. The HD also has a larger objective lens, which provides more light and therefore makes it more suitable for dusk and dawn observing. The HD also has a wider field of view. Both have the same magnification, tripod mount, and accessories. Both scopes are also available in a straight configuration as well as an angled configuration. I found the angled models provide easier viewing than the straight models.
My conclusion after using both was in favor of the HD. I preferred the wider field of view, the ability to mount a camera, and the fine focus wheel. Another consideration is your budget. If you have a pretty tight budget then the XF might be your best choice. You certainly won't be choosing second best. So the choice is yours, but whichever you choose I'm sure you'll be pleased.
SHOP NOW