When hunting in wet weather, footwear is critical
Dr. John Woods 07.23.13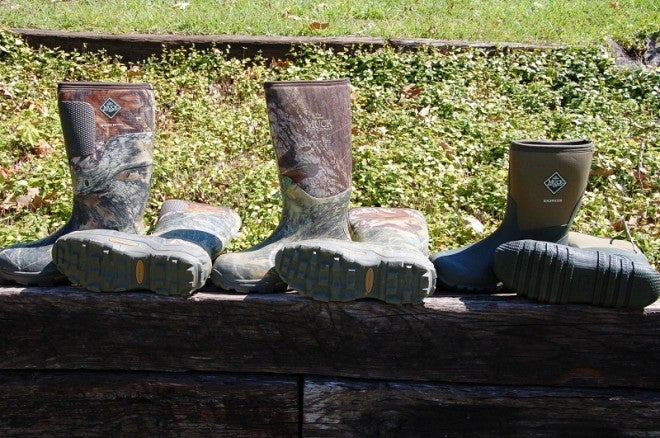 Some of my hunting "buddies" say I have a boot fetish. I say I am on a lifelong pilgrimage or conquest to find for once and for all the best boots for hunting wet conditions. After all these years, I think I may have finally just stepped into the right pair after all. But before I tell you about them, a quick note: this isn't so much a product review as it is me making the case that you shouldn't skimp when buying hunting boots. After I'm done making the case, then I'll tell you what to buy.
Footwear is critical for hunters
This footwear crusade of mine has taken me far and wide. When I moved to the Magnolia State I encountered a whole new set of terrain challenges. The next item on the barrier list was mud. Yeah, quicksand type stuff. It's dark, deep, stinking, foot-sucking mud. It will hang you up and jerk that boot right off the foot.
You have to have a good boot to stand up to this goo. And oddly enough, after a season of trudging through this junk, boot leather takes on a sort of iridescent blue color. Furthermore, I have now had two pairs of a top nationally known hunting boot brands have the soles actually rot off and disintegrate into clumps of fake rubber tarballs after two seasons in the goo. I have no idea what that is all about?
As you get older a lot of things change in the physical make up. My feet have spread out. All that gravity and weight pushing down on them, I guess. The odd part is that one foot is now at least a half size wider than the other, so I have had to go up a full size to a 12 to get a good fit and wear thicker socks.
These points are to the fact of how critical proper hunting boot fit has to be no matter the style or type you buy. A too tight boot will constrict the blood vessels and likely result in even colder feet. Toes have to have ample wiggle room to be comfortable and "breathe". If not, they sweat, and again get colder.
Boots fitting too loose can quickly cause blisters through rubbing. You have not lived until you have a goose egg sized blister on the ball or heel of your foot. I've had huge blisters in both locations while on western hunts, and they can quickly ruin a good time. In these cases, I always take along a foot care and blister kit.
So, when buying boots, get as perfect a fit as possible. A little bigger is better than too small. Boots that are a little big can be fixed to some degree with socks, which I'll cover in another treatise as a critical foundation element to proper foot gear wear.
I am not much on plugging brands, but sometimes they deserve it. I have used the generic term "muck boots" for forty years to describe any footwear subjected to extremely muddy conditions. When out hunting, we always said let's "muck our way across this field" or whatever.
My first "mucking" boots were rubber type LaCrosse ® pull on-boots. I use the term "pull-on" with tongue in cheek. Mine are the tight ankle fitting boots that do give good ankle support, but nearly give me cardiac arrest every time I try to get them on.
Muck boots
But then came along the real Muck Boots from The Original Muck Boot Company, started in Texas in 1999. If you haven't heard of the The Original Muck Boot Company, just Google them and check out all the five-star reviews their boots get. I recently became a muck boot convert, and while they're definitely pricey, they're worth every penny.
The muck boots slip on and off with no angina, and one size larger is perfect with some thick wool socks. I'm so sold on them I just got a second pair made for deer hunting with an aggressive tread sole to really grip in mud.
Often overlooked or dismissed with too little attention, a pair of boots can make or break a good hunt. They have to fit right, repel moisture and leaks, and wear season after season tough as nails. Shop long and hard for good boots, and don't buy the cheap ones. They may have to get you home in the dark after a long day's hunt in the cold, wind blown wet and high winter humidity while up to your knees in muck. In that case get the real thing, buy some Muck Boots.

SHOP NOW