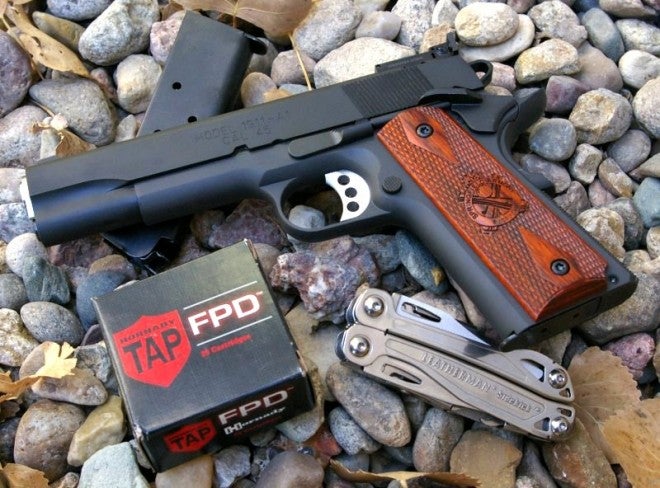 The venerable 1911 has become an icon since its introduction in the year 1911. An icon of American firearm ingenuity, it also stands for heritage, a bit of complexity, and accuracy. Those who carry a 1911 are presumed to have a deep experience with firearms. With this in mind, the "Range Officer" is a great name to represent Springfield Armory's affordably priced, high toleranced 1911.
About Springfield Armory
Springfield's history dates back to 1777 when George Washington founded Springfield to store revolutionary ammunition and gun carriages. Today the company is known also for leading-edge innovation brought to market in the XD and XD (M) models, while pushing quality on its historically significant firearms.
Fit, finish, feel, and features
As my FFL dealer turned around to present me with my Range Officer, I was pleasantly greeted with a heavy-duty, custom, Pelican-style gun case. The hard case is not water tight like a Pelican case, but it's of the same beefy construction.
Opening the TSA approved dual lockable case was like a spy's Christmas, and inside was a well organized Range Officer, two magazines, cleaning brush, Israeli made "11 Gear" holster and double mag pouch, and manuals. The case has additional precuts that can be removed to accommodate a third magazine and square spot for a box of ammo or cleaning supplies.
This is a case you will continue to use and use for the life of the firearm, and it is hands down the best included case and of any included case I have ever tested. This is the level of quality case every premium manufacturer should strive to include with a firearm.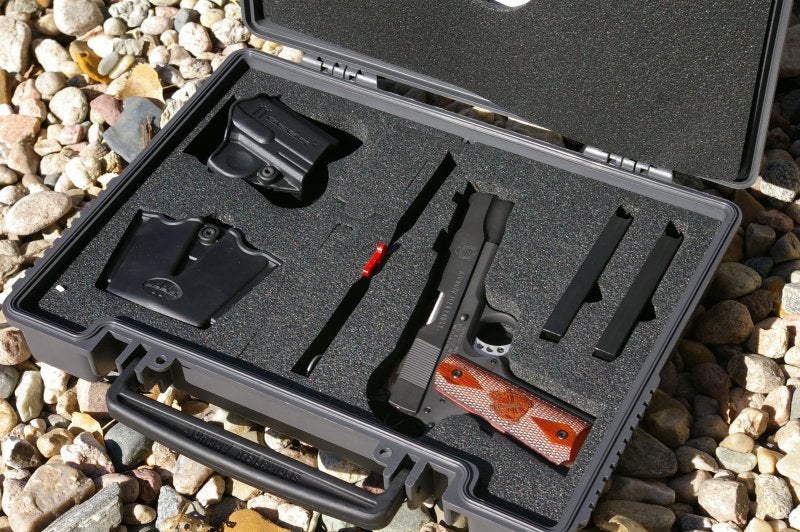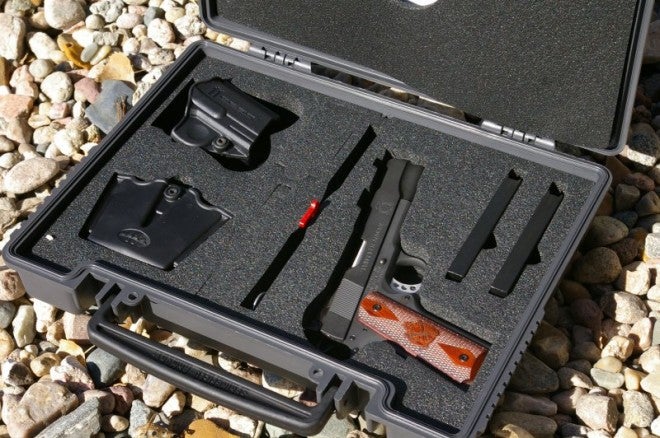 Once I finished oohing and ahhing over the case, I lifted up the Range Officer and was greeted with a familiar feel of a quality made 1911. The point of this 1911 is not to be super refined, fully radiused, and completely loaded with all the extras; instead it focuses on delivering a high toleranced 1911 with all the base upgrades required for real competition.
When you buy a 1911 as a potential customization platform, you want to assure you start with a tight, smooth slide to frame fit or the gunsmith will need to weld and remill the receiver for that custom tight fit. This work is completely unneeded on the Range Officer, as are other typical part upgrades that add to gunsmith costs, such as fitting and tuning the beavertail safety, and tuning the feed ramp and throat. The gun sports upgrades like an oversized thumb safety, fully adjustable match sights, match trigger, ejection port relief, lightened bobbed hammer, backstrap checkering, and fitted match barrel and bushing, all built on a 4140 steel milled frame.
Your 1911 gunsmith may still do a little tuning to those areas, but he will not be starting from zero. With the Springfield Range Officer you are starting out right with all the base components fitted tightly as you would find on Springfield TRP or Trophy Match 1911 pistols, but without the external de-honing (removing the sharper edges), extra trigger tuning, magwell funnel, and surface finishing. Unlike many 1911s that really need to have a number of upgrades to be competition ready, the Range Officer is already there. Pull it from the case, load ammo, slip on the holster and start competing; it is all right there in the box.
The plusses are that with the exception of potentially adding a Smith & Alexander magwell funnel and a set of cool VZ grips, it has every feature I would ever want on a target match grade 1911. Springfield definitely put all the cost into the "functional" upgrades and skipped pretty finish and radiusing treatments that make a great 1911 "beautiful" but expensive as well.
Now, let's discuss what the Springfield Range Officer is not. I would never carry this gun defensively, as I think it is too tight and with the right little particle of grit in the wrong place it might cause a malfunction, where a loose, rattley 1911 would keep banging rounds down range. Yes, the Range Officer fit is that tight.
The Range Officer is also a gun with all the love on the inside, as there are more sharp edges on the outside of this thing than bucket of broken glass. The raw parts are precision fit to the gun and then left as is, no radiusing, no dehorning, and no contouring. In some spots the edges are pretty raw. That though is a good thing because it gives the custom 1911 gunsmith wizard of your choice a ton of extra metal to work with to blend this part with that part without you having to buy another unfinished part to be fitted just to give them enough material to work with. So in this case, sharp edges are a good thing.
With the exception of the pivot of the thumb safety digging into my thumb's knuckle a little, I noticed none of those sharp edges while shooting. After a year or so of getting the gun broken in and discovering what you want from the pistol, hand it over to a company like Cylinder and Slide out in Nebraska for an internals polishing, tuning, and external dehorning.
What I like about the Range Officer best is that it is the high tolerance fit, super accurate, $979, buy it, and beat it, scratch it, drop it, and abuse it 1911 we have all asked for. We have all been around the guy that has the $2000+ 1911, but is terrified to ever shoot the damn thing for fear a scratch may appear. You will never worry about that with the finish and price of the Range Officer. From a fit, finish, and feel perspective the Range officer is everything it should be and skips the surface finishing that would greatly increase the price.
Function
The Range Officer is a grins and giggles base for further customization, however it is not a defensive carry gun from my perspective. Instead it is designed to function as a target, hunting, range, and competition gun where the rare but occasional bobble is happily traded for excellent accuracy. This is not only OK, it is exactly the reason people will buy this pistol. Unreliable? Far from it, however it is not a chew and spit out anything combat pistol. It has the same occasional picky nature than any tight match grade 1911 will deliver. I experienced only one bobble with some of the reloaded ammo at the tail end of testing; not sure if this was ammo or due to the grime buildup from testing.
Springfield Range Officer accuracy
Springfield considers 3.5″ groups at 25-yards acceptable for the Range Officer, however between the two Range Officers my FFL dealer and I have, both shoot considerably better than this with quality ammo. This 1911 has delivered solid 2″ 25-yard groups with good quality ammo and single ragged hole groups at shorter defensive distances.
The adjustable rear sight allows you can quickly re-zero; you cannot do this with a set of fixed sights. The very tight and smooth fit assures consistency of shot to shot accuracy.
For my testing, I used Winchester 230GR FMJ White Box, Hornady 230GR Steel Match, Hornady 45 Auto+P 230GR HP XTP TAP FPD and 185GR Hornady Z-Max ammo. My local FFL Dealer has had very good luck with his recipe of cast and sized 230GR lead reloads and provided me with 50 rounds to test as well.
The Hornady TAP performed the best for me delivering 1.66″ 25-yard groups, although was a pretty snappy as a +P .45ACP round. The rest of the rounds also performed well, holding at or under 2″ with 5-shot 25-yard groups. Surprisingly, the hand loaded 230GR rounds case from a Lee Tumble Lube 2 Ogive Radius mold delivered me a 1.8″ 25-yard group and consistently produced groups around 2″ at 25-yards. I will indeed be happy if I can manage to recreate that handload recipe for range plinking and practice.
Final thoughts
If you are looking for a super tight, competition 1911 for under $1000 as a base for with further customization, this is the best deal going. If you just want a competition ready kit and/or durable high precision 1911 that can you beat and not worry about the finish, this is also your gun. The Range Officer is not a carry gun, but it is the best deal you will find in 1911s all from one of the oldest and most respected 1911 manufacturers.
Specs
Caliber: .45ACP
Barrel: 5″ Stainless Steel
Sights: Low Profile Adjustable Target
Trigger: Long, Lightweight Speed, 5 – 7 lbs.
Magazines: 2 – 7 Round, Blued
Grips: Cocobolo
Weight w/Empty Magazine: 40 ozs.
Frame: Forged Steel
Recoil System: Standard Guide Rod
Height: 5.5″
Length: 8.5″
$979 Retail
$950 Street