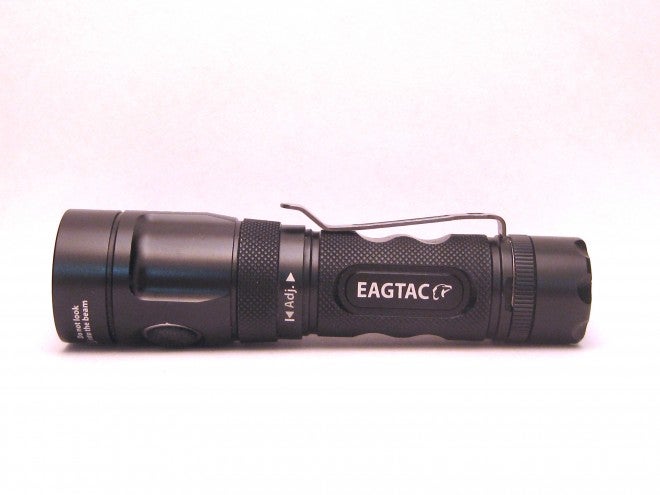 A few months ago there was a series of YouTube videos and responses regarding the One Knife to Rule Them All.  It was a thought experiment with this amazing hook: if you knew you'd only ever have one knife for the rest of your life what would it be?  This hook pushed ruggedness and versatility to the top list of desirable features.  It also highlighted the fact that an EDC knife, while convenient and practical, might not be the thing to get you through until you meet your maker.
The EagleTac TX25C2 might be the flashlight answer to that question.  It is incredibly rugged, versatile, and very powerful.  It also happens to be pretty compact for what it is.  Blending those four traits together with a brilliantly simple UI definitely throws the TX25C2 into the conversation of "lifetime lights."
Description
The EagleTac TX25C2 is a 1×18650 or 2xCR123a light, meaning that it can run on a high capacity, high voltage rechargeable, or commonly available primary cells.  It costs around $85 and there is an accessory kit with a lens cover and body tube extender.  It runs the latests XML2 emitter and has a cool and neutral set up.  Its max output is a staggering 1180 lumens (though this is not a sustainable number, as the light drops down to 940 lumens after 200 seconds of runtime).  That output is currently the best available in the 1×18650 format.  There are three easily accessible outputs and a bevy of auxiliary modes that are hidden.  It is roughly the size of a very small 2xCR123a or 1×18650 light (it is the second  smallest I have reviewed, being just over a half inch taller than the Zebralight SC600 Mk. II).
The TX25C2 is considerably smaller than the Surefire 6P or its modern equivalents the G2X Pro and the 6PX.  It is a side switch light, which allows it to tailstand very easily and gives you multiple grip options.  The pocket clip has a washer style attachment, and slides over the body tube and into one of four grooves.  A threaded ring screws down on to the clip holding it in place, and the tailcap screws down onto the threaded ring to hold it in place.  The clip is very secure but still can be removed without tools.  The head is a deep reflector allowing for true long throw, and is slightly larger in diameter than the body tube itself.  There is a lanyard attachment point on the tailcap and there are shallow scallops and knurling on the body tube for grip.
Testing
In addition to being my nightstand light for over three months, I carried the TX25C2 in my pocket for a week or two and in a pack on my vacation this year.  It sounds dismissive to call something a "nightstand light", but the nightstand test is actually a very good way to figure out how well a light works.  I wrote about this at length here, but the summary is simple–as a nightstand light you get to see how well a light's low works (on trips to the john or downstairs for a midnight snack), how well its UI works when you are disoriented and it is dark, and how well it throws (when you are checking bumps in the night outside your window).  It is not rigorous, but the nightstand test is pretty representative of tasks you use a light for on a regular basis.  As a pocket light, it did quite well and was enormously fun to play with–nothing like lighting up a store a half mile away while taking out the garbage.  In my pack it did equally well, playing nicely with others and holding almost all of its juice.
Design
The overall design of the TX25C2 is pretty standard, but there are a few smaller touches that only a flashaholic would notice right away that really do make this light much, much better than the competition.  I have come to appreciate the side switch configuration a great deal.  Not only does it allow for excellent tailstanding, it also affords more grips than a traditional tailcap clicky.
One concern I had going in was that the side switch placement would allow for easy accidental activation, but in over three months that never happened once.  It is a combination of a slightly stiff clicky and an ever so small indentation.
The design of the pocket clip is actually quite clever and has slowly crept up my list of awesome flashlight pocket clips until it now occupies the top slot.
The ability to take both the 1×18650 and 2xCR123a batteries without a holster or sleeve is also a great design feature.
The UI bears special mention, in part because flashlight UIs are usually so terrible.  The light turns on with a side switch, as mentioned above.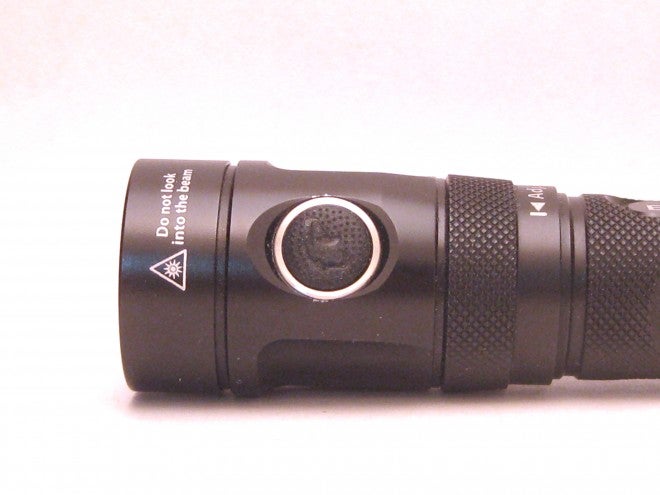 To change modes you turn the head to the right.  Tightened all the way will produce the blinding high, a quarter turn to the right will produce the still very good medium, and another quarter turn (or a full half turn from the tightened position) will produce the nice moonlight low.  This UI has several benefits.  First, it is easy to use.  You can explain it to someone in two seconds.  Second, it allows direct access to any mode from the off position.  Third, because you can leave the light in any one of the three modes, the UI has something like a built in mode memory.  Overall, I found this to be a very good UI, especially for a clicky. No Morse code necessary, no overtaxed, single-button, does-everything UI.
Implementation
Fit and finish on the TX25C2 is quite good.  Anodizing is even and smooth.  The emitter is well centered, the threads are nicely cut and things screw together easily.  The threads are very stout Acme threads.  Even with the head loosened to the low position I could detect no wobbling or slop in the body tube.
The pocket clip is quite good, with plenty of tension and a low snag shape and finish.
The clicky is a bit stiff, but that seems to help with accidental activation, as this side switch is not as sunken as those found on Zebralight flashlights.
The light is significantly larger and heavier than a single cell EDC light, especially the very small lights out now, like the Lumapower Incendio, the Zebralight SC52, and the Sunwayman M11R.  Compared to less ultracompact lights, like the HDS Rotary or the McGizmo Haiku, the TX25C2 actually stacks up quite well.  If you compare its size to other 18650, is is substantially smaller, bested only by the Zebralight SC600 Mk. II.  This is all a long way of saying that despite the battery format, this is still a light you can EDC with relative ease.
The beam itself is very clean even without an orange peel reflector (which limits throw and was not used here for that reason).  It produces a nice hotspot with sufficient spill, especially on low.  On high, the output is so great that in overwhelms your eyes even for medium range work.  The head's deep reflector allows for much better throw than many single cell lights.  It works quite well at illuminating things far, far away.  I have a stop sign about a half mile from my house that I can easily light up with the medium output.  On high it glows like it is on fire.
Function
There is very little this light does poorly.  The runtimes are all very good (though being honest and looking at ANSI lumens after 200 seconds gives you a better idea of a realistic high, which is still an impressive 746 lumens for 1.8 hours).  The low is a little brighter than I like for a low low at 8 lumens, but it runs for a very long time (150 hours).  There are all sorts of hidden modes, but mostly I am just glad that they are hidden and can't be stumbled into.  I know some folks like strobe and SOS, but just give me a light that turns on and stays on every time I push the button.
I am absolutely in love with this light's pocket clip.  It might be the best available anywhere, and it even gives my McGizmo Haiku a run for its money.  You can legitimately run this light as an EDC light as it is quite small.  Here is a comparison between it and a standard Zippo: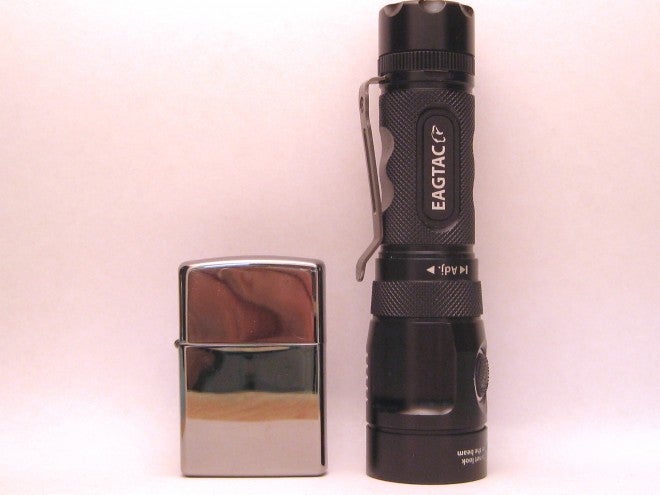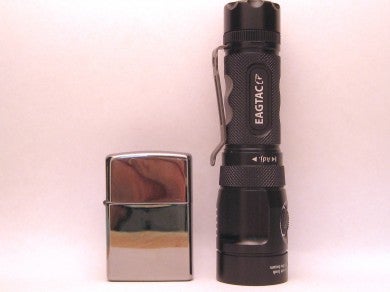 I will be the first to admit that you don't need 1180 lumens, but boy are they fun.  On vacation I went home to my parent's house.  It abuts a large field that is part of a wildlife preserve.  A quick pulse of light revealed a host of luminescent creature eyes.  I could light up treetops three or four football fields away.  And yet, it still works as a light that gets you to and from the bathroom without waking up the family.
Conclusion
Because of its size and output, the TX25C2 should be in the discussion for anyone looking for a high output pocket light.  I have used the main competitor, the Zebralight SC600 Mk. II and I like the TX25C2 better.  The Morse-code single button UI on the Zebralight is good for what it is, but it is still a flawed design.  This UI is superior.
Less than 12 months ago this level of output was only found in much large lights.  The UI is excellent and will make this a worthy photon cannon long after the lumens cease to impress.  Given the highs, the lows, the battery versatility, the size, the side switch, and the UI, I'd be happy with a TX25C2 as my go to light for a very, very long time.  Is it the one light to rule them all?  No good flashaholic will answer that question.
SHOP NOW