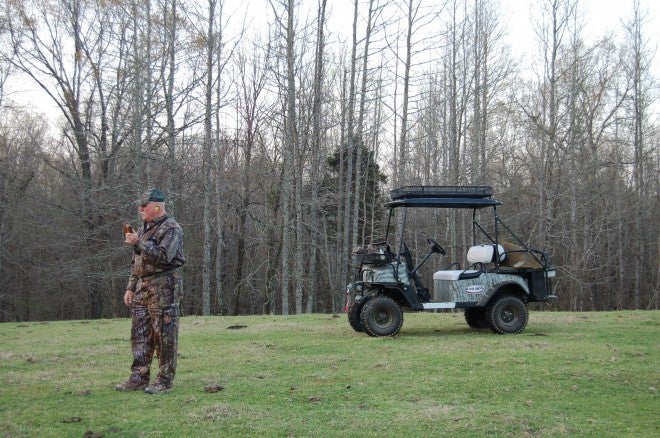 Never let it be said that hunters refused to go green. As far as I can tell, hunters are about as green as they come. Now with growing adaptation of electric battery powered Utility Terrain Vehicles (UTVs) in the hunting fields, a whole new mode of transportation has arrived on the hunting scene.
The first UTVs were adapted by creative hunters that took regular golf carts and modified them for field use. Some were decked out with gun racks, camouflage tape or paint, mud tires, and gear boxes. These evolutions lead to the inevitable development of full bore production UTVs designed specifically with hunters in mind.
Shortly after seeing a few golf cart distributors custom fitting their stock models to attract hunters, now factories are dedicated to putting out fully equipped versions with all the features, accessories, and options that hunters want. There must be at least a dozen electric carts for hunters on the market now. Names like Bad Boy Buggy, Stealth Vehicles, HuntVe, Sniper Hunting Buggy, and the Silent Beast are all being marketed now.
Right here in Mississippi is a manufacturer of one of the finest ground-up engineered electric hunting vehicles in the country. Bad Boy Buggies located in Natchez are currently making four versions of their buggy. By name these are the XT with more power, the Classic which is their product standard model with 4 wheel drive, the LT which is a two wheel drive model, and finally the Stretch which is a longer version with two full forward facing seats.
The Bad Boy Buggies can be dressed out with a lot options that make them even more attractive and useful to hunters. These might include seat upgrades, mirrors, front windshield, gear boxes, gun racks, roof racks, special wheels and tires, and other accessories. Local dealers and more information on Bad Boy Buggies can be found on their website.
Quiet. What else you want me to say? I have only hunted from an electric UTV twice, but others tell me you can ride right up to game and they have no clue of your approach until you stop and step out. Electric utility vehicles ride smooth and nearly silent. There is a bit of a whine as the motor accelerates up to speed, but it is nothing compared to a gas powered ATV.
The newer units have plenty of power and offer four-wheel drive for work in deep mud and surface water. It's tough to get one of these rigs stuck, but if you travel in some really nasty places, I'd sure recommend heavy duty mud tires and a winch. Drive time has extended, as well, with one full charge lasting all day with regular use. An overnight charge puts the power meter back at full and ready to go.
To be completely honest here, I have never owned one of these electric battery powered UTVs. I have hunted with them and driven several on test courses and such. They handle pretty well, but are big, heavy units. They are not nimble enough to go ripping through a hardwood forest in my opinion. Basically these are road vehicles or for more open areas like pastures, green fields, and cleared backwoods trails.
From everything I can tell and from information I have gleaned from actual owners, the only real downside to owning one of these units is when the rechargeable batteries finally wear out and have to be replaced. These are big, expensive batteries that can cost several thousand dollars to replace. I am not sure of the average longevity of the batteries on UTV units, but it could be that if they run fine for several years, this could very well be a reasonable expectation. This is something I would discuss with the dealer before buying one.
Electric hunting vehicles are gaining in sales every year. They are not cheap investments, but they do deliver a value for the dollar spent. Their advantages seem to outweigh the downsides. If you want the type of hunting vehicle that behaves more like a truck in terms of steering and handling, passenger capacity, and gear carrying ability, but with a near silent approach, then the electric utility terrain vehicle is for you. Check them out at local dealers.