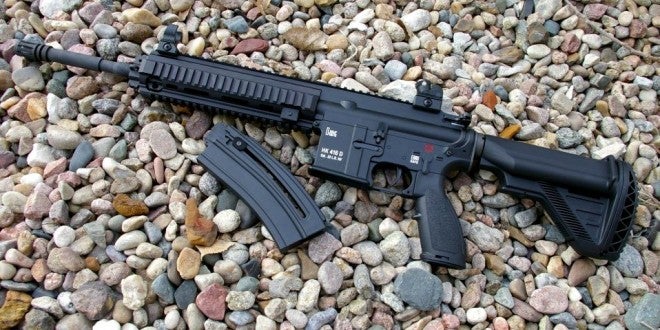 Many of us have dreamed of owning a H&K 416, but given the gun's price tag of $2800, it's only a dream. Heckler and Koch heard these concerns and has joined forces with Umarex USA to deliver an HK branded/licensed .22LR replica of the HK 416 D145RS as well as MP5 A5, MP5 SD, and 416 Pistol. It adds up to a whole lot of fun at MSRP prices ranging from $475-559.
Umarex USA is the same team that designed and developed the Colt licensed line of .22LR M16 and M4 models. If you are familiar with the much touted quality of those .22LR rifles, then it will come as little surprise that the internals, AR style magazine, barrels, and accuracy have been duplicated in the HK 416 D145RS. If you already own a Colt Umarex .22LR, then you can share the magazines with this model as well.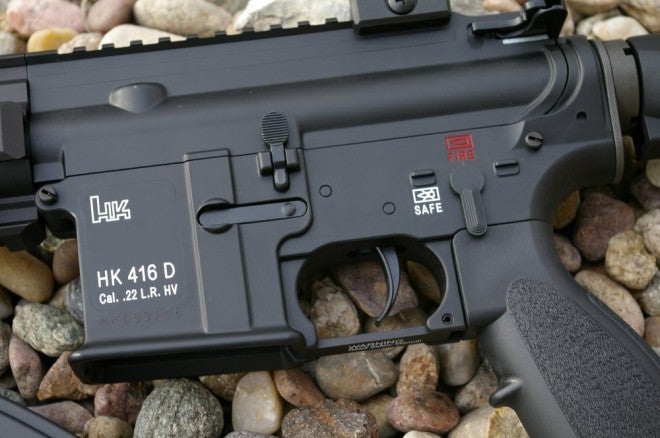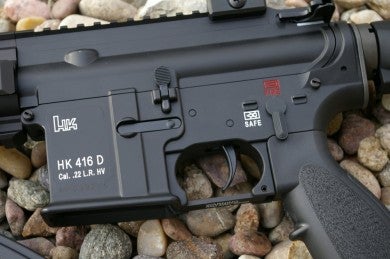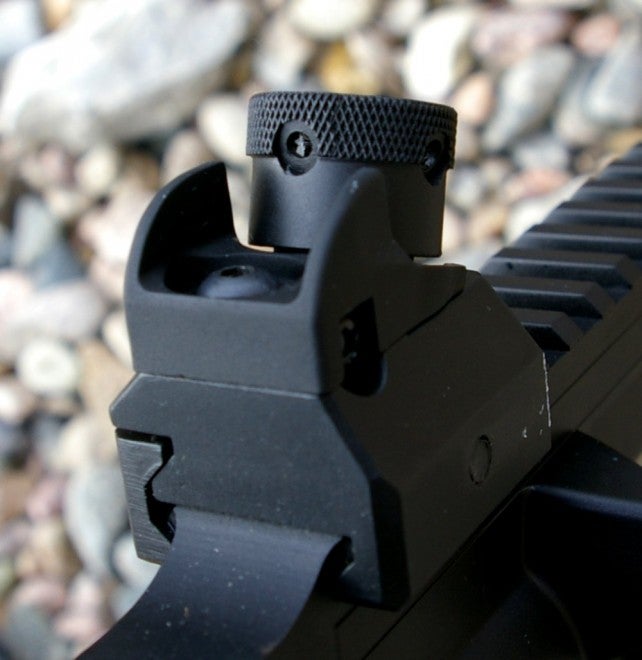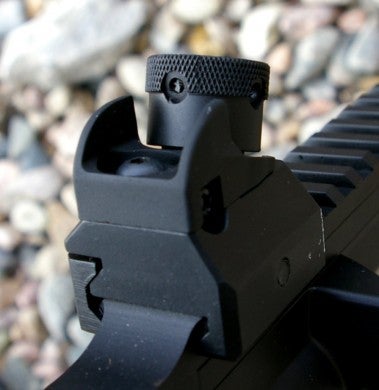 Fit, finish, & feel
Unfortunately many times .22LR reproductions fall short in providing the finish, feel and fit of the originals, but the HK416 D145RS is a very solid, well-built gun with excellent fit throughout. With the exception of the sights, pretty much everything on the gun that can be made of metal is. The two cost-reducing details that bothered me were, a) the aluminum non-captured front and rear take-down pins, which are quality parts but could be lost more easily, and b) the plastic/metal sights.
The finish is high grade anodizing, but H&K does not specify what Type (I, II, or III) and the upper and lower are an unspecified type of aluminum. My assumption is that it would be tough to hit this price point with a 7075 Type III anodized receiver set when a lesser expensive aluminum and finish would work perfectly in this situation. At 6.75lbs, the .22LR H&K 416 is lighter than the 8.9lbs of the original 5.56 version, but there is enough heft to make it feel real vs the 4-5lb uncharacteristically light .22LR ARs many have on the market. Most of my basic ARs hover around the 7lb mark naked, so training with the HK 416 will provide a similar weight feel to a standard AR. Having a gun feel right from a weight and ergonomics perspective is the right step forward for realism and training.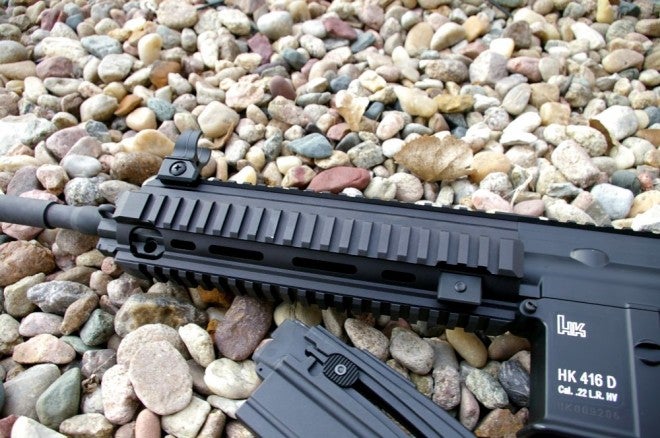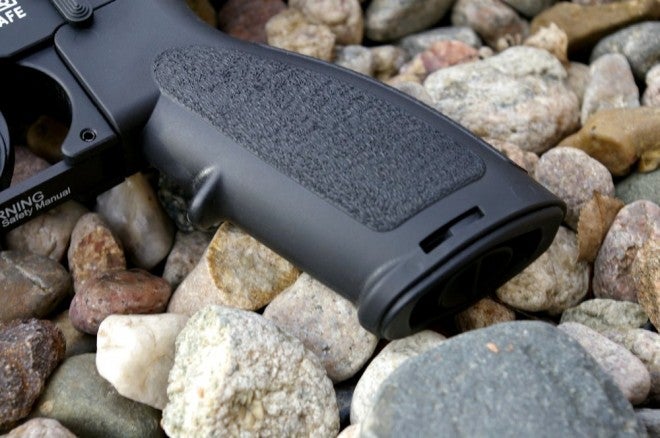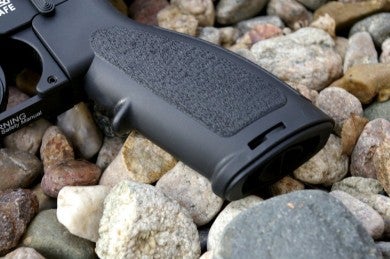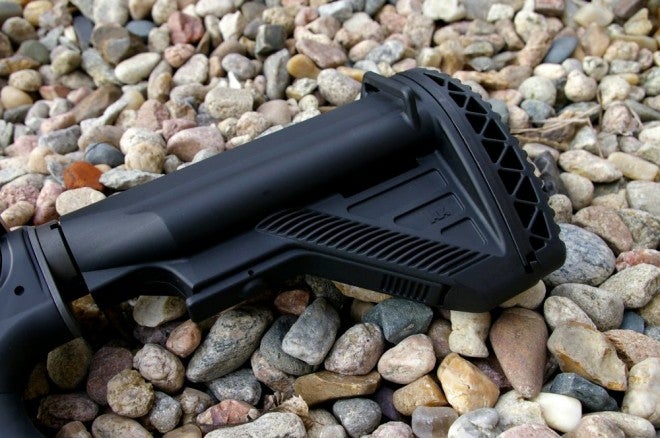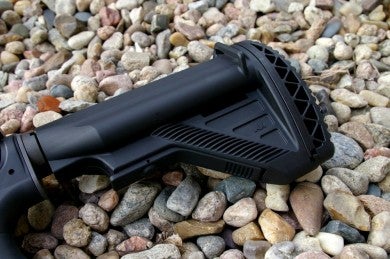 Features
From an appearance perspective, the .22LR HK 416 is a dead ringer for the real deal, and it's pretty close functionally as well. Not to dash your hopes of bolting on an HK416 upper onto your existing AR15 lower, but the Umarex HK 416 has proprietary internals and functions different than an AR. The upper and lower receivers have been specifically designed to assure non-compatibility with standard AR receivers and trigger parts.
Umarex's intent was to deliver a highly reliable .22LR version of the HK 416. From my understanding the stocks and grips can be swapped with any standard AR compatible parts, but the upper and lower internals are proprietary. On the outside the trigger feels like a really nice AR trigger, but it's drastically different internally than any standard AR, and same goes for the bolt assembly.
Part of the internals redesign was to reduce cleaning after firing those very dirty little .22LR rounds. To do this Umarex developed semi-sealed lower and upper internals on the receivers for less maintenance. The other two goals were to maximize accuracy and reliability, which they did with a proprietary bolt design and spring that can be adjusted and tuned for more or less spring tension via a hex wrench. This maximizes reliability with faster or slower .22 rounds. To test this, I used Remington sub-sonic ammo, which historically has not functioned well in my semi-autos; I still enjoyed more neighbor friendly shooting and perfect reliability after I reduced the recoil spring tension. For most ammo, you will never have to tune the spring, but it's a great feature to be able to tune the reliability for hot or cooler velocity rounds.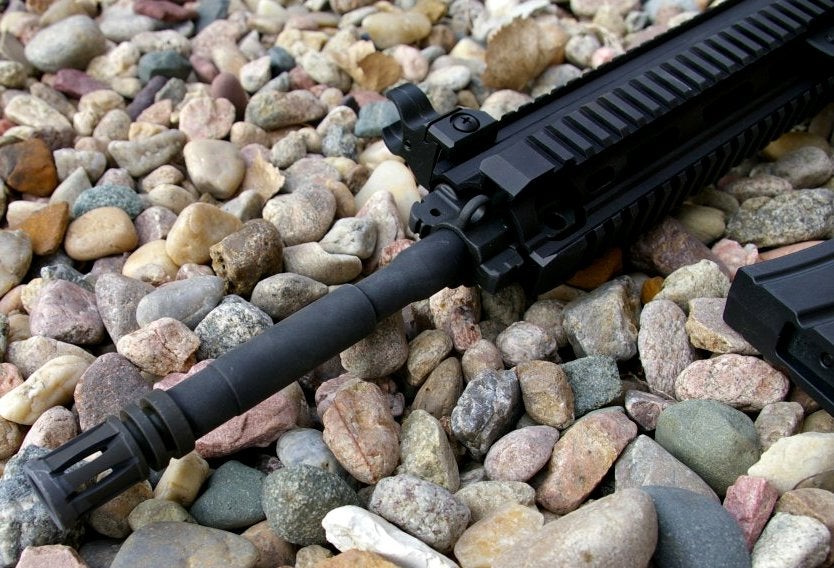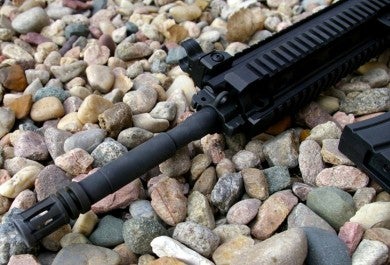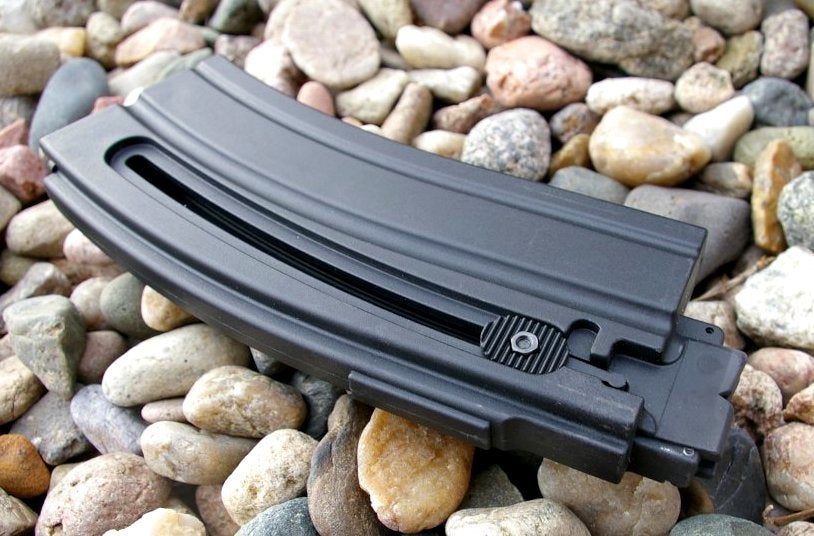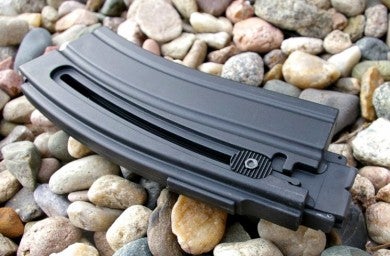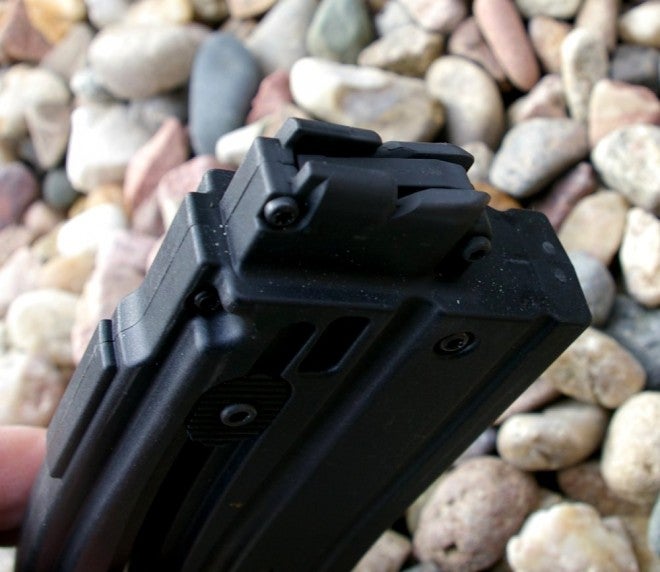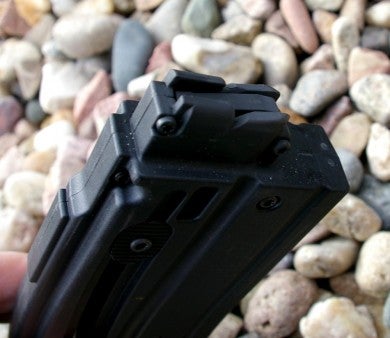 Other features that are mirrored from the real HK 416 are swivels, stock and grip with storage compartments, a quad rail, integrated sling mounts, and top rail laser T-markings from the raised height upper receiver to the matching quad rail. As the upper receiver and machined quad rail are raised, the shorter windage and elevation adjustable plastic and metal front and rear Diopter sights are actually the same height as your standard AR fixed sights. As I recall the real H&K 416 has yellow markings on the Diopter rear sight, but the .22LR version does not. Although the sights were outstanding, 25 yard groups were 1.5" low with all ammo even after maxing out the sight adjustment. This was an easy fix with a few strokes of a file to shorten the stamped steel front sight insert to bring it into zero.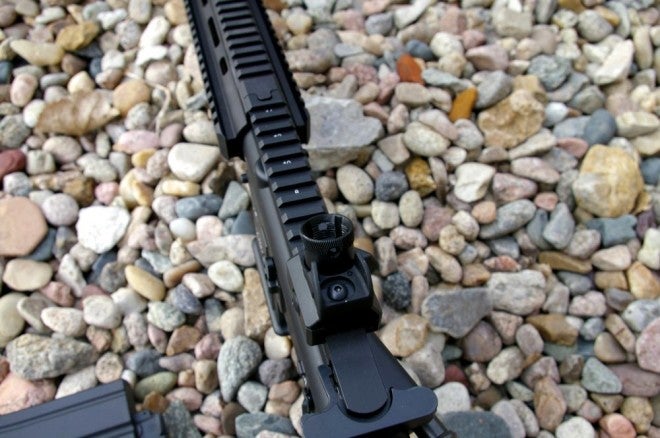 Function
Many of us want an exact operational and functioning duplicate of our current AR in .22LR, and the HK 416 comes close. Operation of the HK 416 D145RS is a standard blowback system with full functioning dust cover. The bolt hold open catch is actuated via the thumb helper on the magazine and pushes up on a metal bolt hold open catch after the last shot. Unlike typical AR bolt conversions, which hold the bolt open as long as the empty magazine is in place, the bolt on the 416 is held open even after the magazine is removed. The end result of these mechanics is that the magazine can drop free, which allows you to practice your reloads. To maximize safety and prevent slam fires on reloads, Umarex decided to only allow the bolt to close via a pull back on charging handle. The method of loading on the HK 416 D145RS whether the bolt is held open after a last shot or not is to insert a fresh loaded magazine, and charge a round by pulling back on the charging handle.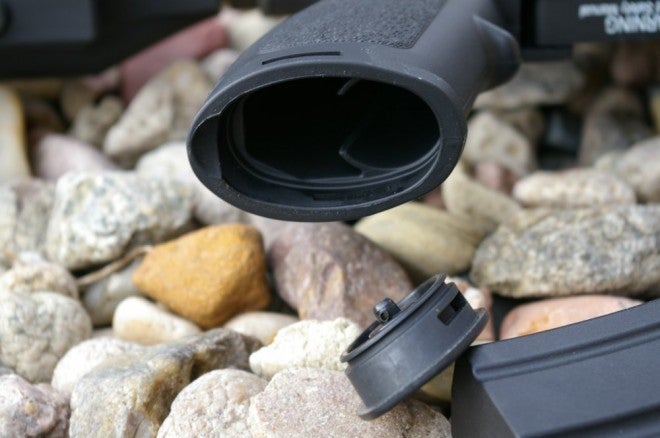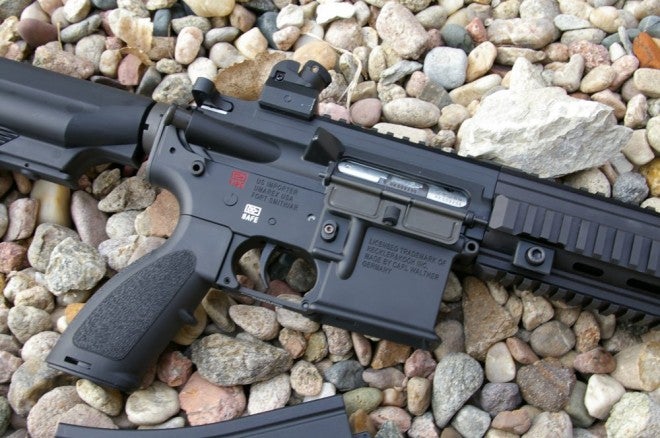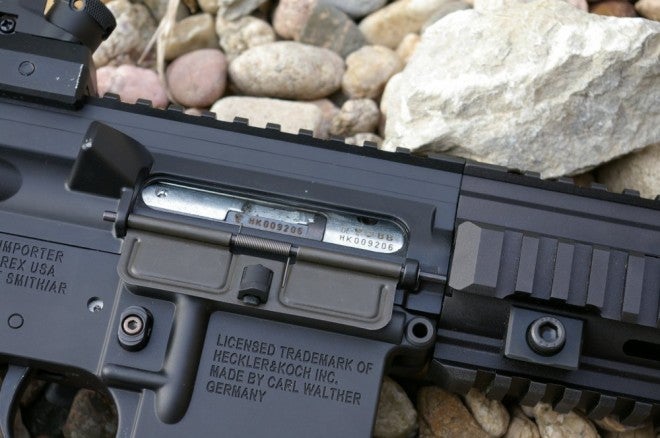 The magazines for the HK 416 are made of high-strength polymer and are the best .22LR AR magazines I have had the pleasure of using. They make reloading simple and fast with the thumb tabs on each side. The Magazines are available in 10, 20 and now 30 round versions. The 20 round magazines will most closely match the size of your standard AR magazines.
Some may want to swap out the flash hider for other accessories, but the flash hider has smaller non-standard threads sized to the Carl Walther match grade barrel liner, so expect to stick with the stock flash hider unless someone makes an adapter.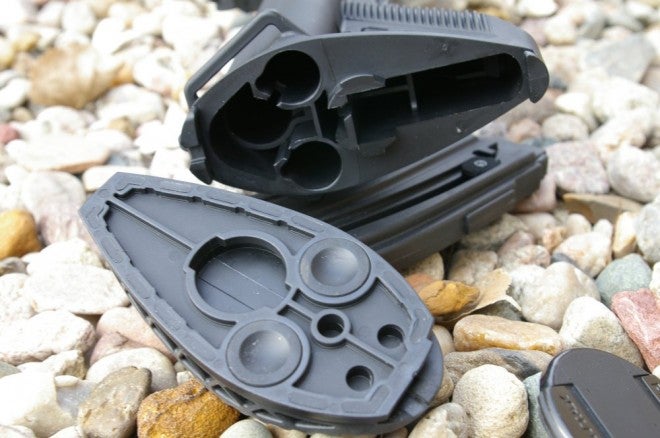 The trigger is very good, with the feel of a two-stage trigger. There is a gradual take up and definite transition to the fairly crisp second stage. Throughout all the testing, I was very impressed with the reliability, perfect feeding, and firing of everything from standard velocity to CCI Stingers. I did have a couple failure to feeds after gunked up about the 450 round mark so plan on cleaning around that point.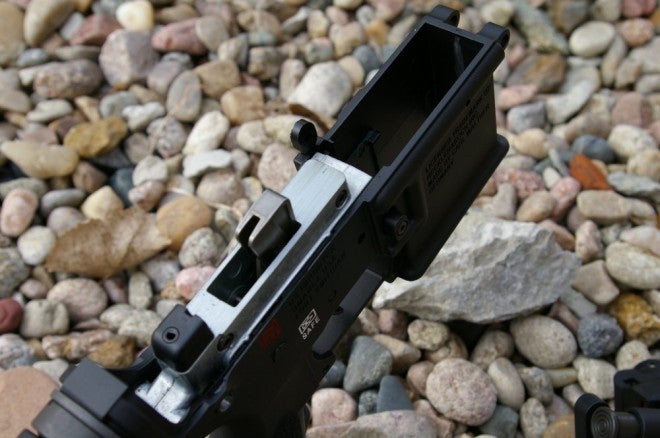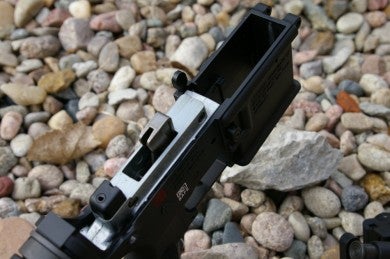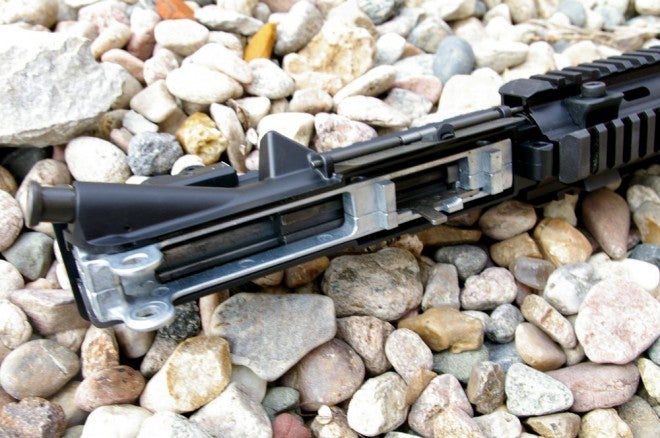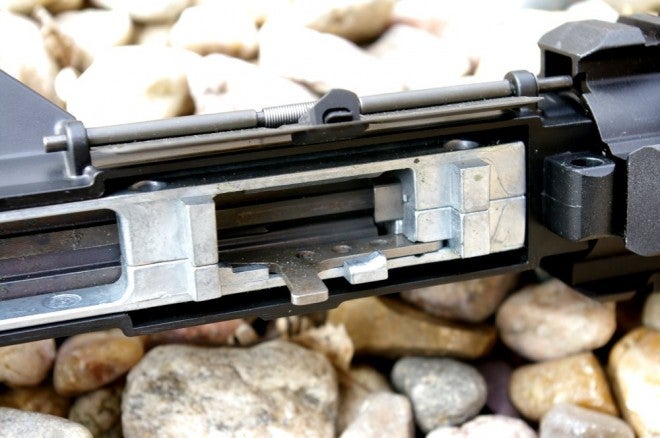 Accuracy
Like all the .22LR H&Ks and Colts offered by Umarex, the HK 416 is a dedicated .22 rimfire rifle which is engineered and built in Germany by Carl Walther. Accuracy is excellent with the match grade precision barrel and with inexpensive Winchester 333 no less, the HK 416 delivered this outstanding 30 round 25 yard group with stock sights. Once the front sight was tweaked, we were shooting dead on at 25 yards where the majority of shooting, plinking and training will occur with this rifle. My best 10-shot group was an amazing .5" group with open sights. This gun is a shooter.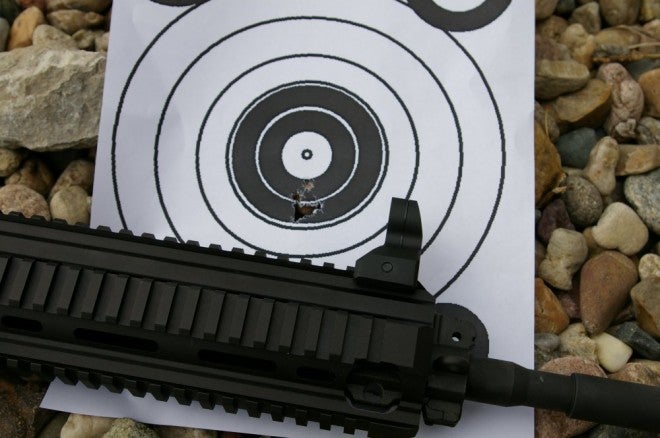 Final thoughts
There is a lot to love about this gun. This is a very fun gun to shoot, and even with the HK 416 flavored style it is so close in weight and ergonomics to a real AR that it would be a logical choice for defense training and education. One of the most significant deficiencies with AR conversions has been accuracy, and this is where the H&K 416 D145RS delivers with average groups in the sub 1" range at 25 yards and some of my best 10-shot groups under .5". Frankly this German made Carl Walther .22LR shot so impressively and reliability it may rival my Tactical Solutions 10/22 with match grade barrel.
If you want to train a lot with an AR, .22LR versions like the Umarex HK 416 can pay for themselves very quickly in ammo costs and drastically increase your shooting time. The Umarex H&K 416 D145RS is definitely not just another "me too" AR .22 with "the look". It delivers on look, fit, function and certainly accuracy and reliability, just remember to pick up plenty of extra magazines, because you will be shooting this gun a lot.
Specs
Caliber .22 L.R.
Capacity 10 or 20 rds
Mode of Fire Semi-Auto
Barrel Length 16.1 in (410 mm)
Barrel Twist 1 in 13-3/4 in
Rifling Grooves 6
Rifling Length 13.78 in (350 mm)
Front Sight Fixed – Removeable Post
Rear Sight Adjustable – Windage & Elevation
Overall Length 32.75-35.25 in (830-895 mm)
Overall Height w/Mag 11.4 in (290 mm)
Overall Width 3 in (75 mm)
Stock Style Adj. Telestock
Trigger Type Single-stage
Trigger Pull 6.6-9.9 lbs
Safety Type Manual
Principal of Operation Blowback
Muzzle Thread M8x.75
Length of Pull 11.5-14.625 in (290-370 mm)
Sight Radius 13.5 in (345 mm)
Diameter Rear Sight Aperture .1 / .12 / 0.14 / 0.24 in
Front Sight Width .06 in (1.5 mm)
Weight w/out Mag 6.75 lbs (3100 g)
Weight of empty Mag-20 6.8 oz (190 g)
Upper and Lower Metal Receivers
RIS-Rail Interface System
On-Rail Sights