Surefire likes to claim, "We didn't reinvent the wheel, we reinvented the flashlight." And they did indeed, in a way that has changed personal lighting and night fighting tactics like nothing else. Surefire invented the modern tactical flashlight, and they developed and hold the patent on laser weapon sights.
Today the company has expanded to produce handheld lighting; laser sights; weapon-, head-, and helmet-mounted lighting; flash hiders; muzzle brakes; suppressors; weapon accessories; and even innovative hearing protection. Surefire's new advanced polymer G2X-A-P recently caught my eye. This is the polymer-body version of the 6PX Tactical, and knocks about $20 off the price without sacrificing any functionality or durability.
Fit, finish, feel, and features
Like all Surefire products, the G2X finish and fit is superb for this polymer bodied flashlight. The bezel is still anodized aluminum, but the body is made from Nitrolon polymer ,which I actually like better than the aluminum because it does not get as hot in the sun. The polymer on the Surefire G2X just seems to feel cooler, softer, and better, all while providing plenty of grip to me… kinda like a Glock.
The Surefire G2X was designed to up the output to 200 lumens to address the needs of tactical use, so it provides a huge amount of light in a small compact package. The G2X provides momentary end cap activation and constant on with the twist of the end cap. The result is a really simply extremely bright high efficiency LED light that runs on two standard 123A lithium batteries, which are included. The LED not only ups the efficiency and run-time, but is virtually immune to shock and failure.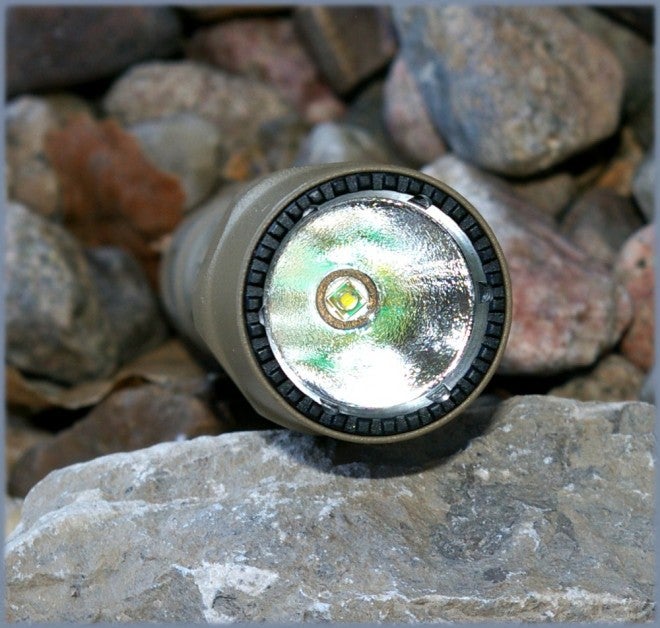 A polycarbonate micro-textured reflector produces a wider beam than other lights, all while still delivering a very intense center spot light. Surefire also has this same light in the G2X Pro version, which has my preferred click-type tailcap, and the Pro version also provides a lo-beam for those times you don't need full power. The Surefire G2X includes two 123A lithium batteries, and is weatherproof sealed with an o-ring and gasket that survived my 1 hour soak and dunk test.
Final thoughts
If I was alone at night lost in the woods, I would not feel under-illuminated with 200-lumens from the G2X. As I have noted, before everyone needs to have and carry a tactical flashlight. The Surefire G2X is another awesome product from Surefire that delivers on their history of innovation at a price we can all afford.
Specs
Virtually indestructible LED emitter regulated to maximize light output and runtime
Precision micro-textured reflector creates smooth, optimized beam
Tough polycarbonate window resists impact
Tough Nitrolon® body, anodized aluminum bezel
Tactical tailcap switch—press for momentary-on, twist for constant-on
Weatherproof—O-ring and gasket sealed
Includes high-energy 123A batteries with 10-year shelf life
Max Output 200 lumens
Tactical Runtime* 2.0 hours
Length 5.2 inches
Bezel Diameter 1.25 inches
Weight w/Batteries 4.4 ounces
Batteries 2 123A
MSRP $95
SHOP NOW