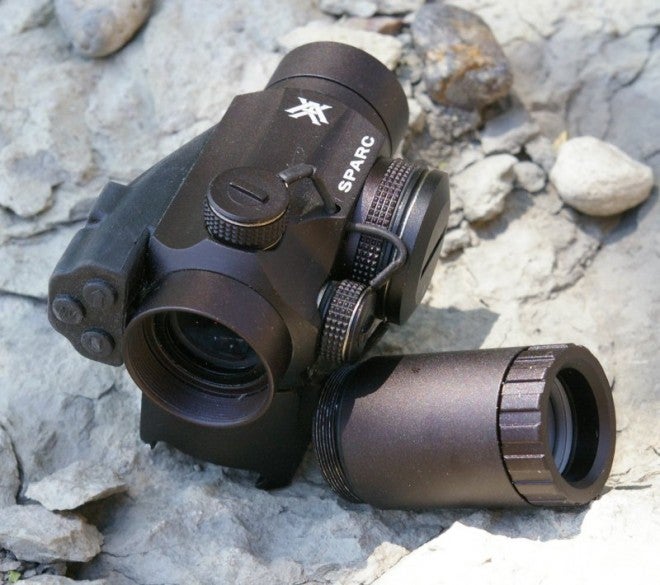 There's a long list of red dot sights on the market, but the challenge lies in finding one that you could bet your life on when mounted to a defensive rifle. When it comes to defense worthy optics, we find ourselves faced with prices as high as the firearm itself. In the case of Vortex Sparc red dot sight, the SPARC (Speed Point Aiming for Rapid Combat) is military/defensive quality that you would bet your life on but still priced around $200 on the street.
About the Vortex SPARC red dot sight
When we think of red dot sights, there are actually several major design variations, all of which have various advantages. Open reflex sights are light, tube style red dots are notably more durable, and typically mini/micro red dots offer a compromise of size, weight and durability. Though the Vortex SPARC is technically considered a mini/micro red dot sight, it is really a crossover size between a micro/mini and full sized tubed red dot sights. Vortex's focus for the SPARC was to offer all the durability of a full sized tube red dot in a compact and lightweight package durable enough for large caliber military and law enforcement use while still providing enough mounting versatility to be used on your .22 pistol or rifle.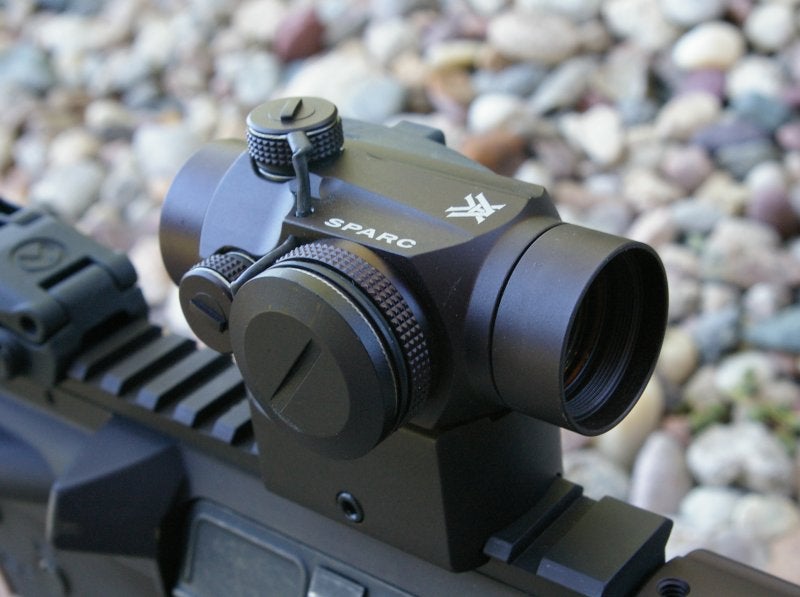 Fit, feel, and features
One of the things you'll notice first is the absolutely superb quality, hard anodized 6061-T6 aluminum finish, and design of the Vortec SPARC.
At 5.2oz the Vortex Sparc red dot sight will not weigh you down like a full sized sight, which typically hovers around the 1lb mark. But it's not a featherweight red dot, either. If you're sensitive about weight then you may want to look at Vortex's new Razor reflex sight line, which weighs in at an amazing 1.4oz. The weight of the SPARC adds durability in this case, and offers a good compromise between size, durability, and features. The sight is a one-piece construction, which both simplifies the design and increases overall strength.
No other manufacturer delivers this many accessories and mounting options right in the box. Four mounting height options are included in the box along with an two batteries, a 2X multiplier, and a rubber bikini style lens cover. The huge benefit I see with the Vortex SPARC is that you can lay down your $200 and go mount the thing, versus having to start searching for the right height riser. Thank you Vortex!
The The Vortex SPARC red dot sight uses the thicker, wider and longer running CR2354 3V battery, which is in essence an upsized CR2032. According to Vortex, this battery is longer lasting and provides significantly longer run times than the standard CR2032 3V batteries.
From a design perspective, Vortex obviously started with a clean sheet of paper versus just sticking to the fairly inconvenient twisty knob adjustment design that's found on most red dot sights.
The most immediately noticeable feature is the electronic push button dot intensity control panel. The Vortex SPARC red dot comes to life instantly with the push of the on/off button on the side of the panel, and requires a full four second count while holding the same button down to turn it back off. The dot intensity can be adjusted up or down with the buttons and can be dropped instantly to an extra-low, night vision compatible mode with a touch of the "NV" button. Another touch of the NV button pops the red dot back up to the previous intensity level.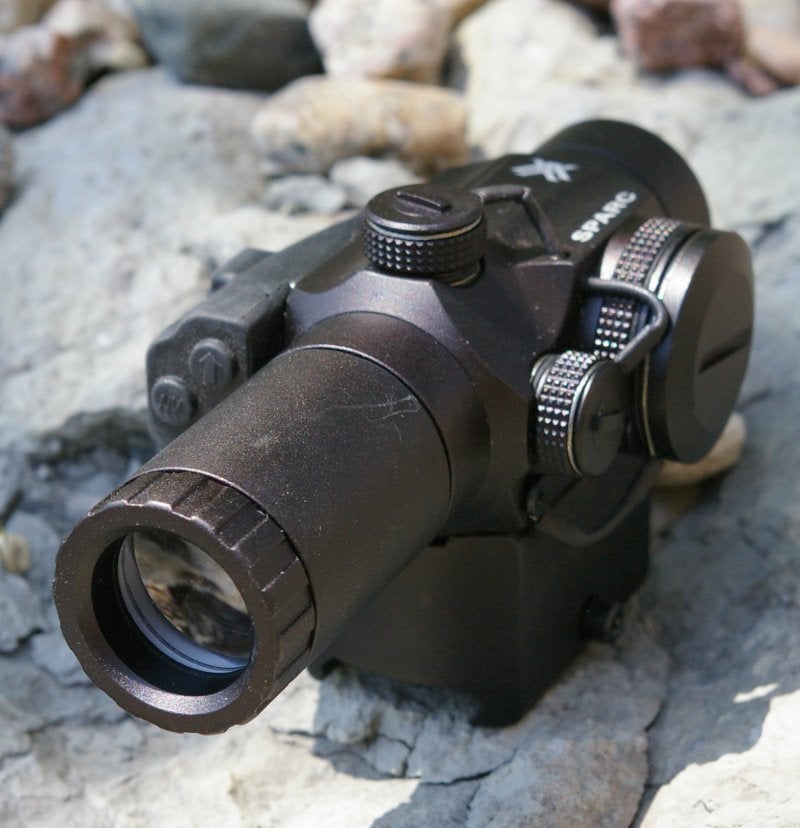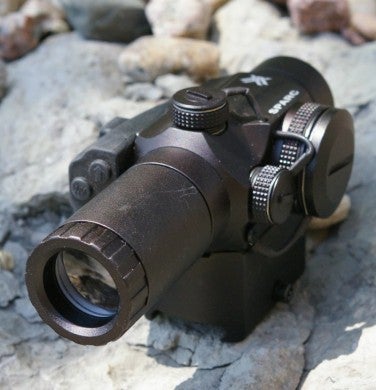 Whether you're switching the Vortex SPARC red dot on or off, or transitioning from night vision mode and back, the sight always goes back to the last dot intensity setting it was on. One of my frustrations on some sights is that dot intensity always starts at a preset level, which always requires you to click it up or down to your liking. The SPARC will retain your last setting unless you change it or pull the battery.
For a home defense carbine, which is most likely to be used at night, you can preset a comfortable dot setting so that whenever you turn on the Vortex SPARC it is ready to go instantly, and you don't have to worry about being blinded by a searing red dot… one.
The SPARC also has an auto-off feature after 6 hours, which greatly extends battery life. The unit's battery life ranges from 120 hours on max brightness to 3400 on the lowest setting, and even longer in NV mode. Based on my experience, expect around three months (1700 hours) of continuous run time, but for most users you probably will not replace the battery more than once every third year.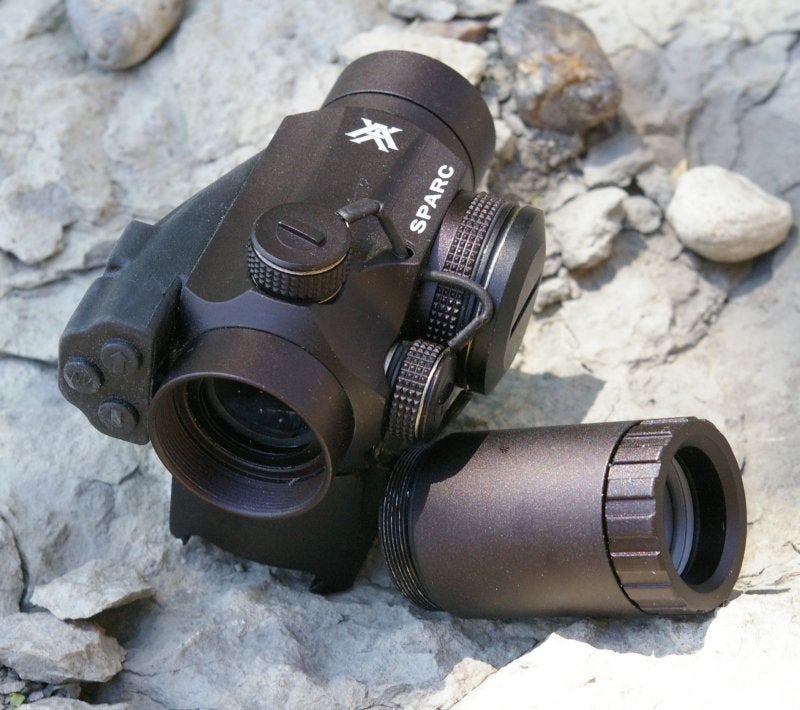 The optics are fully multi-coated for increased light transmission. They're also waterproof, nitrogen purged fogproof, shockproof to withstand 1000 rounds of .375 H&H Magnum shots, and parallax free beyond 50 yards for both-eyes-open shooting. If you are using the sight for .22LR shooting, just note that you need to assure you center the dot, otherwise you can be off by up to an inch if shots are taken with the dot when the dot is at the outer visible rim.
A little detail which shows Vortex took time to think about the design are the wire lanyard attached adjustment and battery compartment covers. Ever taken off your turret cover and spent 20 minutes figuring out where it went to after you finished zero'ing your rifle? I have, and this prevents such loss. I love the little details Vortex has thought through.
The screw-in 2X multiplier is a handy upgrade that almost every single manufacturer charges extra for. With the 2X multiplier attached the field of vision does drastically decrease on the Vortex SPARC, but I found it very useful for taking longer distance shots with the AR. The multiplier is not as convenient as a quick detach or hinged flip over magnifier, but it is something really handy to stick in your pack or pocket when longer distance targets are engaged.
Functions
Functionally the Vortex SPARC red dot sight can be used on anything from AR15s to shotguns and pistols, and it provides a 2 MOA red dot visable in the brightest sun and darkest night. I tested the SPARC on my a couple of my ARs, including the shown Spikes Tactical ST-15. The sight works well on these guns, and it's also outstanding as a critter getter sight on your .22 with or without the 2X magnifier installed.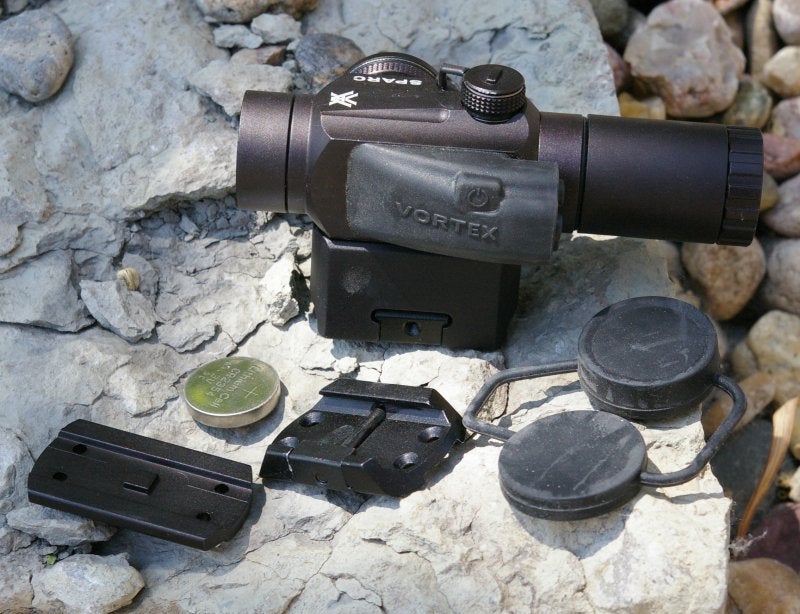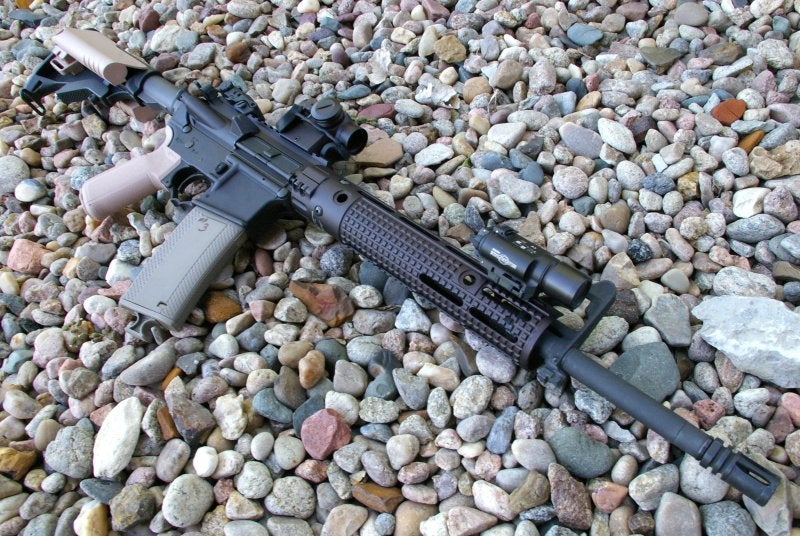 The mounts included with the Vortex SPARC sight provide four heights of 1913 picatiny rail mounts. A tall or short picatinny rail can be screwed to the base of the sight and a shim can be stacked on either rail to provide a total of four mounting heights. On hunting rifles and pistols, the short rail will work perfectly. But on an AR some prefer a perfect co-witness with iron sights and some prefer the iron sights to be visible in the lower third. The short and tall rails and shim can be used to deliver the perfect height; 18.5mm (.725 inches), 22mm (.875 inches), 36mm (1.425 inches), 40mm (1.575 inches).
Final thoughts
This is an awesome sight and very competitively priced at around $200. If we look at everything that comes in the box, it is without a doubt the best red dot deal on the market. A decent riser starts around $25, and 2X multipliers can easily tip over the $200 mark. Let's also not forget those expensive little $5 batteries, which Vortex also provides two of: one to use and one as a spare.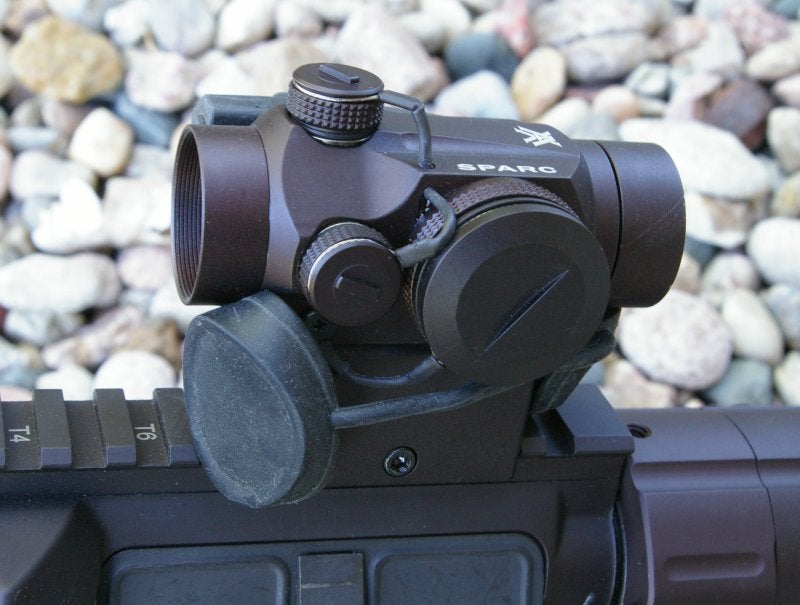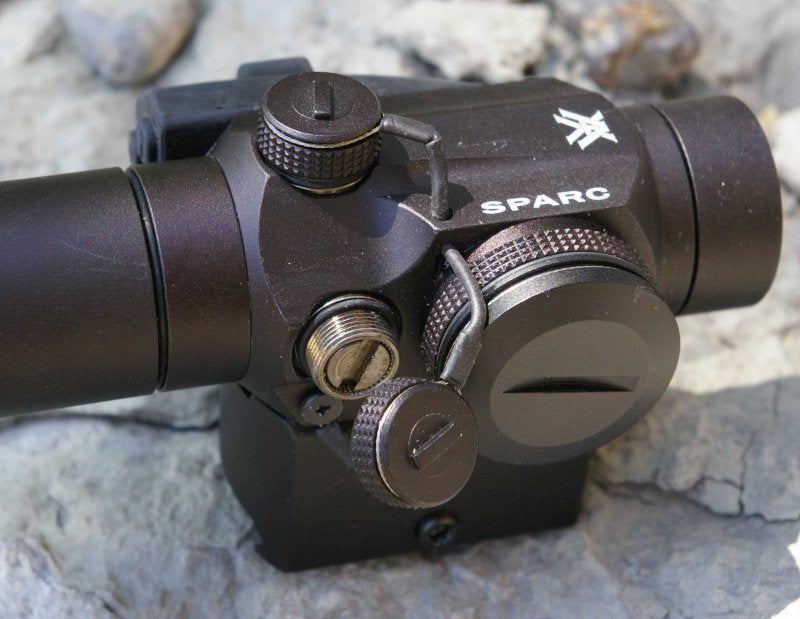 These things add up, and even if you compare the Vortex SPARC with sub-$100 red dots, you are still going to come mighty close to the price of the SPARC once you actually get the thing mounted. The dot intensity is easily tunable, but if I had a wish list it would be that the Vortex SPARC had an auto brightness setting.
Whether you are looking for a simple inexpensive red dot for your .22 or and AR that you would bet your life on, it would be tough to find a more versatile, high quality red dot than the $200 Vortex SPARC.
Specs
Magnification: 1 x
Objective Lens Diameter: 22 mm
Eye Relief: Unlimited
Dot Size: 2 MOA
Adjustment Graduation: 1 MOA / Click; 45 MOA / Rotation
Max Elevation Adjustment: 90 MOA
Max Windage Adjustment: 90 MOA
Parallax Setting: Parallax free past 50 yards, <1" under 50 yards
Length: 3 inches
Weight: 5.2 ounces
Operating Temperature: -40 degrees to +140 degrees Fahrenheit.
Adjustable Dot Intensity: 10 illumination settings
Night Vision Mode: Instant to lowest level – Visible with night vision and in pitch black
Auto Shutdown: 6-hour auto-shutdown
Battery Life at Max: 120 hours (maximum brightness)
Battery Life at Min: 3400 hours (minimum brightness)
Battery Life on NV: 4200 – 4600 hours (minimum brightness)
MSRP: $289
Street Price: $200
Fully Multi-Coated Lenses
One-Piece Tube
Waterproof
Fogproof
Shockproof
Parallax Free Beyond 50 Yards
Unlimited Eye Relief
Included with Vortex SPARC red dot scope
2x Magnifier
Extra-high riser
High riser
Low riser
Elastic, one-piece lens cover
Riser shims
(2) CR 2354 Batteries
(4) Short screws
(4) Long screws
Vortex Limited Lifetime Warranty