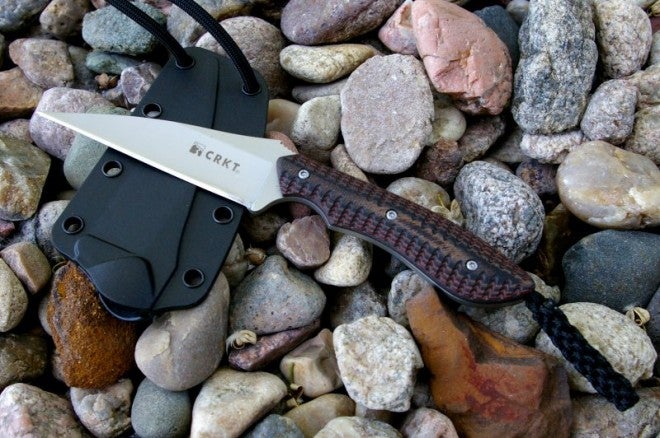 Over the years, I have drastically changed my belief about what makes a great survival knife. The reality is that Rambo and his knives are both works of fiction, and a short little knife is far more useful and concealable in a realistic "any day" situation than a giant 1/4-inch thick sawtooth machete of death. The Small Pocket Everyday Wharncliffe, or SPEW, for short, was designed with this idea in mind. The SPEW is a versatile knife for everything from utility to defense to bushcraft, and it's more than enough for most imaginable everyday tasks.
Fit, feel, features, & function
Like all CRKT knives, the SPEW is made in CRKT's overseas factories, which means that it's fairly inexpensive. CRKT's entire business model is based on taking high-dollar custom knives, like this Folts design, which would run around $500 from Folts himself, and making affordable production versions using overseas factories.. Expect to see this CRKT produced Folts knife street priced at only $29.99, which is a deal considering the edge and utility it delivers.
The G10 handle is slightly textured, very slim, and comfortable and, when paired with the attached lanyard, is easy to grasp quickly and securely. Without the lanyard, the handle feels small, but it still provides a secure three-finger hold for most hand sizes. The SPEW is not a big hand-filling knife, and that's one the the things I love about the design. It's small, light and compact, but the 3" blade still delivers a ton of utility.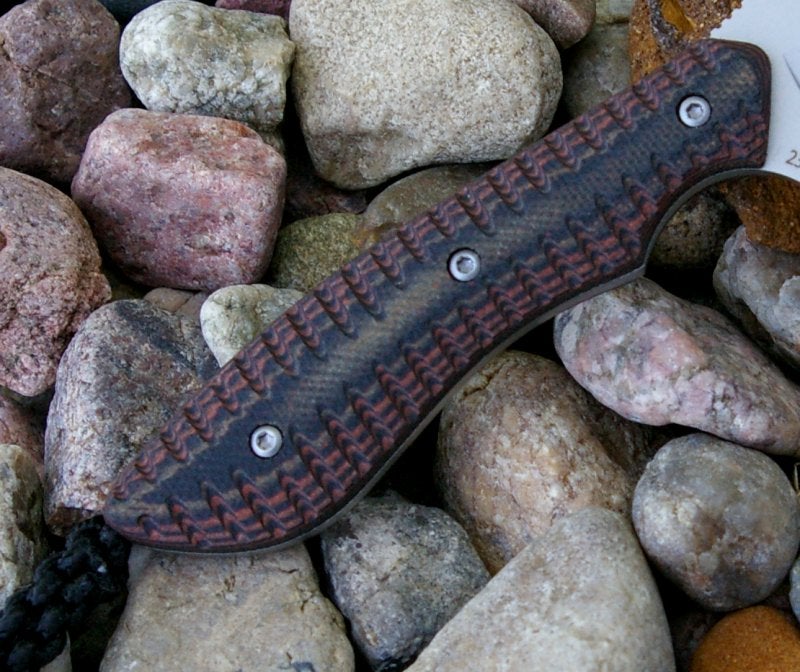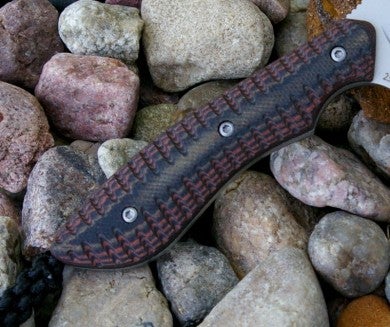 The straight Wharncliffe style blade is one of my favorite blade styles because it provides 100% of the blade length in a straight cutting edge. It also cuts with precision, as if your index finger suddenly grew a knife. It cuts straight and is perfect for the whittling cuts required for the notches of bushcraft survival activities, as well as all the other typical day-in-the-life activities of opening mail, packages, and extra thick plastic security packaging. The blade design is also effective in self defense situations.
Obviously, the straight blade does not lend itself well to larger game cleaning, but I found it more than adequate for small game processing, which does not require skinning strokes. In my standard controlled kitchen test of breaking down a whole chicken, the only challenge the SPEW had was working through breast bones, but a few whacks with a hygienic wood dowel baton and I had the chicken in two pieces.
Functionally, the SPEW provides everything you need in a concealable fixed blade knife without anything you don't need. It is the only neck knife I have ever worn which settles in between my manly mostly muscular breasts without printing. After adujusting the neck lanyard a little and placing it in between Mrs. Pandemic's lovelies, I had a hard time defining what is bra and what is blade during a lazy frisk. (Yeah, I told her it was research.)
Along with reminding me to keep my hands to myself, Mrs Pandemic recommended tucking the kydex sheath under the bra for extra concealment, and notes that the entire sheath could be attached to a bra and omit the paracord lanyard altogether. I have found that many women like the idea of a neck knife, as they are already comfortable with the idea of hanging something around their necks and like having a knife easily accessible. At only 4.1oz total for the sheath and knife together, you hardly recognize it's even there.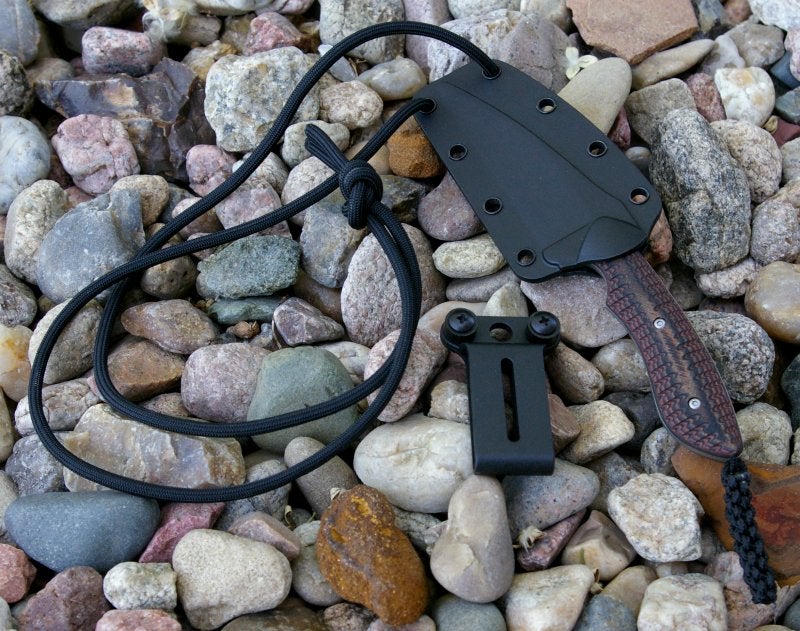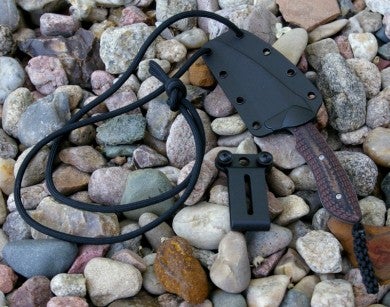 Honestly I am I bit on the fence about using paracord around your neck. Technically, paracord is a potential choking risk, but it is nowhere near as noisy as breakaway chain. If you decide you want to switch to breakaway chain, your local hardware store can set you up.
The kydex sheath can also be horizontally belt mounted using the included belt mount, but it is limited to really just that one position. I was a little disappointed that the sheath did not allow for basic vertical belt carry or some type of inside-the-waistband carry. But it is most likely that the SPEW will be carried as a neck knife anyway.
Final thoughts
At around $30, this is an inexpensive that can be tucked in a number of different places. Plus, it's a great design from an established designer, and you're getting the benefit of that design on the cheap.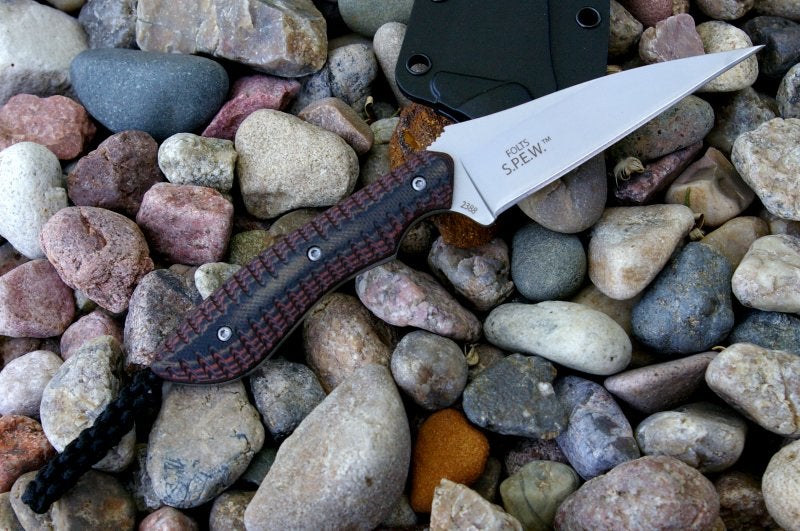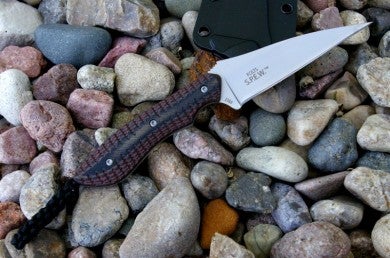 The blade design delivers a lot of control for precision cuts even for novice knife users, and is light and concealable. Based on my testing, the SPEW will do the job despite its size. This is one heck of a little knife for even the full $45 retail price, and one which makes a great, basic tool for both defense and everyday utility.
Specs
Overall Length 6.25 inches
Weight 3 ounces
Blade Length 3 inches
Thickness 0.1 inches
Material 5CR15MoV
Blade-HRC 55-57
Finish Bead Blast
Grind Hollow
Style Wharncliffe
Edge Plain
Handle Material G10
Carry System Sheath
Weight 1.1 ounces
Full Tang
Lanyard/Neck Chain
Neck Knife Cord
MSRP $44.99
Street $29.99
SHOP NOW