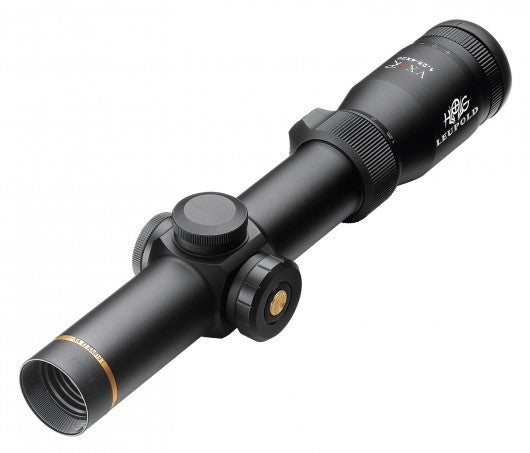 During my planning for my Ultimate Hog Gun build, I talked with a number of people who actually hunt hogs versus all the guys who want to hunt hogs. The resounding suggestion for optics was for a super clear, low power optic, and preferably one with an illuminated reticle. In many cases, regular variable 1-4X DM (Designated Marksman) scopes with illumination such as those we also see in 3Gun competitions were recommended. In my searches, the Leupold Hog Plex scope kept coming up over and over and for good reason: the Leupold VX-R Hog Scope features outstanding optics paired with a BDC (bullet drop compensating) dangerous game reticle optimized for the 308 round. The Leupold Hog turned out to be the perfect setup for my 308 AR format Ultimate Hog Gun build.
Fit, finish, feel, & features
Leupold's finish is a top notch, dark black, mil-spec, anodized 30mm body on a scope that is not particularly heavy but feels solid. The company has packed a ton of their proprietary enhancements into this scope, including Multicoat 4 non-reflective coating, and lead-free glass that is still just as clear as the leaded version without the toxicity in the manufacturing process due to the lead. The unit also boasts a generous eyebox that delivers flexible eye-relief for faster shots on dangerous game, and it uses Leupold's Quantum Optical System for added clarity. According to Leupold, the Quantum Optical System is a whole bunch of engineering from an optical and mechanical perspective that optimizes the clarity of the scope. I am glad they have nerds to do this work, because it apparently works.
Other features are a lockable fast-focus eyepiece, which does exactly what it sounds like it does — providing quick and easy eyepiece focusing. The 3:1 zoom ratio is not terribly amazing considering Leupold's own line of 6:1 zooming optics, but this 3:1 zoom ratio does make for an optic that's about half the price of those top end Leupold optics. The non-illuminated version of this scope drops around $150 from the price. They could have stretched the magnification a bit while staying in this price range, but the results would have unnecessarily stretched the clarity at each end of the magnification range and then required a reach for the eyepiece to bring a mad boar into focus. As it sits, the VX-R Hog 1.25-4x20mm is perfectly clear at each end of the spectrum, once the eyepiece is focused.
Mean as hell hogs eyeballing you down-range brings us to the next Leupold feature, the BAS (Ballistic Aiming System). Essentially, the reticle is a dangerous game/designated marksman reticle. As it turns out angry charging evil doer's and hogs require a similar optic. The Leupold BAS features a number of key features including, a heavy dangerous game horizontal and lower reticle posts to put you on target very quickly when acting defensively. These heavy outer posts are paired with thinner inner reticle lines to deliver precision when you have the opportunity to play offense. At the center is a circle/dot configuration which has proven itself defensively and provides additional mil-ing points.
The inner circle/dot further aids in fast target acquisition and provides a decent aiming point to lead trotting hogs. The next outer brackets on the horizontal provide a good estimated lead on running hogs. The BAS was designed around the pig perforating .308 cartridge based on a flatter shooting 200 yard zero. Zero at 200 yards (coincides with a 75 yard zero) and the BAS provides ballistic zero holds for 300, 400, and 500 yards. Per the reticle diagram shown here, the BAC also has subtense to size hogs at minimum (1.25X) and maximum magnification (4X).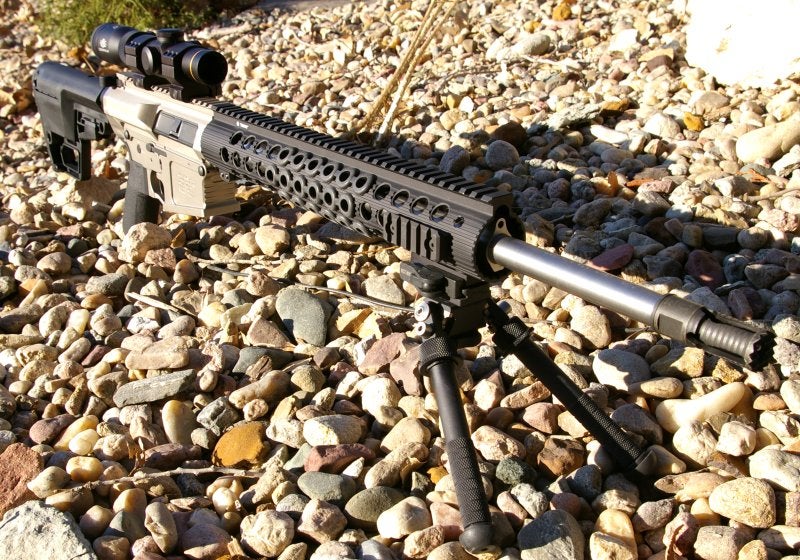 The next cool feature is the adjustable illumination center dot, which actually works in very low light. Unlike most illuminated dots, Leupold has taken the time to assure that there is a very low illumination setting for glare-free illumination in even the the darkest of nights.
The center dot control is disguised as a left side scope turret cap. The illumination is controlled by clicking/tapping through the illumination settings via a rubber button on the cap. Unscrew the cap and you can replace the standard CR2031 watch battery. Definitely one of the more refined and simple illumination controls out there. The downside is that you do not have a dozen levels, but in my experience you do not need them on this type of scope.
What I found unusual was that the brightest illumination setting could be seen in the daylight and the lowest was not the least bit glarey in the darkest of nights. Only my $1400 Trijcon has demonstrated that ability before, and this VX-R is a significantly less expensive optic which is actually more clear.
Function
I know I have legions of accuracy nuts twisting in agony as I mentioned mounted a mere 1.25-4x20mm scope to a Lilja barrel, which is world famous for accuracy. But the reality is that we all put far too much magnification on our hunting guns. Very, very few times have I been able to roll out my shooting mat, spray for bugs, and pull the Ghillie net over perfect, problem-free, prone hunting position on perfectly level ground. Generally speaking, all my shots seem to happen about the time I just get the ammo in the gun, as I am getting out of the truck. As an example, I once shot a deer so close it actually had powder burns and I could have sworn it was stalking me. So goes the similar stories of the guys who are hunting hogs. Most shots are quick as they stumble on a sounder/parcel (herd) of hogs, and you definitely want the scope on a really low magnification setting in case they happen to be a little ticked that you crashed the party.
What most people do not understand it that the clearer the optics, the less power you need to shoot them accurately. As long as you have crystal clear optics, a 4X maximum magnification can still deliver sub-MOA groups, which exactly what I was able to print with this setup. Most of my careful groups were under 1" at 100-yards with Hornady factory ammo. In fact, I shot a fairly respectable 20 shot 1.24" group with this build topped, with this Leupold VX-R 1-4X optic. Even at 300 yards I could still deliver 3"-4" groups, which is more than adequate for surgically dropping hogs at the typical combat 25-150 yard ranges even on 1.25X setting.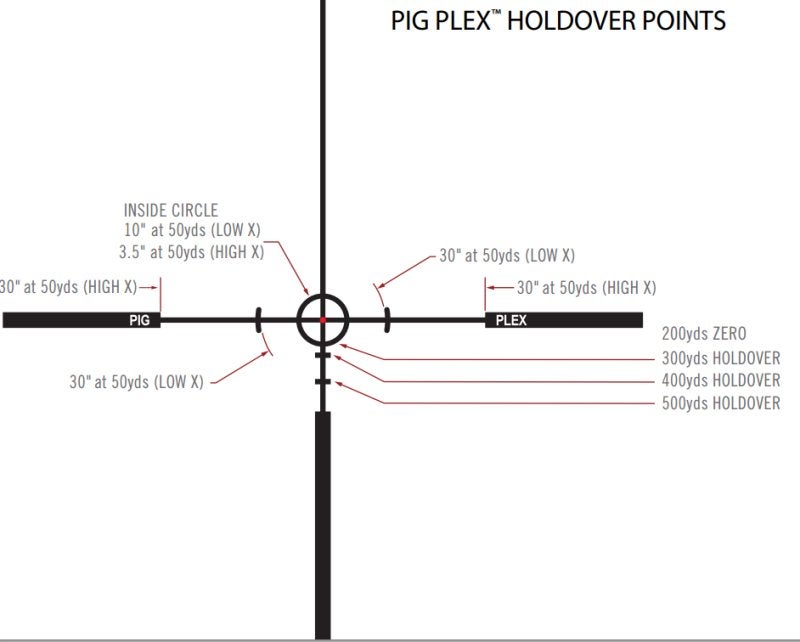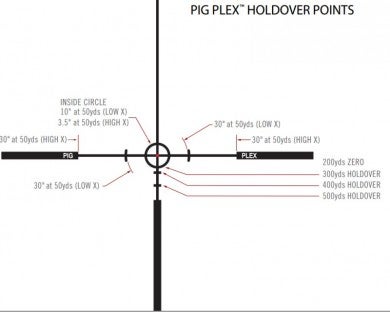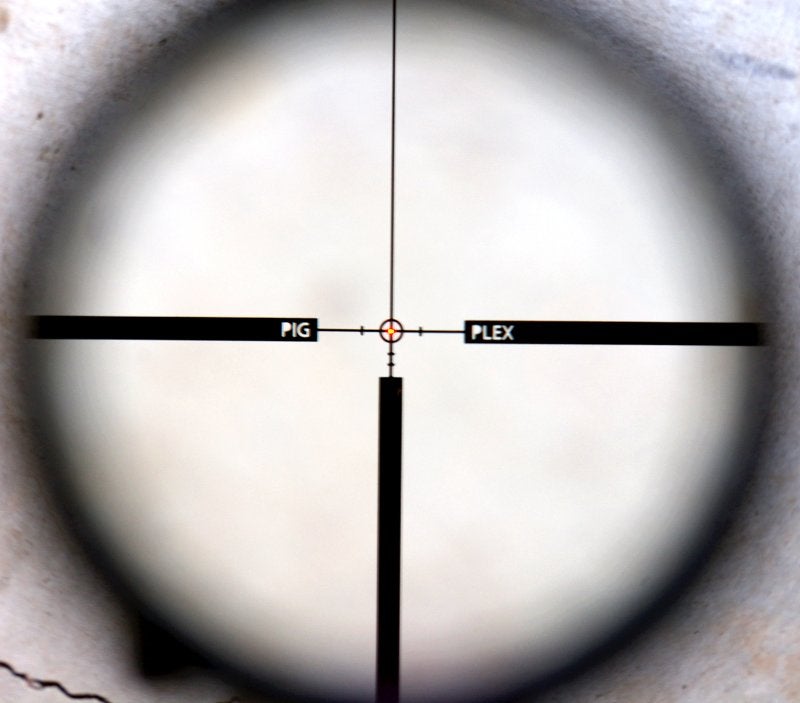 The scope's BAC delivers a good bullet drop compensating compromise for the 300-500 yard ranges. All my shots were within an inch or so with the Hornady 308 factory ammo, but close enough for hog hunting. Of course, each ammo flies differently, so the impact points are not perfect, but within a few inches, up or down, from where they should be. The marks should get you within minute-of-hog range if you hold dead center. A few range visits will help you figure out where the bullets are landing and the adjustments that you need to make for your prefered load.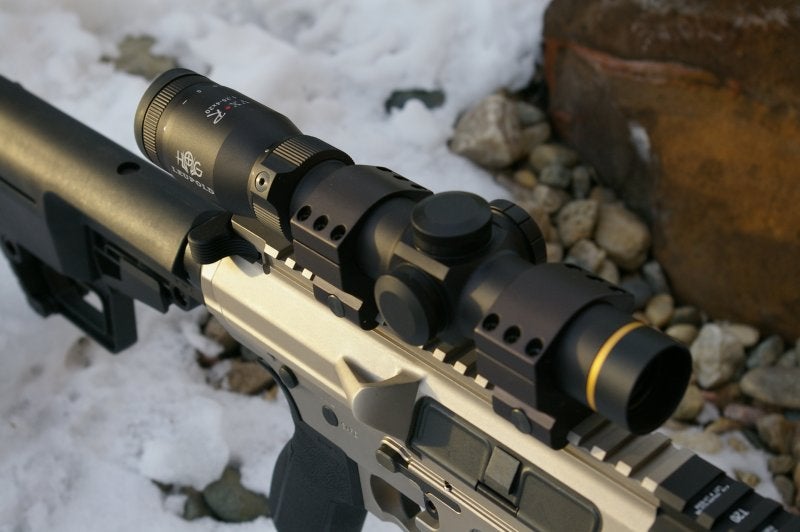 Now, of course, I find myself waiting for a hog hunt to break this thing in, as it turns out in the midwest we have almost as many deer as the lower states have hogs. Chances are high that this will be a deer gun first and a hog gun when I get around to it. After all the 308 round is terrific in a deer gun setup. As I write this I am pursuing a few hog hunt options and dropping emails to friends here and there.
Final thoughts
This is a great scope, but I think Leupold is selling themselves short on the cute marketing slant. This is an exceptional defensive scope at a very reasonable price point. Unfortunately, the LEO/Military version of this scope has a completely different optic with a Mil-Dot grid. Having shot both, I prefer a BDC reticle for its faster shot capabilities at distances. This is probably my favorite scope for a .308 and perfect for my Ultimate Hog Gun build.
Specs
Multicoat 4
Quantum Optical System
Lead Free
Generous Eyebox
Lockable Fast-Focus Eyepiece
3:1 Zoom Ratio
BAS (Ballistic Aiming System)
1/4 MOA Finger Click
Tactile Power Selector
Proprietary Nitrogen Fill Process
One inch Maintube
6061-T6 Aircraft Quality Aluminum
Durable Lens Cover
Objective Clear Aperture (in) 0.80
Objective Clear Aperture (mm) 20.00
Eyepiece Length 3.50
Objective Length 0.60
Objective Diameter 1.20
Eyepiece Diameter 1.60
Tube Diameter (in) 1.18
Tube Diameter- k (mm) 30.00
Elevation Adjustment Range (MOA) 90.00
Eye Relief (in) – High 3.70 – (mm) – High 84.00
Eye Relief (in) – Low 4.10 – Low 106.00
Linear FOV (ft/100 yd) – High 29.00 – (m/100 m) – High 8.80
Linear FOV (ft/100 yd) – Low 75.00 – (m/100 m) – Low 22.90
Length (in)9.50
Actual Magnification – High 4.00 – Low 1.50
Mounting Space (in) 5.40
Weight (oz) 11.50 – (g) 326.00
Windage Adjustment Range (MOA) 90.00
MSRP $899.99
STREET $499.99
Other products featured