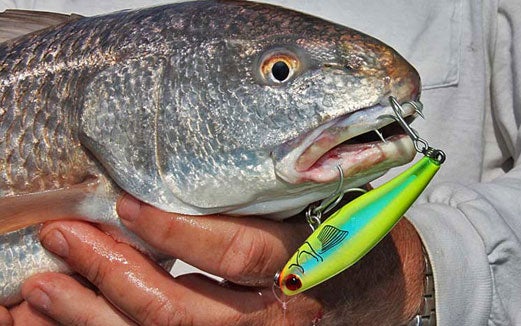 By: Posted 09-25-2012 OutdoorChannel.com in Story by David A. Brown
Permitted use provided by: OutdoorChannel.com.
Redfish are a predictable lot — they'll eat when food avails. But just as a dog will growl at even his owner for trying to take away his food dish, Florida redfish get really aggressive when fall starts to threaten their chow line.
Spring through summer finds vast schools of pilchards, threadfin herring and Spanish sardines roaming the inshore shallows from backwater bays to coastal Gulf beaches. Redfish and other predators dine at their leisure on these briny buffets during the warm season, but with days growing shorter and temperatures falling, forage sources will soon start to dwindle and those with copper scales will be pushing hard to pack on the weight they'll need to last through winter's leanness.
Throughout the Gulf Coast, inshore anglers will enjoy plenty of opportunities to stretch their string with feisty reds willing to bite just about anything that appears edible. So polish your gold spoons, replace any rusty trebles on those topwaters and run a sharpener across your jig points. The crimson convoy is on the move and on the feed.
Some of the region's top pros offered their tips for bagging fall reds:
CHARLOTTE HARBOR
Capt. Van Hubbard looks for strong schooling activity with big mature reds on the big tides around new and full moons. Ultimately heading for the Gulf, the fish begin up in the Harbor, work down along the reef edges in front of Turtle and Bull Bays. Storms associated with fall cold fronts push the fish through the passes and anglers often find big fish on the beaches after a good blow. Prior to a storm, Hubbard expects to find reds holding at the old railroad trestle in Gasparilla Sound and the Boca Grande phosphate docks.
Best baits: Free line or float live whitebaits, walk the dog with MirrOlure Top Dogs.
Contact: (941) 697-6944
SARASOTA 
Working the shallow flats of North Sarasota Bay, Capt. Rick Grassett expects to find reds around sand bars and in potholes on lower tide stages. Also good on low water are the docks along the bay's east side from the Centennial Park boat ramp north to Stephens Point, and those from south of downtown Sarasota to Roberts Bay. (Docks with deep water and hard bottom are best). When the water rises, he'll look to the oyster bars and mangrove shorelines. Grassett favors the sand bars along the east side of the bay from Stephens Point north to Long Bar and along the west side of the bay from the bishop Point area to Buttonwood Harbor.
Best baits: Drift and make long casts with jigs and shad tails, grubs and jerk worms. Look for grass/sand seams, edges of bars and potholes. Fly fishing tip: Start short and make progressively longer casts to avoid spooking fish you haven't seen. Grassett suggests weighted flies like his Flats Minnow.
Contact: (941) 923-7799
TAMPA BAY
From the mouth of the bay to the upper end, fall sees plenty of redfish and redfish anglers. Capt. Paul Hawkins avoids the heavily trafficked community holes like Mullet Key and focuses on hunting reds in less accessible areas. The key is a low tide. Reds will be scattered, so it's a hunt for singles and small pods, rather than a cattle call. However, waders or anglers push poling shallow draft skiffs can sneak into areas where other boats can't cut you off. Hawkins likes the bay's south shore, as well as the upper bay reaches around Double Branch and Rocky Creek. "Educated blind casting" in the thin bladed manatee grass with sandy potholes is the ticket for fall reds.
Best baits: Red head, 1/8-ounce Cotee jig with a rootbeer tail.
Contact: (727) 560-6762
ANCLOTE/TARPON SPRINGS
From Tarpon Springs, to Port Richey, Capt. Mark Dillingham looks for schools of big mullet, as reds hang with these leaping vegetarians. When mullet congregate inside the bays and creek or near rock piles with grass, oyster bars and flat rock bottom, it's game-on. Dillingham finds his better action during the last hour of the incoming and the first hour and a half of the outgoing tide. Bays and creeks are the place to be on falling water.
Best Baits: Try topwaters early and then use 1/4-ounce jigs with Exude Darts (natural shrimp color) to cover water and find hungry reds.
Contact: (727) 389-2212
HOMOSASSA
Fall delivers good numbers of migratory reds for Capt. Mike Locklear, who points to the St. Martins Keys, the Suncoast Keys and the spoil banks off the Progress Energy Complex (PEC). Reds also frequent the area's "moon rock" or limestone outcroppings and oyster bars, where they feed on crabs, shrimp, pinfish and pigfish. For the coastal keys, the last half of an incoming tide offers the best action and Locklear suggests silently approaching on a wind drift. At the spoil banks, he works the lengthy structure with his trolling motor.
Best baits: Locklear said the MirrOlure Top Dog (94M-808) is so effective on schooling reds that he replaces trebles with single 3/0 SSW Owner hooks. On tough days, cut ladyfish or mullet will bring in distant reds. On the spoil banks' often turbid water, a 1/2-ounce gold or silver spoon works best.
Contact: 352-628-4207
CEDAR KEY-STEINHATCHEE
Around Cedar Key, Capt. Danny Allen looks for big numbers of mid-slot fish to oversized bulls around the barrier islands. He fishes points and oyster bars with an eye out for mullet schools. Flood tides are best, but any period of moving water may produce fish. In Steinhatchee, the flood tide is especially important because of the way the fish utilize the shallow flats adjacent to rocky points. Allen says that once you locate a school of reds, you can move with them as the tide rises and pick off fish from the edges. Just go easy, as the fish can be spooky in the clear water.
Best baits: Live pinfish or cut mullet are usually effective, but Allen will also throw topwaters, spinnerbaits and Berkley Gulp Shrimp under corks for the Cedar Key fish. Steinhatchee's water is much clearer, so soft plastic jerkbaits rigged weedless are the way to go.
Contact: (352) 215-3686
Wherever and however you catch your redfish, remember the regulations: One per person per day with an 18- to 27-inch slot limit.