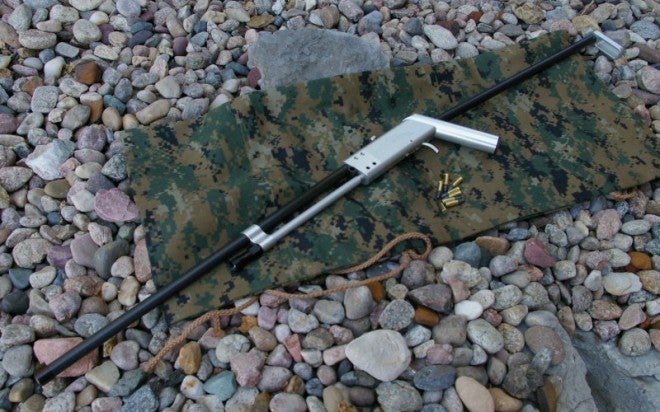 I will admit that, as a guy who actually owns the guns he reviews, it can be challenging to get excited over what can seem like yet another rewarmed version of a gun that has been on the market for years. But then I saw the Pack Rifle. At first glance, it appears that someone had stolen Scaramanga's Golden Gun and was selling off the movie props for James Bond's the "Man with the Golden Gun". It is, however, a unique single-shot .22LR take-down rifle and is, without a doubt, the most interesting firearm I have ever pulled the trigger on.
Mountain View Machine and Welding and its ownership are behind the new Pack Rifle company. As you would guess MVM has a history of high precision machining led by owner Jason Crook.
Pack Rifle, inc. is a small US home grown business with Jason's daughter handling phone duties. There are sixteen additional dedicated employees providing manufacturing capabilities, and Jason's mother-in-law actually makes all the Pack Rifle fabric cases.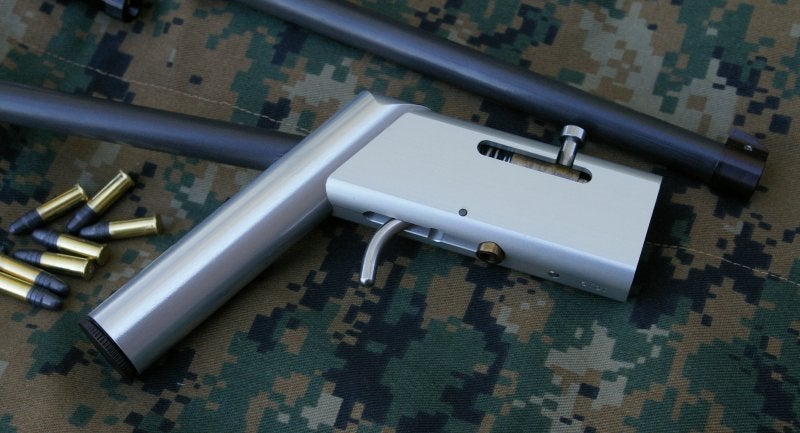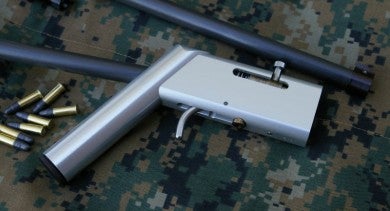 Why the 15oz Pack Rifle?
The Pack Rifle is the firearm equivalent of carrying that 1.7oz Titanium Kinetic Stove vs. a 2lb Coleman. Your pack is lighter, and you're happier about carrying something you might use in a worst-case scenario. From my perspective, the Pack Rifle is a "just in case" type firearm which, with proper planning, you should never have to use in a survival situation. In bear country I would probably pack a shotgun, but for the 95% of outdoor venues a .22 LR cartridge is plenty as a survival rifle.
In the words of company owner Jason Crook, "It's a lightweight takedown utility rifle and, if you expect it to serve as an ultra-light packable survival rifle, you will be pleasantly surprised. If you expect it to be a Ruger 10/22, with durability that you can sit on, then you are buying the wrong rifle."
Jason kept asking himself questions based on his real outdoor experience; why do I need a 2lb, 3lb, or heavier rifle, and why do I need multiple rounds when game scarcely provides the opportunity for more than one shot. He worked to refine the rifle concept, and even now continues to tweak and update the design with each new release. The result is a truly innovative diminutive single shot .22 LR take down rifle, which is designed to be as light as absolutely possible, and be completely weatherproof while still delivering accuracy.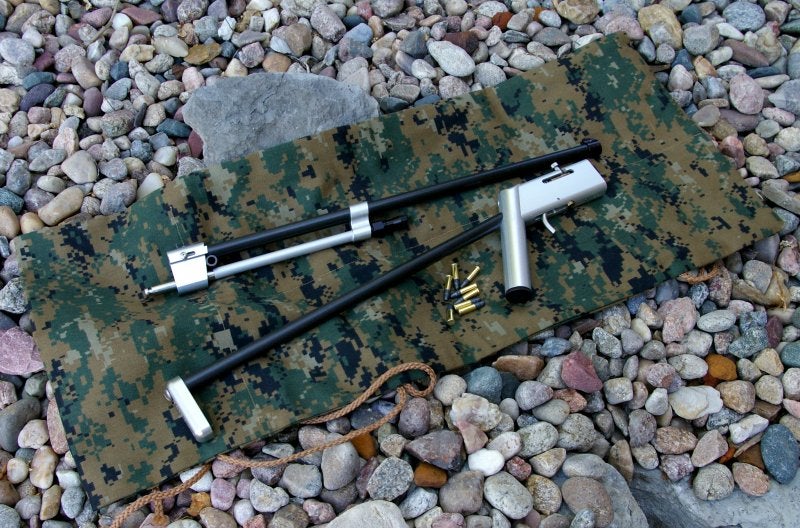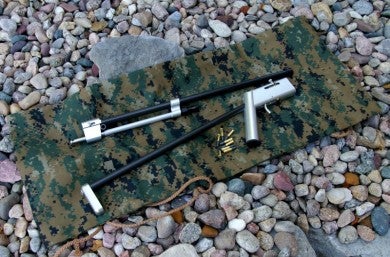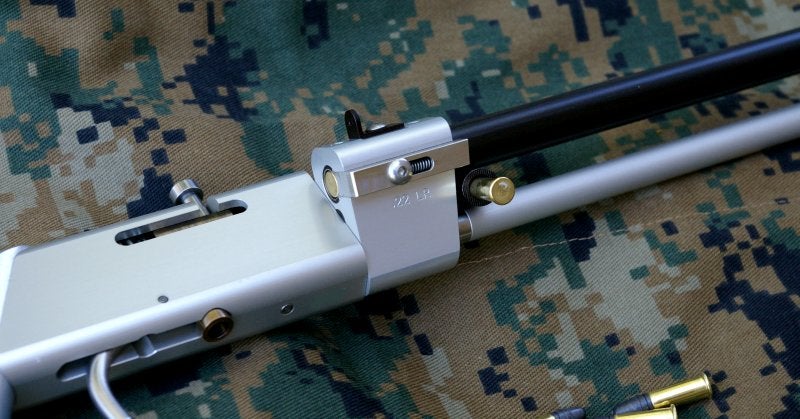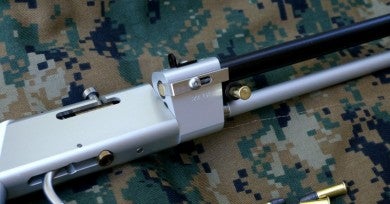 Fit and Feel
This rifle is feathery light compared to any other rifle. If you have ever handled a stunningly light 2lb AR-7, then divide that weight in half again. The Pack Rifle feels and looks more like a fine quality carbon fiber fishing pole than a rifle, but is built to fine, watch-like precision like Scaramanga's Golden Gun. The primary materials are carbon fiber and billet aluminum, which contributes significantly to the minimalist design all while still delivering a sturdy strong rifle despite its weight.
The fit is so perfect that the keying post pops a bit from air suction when it is removed from the receiver for disassembly. The rifle includes a rubber cover for the post just to prevent any nick because of the fitment. As you would imagine, once assembled it locks up tight and feels solid without any flex. Although it looks delicate, structurally the rifle is actually very strong, and the carbon fiber and aluminum can take a substantial amount of abuse. Pack Rifle is also using some aerospace epoxies to hold and reinforce certain parts, and, according to the company's tests, the epoxies are actually stronger than the carbon fiber or aluminum.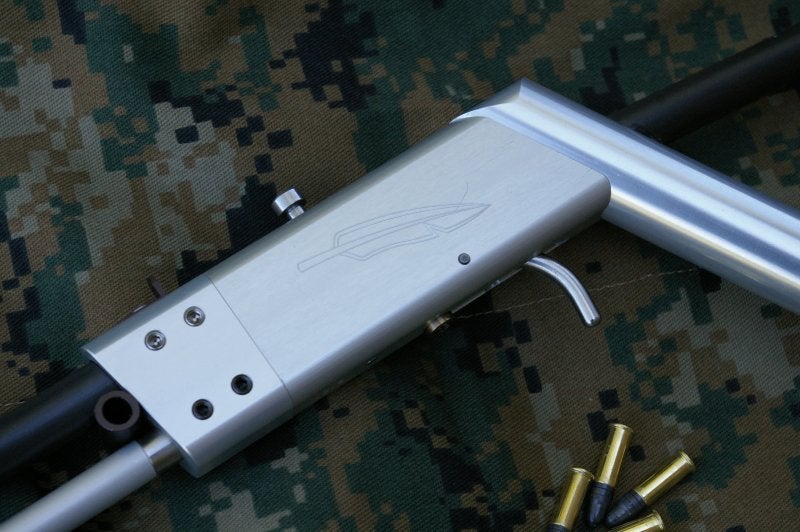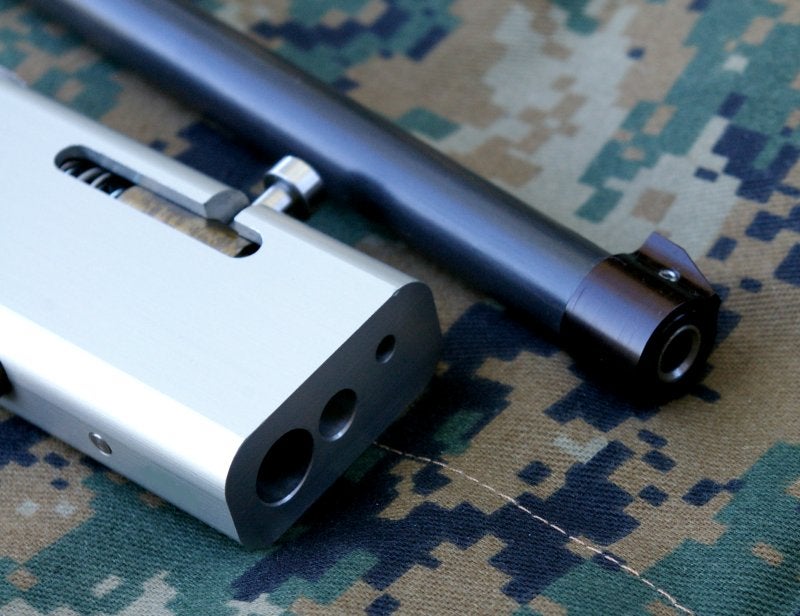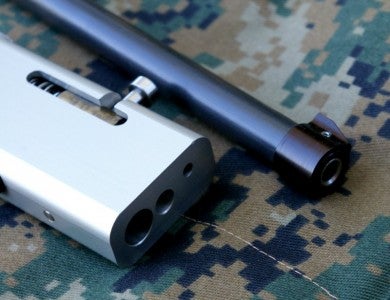 Survival rifle or not, this is a stunningly machined and designed rifle. It is available in a variety of anodized colors, which all make the wrapped carbon fiber barrel's pattern really stand out. Consider this a handmade custom gun, because the quality, fit, and finish is impeccable.
Features
I always say that the better the engineering, the simpler the product. The Pack Rifle is a good example of that philosophy in action. The receiver and most primary parts such as the forend tube and stock "pad" are machined from high strength aluminum. Fasteners and parts that see wear are constructed of stainless steel. The barrel is a precision match grade button rifled Cro-Moly liner with a carbon fiber composite outer. The same type of carbon fiber is used for the butt stock tube of the rifle. It is simple and elegant, all while being nearly totally weatherproof.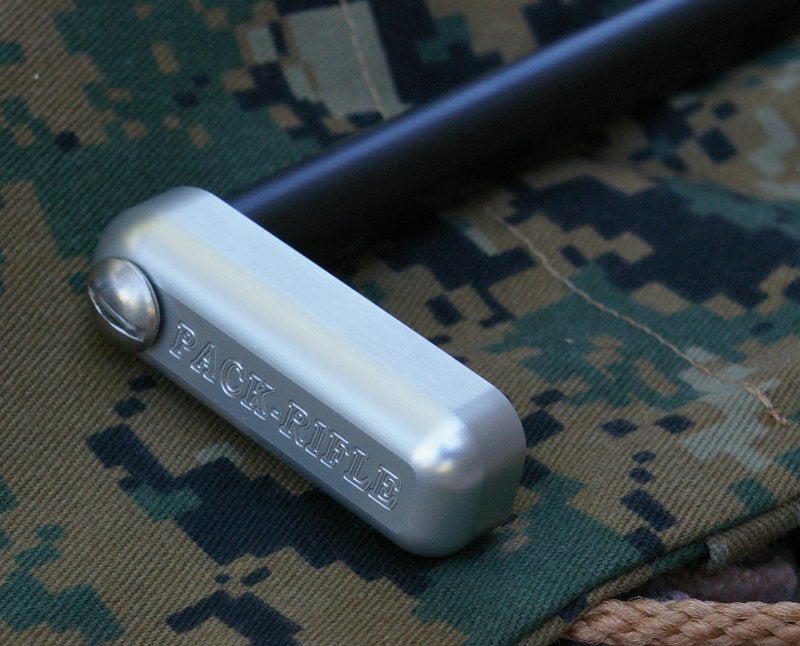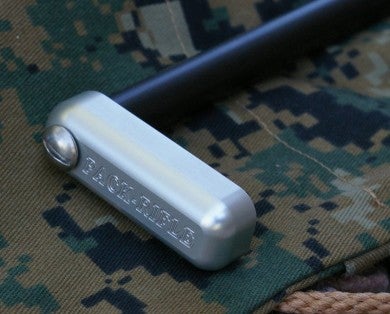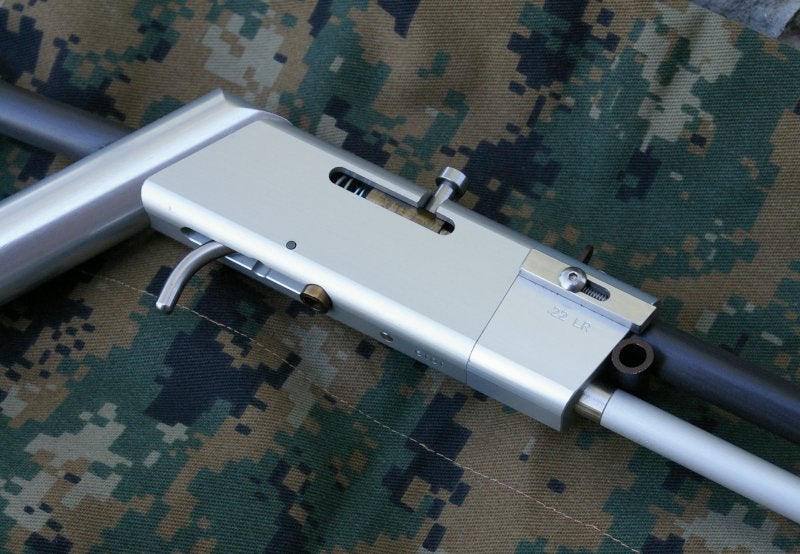 In addition to being insanely light, the Pack Rifle is a take down design which stows in only 17" of space, which is perfect for packing. The handle and stock are also hollow, which will allow you to store a little survival kit and/or extra ammo in there. Between the stock and handle I stowed nearly 30 rounds. The stock tube does require a hex wrench for removal, but I was able to modify a small hex wrench to fit in the handle, and the rifle does include a full set of hex wrenches.
The Pack Rifle sports a forend tube that provides extra support to the barrel, increases overall strength, and also provides a mount for the custom LED flashlight. The flashlight was more than adequate for 15-20 yards shots at night and features a replaceable lithium battery. The camouflage tool-roll fabric cases are handmade and deliver simple pack protection.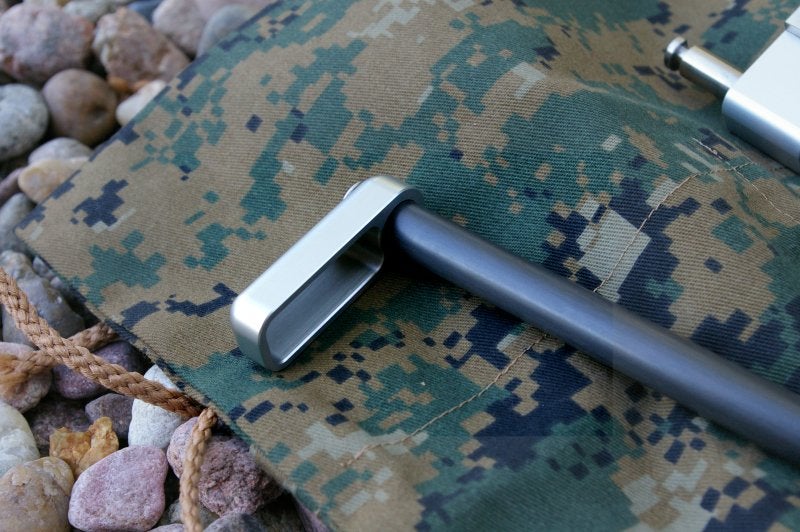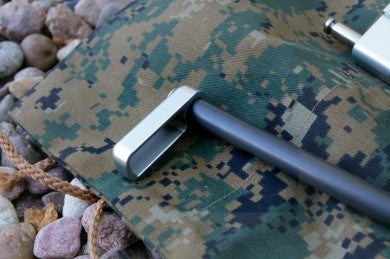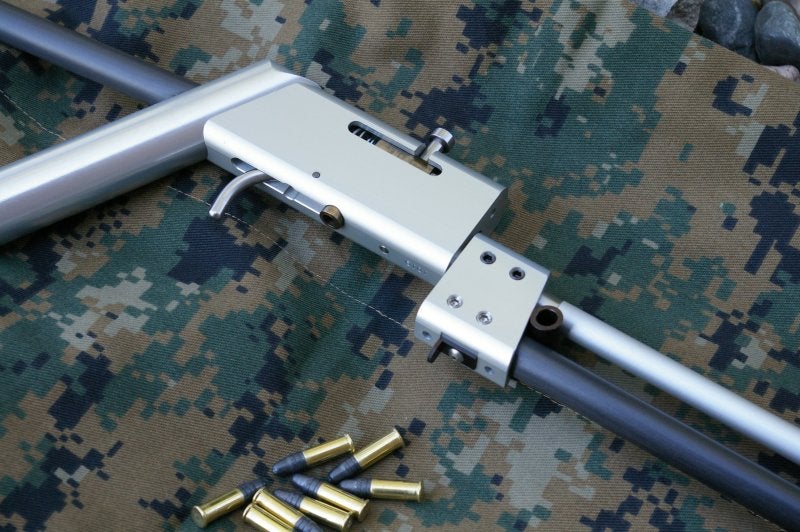 The lack of a finger guard and any safety is a little odd at first, but shooting the Pack Rifle is a lot like shooting a lever action like a Henry Golden Boy. When you are ready to shoot, you cock the hammer, versus walking around with a single action triggered gun loaded with the hammer back.
Elevation is set at the factory for 50 yards, and I found it right on the money. Windage is adjustable via the rear peep sight.
Functions
Assembly and loading involve approximately the same steps. The barrel portion keys into the receiver upside down and then swings up until the barrel lock between the barrel and forend locks in place. Push the barrel lock forward, and the barrel can be swung clockwise until about 2 o'clock. At this point the manual extractor can be pushed forward if needed and a new round loaded. Close the mechanism and pull back on the bolt handle until it clicks to cock the rifle.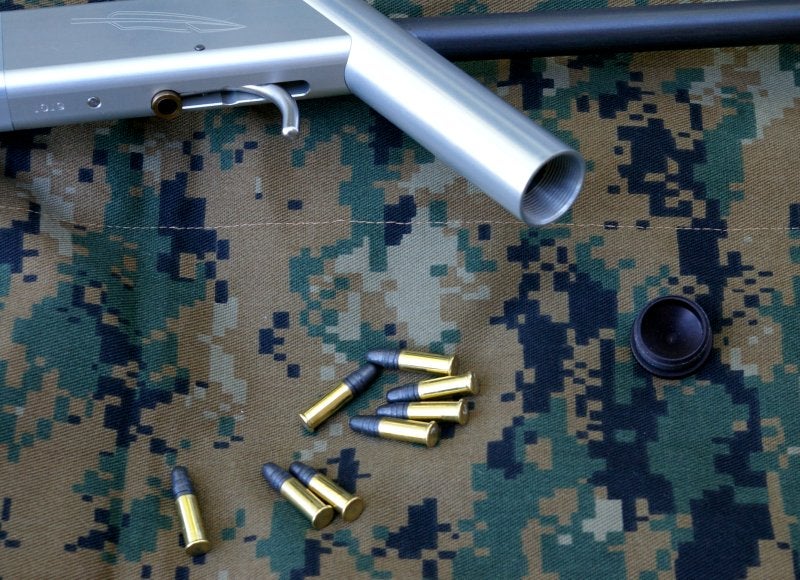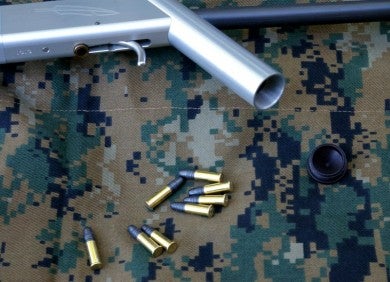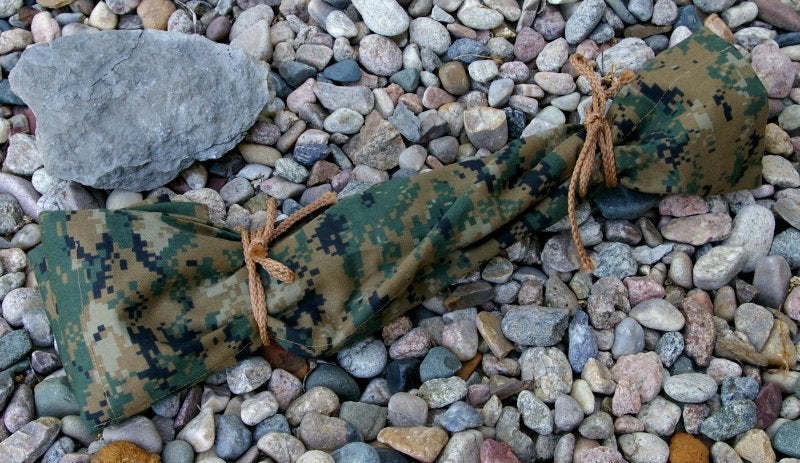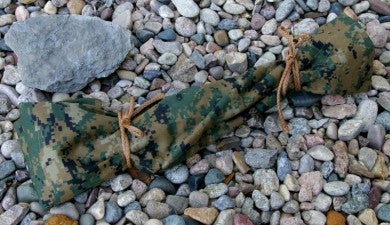 Assembly and reloading can occur in about 2 seconds, and the manual extraction snaps out the shells right out of the chamber. I rarely had to finish pulling out a round. Even though the stock pad is small, it is more than sufficient for accurate shots. The trigger is pretty heavy, but Pack Rifle did this to ensure safety on a gun without a trigger guard.
I was shocked and stunned on the recoil a .22 LR round has in a 15oz. gun; "peppy" would be a good term to describe the recoil. Physics is physics, and the .22 round is not pushing a lot of weight, so the gun is in no way painful to shoot. But the recoil is surprising and makes you respect the delivery end of the .22 LR.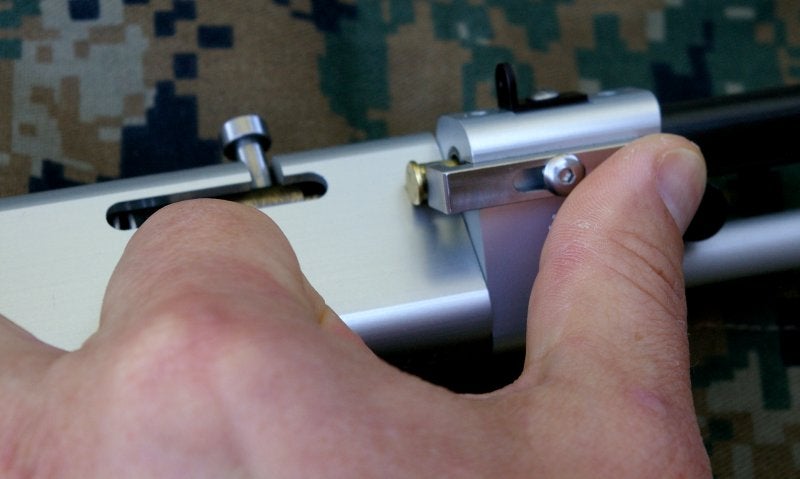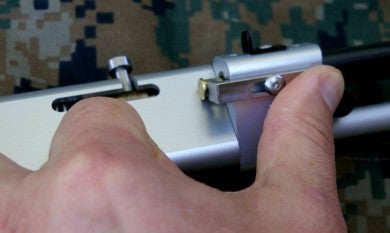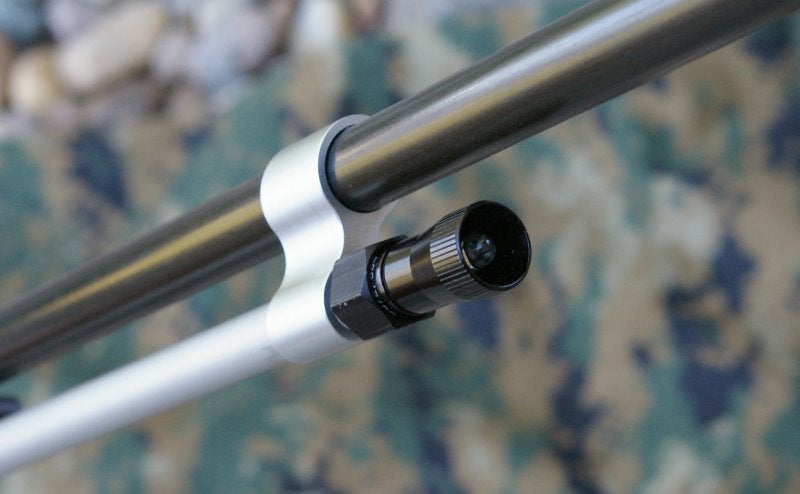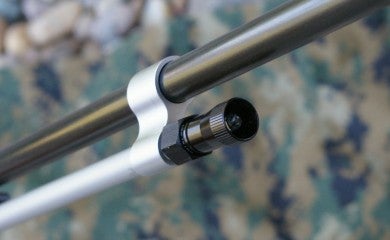 Accuracy
Accuracy usually also suffers on take down guns, but my best group with the peep sight was .6" at 25 yards with just using my range bag as a rest. Of course that group was with Wolf ammo, but a little more time and some assistance with a scope would probably reveal other ammo that shoots well in the rifle. A simple red dot would also pull those groups in a bit as well.
CCI Mini-Mags delivered consistent 1inch-ish groups, and CCI Velociter consistently delivered groups under 1". Of note is that CCI Stingers are not recommended due to the Match Chamber. Overall, the accuracy was impressive for this take down rifle that weighs less than my survival knife.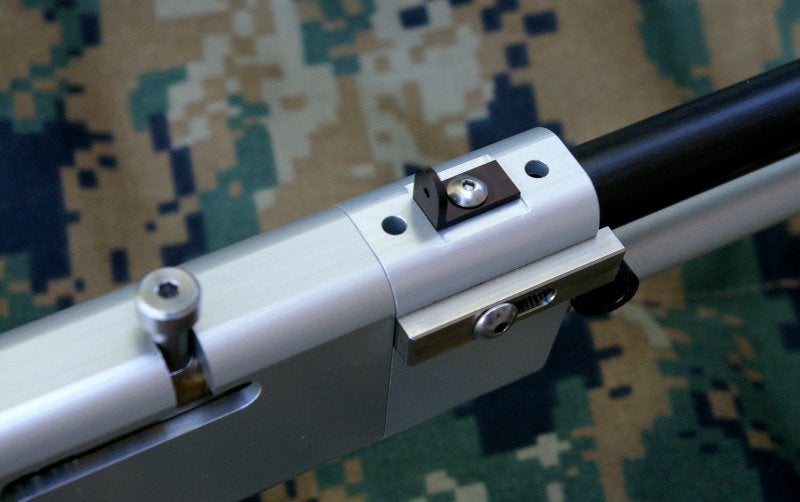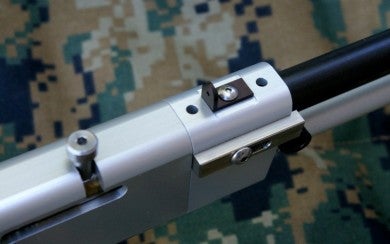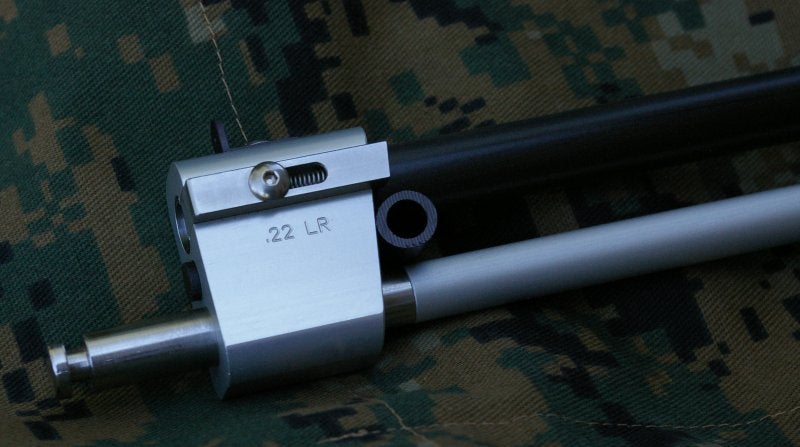 Final thoughts
As a fun and unique firearm, the Pack Rifle is a truly amazing piece of engineering. It's an accurate rifle very capable of taking game reliably on a daily basis. The Pack Rifle is also quality built to support everyday use, so it will hold up to lifetimes of use like any other fine firearm. For a realistic survival rifle, the pack rifle is the ultimate lightweight take-down rifle, with the only limitation being that it's single shot.
Currently I own a number of take-down or folding firearms which fit into that preparedness and survival category, but none are this light, simple, or accurate. It's also the case that none are this fun to shoot whether you're in the outback of nowhere or simply just pretending you are a James Bond villain.
Pack-Rifle Specifications
Weight: 15.5 oz
OAL: 33″
Take-Down Length: 17″
Width: 7/8″
Height: 4″
Caliber: .22 LR
Sights: Adjustable Peep
MSRP: $425.00*