Kickstarter, a crowd source venture capital website, has become the home for a lot of great EDC items recently. While the idea of Kickstarter is new, it is actually much simpler than it sounds. You find something you like. You promise to pay once the financial goal is met. Then when others have promised to pay enough to met the financial goal, money is deducted from your account and the other people's account. That money then goes to the Kickstarter project and the thing you wanted is made. Think of it like pledging for a public TV or radio station, but instead of getting a lame-o tote bag, you get stuff you actually want. (Yes, I know you are pledging because you want Prairie Home Companion and Downton Abbey).
I've had a chance to look at quite a few Kickstarter prototypes through my site, and many of these would make interesting additions to your EDC. The nature of Kickstarter makes it a perfect avenue for inventors and designers to come up with new stuff tailored to a specific segment of the market. There are a bazillion pens and wallets on Kickstarter. There are a few one piece multitools and a smattering of other interesting things.
We talked about Kickstarter on Episode 17 of Gear Geeks Live and the impact it could have on the knife world (though John Grimsmo contacted me afterwords and mentioned a limitation on weapons using Kickstarter).
Here is a quick overview of a few of the hottest EDC-related projects on Kickstarter.
Prometheus Beta-QR
The Prometheus Beta-QR is  still pending. The Prometheus Alpha Pen was a smash Kickstarter success, raising over $125,000. It is a beautiful writing instrument and takes the finest refills in the world–Mont Blanc only. The Beta-QR is the follow up to that project and it is just as beautiful and quite the problem solver.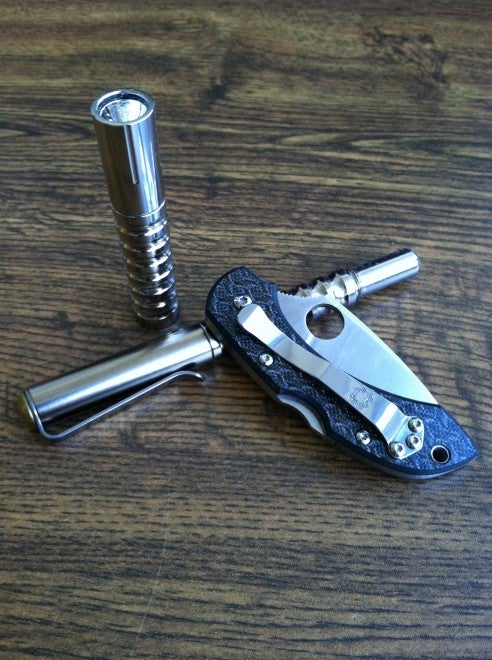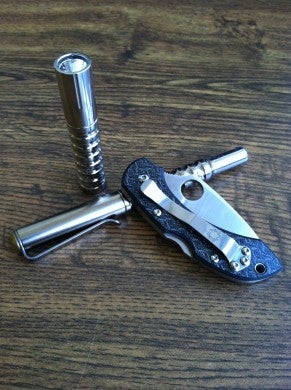 That's the Beta-QR, sans QR, the Alpha Pen, and the Sprint Run Dragonfly II in Nishijin Glass Fiber. For decades we have not had a good solution for attaching a light to a keychain. They were either secure and impossible to use off the keychain or easy to get off but on limited functionality (usually because the connection point killed the light's ability to tailstand). Jason's idea to incorporate a quick release mechanism like you'd see on a set of air compressor tools, solves both problems and makes for one heck of a light. Toss in the ultra premium emitter, with Hi CRI output, and the ability to run on a common 1xAAA, and you have one of the most practical lights available and the perfect keychain flashlight.
Gear Pull
The Gear Pull is funded but no longer pending. Danglers help keep stuff near by that doesn't have a pocket clip or has a crappy clip. But often they only support one item, so you have to choose whether it is your light or your knife that you want to carry. The Gear Pull solves that problem in an incredibly stylish way.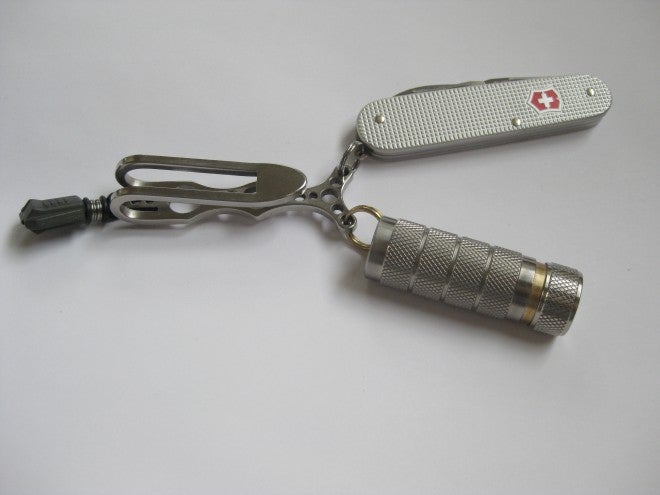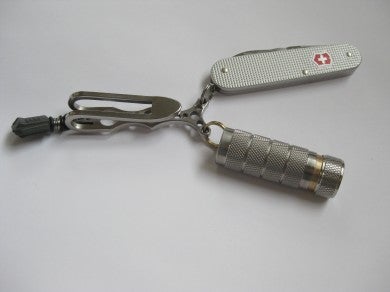 The clip rides comfortably in your pocket, and the entire design is immaculately finished. All of the edges are chamfered, and the whole thing is buffed to a beautiful shine. Strictly speaking you might be able to do without it, but after you have used one you'll appreciate what it does and how it looks.
Click Carabiner
The Click Carabiner is still pending. There are approximately 300 different carabiner tools out there, from those available in the dollar store to those made by big name gear companies. By and large, they all stink. They stink because they are tool with a carabiner stuck on it. They lack the sleek appearance and basic utility of a carabiner. Not the Click Carabiner.
Its mild mannered appearance gives way to something pretty awesome–three useful and easy to access tools: a REAL (as in not 2D) Phillips Driver, a Flathead Driver, and a smaller Phillips Driver with a bottle opener. All come out quickly and reliably thanks to a geared rear portion of the tool, seen here: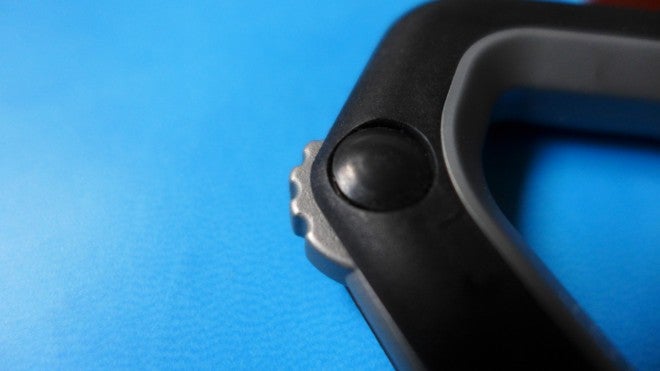 Plus, unlike other carabiner tools, it functions flawlessly as a – well, as a carabiner. Plus, it is a bargain for the price. These are so easy to stow some place, drop one on some MOLLE as a retaining device, and you have a spare set of tools too.

SHOP NOW
BladeKey
The BladeKey is funded and no longer pending, but available here. The best inventions are often the simplest. Remember those phones, the um what were they called, Raspberries? Something like that. The ones CRAMMED with tiny buttons? Yeah, not simple. They died and one button smartphones took their place. The BladeKey is even simpler. This is the least bulky, most efficient way to hold your keys.  It keeps them silent and it makes your keychain much more pocket friendly.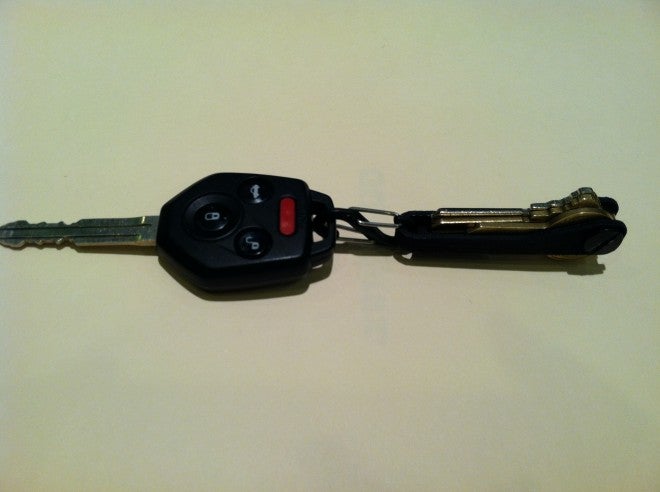 That's it. That is my whole keychain. No more pocket full of tools. No more janitor key wad, just a sleek easy to use device. It is one of two things that I have reviewed and then bought immediately (the other is the Tom Bihn Cadet, which is one hell of a briefcase). This thing is pure genius.
NockCo Pen Case
The NockCo Pen Case is still pending. One of my blogging friends, Brad Dowdy, put out a pen case, or really a series of pen cases, and they killed it on Kickstarter. They are made of good materials, come in bright colors, and are made by a person who really knows pens.
But here is the cool thing: they can also take some EDC items, like a flashlight or a pocket knife. Check out the picture of the Sassafras. You might know that knife hanging out in there. It is a Spyderco Delica. Imagine a case that holds three pens, a light, and a knife, and works well with your backpack or briefcase. That's the Nock Co stuff. There are a ton of cases out there, but many are designed to work with belts. They are nice, but God are they dorky looking. I tried one out and it was very nice, but I could never shake the feeling that I was firmly in Mall Ninja territory. With the Nock Co, you'll have your stuff nearby and no one will mistake you for Snakeyes from GI Joe.
Honestly Kickstarter is one of the coolest things to happen to products in a long time, and the EDC world is an ideal market segment for Kickstarter folks to target. I'll check back in every once in a while to see what else is awaiting your dollars and promising awesome gear on a video made with quirky Apple like music.