Randall Adventure Training ESEE-4 Survival Knife
Major Pandemic 10.16.13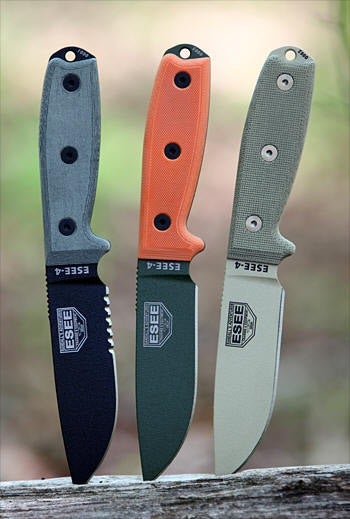 I have lengthy experience with the knives of Randall Adventure & Training, more commonly known as RAT knives. Back in 2002, a series of no-nonsense knives hit the market carrying the RAT name. These knives were produced and marketed by Ontario Knife Co under a licensing arrangement between the companies, and they were a hit. The RAT knives were adopted by the military and even ended up with several government NSN numbers. Yours truly also owned, used, and loved one of their initial Training Adventure Knife models — the TAK 4" bladed production survival knife which morphed into the current day ESEE-4 Survival Knife. I have included the old TAK in the pictures here for comparison.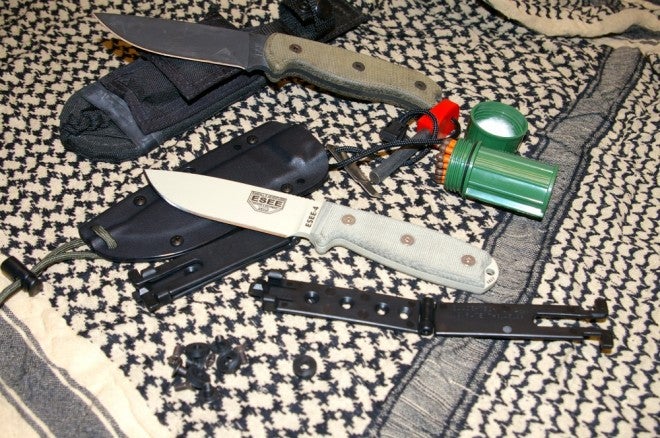 It should be no surprise that the well designed knives for real-world survival were a hit. Randall's Adventure & Training has been in business since 1997 as an educational entity to train military, law enforcement, and civilians in the art of jungle and outdoor survival. Through those teachings, RAT/ESEE Knives recognized the need for a better knife for the school. The company developed its initial design and eventually other knife designs, which formed the basis of the above mentioned five year licensing agreement with Ontario Knife Co.


One of the things I really liked on the old knife was the high carbon 1095 steel blades and micarta handles. They definitely were not cutting edge knife technology, but for a wilderness survival knife, the design provides a highly durable and easily field maintainable edge which shoots sparks from a fire steel and is sharpened easily. Feedback from the industry on the old knife noted fit, finish, and sheath issues.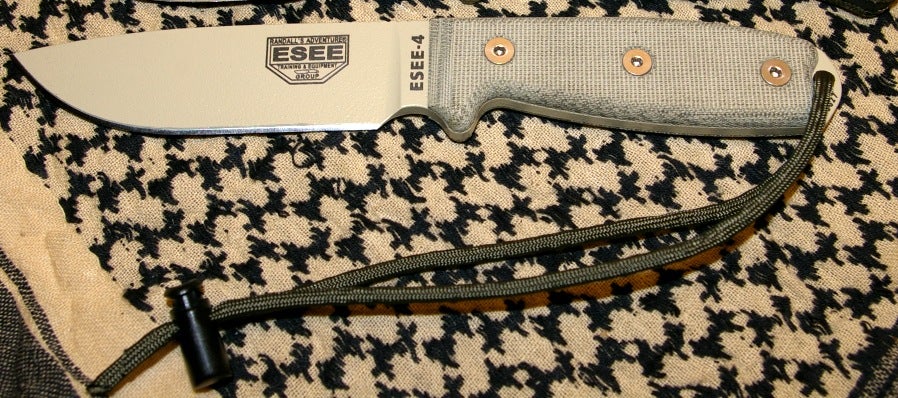 RAT heard this feedback and after the end of that licensing agreement in 2007, the group decided to produce a higher quality line of knives outside of the mass production capabilities of Ontario under their new ESEE brand.
The new ESEE Line (Formerly RAT Cutlery) is considered a "mid-tech" knife in the sense of quality and manufacturing procedures. The blades still use the low tech 1095 carbon steel that we all liked in a survival knife, but now you'll notice higher grade sheathing, fit, finish, and attention to detail than they were able to offer previously. Low tech steel with high tech details equals a mid-tech knife. Now with more production control, ESEE can listen and update designs more quickly based on feedback, which is the reason ESEE knives have now become one of the most well regarded survival knife brands in the industry.
From my perspective, the new updated design resulted in high-end features and finish at a mid-level knife price. For a survival knife I think this is an excellent compromise for the backpacker, soldier, outdoorsman, or survivalist.
In my case, my beloved 4" TAK knife was claimed by my wife for her Bug Out Bag, so I needed a replacement. I ordered the new ESEE-4 equivalent to my old knife. When it arrived, I was very pleasantly surprised that it was of much higher quality overall than the original. It had a better handle to blade fit plus a choice of powdercoat finish colors and G-10 or Micarta Handle color choice during ordering. In the attached picture you can see the differences between the old TAK and new ESEE-4 knives.
Although the newer blade has a little shorter edge to spine profile, which I like, it retains the same length and thickness. Other changes are the larger index finger choil, which accommodates even very large fingers for detail cutting, and a new handle. The new knife's handle is not the huge blocky format of the old knife, but is much thinner and re-contoured. The handle's length has been trimmed by nearly an inch to provide a more compact knife – about 2.5oz lighter than the original.
The knife is still priced well at $168 MSRP and about $90-$100 street price. In the land of $300 premium steel knives, the ESEE-4 with high end features but a basic steel is a very good value.
The new ESEE-4 also now has a very secure flexible mounting and adjustable tension Kydex sheath. The Chicago Screws on the top two holes of the sheath can be tightened, moved, or loosened to adjust the sheath retention. There are two sheath mounting options available for purchase that both utilize the ESEE Kydex sheath: one version with a flexible and removable nylon belt loop attachment and another with MOLLE mounts (which was the version I ordered). ESEE also offers a complete kit version which includes both the belt loop drop leg extension and the MOLLE clips.
The MOLLE clips provide all the mounting flexibility I need, and they minimize weight over the added drop leg sheath extension. The MOLLE clips can be used to mount to MOLLE straps on packs in multiple vertical and horizontal positions, as well as acting as belt loops. I tend to use optional BladeTech Tek-Lok's for belt attachment on my knives anyway, so it made little sense for me to add the expense.
The design and sheath upgrades were all well thought out and a big ergonomic improvement over the original design. Those improvements make the knife all around a better and more comfortable knife to carry. It's less chunky and clunky. The sheath allows simple attachment and carry in a variety of methods, including the MOLLE straps on my packs, lashing to the belt with the included paracord, and even with my optional Bladetech belt clip.
I have preached that a crappy sheath system on a great knife makes for a crappy knife. The ESEE IZULA and ESEE-4 I own both demonstrate an attention to the fact that a great knife needs a great sheath or it will simply be left at home. The flexible sheath system in my mind is what makes or breaks or outstanding knife, and the sheath was designed by by people who are experienced in knife carry.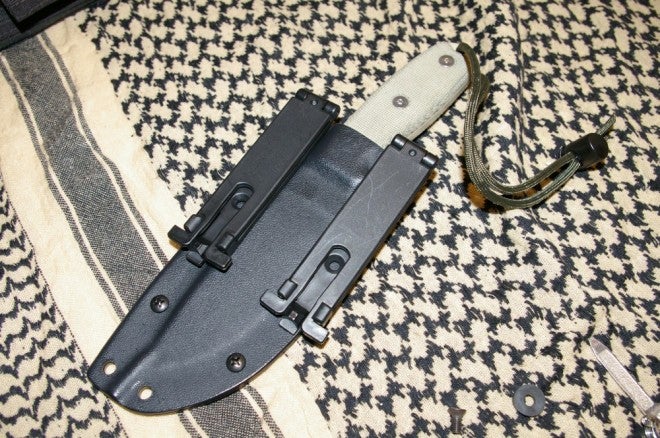 The ESEE does not come in a big, fancy, four color printed box. It comes in a plastic bag, which puts dollars back into the knife vs packaging. In addition to the knife, ESEE also includes complete instructions on how to use the sheath system, a RAT ESEE pocket survival card ,and in my case the MOLLE clips and a number of Chicago screws. Attached to the knife is about 20" of paracord with a paracord lock. The paracord allows attachment to a variety of points, including a sturdy belt loop.
For survival and general bushcraft and game cleaning, the drop point blade shape is one of the best designs. The V-ground, 1095 blade with a 20 degree edge is very easy to maintain with even just a steel, and it takes a razor sharp edge quickly. 1095 is not high end steel in the land of new crucible steels, but it does have a 57 Rockwell hardness and will take an edge much more easily (even off of river stones out in the field) than the super hard crucible steel. Most high end stainless steels generally produce a much smaller shower of sparks off of a firesteel than a simple 1095 high carbon blade, which is very important in a survival situation. The 4" blade is about perfect for general use unless you decide you need to become a lumberjack and start felling trees. Even for the big job of using the ESEE-4 to fell 4"-5" trees can be accomplished by "batoning" or pounding the spine with a small log.
The blade now carries a thick coating of textured powdercoat instead of the phosphate finish on the old blades. So far it has proven more durable than the old finish and definitely cleans up better. The 1095 steel is high carbon and will rust on the exposed edges and laser etched areas, so you do need to keep the knife lightly oiled. Another trick is to coat the exposed steel with Dijon mustard and let it sit for 24 hours. Wash it off well and touch up the edge with a steel. The Dijon mustard will oxidize the exposed steel and prevent any further rusting of all but the fine edge of the blade.
Final Thoughts on the ESEE-4
First off, I support USA made products, and this knife and accessories are all 100% made in the USA. There are a lot of options when ordering, so if you get confused give them a call.
After testing my new knife, I have to note that I believe it is one of the top choices for a fixed blade survival knife for around $100. The knife is big enough to accomplish even the largest tasks but is still small and light enough to carry daily. And most importantly, it has a sheath system that will accommodate all carry methods.
Specs
O.A Length: 9.0″
Cutting Edge length: 4.06″
O.A. Blade Length: 4.5″
Maximum thickness: 3/16″
Blade Width: 1.25″
Weight: 7.4 ounces (knife only)
1095 Steel – 57 Rc.
Serial Number On Pommel
Ambidextrous Kydex sheath
SHOP NOW