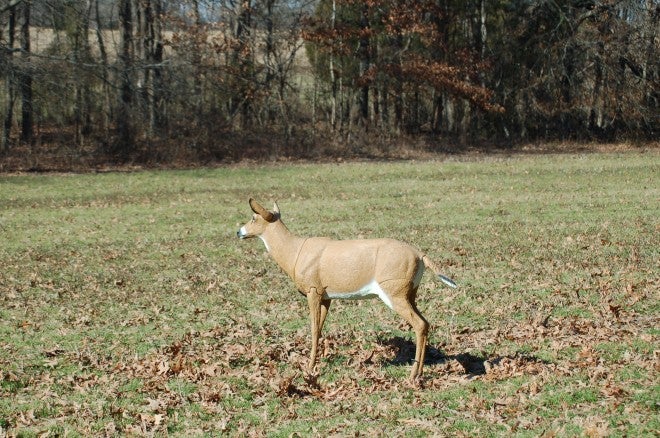 Maybe whitetail deer hunting is getting too technical to fully understand or appreciate. Every day a new magazine, internet site, video, DVD, or television show comes out touting some new strategy of quality deer management, habitat manipulation, deer hunting tactics, or a new whiz jam product that is going to lure the biggest buck in the county to your gun.
One such product that appeared on the deer hunting scene several years ago was the deer decoy. Early models were pretty crude and not particularly real looking, but that has certainly changed these days. The deer decoys manufactured today are in fact so real looking that even game wardens are using them to lure unscrupulous hunters into mistakenly taking a shot.
Hunters have to be careful when setting up, taking down, or hunting around a deer decoy. After all if they can fool another deer, they can sure as heck fool another hunter, and that could be dangerous in the wrong situation.
When you carry a decoy to the woods or from the woods, wrap it in some hunter orange. Set up the decoy away from public angles of view like roadways, open fields, right-of-ways, or any view from outside the hunting area. If there are other hunters permitted in the area, make sure they know you have a decoy out in the area. Some hunters even wrap a piece of orange flagging on the decoy just to be sure. Way better safe than sorry.
Obviously the point of using a decoy is to make it seen. The a doe decoy is used to trick a buck into coming close enough for a shot. The a buck decoy establishes a territorial issue with other bucks. Couple a buck decoy with a doe decoy and this really pushes another buck's button. Where and how the decoy is set up is paramount to the strategy.
Decoying deer seems to work best in open areas like food plots, open spots in cutovers, harvested fields, or any place where deer can spot the decoy from several different points of view. Then the decoy has to be set up so the hunter can clearly see it from the hunting stand. The trick is not to put the decoy too close.
Be sure not to stink the decoy up with human scent in the set-up process. Use gloves and scent blocker sprays to dash any impression of human scent that could be left on the decoy. When you finish setting up, spray the decoy down with scent killer.
It may seem weird, but the decoy's head or "eyes" need to be oriented properly. Do not place the decoy so it is "looking" in the direction of the hunter. It should be placed away at an angle or facing the opposite direction. Two decoys can be placed looking at each other, or if one is a buck then place it behind the doe.
Put the decoys near well used entry points to the food plot or hunting areas. Engage in some pre-hunt or seasonal scouting to identify some of the best places where deer have been entering the area. You want your decoys set up where they can be seen by the deer coming out from these entry points.
Many hunters deploying decoys also add some incentives. Using deer scents on the decoy can give extra confidence to the buck being lured to the decoy. Just don't overdo it. Placing a strip of white cloth on the tail to wave in the wind is another confidence factor. Decoying is also a good time to use some limited buck grunt and/or doe bleat calls.
Here is one final word of caution in using a deer decoy: they are not a magic bullet. Curb your expectations. Hunting over decoys requires patience and plenty of time in the hunting seat. Always approach and exit hunting areas with careful attention to not leaving scent behind or making too much noise. A decoy is just another tool in the kit, but it just might be the one to make the hunt.