Assemble Your Own AR-15 with the DPMS Oracle Kit
Major Pandemic 11.06.13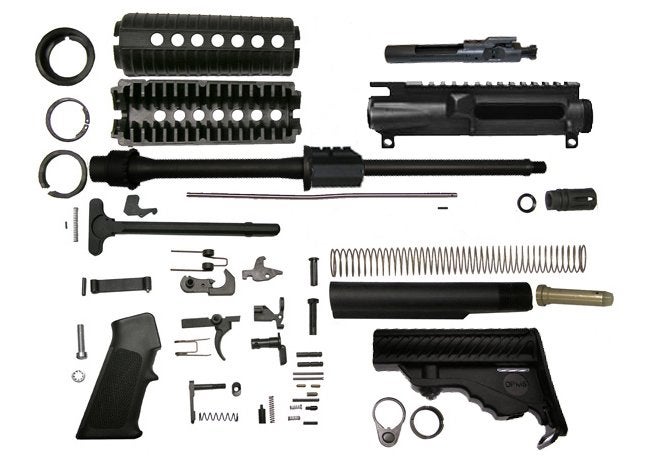 There is a reason Legos, Tinker Toys, and Erector Sets are so popular. At some point everyone wants to assemble their own toys, and for big boy toys, earning your stripes means assembling your own AR-15. One of the all time most popular choices is the very affordable $539.99 DPMS Oracle AR-15 kit due to the price, weight, and performance of this great DIY kit that only requires a stripped AR-15 lower receiver to complete.
About the DPMS Oracle Kit
Now a Remington Corporate company, DPMS is of course famous for accurate, high-value AR-15 rifles, and their most popular rifle of all time has been the simple and light Oracle. It was inevitable that it would end up as a kit. The Oracle kit comes with everything you need to assemble your AR-15 minus a stripped lower receiver. Since the lower receiver is the only thing that is serialized and requires you to go through your local gun dealer for an FFL transfer, the Oracle kit can be shipped via UPS right to your doorstep. I purchased a stripped Mega Arms Billet GTR-S3 lower via Mega Arms and my local FFL dealer to complete the build.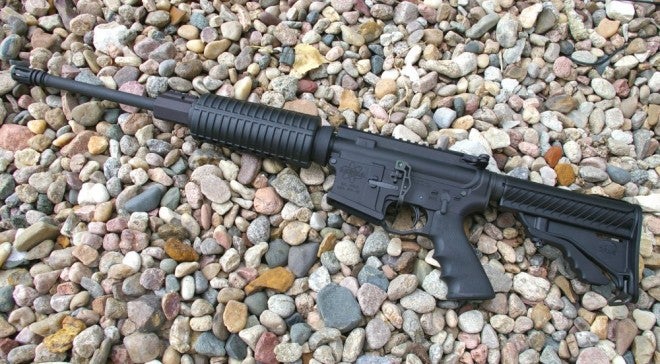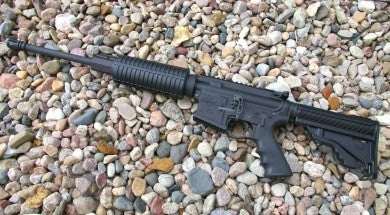 Finish, Fit, and Assembly
Like all DPMS products, the fit and finish is great, and I was happy to see that all of the parts were packaged well and arrived scratch free to my door. We all take a deep breath when kits are involved because there is usually that once damn piece that was left out to complete the build. This was not the case with the DPMS kit. All of the parts were there, and all were quality pieces. The dirty secret in the AR industry is that most manufacturers use the DPMS lower receiver parts kits, so chances are high you have already used these parts on a rifle. All good quality parts.
Assembling a DIY AR-15 from a kit is not an especially difficult task and can take as little as 90 minutes for the first time builder. I found my DPMS Oracle kit build a fun, rewarding experience which educated me on all the parts of the AR-15. And, of course, for a couple hours it had me feeling like a kid again putting together Legos.
Aside from the fun project, AR kits are also a relatively inexpensive alternative to buying an AR-15 these days. The Oracle kit will set you back just under $530, and a even with my jaw dropping $200 billet Mega Arms receiver my build was still $100+ under the cost of most complete rifles. With a less expensive, standard forged $120 lower receiver, you could easily be under $650 for the entire build. Another reason people like a kit is the option to upgrade from the beginning. I took the opportunity to add Phase 5 Tactical's ambi-bolt release, a Revo revolving sling mount, and a Hogue grip, but upgrade options are almost limitless.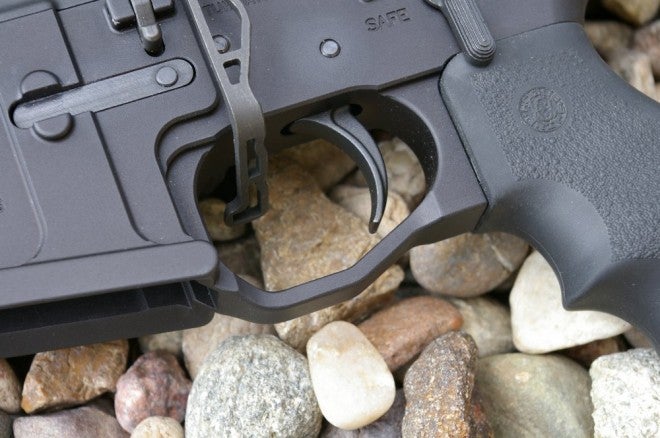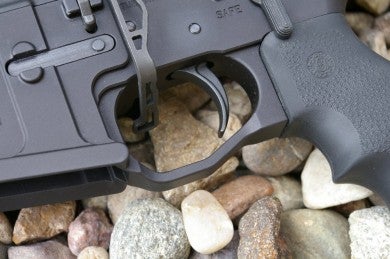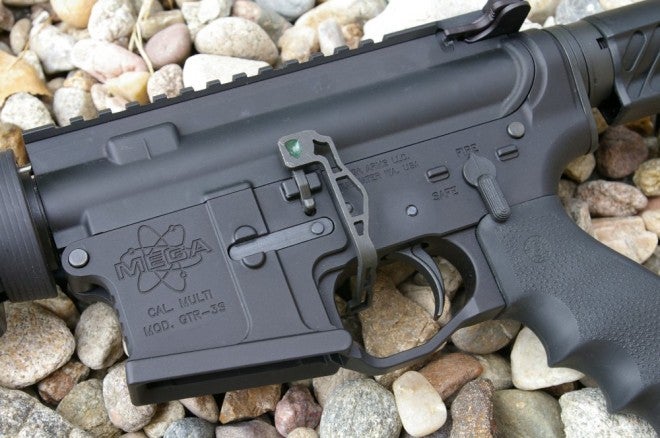 A set of punches, a no-mar hammer, screwdriver, needle nose pliers, Crescent wrench, large adjustable channel pliers, lock-tite, some sythetic grease, and a good strap wrench are minimum requirements for assembling the DPMS Oracle kit. Attaching the barrel to assure proper barrel and gas tube alignment is without a doubt the most difficult part of assembly for the home assembler. A barrel and Castle nut wrench will help considerably, or another option is DPMS's own $30 DPMS combo AR-15 wrench which also provides a flash hider wrench in the tool. Spend the money on this tool, because it will be worth its weight in gold for this assembly. Most of the other AR parts do not need anything other than a set of punches to install.
To start the DPMS Oracle kit, take a look at my video. The video will walk you through the entire build, but if you want detailed instructions see this link on AR-15.com for a step by step process. A couple tips are to pick up a DPMS combo tool, use a block of wood that will fit in the magazine well to support the rifle while torquing down the barrel, and assure the taper spring is used in the trigger assembly and not for the bolt release.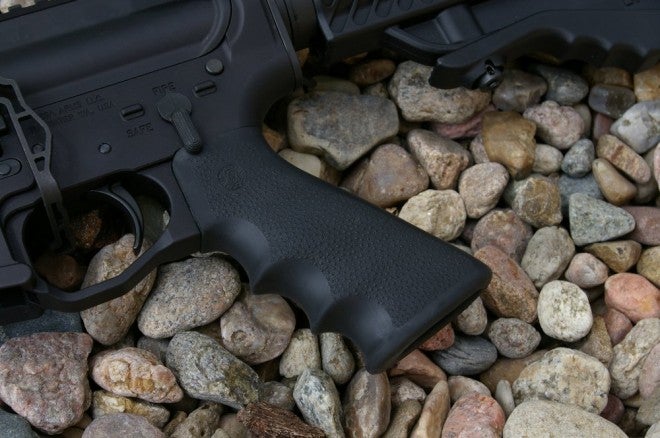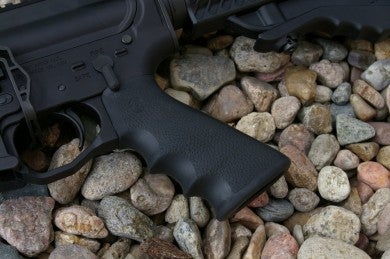 Feel
The Oracle kit, when fully assembled, will weigh in at a feathery 6.2 lbs and points quickly when running drills. The extremely light weight has always been one of the big draws to the Oracle rifles. I have heard more than a few people note they use the Oracle for extended week-long tactical training due the decrease in fatigue brought on by one less pound of weight.
The DPMS Oracle kit is designed and sold as a basic rifle and features a standard grip, non-heat shielded forend and flat-top receiver ready for your choice of optic. The rifle is best suited for a simple, no-nonsense optic such as an EOTECH 912 that will offer plenty of durability. For my testing I used an EOTECH 912, which provided fast target acquisition from target to target.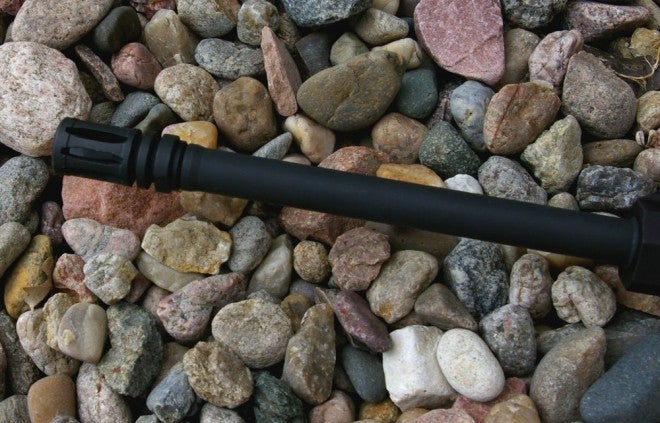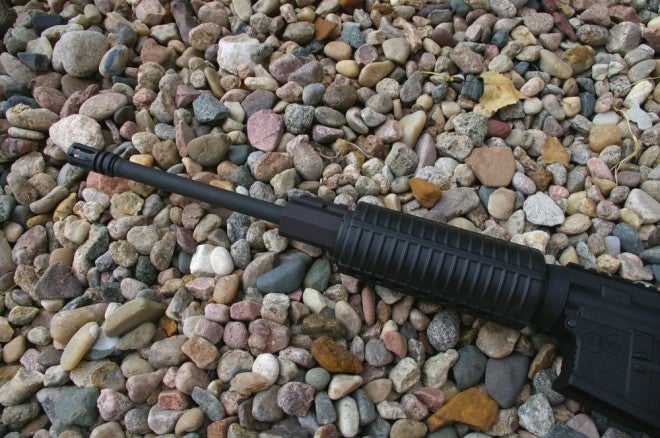 Features
The DPMS Oracle kit is a standard, basic, 1:9 5.56 Nato 16" barrel lightweight M-4/AR-15 format rifle with forward assist (noting many rifles in this price range omit the forward assist). The kit includes a standard, properly staked bolt/carrier group assembled from the factory, upper receiver, barrel, flash hider assembled charging handle, trigger and lower receiver parts kit, grip, non-heat shielded forend, Pardue 6-position stock, and all the other bits and pieces to complete the assembly.
Definitely the most notable features are the optic ready flat-top receiver and the light weight "pencil" barrel. Premium upgrades like sights, a chrome bolt and carrier, or T-Markings on the receiver are absent, but what do you expect for a $530 kit? With the exception of the optics, Hogue grip, Phase 5 Tactical Ambi-Bolt Release, and Revo Sling swivel, everything else pictured was included with the DPMS Oracle rifle kit.
Function and Accuracy
The first magazine fired completely, but the bolt did not hold open. After the first magazine, everything broke in, the bolt held back, and functioning was flawless. Although certainly not a brutal test, I ran a little over 500 rounds through the gun the first day out, and then another 200 round of standard Wolf ammo on another trip to the range without any hiccups, failure to feeds, or failure to extracts. It's a great functioning little gun.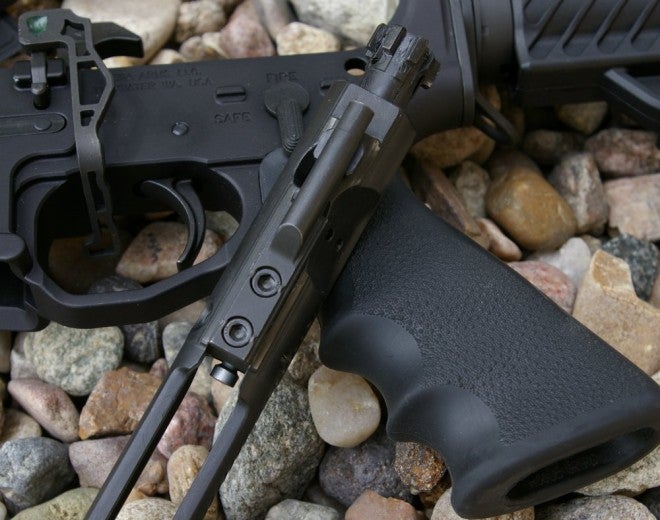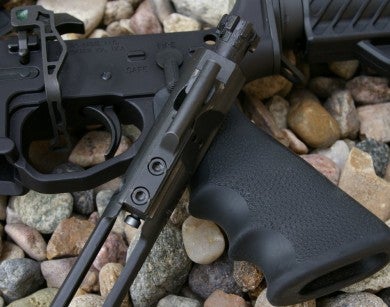 DPMS has had a long standing reputation for delivering very accurate value based guns, and the DPMS Oracle kit is no exception. I have heard extraordinary claims of 100 yard 1/2" groups with the $500 Oracle kit. Every rifle shoots differently; the Oracle was still a good shooting rifle, but it's far from those claims. I tried a wide variety of loads using a 1-4X Trijicon scope and was able to manage the below 5-shot, 100-yard groups.
HORNADY 75GR MATCH – 1.58″
HORNADY 60GR TAP PFD – 1.28″
HORNADY 55GR TAP PFD – 1.12″
Winchester USA FMJ 62GR FMJ – 1.21″
Winchester USA FMJ 55GR – 1.38″
WOLF FMJ 62GR = 1.85"
WINCHESTER PDX1 60GR = 1.17"
FEDERAL MATCH 69GR = 1.07"
HANDLOADS HORNADY AMAX 75GR = 1.63"
The disadvantage to the lighter weight barrel is that it does heat up quickly, and accuracy does start to suffer as the heat goes up. To combat this, I counted to ten between each shot and waited for the gun to cool before moving to the next test.
Final Thoughts
DPMS often offers this great little Oracle kit on special, which was the situation when I purchased this kit. Sign up for the DPMS newsletter, and you might be able to save a few bucks off the normal price as well as get notification of any DPMS specials and offers. DPMS will also notify you of some fun events such as a huge zombie shooting event up in Minnesota each year.
The DPMS Oracle hit is a really nice, light weight gun. Both myself and Mrs. Pandemic like the rifle because it is light and easily maneuverable. It has been pulled into home defense duty a couple times when we have been awoken by bumps in the night. The DPMS Oracle kit was a blast to put together, has been really fun to shoot, and has proven to be an accurate, fun, and dependable carbine – even if I was the one who put it together.
DPMS Oracle Kit Specs
Lite contour 16″ barrel with single rail gas block
1-9 Twist
Chambered in 5.56x45mm
A3 Upper Receiver
DPMS GlacierGuard Handguards
Kits do not include Cleaning Kit, Magazines, or sling.
Kit is Unassembled Parts.
Retail $599.99 (Street around $539)