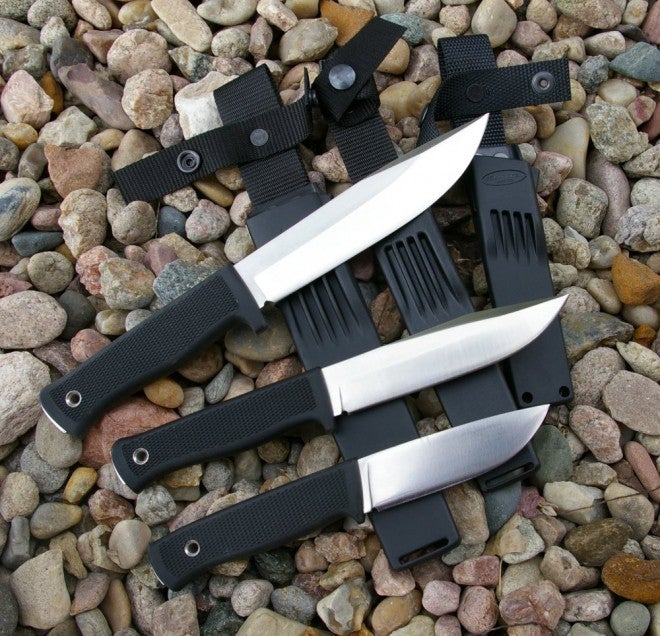 Recently a friend asked what the best survival knife was without regard to price. That had me looking back and reflecting on my lifelong love affair with knives. Over the years I have collected the most premium production and custom knives ever offered. I have more than a few. Fallkniven of Sweden is always the first name that hits my brain. To be up front, they are not inexpensive by any means due to their laminated VG10 steel, but they offer a level of performance unavailable from any other knife manufacturer I have tested.
In a review posted yesterday, I took a look at the top end of Fallkniven's lineup. In this review, I'll talk about the three knives that make up the core of the Fallkniven line: the F1, S1, and A1. Visit any bushcrafting or survivalist forum, and you'll see that these three knives are the gold standard against which all other hard-use outdoors knives are judged. Different people may have their own pet brands and will debate the pluses and minuses of this knife maker vs. that knife maker, but everyone, regardless of allegiance, will agree that a "Falkie" is always a top-tier choice.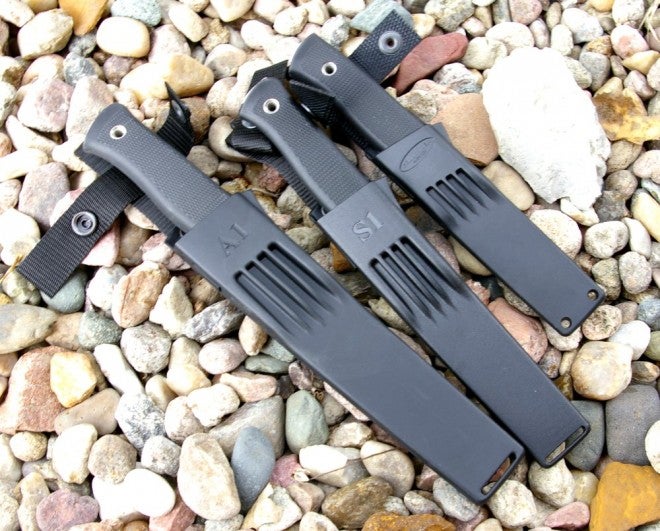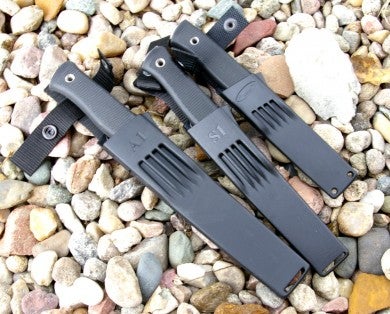 Fit, Finish, and Feel
The finish and fit are perfect. Put a Fallkniven knife in your hand and you will see custom knife quality in a production knife. Some might look at the molded-on Thermorun handle on the F1, S1, and A1 knives and yawn when comparing them to the glittery materials of other knives; however this handle is one of the most comfortable long-term use handles I have used, and it assures your hand will not slip during use.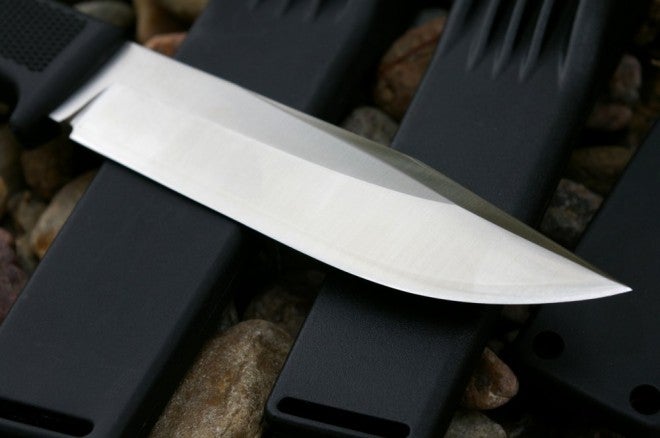 These knives feel like an extension of the hand, and it is obvious that Fallkniven spent significant time ensuring the balance and comfort were perfect. The small 3.8oz Fallkniven F1 (flight survival knife) with a 3.8" blade is the most popular design in the company's line. It was the original design for the Swedish Military and provides the ultimate lightweight knife option for the survivalist or outdoorsman.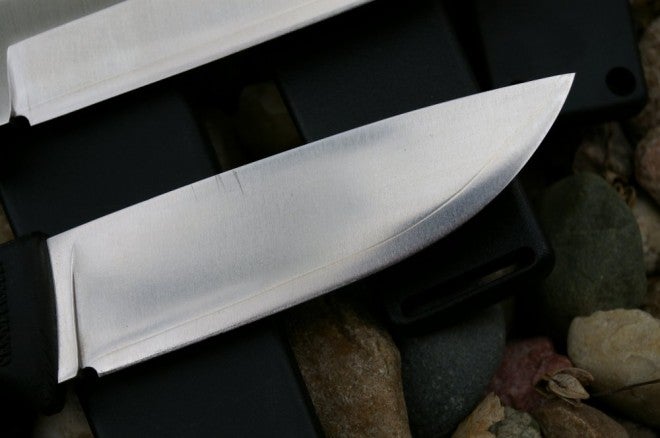 My overall favorite size is the 6.7oz S1 Survival Knife with a 5.1" blade. This makes for a light knife with a longer, thicker blade. It can take on more substantial tasks but still remain useful for delicate bushcraft and small game cleaning needs. On that point, you will notice that the Fallkniven knives are thicker than most other knives, which adds to their durability. The third knife I purchased was the Fallkniven A1 (Army), which is a beefy 1/4" thick, 12oz, 6.3" blade design. It will stand up to any military hard use environment.
Features
The Fallkniven S1 and A1 I purchased feature the same construction and sheath as my F1-3G, but they're made with the laminated VG10 steel (which still outperforms any other production knife on the market).
Although the Fallkniven F1 is available in the standard VG10 steel, I purchased the new Fallkniven F1z3G with Zytel sheath and Fallkniven's own 3G steel. The 3G steel and resulting knife is very expensive with a $270 street price, but from my perspective it has no equal when it comes to strength or sharpness. Based on my testing, the edge on this knife remained sharp far longer than any other knife I have in my inventory. The F1, S1, and A1 all feature a tip to butt full tang construction that protrudes through the rear of the handle. This is a great feature and allows use of the knife as a hammer if needed. The handles on all the knives are riveted in place and provides a secure hole for lanyard attachment.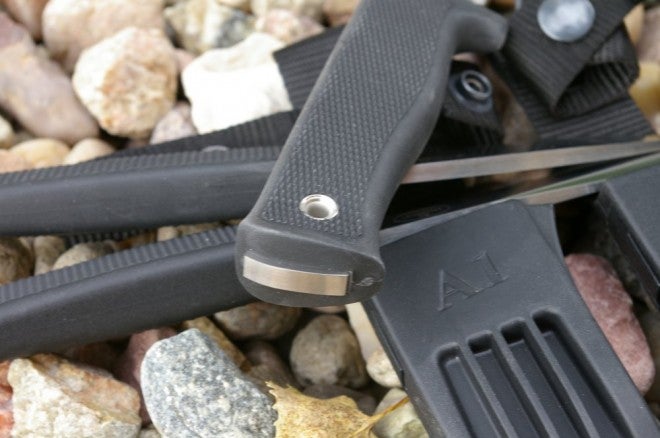 The Fallkniven Zytel sheaths do everything a standard leather sheath would while offering the safer carry of a KYDEX sheath, but it does limit carry options to a belt attachment. More advanced flexible KYDEX carry system sheaths are available from a number of custom sheath manufacturers if you feel you have the need, but the standard Fallkniven sheath does everything it should while still outperforming most tactical sheaths. Look for a future article where I show you how to make your own KYDEX sheath.
Functioning
Testing included a range of brushwork, bushcraft, and even a little game cleaning. As a general purpose camp and hunting knife, the Fallkniven F1 is a tough size to beat and is so light you forget it is attached to your belt. With a more flexible KYDEX sheath, this would be a great backup and carry knife for those having that need. There are many sheath manufacturers who offer accessory sheaths for the knife line to accommodate this carry need. The 4" bladed Fallkniven F1 is the quintessential backpacking knife that will not add unnecessary weight and provides substantial utility.
The S1 is an all around great compromise size for all types of survival and utility tasks. The size is big enough that it could be batoned through large trees without having to repositioned but small enough that you can still accomplish the detailed tasks. A couple snap cuts is all that was needed with this knife to bring down 1" saplings, and I even batoned it easily this through a 2" tree. This would be my choice for my a general purpose extended survival knife. A nice in between size without a lot of weight.
The Fallkniven A1 is a large heavy duty military and survival knife for more difficult environments, requiring a larger, more substantial blade that will see prying and substantial abuse. I found it was simple to snap cut 1" saplings, and the thick blade easily provided hatchet-level utility to split small logs for fires. The Fallkniven A1 is a brutish knife than can stand up to anything you can dish out – all while remaining razor sharp.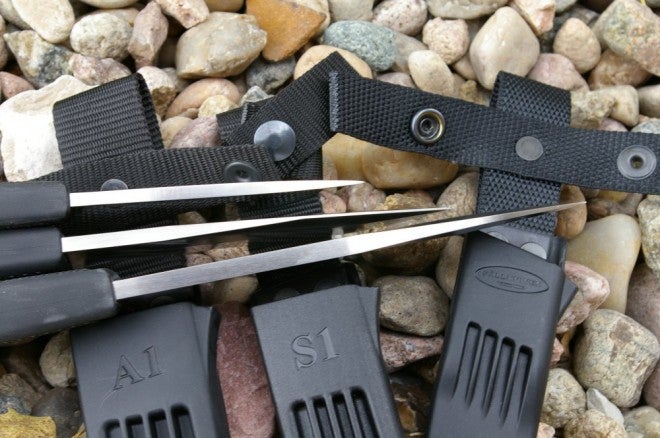 Final Thoughts
Many will gasp over the idea of spending $300 on a 4" bladed knife or around $200 for a larger VG10 bladed knife, but as any military person or hardcore survivalist will tell you: never gamble your life on budget equipment. Fallkniven is technical knife equivalent of the Bugatti Veyron and is not available everywhere (nor do I expect it to be any time soon). It is a knife which provides the best that modern manufacturing and technology have to offer, regardless of where the price ends up, and I for one am okay with that. I consider the knife the most basic and important tool in any survival and outdoor kit, and the investment in an extraordinarily sharp and tough knife is money well spent.
Fallkniven knives are simply designed knives featuring the best laminated knife steel in the world, and they have been developed specifically to handle the most harsh environments. For those in the know about cutlery, there is a bit of exclusivity to Fallkniven ownership due to the price and performance. Super exclusive extra credit is due those owners who have added a custom kydex sheath. Fallkniven has certainly delivered on their design goal of safe, comfortable, strong and sharp knives. It comes at a premium, but provides the owner with the ultimate survival knife. To answer my friends question, invest your money in a Fallkniven if you want the best.
Fallkniven F1z/3G specs
Total length: 210 mm (8.3″)
Blade length: 97 mm (3.8″)
Blade thickness: 4.5 mm (0.18″), tapered
Tang: Broad, protruding
Weight (knife): 150 g (6oz)
Steel: 3G
Blade hardness: 62 HRC
Handle: Thermorun
Sheath: Zytel sheath
$364 ($270 Street)
SHOP NOW
Fallkniven S1z specs
Total length: 9.7″ (247 mm)
Blade length: 5.1″ (130 mm)
Blade thickness: 0.2″ (5 mm)
Tang: Full, protruding
Weight (knife): 6.7 oz (190 g)
Steel: Lam.VG10
Blade hardness: 59 HRC
Handle: Thermorun
Sheath: Zytel sheath
$220 ($170 Street)
SHOP NOW
Fallkniven A1 specs
Total length: 280 mm (11″)
Blade length: 160 mm (6.3″)
Blade thickness: 6 mm (0.24″)
Tang: Almost full tang, tang visible at handle end
Weight (knife): 305 g (12 oz)
Steel: Lam. VG10
Blade hardness: 59 HRC
Handle: Kraton®
Sheath: Zytel®
$290 ($216 Street)
SHOP NOW