There is, without a doubt, a flood of smaller one-, two-, and three-day backpacks hitting the market, and recently I stumbled upon a marvelously versatile example of this type of pack: the Drago Tracker. The Tracker is actually big enough to haul around your mobile tablets and standard sized laptops, and it can accommodate both very small and surprisingly large loads comfortably without everything jiggling about. It's also hydration compatible, high-quality, and has a full strap sternum and waist supported design. All of this has a street price under $50. In fact, I picked this one up for under $40.
About Drago
Drago is an OEM company that not only produces packs, cases, and sporting accessories for very big names in the industry, but they also offer their own line of high value products like the Tracker. I would love it if everything could be made right here in the US, but the price point of this pack dictates overseas manufacturing.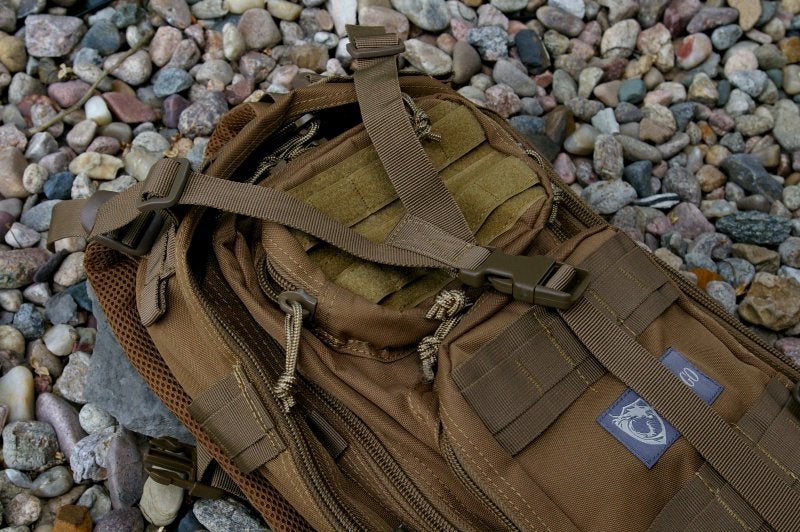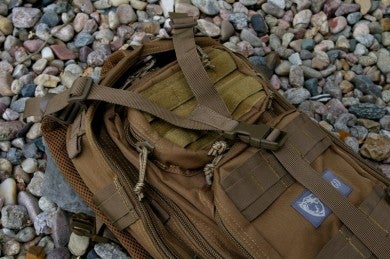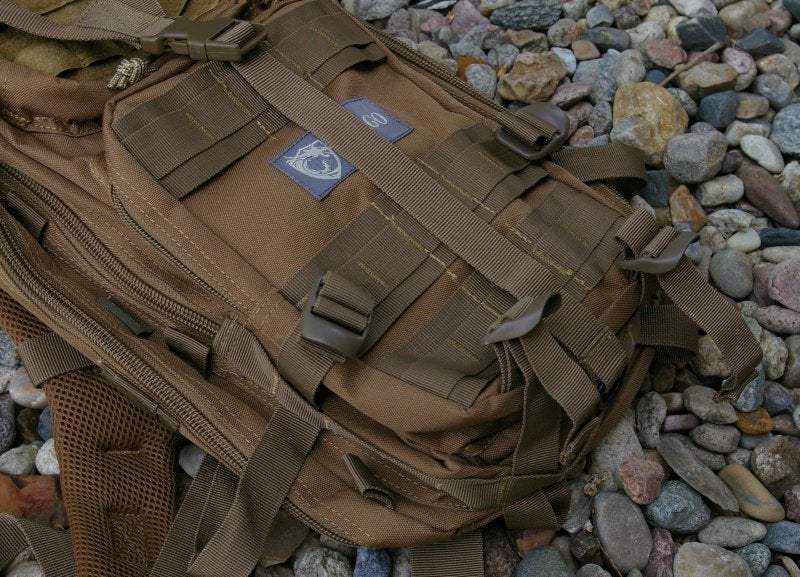 Fit, Finish, and Feel
These days, if I turn the labels over on even my "very expensive" brand name packs, they are generally all made somewhere other than the US. In this case, the Drago pack seems to retain the same quality of the more expensive packs without sacrificing features or function.
All the major quality points are there: straight seams and hems, high quality and heavy duty zippers, and the materials seem like the same quality I see in $100-$200 packs. As stunning as it may seem, I really do not see $50-$200 worth of difference between the Drago Tracker and other similar packs on the market. The only difference I see is slightly higher quality, brand name fabric used on more expensive versions, such as Cordura; this is one way they have significantly cut costs along with overseas manufacturing.
From my testing, the only thing missing on the Tracker packs is a final inspection to rid the pack of post production loose threads here and there.
Features
Apart from price, the Drago Tracker really excels in features. Most packs in this size format are little more than glorified hydration packs with just a larger main compartment. The Tracker backpack has five primary compartments, including large and small front admin pockets, a middle compartment (which I lovingly refer to as the CCW pocket), a large rear compartment (large enough for a laptop), and a hydration pocket at the rear with additional sub-compartments within each of those compartments. Add them all together and you have huge capacity in a collapsible and expandable pack design that will hold over 2000 cubic Inches of gear.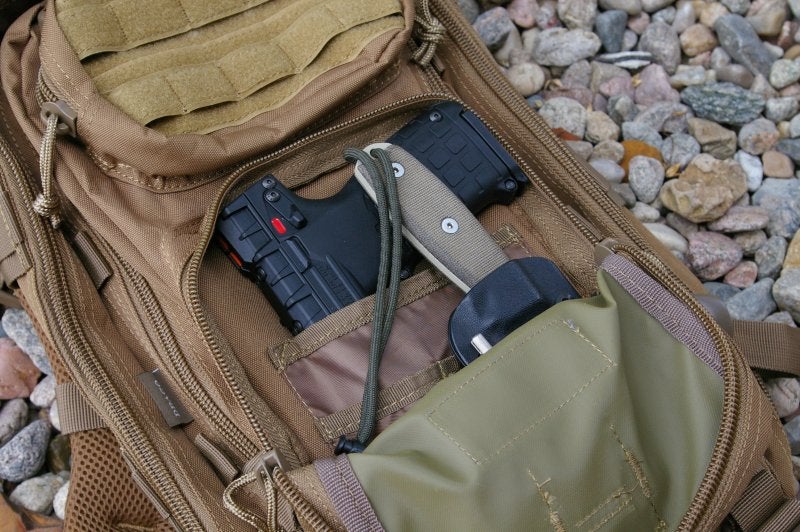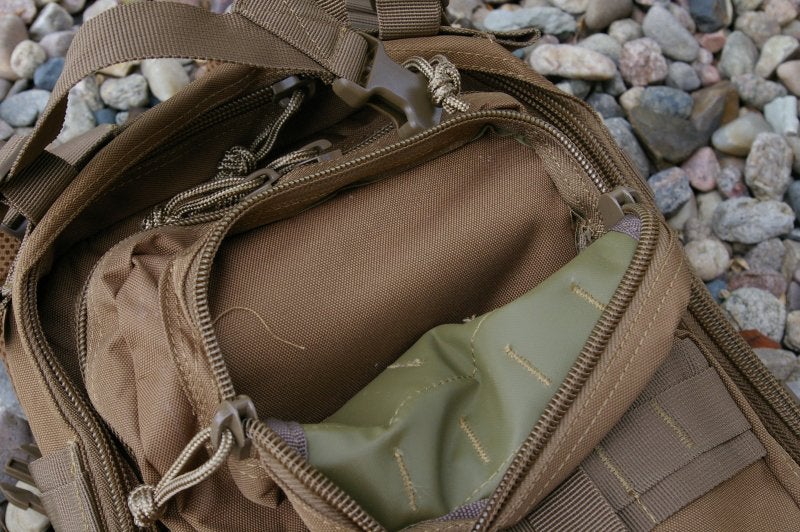 The larger front admin pocket is pretty trim for features, but as you can see a Kel-Tec PMR-30 (30-round .22 WMR pistol) and ESSE-4 survival knife can easily fit and be concealed in this pocket in addition to the pockets for pens, id, and business cards. The small top admin pocket is a handy place to stick a set of earplugs, gloves, sunglasses, extra magazines, or your blowout or medical kit. It is surprising what you can stuff into that little compartment.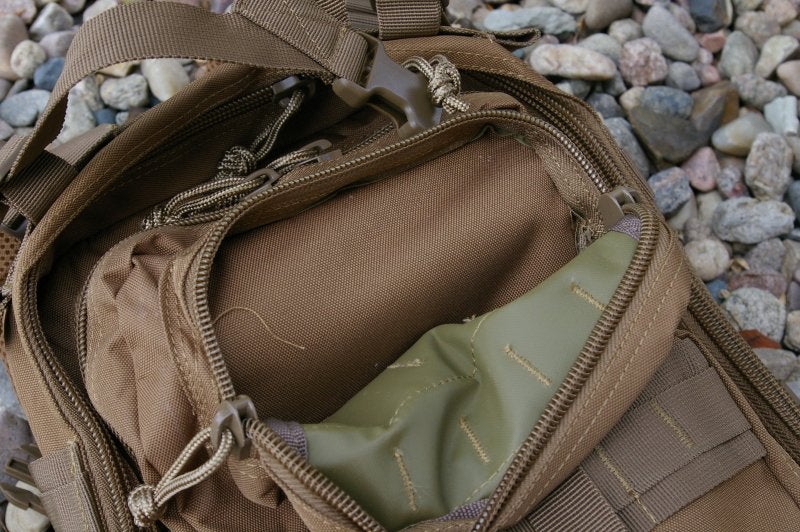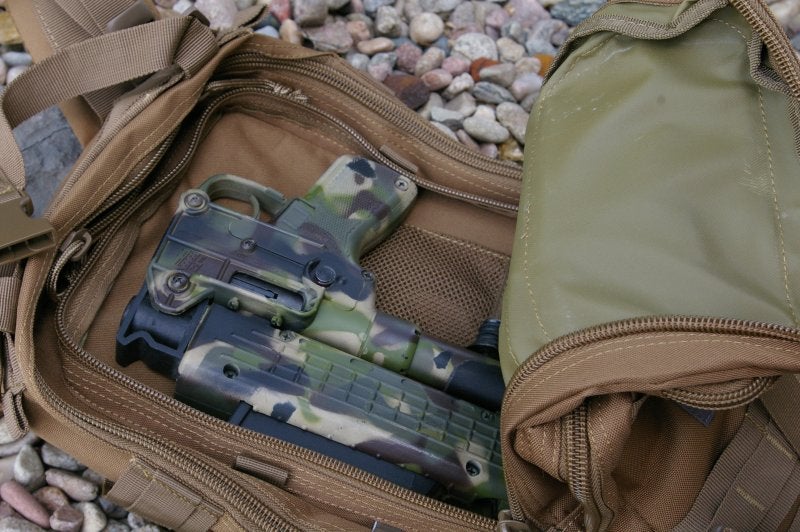 The pack's compartment sizes stagger just a bit and increase in size as you move from front to back. In this case, the middle compartment is just a little smaller than the rear compartment and is perfect for mobile tablets, magazines, or in my case a Keltec Sub-2000 9mm folding rifle. It also provides a couple mesh pockets for additional loose items.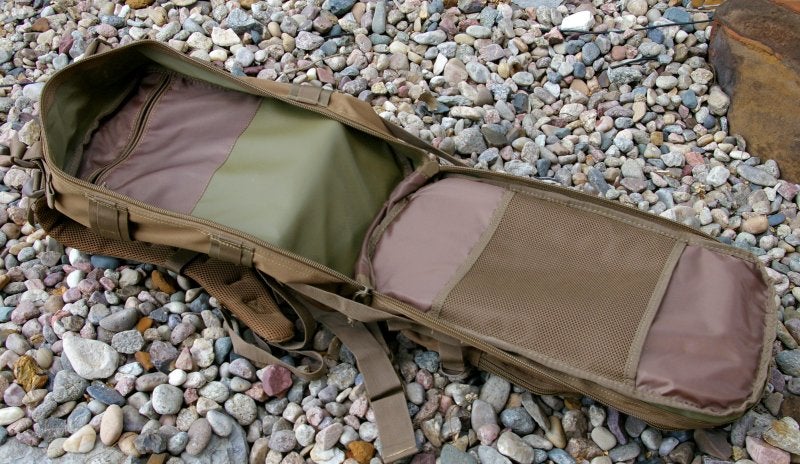 The rearmost zippered pocket is quite large at nearly 4" deep with a zippered rear interior pocket and forward mesh pocket. The way this compartment is designed, you could add a secondary hydration bladder, but there is nothing to secure it to internally.
Finally, the last compartment is a dedicated hydration compartment on the backside of the pack, which is accessible via a Velcro closure. All the hydration plumbing can be piped through onto the shoulder strap as usual.
If you want to attach something else to the pack, there are attachment points and webbing all over the Tracker. During some off camera testing, I was able to piggyback my smaller 5.11 Moab pack on the Drago Tracker via the webbing system and the Moab's quick release buckles, and lash down a full bedroll to the bottom of the pack. If you are into patches, Drago supplies a section of Velcro on the lower admin pocket to display your favorite patch.
User comfort is also huge, and Drago has delivered full sided shoulder straps with mesh for cooler user comfort, a sternum strap, and even a waist strap. This equates to to ability to move very fast and very comfortably with less fatigue when the pack is loaded to its full weight and capacity. Users of small to mid-sized packs without the sternum and waist straps will find themselves constantly holding and positioning the straps and slowing the user down. Serious hiking packs have these features for a reason; they work to increase user comfort, lessen back strain, and increase mobility and balance, which all adds up to more speed on the trail.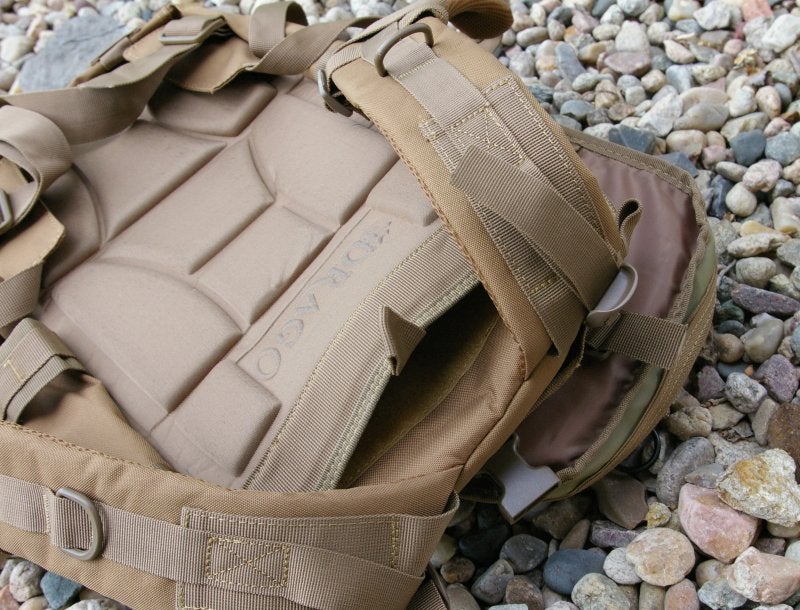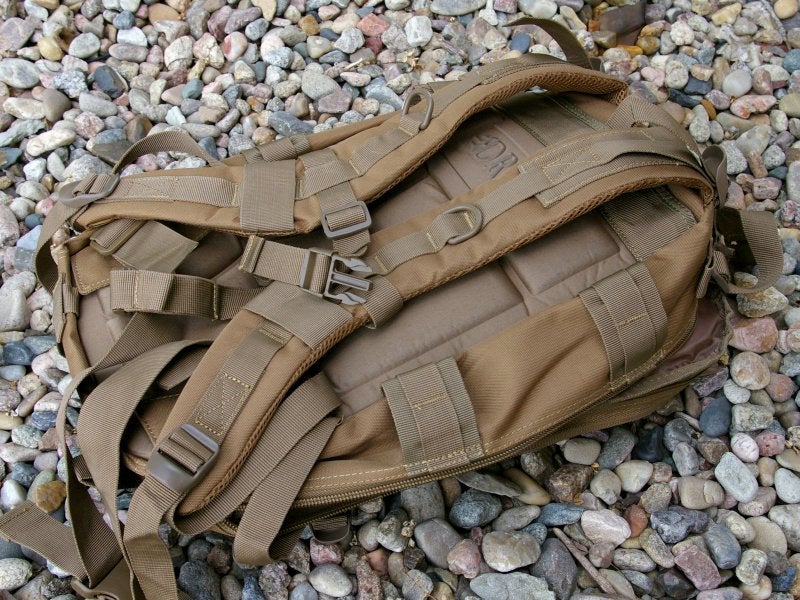 Function
Cinch straps are a huge benefit on any multi-purpose pack, and I pretty much will not own a pack that does not have them. If you load down a pack full each and every time, then cinch straps are not a big deal. But if you vary your loads as I do, then the straps become essential to smashing down the pack and keeping everything from moving around inside the pack without the need for bungee cords. Without a "hard" tight pack, even moderate weight becomes exhausting to carry because you are constantly fighting the weight shifting back and forth.
This pack looks deceptively small when it's collapsed down because the pack has a roughly 2000 cubic inch capacity when fully loaded. Due to the tiered stacked design, the pack can expand to its full capacity or collapse down nearly flat when carrying minimal loads with the compression straps.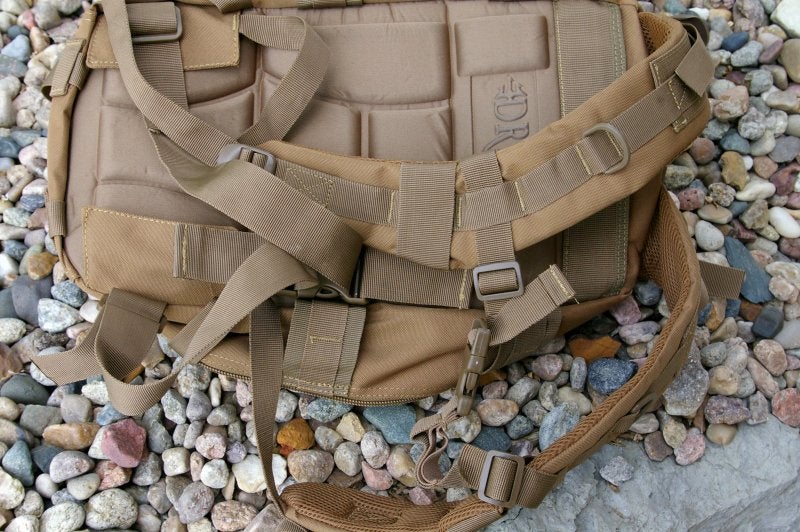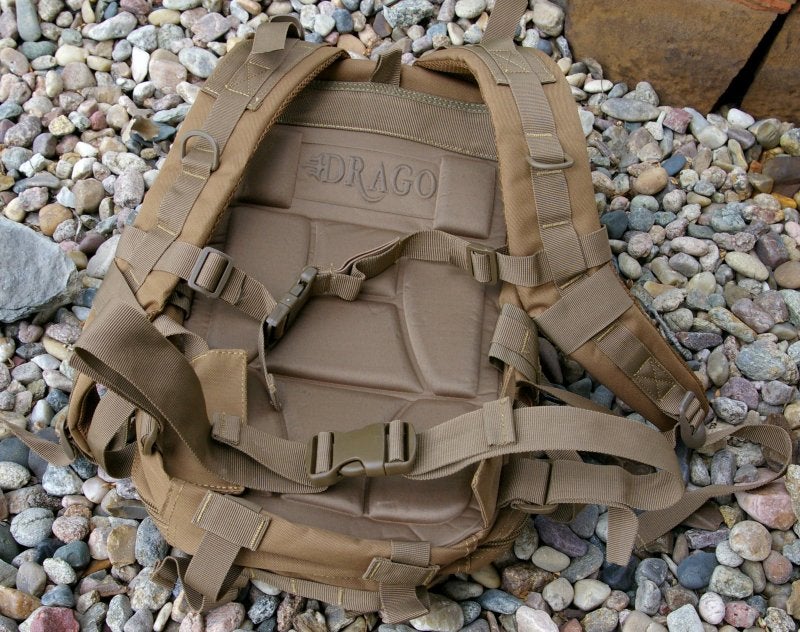 Final thoughts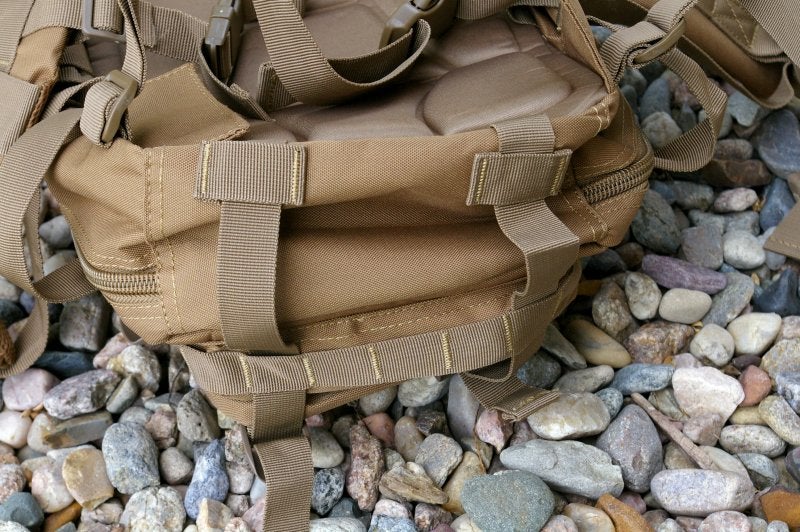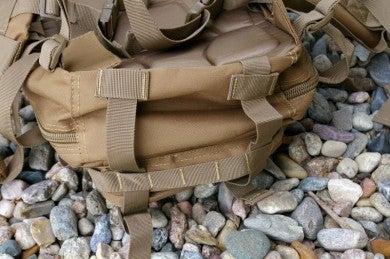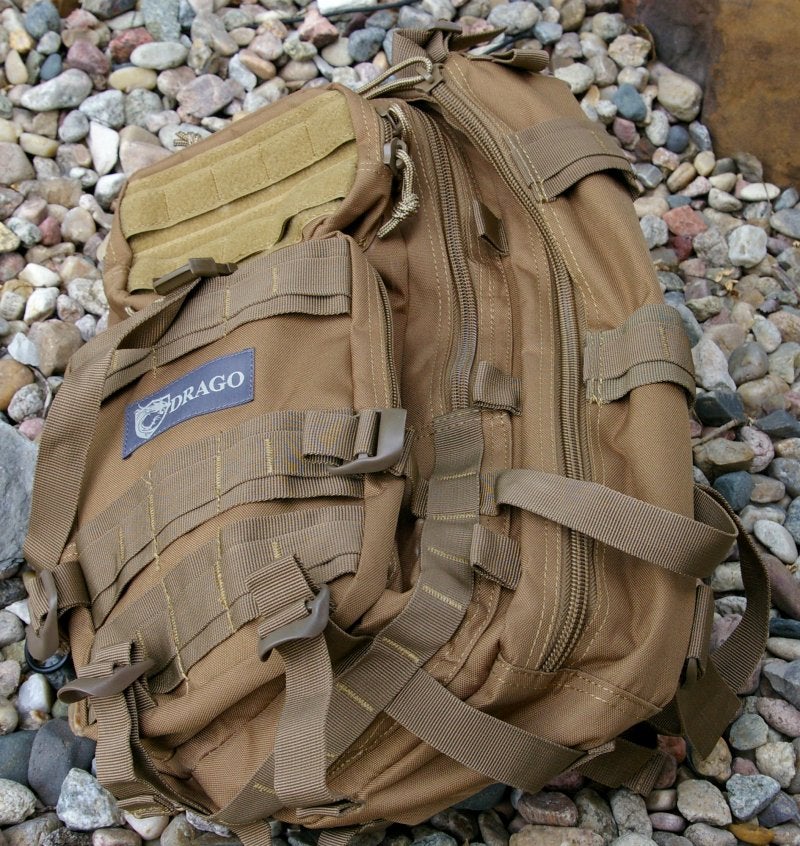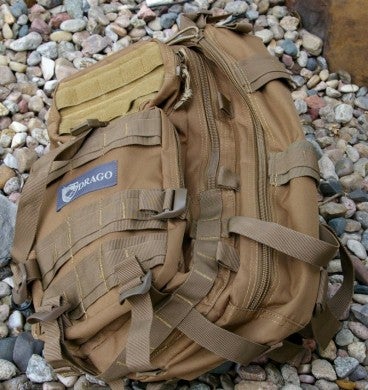 At under $50 on the street, the Tracker is one hell of a good deal, and after six months of dragging it around the country on countless work trips, I can say this pack comes highly recommended. If you cannot fit what you need in this pack for a 3-day adventure then you are probably over thinking the requirements of the trip.
SPECS
Compact pack provides ideal blend of capacity and transportability with compact design and 4 main storage areas
Premium back-relief panel design for maximum comfort during extended use
Internal organization system for securing tools and other items
Reinforced Velcro webbing and heavy-duty non-rust zippers
Hydration-pack compatible
Made of 600D Polyester
Colors: Black, Green, Tan
Dimensions: 18″x11″x11″
Warranty: Limited Lifetime Warranty
SHOP NOW