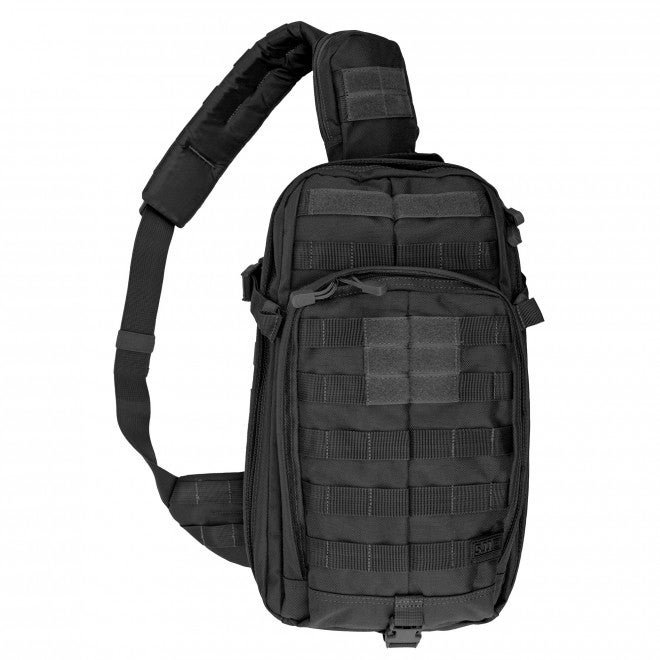 There are a ton of packs out there on the market, but the Rush Moab 10 pack delivers something a bit unique to those looking for an extremely compact but useful 1-3 day pack.
Carry
The Rush Moab 10 from 5.11 Tactical is based on a newer single strap pack design which has become popular for micro to mid-sized packs. Most of us are familiar with typical two-strap, over-the-shoulder backpacks. Ultimately, properly adjusted dual over-shoulder straps provide the best load bearing support when weight adds up over distance, but on short trips and with lighter loads, we humans tend to grab just one strap, sling it over our shoulder, and head out. Thus the single strap packs were developed. Obviously by design, the single strap packs carry the same amount of weight far more comfortably than a an incorrectly used two-strap pack. So if you're a single-strap pack carry kinda person who does not carry weighted packs, then this newer single-strap design may be for you.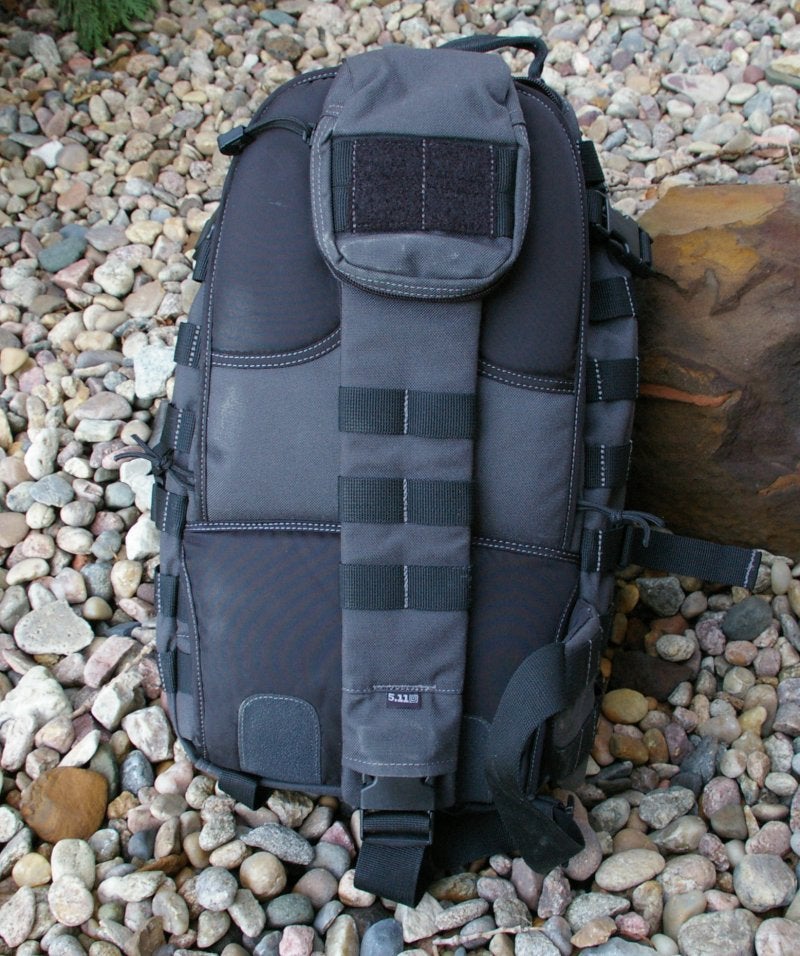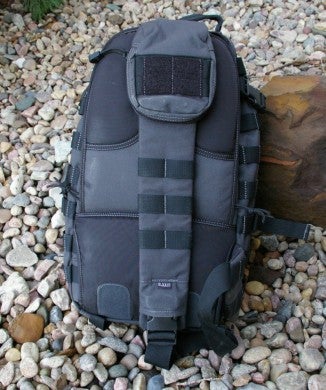 The Moab 10 is designed to be carried in one of two ways: a simple over-the-shoulder carry or cross-body carry. For quick trips around town, while traveling, brisk short walks from terminal to terminal, the leisurely walk out to the hunting stand or range, or just handling the daily commute, tossing over the shoulder and using the carry-side thumb to secure the Moab Rush 10 works fine. The pack features a quick-adjust strap that can be tightened to cinch the pack up close to the body. The pack is pretty secure at this point, however a thumb is still required to keep the pack in place.
When you pick up the pace or when or when you need both hands, the cross-chest-carry really makes this single-strap pack design shine. In this position, the Moab 10 is as secure as a regular pack and does not move around on the body. The pack also has one very cool trick it can perform: you get access to the pack storage without removing the pack. Simply slide the pack from your back to your chest and the pack will be perfectly horizontal at your chest with one side's YKK zippers accessible. With Moab's double YKK zippers on all seams, access to your stuff in any of the five compartments becomes really easy. An extra compartment is a hidden Velcro concealed carry pocket which delivers a speedy carry and draw location for even a large, full sized firearm like the PPX pictured with SureFire tactical light attached.
Actually the Moab 10 is big enough to carry a Keltec Sub2000 folding rifle and can be quickly deployed via this cross body carry and draw method.
Fit, Finish, Feel, & Features
Like every 5.11 product I have ever used, the Rush Moab is very high quality, heavy weight, ballistic nylon pack made with premium double YKK zippers and pull tabs on all main compartments.
Generally I prefer packs that do not have a lot of prescribed internal organization, simply because they usually do not fit my needs well. They end up wasting space and adding material weight to the pack in the form of more pockets, more webbing, and more material. That said, the 5.11 has struck a pretty perfect compromise of usable pockets without going overboard.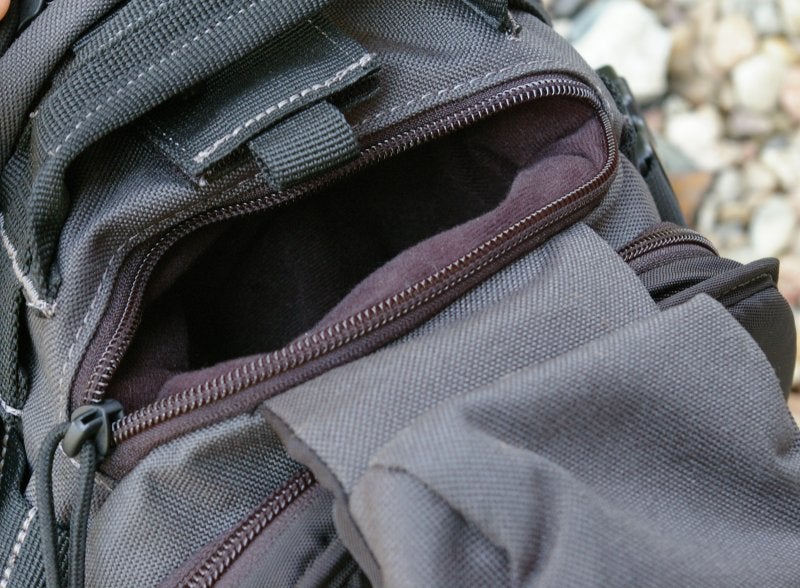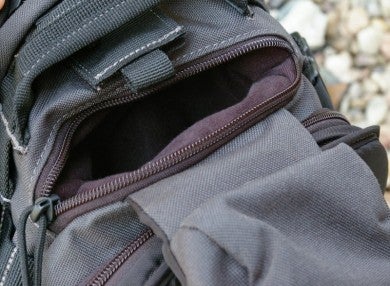 The Moab Rush 10 has six externally accessible pockets/compartments, with most having additional pockets within. The two hidden pockets include a small, shallow, zipper accessible, fleece lined sunglasses pocket and the hidden, Velcro lined, concealed carry pocket. The sunglasses pocket is unbelievably useful, unless you like big nasty scratches in your $100+ sunglasses. The hidden conceal carry pocket nested between the front pocket and main compartment is so well concealed that I didn't even know it was there until I watched one of 5.11's videos. This compartment is huge and can handle handguns of pretty much every size: 1911s, Glock G29 10mm, or pistols like the new Walther PPX shown. In fact you could probably get a couple handguns in there if needed.

The small, attached coms/communication pouch on the strap is designed to house your media players or 2-way radio, and it includes a pass through for headset wires as well as internal straps to retain items in this small, index card sized compartment.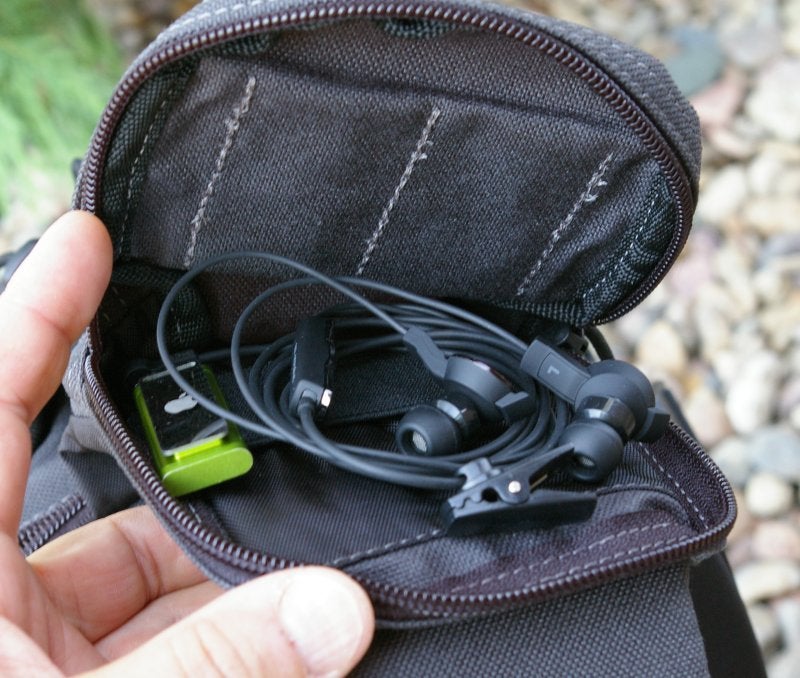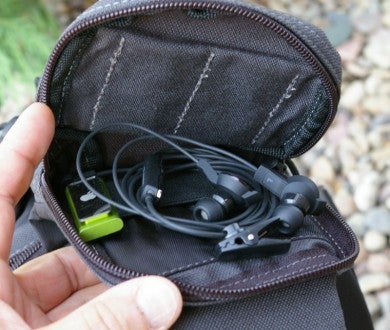 The rearmost hydration compartment is sized to handle pretty much any large sized hydration bladder (not included), and it includes T-toggles to secure the bladder. The compartment also has an internal pocket which holds a removable stiff plastic backer plate to improve comfort. The hydration pocket compartment and main compartment are both set up to pass the hydration hose up and thru to enable threading the tube down the strap for easy on-the-go access. In fact the main compartment can also be used as a secondary hydration bladder locations, though it does not have T-toggles to keep the bladder standing securely upright.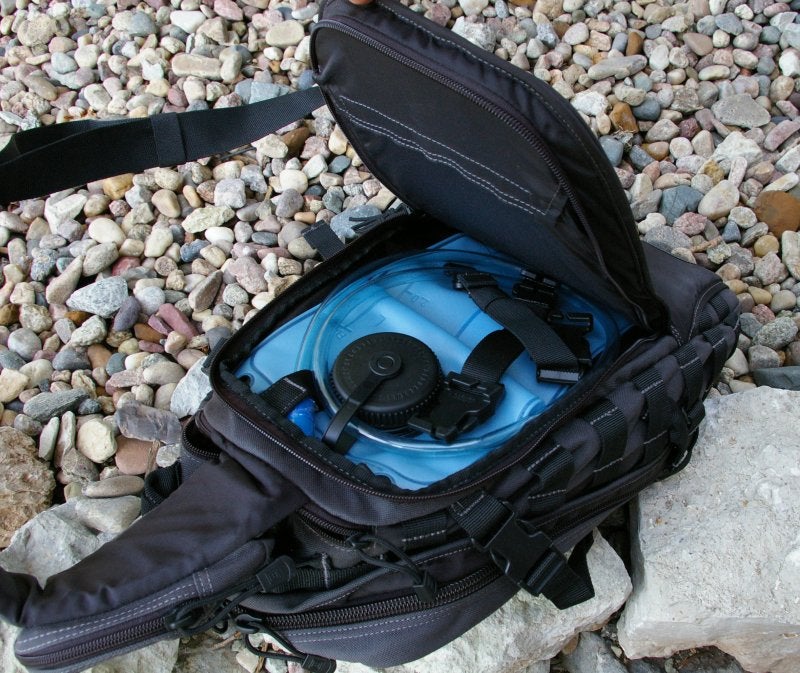 The main compartment features a large shove-it pouch with a bungee, a dual sided access set of mesh pockets, and a large dual zipper-accessible center pouch. It is quite amazing what you can carry in this pocket considering the size of the pack. It can handle a full sized laptop + iPad + periodical + a whole lot of other miscellaneous items and still have room left over. This pack has become my real job/travel bag simply because it can carry all of the above crap infinitely more comfortably than my other briefcases and laptop bags, all while still feeling like you are carrying far less weight.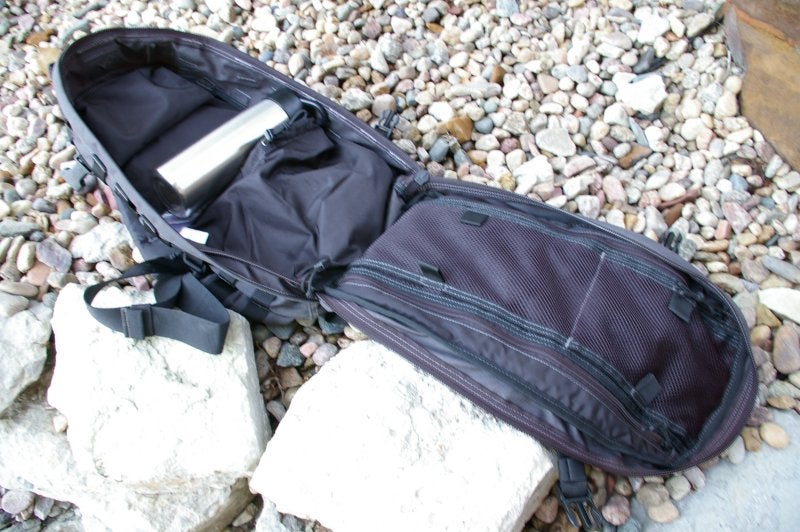 The front admin compartment features two shove-it pouches that are large enough for two 30-round AR mags, and the backside of the compartment has a variety of pouches for business card/ID slots, pen, and pencils. Other features are dual keychain leads and a large zippered pouch.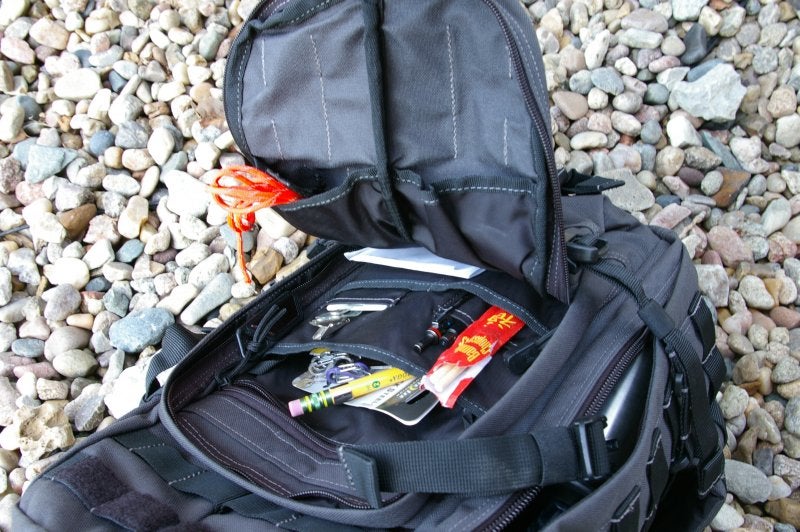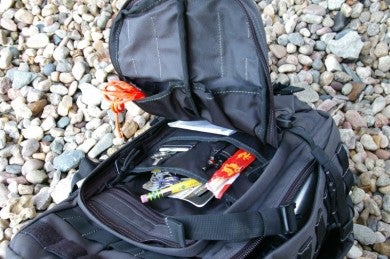 One of the features I love on this pack is the inclusion of three cinch straps, two on top and one on bottom, to deliver a tighter, more controllable pack when loads are smaller. The tacky rubber back pads further prevent movement.
From a comfort perspective, the Moab 10's lower strap can be moved for left or right carry with just a click of a buckle. The unused tab can hide away, which is a nice feature.
Generally I carry the pack left handed with weak hand access to a backup weapon in the concealed carry compartment in order to prevent obstruction from a primary concealed waist carried firearm, but there are times when I want to use the pack as my primary concealed carry option and switch over to a right hand carry for strong hand access to the compartment.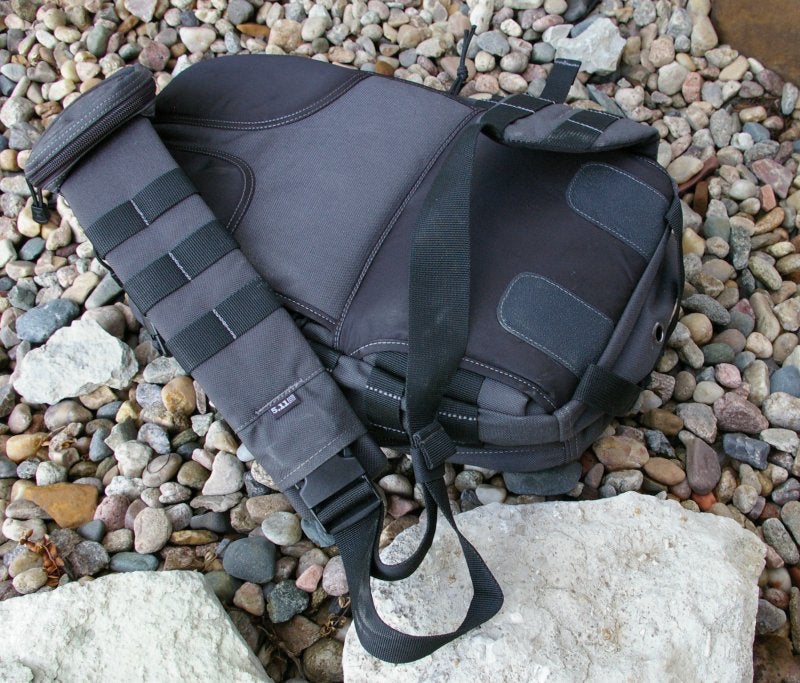 Covering the Moab Rush 10 is a Molle compatible web system and a number of Velcro fields in strategic areas for morale or ID patches. The attachment points definitely do not limit you from an attachment or lashing perspective.
Some may think Moab is a great place for a hike, however in this case "MOAB" stands for Mobile Operation Attachment Bag. This is a bag tiering system which allows the user to attach this smaller bag, piggyback style, to another bag or pack. For example, you could attach this pack to a larger hiking/deployment/bug out bag while providing the ability to quickly drop the larger pack and roll out with the smaller bag. This is facilitated by the included web/molle compatible straps and split buckle ends that can be attached between the connecting bags and then left in place.
Final Thoughts
To date, I have over three weeks straight of dragging this bag all over the country, and the more I carry the 5.11 MOAB Rush 10, the more I like it. It's fast, compact, and easy to handle even with heavier loads as a laptop carrier. From a size perspective, this is a great, small, 3-day pack that provides a lot of user flexibility and a great concealed carry option. It's an all-around excellent pack which I can strongly recommend.
SPECS
MSRP: $109.99
Colors: black, sandstone, double tap (tested), camo
Mobile Operation Attachment Bag
Includes 5.11's Tier System – attaches to RUSH backpacks
Ambidextrous cross-body shoulder strap system
Coms pocket with pass-through for mic/earbuds
Concealed Back-Up Belt System™ pistol compartment
Hydration pocket (1.5ltr) with pass-through port
Padded back with ventilation channels and non-slip pads
Fleece lined sunglass pocket
1050D water resistant nylon
YKK™ zippers throughout
Interior admin panel and stash pockets
Grab handle and compresssion straps
Imported
1050D Nylon with water resistant coating, web platform and loop-sided Velcro.
Main compartment: 18.25″H x 9″L x 5.25″D
Front compartment: 12.5″H x 8″L x 2″D