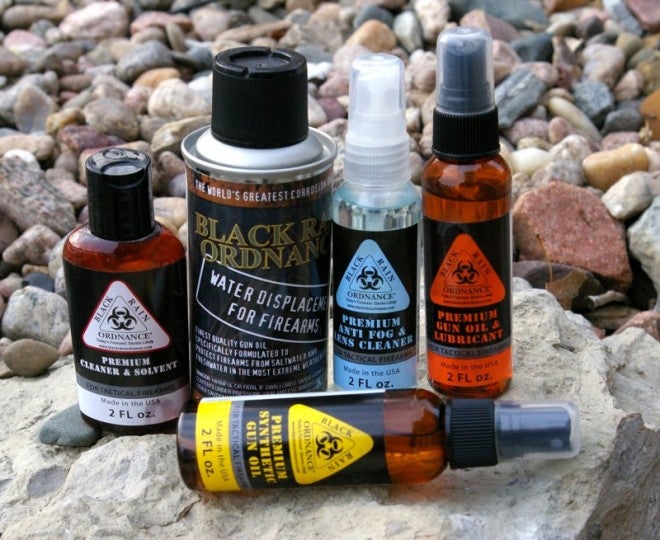 If you're familiar with Black Rain Ordnance, then you know the company is all about ensuring top end quality of every component that goes into each rifle, from the polygonal rifled stainless barrels to the billet uppers and lowers. What most people don't know is that Black Rain has also created a premium line of weapon care products, which it specifically recommends to care for its rifles.
To keep their top tier AR-15s running optimally, Black Rain Ordnance has developed a line of premium weapon care products, including a solvent, standard and synthetic gun oils, a rather unique water displacing protectant, and a lens care solution for optics that find homes on these fine rifles.
Features & Functions
There is, without a doubt, an entire industry devoted to cleaning and lubing a firearm. However I think Black Rain's approach is a bit different. Instead of guessing which lube, oil, solvent, and protectant is best for the particular finishes of your firearm, Black Rain has done the testing to find which tweaked formulas work the best on the parts and finishes of Black Rain's Fallout-15 rifles. Of course, Black Rain does not have a refinery in the back of the facility where several industry leaders manufacture their tweaked and tested formulas for each product. I can confirm that these are all top performing products in their own right and are in some cases the best I have ever tested.
Premium Gun Oil and Lubricant: $7.99 – This is a standard style lubricant similar to Rem Oil, but thicker. I used this oil for all the typical spot lubrication, wipe downs, and for the bore cleaning treatment on a number of firearms including my Fallout-15. In both cold and hot weather, I had no issues with gumming as you might have with a mid or low grade oil. It's an all around great oil with a very convenient spray bottle, although the oil is just a bit heavy and delivers a strategic spit of oil versus a spray.
Premium Cleaner and Solvent: $7.99 – This is probably one of the best and most aggressive cleaners I have ever used to clean a firearm. Generally my test of a new bore cleaner is to re-clean my Mosin Nagant after being cleaned with the last latest and greatest bore cleaner. In this case I was stunned to pull dirty patch after dirty patch out of what I thought was a clean bore. A word of caution: this solvent is very aggressive and may affect some Duracoat finishes. However, anodized, Ceracoat, and Black Rain's own finishes are fine, so test a spot before you go soaking down your rifle. It's a little thing, though I like the flip-top lids versus a nipple top or screw off top, on this solvent I would prefer just a screw off top so you can throw this in the range bag.
Premium Synthetic Gun Oil & Lubricant – $7.99 – For those like myself who prefer the synthetic oils, this is one of the best I have tested. First off it does not stink to high heaven, but it still provides ongoing lubing qualities even after high heat is applied. Subjectively, I believe this is one of the better bolt lubes out there, and for $8 in a simple to use squirt bottle, it's a breeze to use.
Premium Anti-Fog & Lens Cleaner Solution – $7.99 – Often forgotten and neglected, optics do require a little TLC once in a while. Unlike weapon lubes, there are not a lot of lens cleaner solutions out in the firearms space, so I applaud Black Rain for adding this excellent solution to the mix. I have never had a high quality optic fog on me, so that would not be much of a test. However, I did have a set of Rayban sunglasses which always fog on me in cold weather… that is, they used to fog. The cleaner works as well as other optical glasses cleaners to clean smutz off your lens, but the Anti-Fog additive works awesome. Definitely a product you should have in your range bag.
Water Displacement for Firearms Spray – $11.99 – As a kid I spent a lot of time around WD-40. We lit fires with it, put the straw on and made flame throwers to burn off all the cobwebs in the garage, and also used it for general firearms cleaning and lubrication. It was not the best, but it was what we had. One thing I was generally annoyed with was that it really did not displace water was well as I think a namesake product should. The Black Rain Water Displacement Spray is unlike any WD type product I have tested.
As this animated image shows, after being sprayed on top of the water, the Black Rain WD formula actually pushes down to the bottom of the container of water. Yep, the water ends up floating on the oil. I am not sure what witch and wizard they had whip this up, but it truly displaces water on a firearm like nothing I have ever seen. If you and your favorite Fallout15 or hunting rifle are caught out in the rain, this product could truly save your finish and protect your firearm.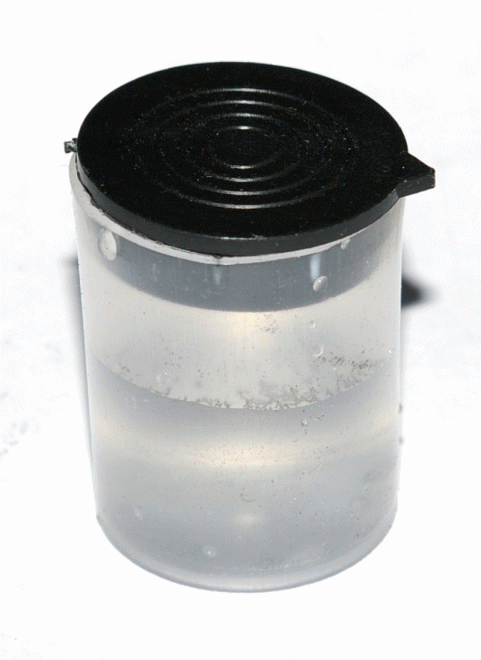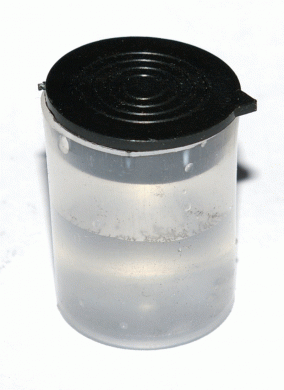 Final Thoughts
For a sum total under $50, you can have a complete set of all of these weapon care products, and based on my rate of use, it will probably last you 2-3 years. More importantly, if you own a Black Rain Ordnance rifle, they only recommend these care products for the rifle, so it make sense to protect your investment with what the manufacturer recommends. So ask your Black Rain retailer for the Black Rain care products line.
Comparing these products to others on the shelf, they are priced at or below many other competing premium weapon care products and are packaged in easy to use containers. If you run across these at your sporting goods store, I would recommend you give them a try as each of these formulas is as good or better than any premium firearms care product I have tested previously.
…And There's More
Since I originally wrote this article, I wanted to provide an update. Black Rain Ordnance is continuing to expand its line of products and is introducing component level kits beyond just changing handles and hand guards, as well. In a time when everyone is busy building AR-15s from the ground up as fast as they can or is in need of replacement parts, you always need those tricky little parts which can be tough to find. Black Rain now has Roll Pin and Spring kits available which are the same premium quality as used in their own rifles. I picked up a set, just because… you know, it is always good to be prepared.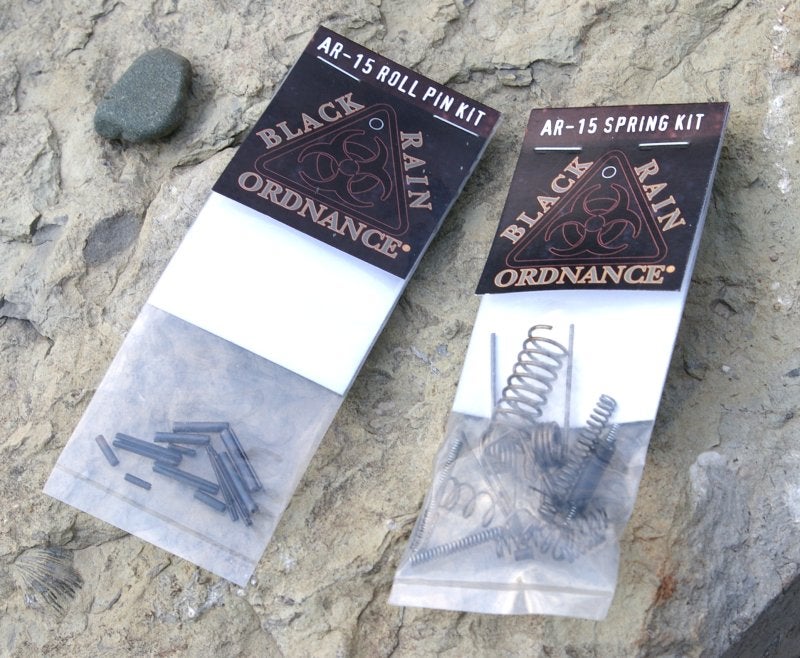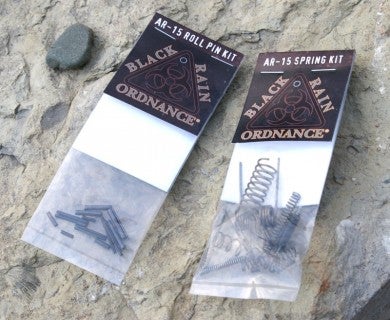 SPECS
Premium Gun Oil and Lubricant: $7.99
Premium Cleaner and Solvent: $7.99
Premium Synthetic Gun Oil & Lubricant: $7.99
Premium Anti-Fog & Lens Cleaner Solution: $7.99
Water Displacement for Firearms: $11.99
Roll Pin Kit: $9.99
Spring Pin Kit: $14.99