Camping gear — can you ever have enough of it? No, you can't, and Christmas is the perfect time to not only buy more of it, but to take it out and test under the worst conditions. If you're stuck on what to get an outdoors person this holiday season, then this camping installment of the AllOutdoor Holiday Gift Guide will help get you out of a bind.
[contextly_auto_sidebar id="Pnng8h7wWBtsr5D4q4uhVgRlE3nEVw6d"]
5.11 Rush Packs
If you read today's review of the 5.11 MOAB Rush 10 pack, then you that 5.11 Tactical makes some awesome bags. (Actually, you probably knew that anyway.) Well, the Rush 10 isn't the only pack in this line-up. 5.11 also makes the Rush 24 and Rush 72 backs, the former being a 24-hour day pack and the second being a three-day pack.
The Rush 24 is priced at $129.00, and the Rush 72 is priced at $169.00. You really can't go wrong with either of these packs. Heck, if you're really in the gift-giving mood, you might want to go ahead and get both of them.
Teton Sports Tracker +5 Sleeping Bag
Tetons Sports has a laundry list of amazing yet affordable hiking and camping gear. One of the recent additions to their line up is the Tracker +5 Sleeping Bag.
I've had the pleasure of sleeping in this bag on my last two camping trips that had night time temperatures ranging from the upper teens to the mid 40's, and I was always comfortable. One of my trips was a backpacking trip, and the other was camping near the truck. This is a great dual purpose bag that packs down nicely into a stuff sack to pack into the backcountry. When space and weight aren't at a premium, it still gets the job done in comfort.
The Tracker is a mummy style bag with a hood and draw cord at the top that are amazing when it's super cold. It has duel zipper pulls and even a small zippered chest pocket on the interior of the bag to keep keys, a flashlight, or a cell phone at the ready at all hours of the night. The shape of the bag is great. It fits nicely and has plenty of room in the foot and shoulder area where some bags are lacking. The PolarLite insulation is distributed appropriately to keep you and your toes warm even in low temperatures.
While all of the Teton Sports products provide immense value, with the Tracker retailing at $74.99, I'm not sure there is a lighter, warmer bag for this low of a price.
Mountain House Freeze Dried Pouches
Up until a few years ago, my camping, hiking, and backpacking food was mostly MREs, protein bars, beef jerky, trail mix – just a mix-match of various types of food. Then I found out about the Mountain House freeze dried 7 year pouches. After using the 7 year pouches on a couple of 3 day camping trips, my whole outlook on camping food changed.
For weight and ease of use, nothing beats freeze dried food.  Just add hot water, wait around 10 – 15 minutes, and you have a fulfilling meal.
Pros:
Lightweight
Compact
Full meal which requires little room
Wide variety of meals
Cons:
Requires hot water
High sodium content
My personal favorite meals are the chili mac and the scrambled eggs with bacon. Be sure to read the instructions with the scrambled eggs and take note on how much water to add.  If you add too much water the eggs will be runny.  Even if the eggs are a little runny, they are a great way to start your day. For those of you who do not like a heavy breakfast, try the granola with blueberries and milk.
Coleman Sportster Dual-Fuel Stove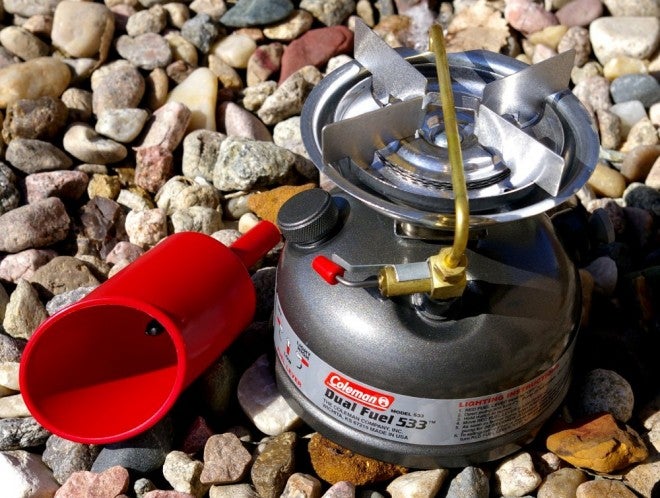 Back in September we reviewed the Coleman Sportster Dual-Fuel stove. Our verdict was that it's a fantastic little unit. This hard-use, multi-fuel stove is good for everything from boiling coffee to preparing a full meal. It's also lightweight and easily packable.
At $69.99, you can't go wrong with this stove. Plus, you're getting the legendary Coleman name, a name that still stands for quality outdoor gear.