I have a long history with air rifles dating back to the age of five. Yes, it was a very long time ago. Thousands of pop cans, dead starlings, junk birds, crows, squirrels, rats, mice, ground squirrels, and even a few raccoons and feral cats later, I have learned a few things here and there about what makes a good hunting air rifle.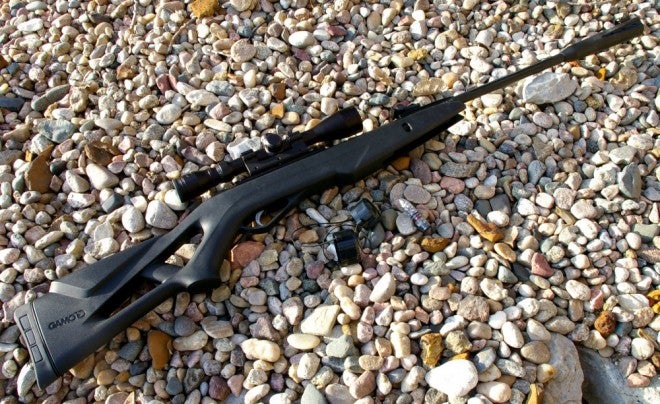 Air rifles have advanced a few light years in technology since those days, and today we have the pinnacle of air gun technology: the Gamo Silent Stalker Whisper .22 Caliber Air Rifle. This rifle sports an integrated suppressor, a single-cock, break open action for pretty quick followup shots, and modern materials that increase strength and reduce weight. It's also accurate and powerful, and the build quality is excellent.
Fit, Feel, and Features
Gamo has as long history of innovation as a premium airgun manufacturer, and this solidly built gun is no exception. The Gamo Silent Stalker Whisper .22 Caliber Air Rifle has a nearly complete synthetic exposed exterior with the exception of the steel receiver. In this type of airgun, which will be beat up, scratched, and most likely eventually painted, the tactical type textured black finish is perfect. Look for a future article where I make some tweaks to this rifle, including a camo paint job.
Obviously the internals are steel, but Gamo's use of a lot of plastics, including the polymer jacketed barrel, reduces overall weight to 7.15lbs, which is several pounds lighter than comparably powered rifle. This makes lugging the air rifle a lot more fun on a hunt.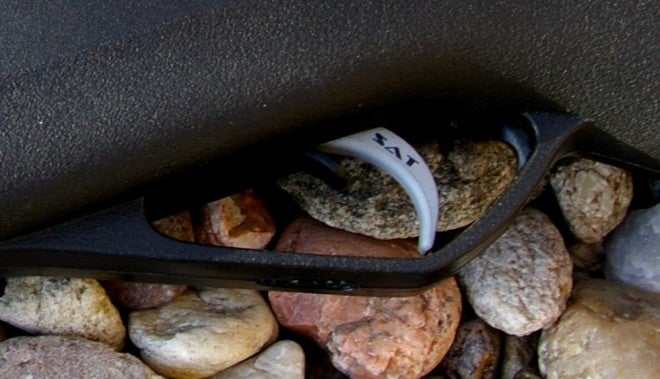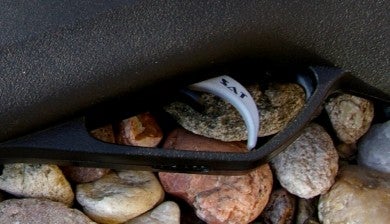 As is typical with most barrel break high power airguns, the Gamo Silent Stalker Whisper has a longer length at 43", which is long but manageable due to the very light weight of the gun. Part of this additional length is the 18" barrel and integrated sound suppressor.
The Gamo Silent Stalker Whisper .22 Caliber Air Rifle integrates a number of very nice features. Gamo lists the Silent Stalker at 975 Feet per second with PBA Platinium ammo (Gamo's light weight alloy pellets). With lead pellets, that number will be less but still within a very powerful 800 f/s range, which is a little quicker than .22LR rimfire CB ammo with about as much power. The air rifle comes with 50 of the PBA Paltinum pellets, but those go quick and you will definitely want to pick up a couple extra pellets tins before leaving the store. Finding your own favorite pellets is half the fun.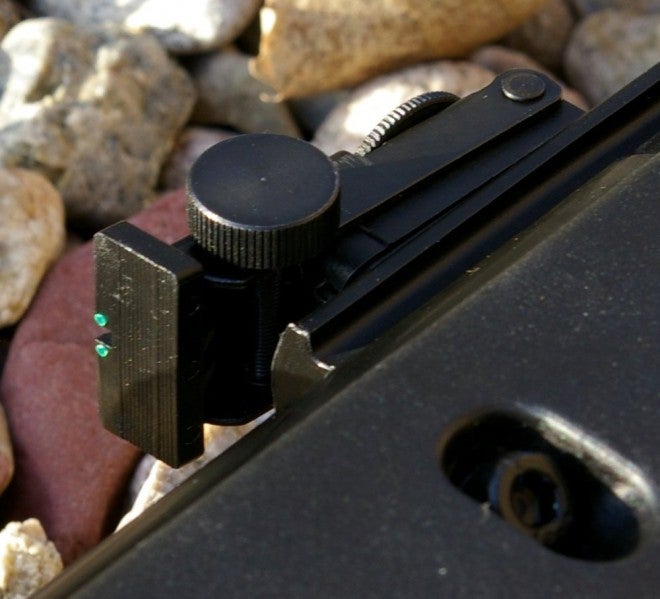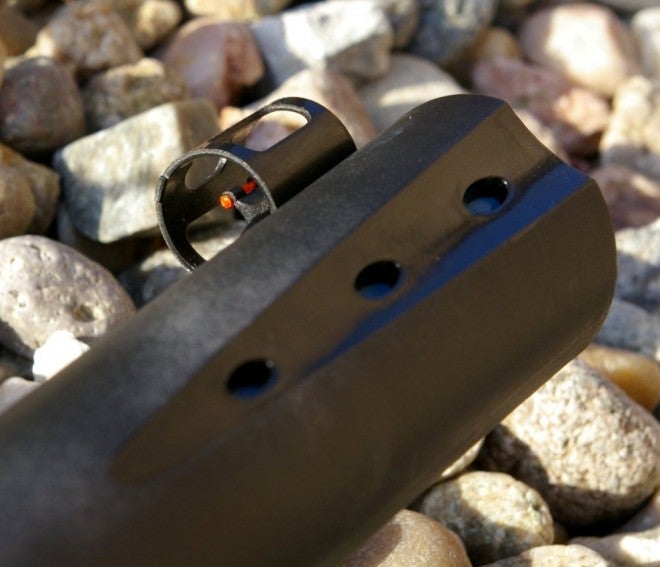 The Gamo Silent Stalker works in the same mechanical manner as a spring pistol air rifle, but it uses Inert Gas Technology (IGT), which compresses a gas piston instead of a spring. This provides a number advantages. First, it is significantly quieter because there is no "twang" as the spring is released; when paired with the integrated suppressor, this system delivers one of the quietest airguns I have shot. IGT also provides more power, less weight, consistent 32lb cocking effort, and has a longer life than a spring system. There's also higher accuracy due to less vibration and more consistent shot-to-shot power.
Unlike springs systems, IGT is a memory-less power plant that can be left compressed/cocked nearly indefinitely without loss of power. Another benefit is that the IGT powered Silent Stalker Whisper is not affected by the cold, so your power and zeroing will remain the same regardless of summer or fall weather.
The barrel mounted, fully adjustable, fiber optic sights are excellent and very easy to see in low light situations. The front sight is also hooded to provide protection from bumps and hits. As most airgun shooting is done under the 25 yard range, many may find the sights to be a better and lighter weight option than using the scope.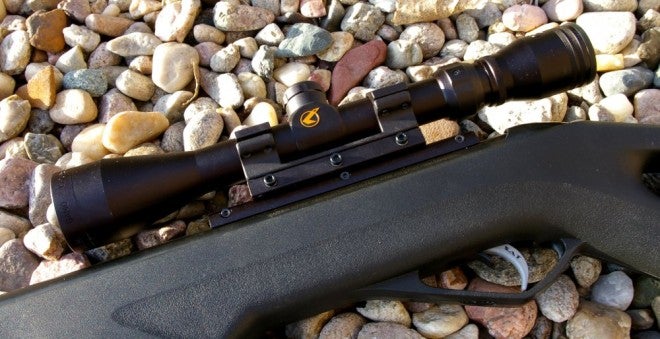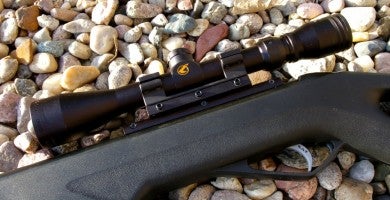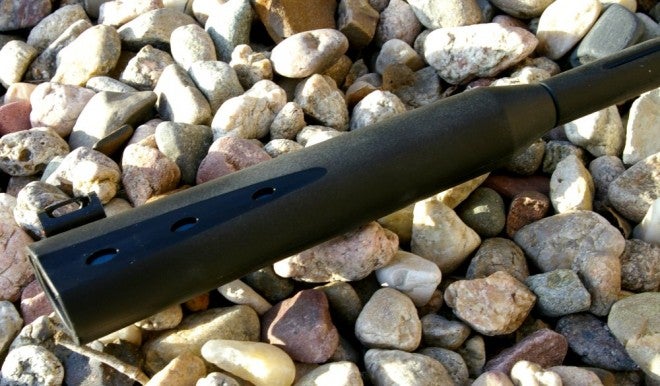 The 3-9 powered scope was clear, considering the overall price of the gun, and only started to distort slightly at the 9X power range. The air rifle's adjustable, 3.74lb, two-stage trigger is excellent and better than many real rifles I've had. Although I am used to thumbing my AR safety or fingering a guard mounted button safety, the manually activated Gamo trigger safety is right in front of the trigger and is quick and easy to use.
Gamo refers to their integrated suppressor as the ND52 (Noise Dampener 52% reduction), which reduces sound levels by as much as 52%. Suppressors/silencers do not make a gun silent; they make them quieter. Gamo trademarks the Gamo Silent Stalker Whisper air rifle as "The Most Quiet Gun" and I believe that is true. Although you will not piss off your neighbors, they will still know you are shooting something or at least think you have a fetish for electric staple guns. It makes for very comfortable indoor practice shooting.
The air rifle is available in .177 and .22 caliber versions, but the .22 caliber version will be quieter because, regardless of pellet choice, it will always shoot sub-sonic. Once a bullet passes the 1200 f/s mark, the bullet becomes supersonic and delivers a supersonic crack. Typically, this supersonic crack is the most audible report with pellet guns. Bottom line is the .22 version will be both quieter and more powerful for back yard shooting, hunting, and survival purposes.
Function and Accuracy
I would suggest a little setup. Most people will yank the gun from the box screw on the scope and start shooting. However, I would suggest applying removable LockTite on the screws for the scope rings, scope mount, and rear fiber optic sight elevation adjustment. Airguns actually have some severe recoil due to the two way recoil effect of piston type airguns and can really loosen things up without a little LockTite.
The function is simple. Click the safety on, grab the end of the barrel, and pull down to cock the gun. Drop in a pellet and close the barrel back up. Aim at your target, release the safety, and fire. Repeat until you are out of pellets. It couldn't be simpler. At this point I've shot about 1000 pellets and found the gun simple, easy, and effective to use.
For this airgun I ended up zeroed at 25 yards, which should give me a 1" low at 10 yards and 50 yards depending on pellets. I will note you definitely need to pick one pellet and stick with it as the zeroing will change sometimes by 1"-2" at 20 yards when switching pellets.
As with all guns, you need to figure out which ammo the gun likes the best and then buy all you can find of that ammo so you don't have to continually re-zero your rifle. I picked up a .22 caliber Gamo combo pack tins of the TS-22, Magnum, Hunter, and Master Point pellets to go with the 50 PBA Platinum pellets included with the rifle, so I had a good cross section for testing.
Generally, I have found that match pellets produce the tightest groups, followed by domed pellets and then the pointed pellets. Here the Gamo Silent Stalker Whisper air rifle surprised me with a .75" 25-yard 10-shot group with the modified point/dome TS-22 long distance pellet. The Hunter pellets delivered 1" average groups and the pointed pellets provided 1"-1.25" average groups. I did not have any flat match pellets on hand, however I hope those would provide even tighter groups.
Final Thoughts
As a powerful airgun, I give the Gamo Silent Stalker Whisper Air Rifle high marks. The accuracy is very good, and the gun delivers very good power. It also checks all the boxes from a power, weight, accuracy, and sound perspective to make it a great survival air rifle. The IGT (Inert Gas Technology) just makes it more durable, powerful, and accurate than spring piston driven guns.
After removing the scope, the fiber optic sights impressed me. I actually like it a little better because the weight drops to 5.45lbs without the scope. Obviously, accuracy is better with the scope, but I can still keep all my shots in the 1"-1.5" range with the right pellets. Gamo has a couple models of this air rifle, but this is the only one so far with the IGT technology. If you are looking for a great pellet gun, I can highly recommend the Gamo Silent Stalker Whisper air rifle. It is truly "The Most Quiet Gun"
Specs
Velocity: 975 feet per second (fps) with PBA Platinum.
Single Shot
Break Barrel: Single Cocking System
Automatic Cocking Safety system
Barrel: Fluted Polymer Jacketed Steel with ND52 technology
Cocking Effort: 32 lbs
Trigger: Second Stage adjustable
Manual: Safety
Stock: Tough All Weather molded Synthetic
Butt Plate: Ventilated rubber pad for recoil absorption
Cheekpiece: Thin cheekpad molded on each side for both Right hand and Left hand shooters
Checkering: Non-Slip texture design on grip and forearm
Scope Ramp: Raised Rail
Scope: 3-9×40 air rifle scope with rings.
Fiber Optic Adjustable Front & Rear sights
Weight: 7.15 lbs
Length: 43''
Ammunition: Any .22 Pellet
Caliber: .22
Trigger Pull: 3.74 lbs
Barrel Length: 18 in