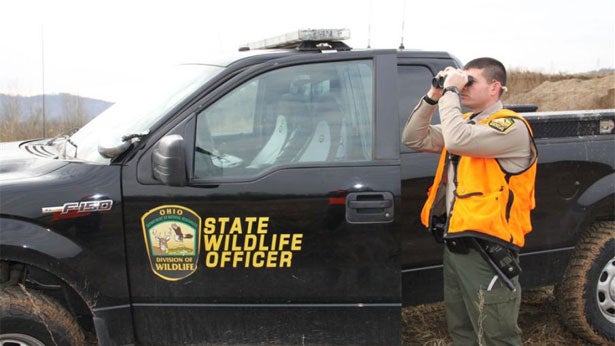 By: Posted 12-09-2013 OutdoorChannel.com in Deer Camp by W. H. "Chip" Gross
Permitted use provided by: OutdoorChannel.com.
MEIGS COUNTY, Ohio — Chris Gilkey wanted to be a professional wildlife officer ever since he was six years old. Nine years ago he landed his dream job with the Ohio Department of Natural Resources, Division of Wildlife, and now at age 31 has become one of that state agency's finest young officers.
Gilkey is assigned to Meigs County, 433 square miles of prime white-tailed deer habitat located along the Ohio River, the Buckeye State's southern border.
Ohio has some of our nation's largest whitetail bucks, and on Monday, Dec. 2, opening day of the week-long Ohio deer-gun hunting season, I was privileged to spend the day with Gilkey, riding shotgun in his patrol vehicle. An Ohio wildlife officer myself for several years early in my career, I was curious to see how the job of a field officer had changed through the decades. It promised to be an interesting day.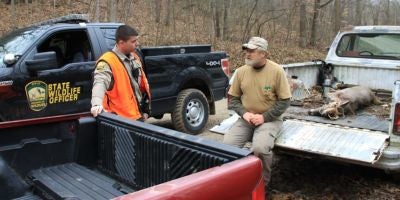 8 a.m. Stepping up into the cab of Gilkey's Ford F-150 black, four-wheel drive, state-issued pickup was like stepping into a mobile field office. A full-sized laptop computer, loaded with all the latest software, was mounted between the seats — a definite addition since my time in the field. The cab was also crammed with various two-way radios. A 12-gauge tactical shotgun hung from the roof, securely locked into a gun rack. Surprisingly, Gilkey's first activity of the day was not to immediately begin searching for blaze-orange clad deer hunters; instead, he picked up his cell phone.
"It's a little deer-season tradition I do every year on opening day," he explained. "I always call another wildlife officer to wish him good luck and remind him to work safe this week."
The officer he dialed was the one who had passed the tradition of such a phone call on to him. It was the other officer's last deer season, as he was scheduled to retire soon.
8:23 a.m. Gilkey pulls his state pickup into a rural gas station/convenience store to fill up the tank for the day. The truck, clearly marked State Wildlife Officer on the doors and sporting a large Division of Wildlife logo, soon draws attention from the locals.
Several people coming and going wave hello at the officer as he stands at the gas pump. A third man walks over to talk briefly, providing Gilkey some information about suspected wildlife law violations in the area. We are soon on our way again, passing a local high school that is closed for the first day of deer season, a southern Ohio tradition.
8:53 a.m. As he slowly drives the back roads looking for hunters, Gilkey listens to messages on his cell phone, several left by landowners expecting possible problems during the week from hunters without permission.
"I don't see as many large deer drives as I used to," Gilkey said, "which has cut down some on the number of HWOP (hunting without permission) complaints I receive."
One phone message is a complaint about a non-resident pickup truck in the area supposedly attempting to shoot deer from the road.
Passing a small, rural church, Gilkey spots some blaze-orange color alongside a tree, well off the road — his first hunter of the day. Parking in the cemetery beside the church, Gilkey pulls on a blaze-orange vest over his uniform shirt and heads for the woods.
The hunter is a 22-year-old woman, hunting by herself. She is seated at the base of a large tree and holding a 12-gauge slug gun, a single-shot with a scope. Her hunting location overlooks a nearby deer feeding station, which is legal by Ohio law.
"Seen any deer this morning?" Gilkey asks jovially. The hunter shakes her head no, then produces her hunting license and deer hunting permit for Gilkey to inspect. Everything checks out, so we wish her good luck and move on.
"I'm seeing more women hunters in the field in recent years," Gilkey said.
9:23 a.m. Near a levee of the Ohio River, Gilkey stops to chat with two hunters parked alongside the road. They say they are waiting for their hunting buddies who are still in the field. We soon spot five hunters moving our way, so we leave the truck to check them in the field.
One hunter does not have his deer permit with him, saying he left it home by mistake. Gilkey asks to see the man's identification, then uses his portable radio to verify that the hunter did in fact buy a deer permit. He gives the hunter a warning to carry his deer permit with him, chats with the men for a few minutes, and we return to the truck.
10:02 a.m. Officer Gilkey receives a phone tip about a poacher Gilkey has arrested twice previously. The poacher is under hunting license revocation by the court, but is supposedly out hunting again this morning anyway, with his teenage son. We are not close to where the poacher is said to be hunting, so Gilkey briefly considers sending a plain-clothes officer working the area to the scene. Ultimately, he decides to handle the call himself and we head in that direction.
10:05 a.m. Coming around a bend in the road, Gilkey spots a deer carcass hanging in a tree. He stops to see if the deer is tagged; it is not. Gilkey walks to the nearby house to inquire about the deer and is met at the door by an elderly couple who say their grandson shot the deer during the recent youth deer-hunting season. They produce the proper paperwork for the deer carcass.
10:17 a.m. The two-way radio crackles, and we overhear traffic of a hunter found dead in Gallia County, the county adjacent to Meigs. The cause of death is unknown as of yet, but if it's a hunter incident (shooting) Gilkey may be called in to assist in the investigation. Hunter incidents are top priority for Ohio wildlife officers.
10:21 a.m. Two hunters are walking toward the road and Gilkey stops to check them. It turns out to be a father and his 11-year-old daughter following a blood trail, tracking a wounded deer the girl has shot. Gilkey asks the young lady, "Are you having fun this morning?" Her answer is less than an enthusiastic yes. Hopefully, if they find the deer, her day will improve.
10:41 a.m. Gilkey spots blaze-orange color about a quarter mile off the road, parks his truck, and crosses a field to investigate. The hunter is hunting by himself and is someone Gilkey attended high school with. The officer checks the man's licenses and they exchange a few pleasantries.
10:57 a.m. A hunter is sitting along the road on the tailgate of his pickup and we stop to talk. He has a dead 4-point buck in the truck bed and Gilkey checks to see that the deer is properly tagged. We congratulate the hunter and move on.
11:39 a.m. Finally arriving at the farm where the poacher is supposedly hunting under license revocation, we encounter two men and two boys near the road taking a break from deer hunting, eating sandwiches.
Gilkey chats with them about their morning hunt, then casually asks if any of them have seen the father and son team we are looking for. One hunter says yes, he did in fact see the pair in the woods that morning, but says the father was not carrying a gun.
Gilkey is satisfied that the poacher is behaving as he should — at least for now.
11:52 a.m. We talk with a group of three hunters near the road taking a lunch break near a house. One man begins to complain about a recent poaching incident he had knowledge of.
"Did you call me about it?" Gilkey asks him bluntly.
The man replies, somewhat sheepishly, that he did not. Gilkey hands him a business card and encourages the hunter to call the next time he has information.
"I can't do anything about it if I don't know anything about it," he says.
The hunter promises to call.
12:07 p.m. We see two hunters in an open-sided shed hoisting a dead deer by its back legs on a gambrel. Gilkey stops to check that the deer is properly tagged. It's not.
He questions the two hunters as to who shot the deer and the older hunter says it's his. The hunter says he did not tag the deer before removing it from the woods as it was close to home and he was concerned that the paper tag might tear off as he dragged the deer.
Officer Gilkey asks to see the hunter's identification, then writes him a court summons for an untagged deer, but allows him to keep the carcass. If the hunter chooses not to come to court but mails in a bond instead, the hunting infraction will cost him $220.
1:23 p.m. We check two hunters going into the field for the afternoon hunt, one is a non-resident from Tennessee. Because of Ohio's reputation for big bucks, many non-residents deer hunt in the Buckeye State.
1:36 p.m. We check a landowner hunting his own property. Landowners are not required to have a hunting license or deer permit when hunting their own land, so we move on.
2:06 p.m. A few miles farther down the road, Gilkey checks another landowner, but this time there is a problem. The man is hunting with a pump shotgun and it is not plugged to hold only three shells, as required by Ohio law. Gilkey issues the hunter a court summons, but also takes the time to disassemble the man's gun, cut a stick, and insert it into the magazine of the gun, making it legal to hunt with.
3:03 p.m. We drive through a rural campground and three doe bound away. In the campground is a hunter who has killed an eight-point buck earlier in the day. Gilkey checks the head and cape of the deer for proper tags. We congratulate the hunter and he asks me to use his cell phone camera to take a few photos of him with his trophy.
4:38 p.m. Back along the Ohio River again, Gilkey checks seven hunters coming out of the field on ATVs. He makes sure their firearms are unloaded, cautioning them that operating an ATV with a loaded gun in possession is illegal.
5:00 p.m. It is now beginning to get dark, and Gilkey spots a camp off the road and a deer carcass hanging from a tree. We pull in to investigate; two hunters come out of the tent. Within a few minutes two more hunters pull up on ATVs. The hunters are from out of the area, but the deer is properly tagged and their licenses check out.
5:20 p.m. Now nearly dark, Gilkey considers heading toward home but knows many wildlife law violations occur at the end of the hunting day, so does not lessen his intensity.
Coming upon another camp, he sees a hunter standing near an ATV. A typical eight-point buck he shot lies on the ground at his feet. The deer is not tagged. Officer Gilkey questions the hunter as to why not, and the hunter says he left his tag in his pack back at the tree where he was hunting earlier in the afternoon. The hunter knows he's made a mistake, and accepts the court summons apologetically.
6 p.m. We arrive back at Gilkey's residence having checked a total of 26 deer hunters during our 10-hour shift, made casual contact with several other hunters, and issued three court summons.
All in all — from an officer's perspective — an average start to an Ohio deer-gun hunting season. But with six more days to go, anything could happen. Last year, Gilkey issued 27 court summons during Ohio's deer-gun week.
After spending a day with Chris Gilkey, it is easy to see why he is one of Ohio's finest young wildlife officers. He's not only energetic — taking his job very seriously — but is very personable, as well.
For instance, all three of the hunters issued court summons this day shook the officer's hand and thanked him as they parted. They knew they had done wrong, but also knew they had been treated with respect. And that kind of reputation quickly circulates through the hunting community.
That evening on is Facebook page, Gilkey wrote:
After nine opening days of deer-gun season, I still can't believe I get paid to do what I love. Opening day brought a few "tickets" written, but the situations where I didn't have to write a court summons stand out the most.
For instance, seeing a father and daughter tracking her first deer, or seeing the makeshift deer camps where countless memories are made generation after generation. It makes me think of all the good times I had as a kid hunting with my Dad and family. I am glad I can still be a part of those things that have provided me with countless stories and memories.
But now I have taken on a new role: the job of Wildlife Officer, a role that can be thankless and, at times, dangerous. A role that I am proud to be part of, and a job that is far more rewarding than anyone who has not been an officer could ever know.
I read a quote once on a plaque at the North American Game Warden Museum that said, "If the Lord made a better job, he kept it for himself." I could not have said it better.
— Officer Chris Gilkey, badge #1488, Ohio Department of Natural Resources, Division of Wildlife