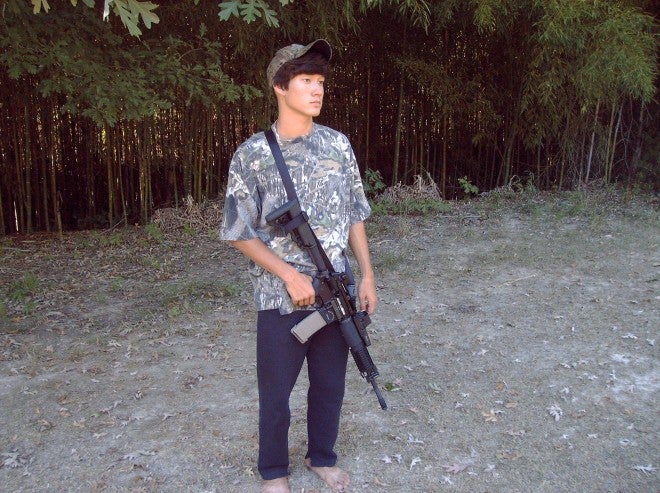 Don't you hate it when that happens? Me, too. My deer rifle's barrel was stuck muzzle down straight into the mud; it had just slipped off my shoulder as I was trying to climb under the rail of a 16-foot tripod stand. The worst part was hearing metal ding off the ladder on the way down. I got a cold chill as I wondered where the dent was going to be.
The barrel gave a sucking sound as I relieved it from the muck. There was a scratch on the barrel, but scope appeared fine. My cheap, slick, nylon sling was covered in mud. I had no trouble trashing it. I had to return to camp to break out the gun cleaning kit to swab the barrel clean, then I was back on the hunt sans a rifle sling.
I learned one more good lesson that day: you get what you pay for no matter what you buy, rifle slings included.
The real issue with rifle slings is not what they're for, but what type is best for the job. Unless you were trained in the military to use a rifle sling to steady the rifle for accurate shooting, then I doubt you have ever used one on a deer rifle for that purpose. Most likely your rifle has a sling just for carrying it, but is that the end of it?
The inexpensive nylon sling mentioned in the opening paragraphs did not do its best job. Oh, it carried the rifle alright, but its slick surface came right off my shoulder at a critical moment. Dropping a rifle is bad enough, but it could also be a dangerous situation.
Shopped for a sling recently? Just like any other accessory for any sport the manufacturers seem to over saturate the market with selections. Why in the world would the hunting equipment marketplace need a hundred or more different types of rifle slings, for goodness sake?
They come a wide variety of materials: leather, nylon, rubber stretchy stuff, neoprene, cotton webbing, braided belt rope, and all kinds of synthetic materials. They are available in several different widths, and some flare out extra wide in the carry section for additional shoulder grip surface.
Most slings connect with either a 1-inch or a 1 ¼ inch sling loop swivels. Some of these swivels are detachable, and some are permanently fixed to the rifle stock. The ones that are detachable install to a sling stud screwed into the rifle stock. The one-inch push button lock swivels are pretty much standard for today's hunting rifle slings.
So what is the best rifle sling to buy for a hunting rifle? First, buy a material that you like that is durable. Make certain there is an adjustment device on the sling for making it shorter or longer, ideally with an easy-slide buckle.
For me, neoprene slings have worked the best. They stretch just enough to make them comfortable to carry a heavy rifle while walking or climbing into a hunting stand. The neoprene is easy to grasp, and it repels bad weather without damage.
I like the Vero Vellini brand. These are made of premium neoprene with leather tads sewn on nylon swivels straps. The lower section has an adjustment feature to quickly change the length of the sling on the rifle, and they come in different widths and colors including camouflage.
Sling swivels are often neglected when it comes to maintenance. You will find that swivels will rust, but it may not be obvious. When you clean your rifle, scrub down the swivels and the push button lock with a brass brush and oil it well.
When you carry your rifle in the field, periodically check the sling swivels to make sure they are fully engaged in the studs and screwed down tight if they are of that type. As you carry your rifle, use one hand to hold onto the sling for further security from it slipping off the shoulder. That way you can avoid ending up with your rifle barrel stuck in the mud.