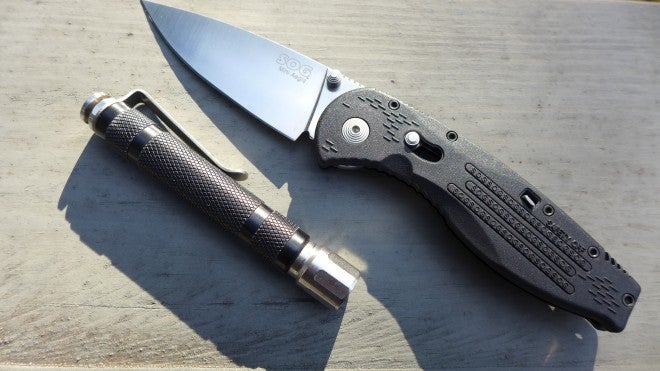 Here is my recommendation for the best light and knife pair available for $100 or less. (Check out my recent post about the best pair for under $50.)
Knife: SOG Mini Aegis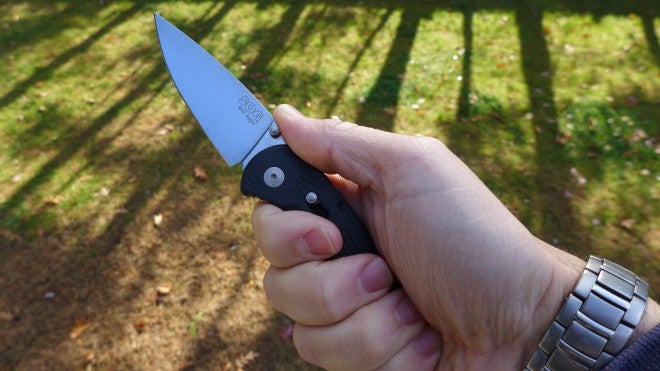 The middle has fallen out of the market; we get tons of budget knives, many of which are quite good, and a ton of uber blinged-out knives that sell for the price of custom blades. What we are not seeing is a lot of new mid-priced knives in the $50-$100 range. This means the pickings are slim, especially if you don't want what's already out there. Additionally, the market has created an odd price break where there are many knives that are $60 (the Delica and the Mini Grip, for example) but few that sell for $50.
The Mini Aegis is a unique knife, improving on features that other similarly-priced knives lack. The SAT introduced only a smidgeon of blade play on my review sample, so that was a good start, but the real difference maker is the weight. This is a 3-in. blade on a 2-oz. knife. It's strikingly light.
Picking up the Mini Aegis for the first time was surprising. It's that same feeling you get when you think something is a glass of water and it turns out to be corn syrup (or, in this case, the reverse–thinking its corn syrup and it turns out to be water). The clip wiggles a bit, but that's a minor thing.
The Mini Aegis is an excellent mid-priced knife. It's also widely available, meaning those of you in gear deserts can still go into a Walmart and snag a good knife. This is a big shift from where I was two years ago, but this knife is very good.

SHOP NOW
Light:
Peak Eiger QTC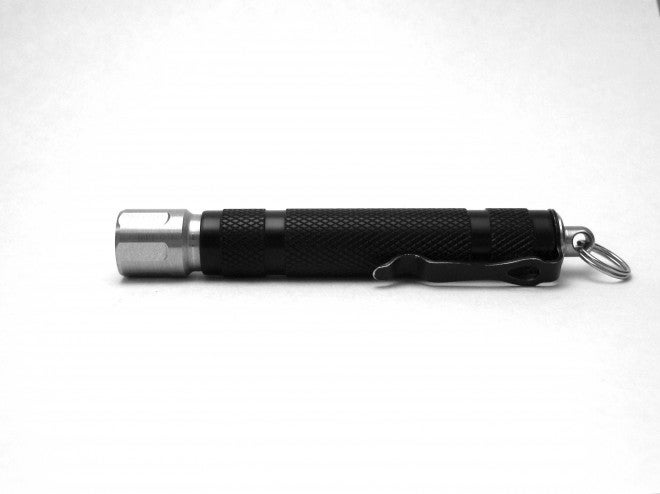 This Peak Eiger is an American-made product that takes just about any AAA battery, rechargeable or otherwise. Buying a different body tube allows the Eiger to take specialized batteries, providing a much smaller light with very little loss in lumens. There's even a throw head. The Eiger is not just a flashlight, it's a light system.
The tail end has a few accessories too: a keychain lug, a flat end, and a momentary on-switch. All are well-made, but momentary on-switch is the clear winner for me. There are even aftermarket clips made, and when fully decked out, the Eiger is among the best lights in the world, regardless of price. It has a really nice QTC UI allowing for firefly lows or screaming highs (especially with a Li-Ion battery). It also comes with a Hi CRI emitter on the $50 version. You'll have to navigate the awful Peak website and try to figure out which tail option you want, but it's worth the hassle. This is a sweet light.
$100 will get you quite a bit of quality in a knife and a flashlight. The kit here is also good because it's incredibly light and flexible. This is the price point where I think most people will dwell, and the two things I am recommending here are good enough to serve you for a very long time if treated properly. Very few people need more out of a knife (need, not want) than the Mini Aegis provides. Likewise, the Eiger will handle the vast majority of your illumination needs.
If you want to get a serious and good knife-and-light pair without spending silly amounts of money, you can't do better than this set up.