Leupold Rangefinder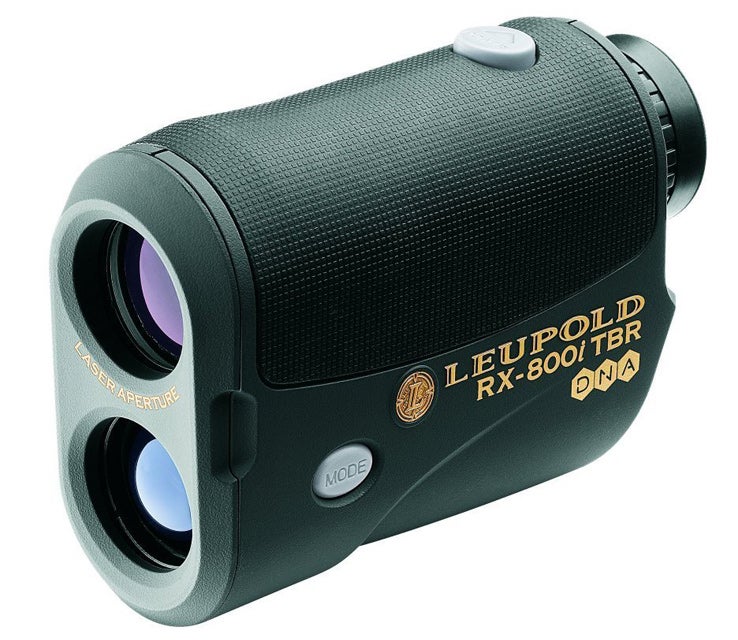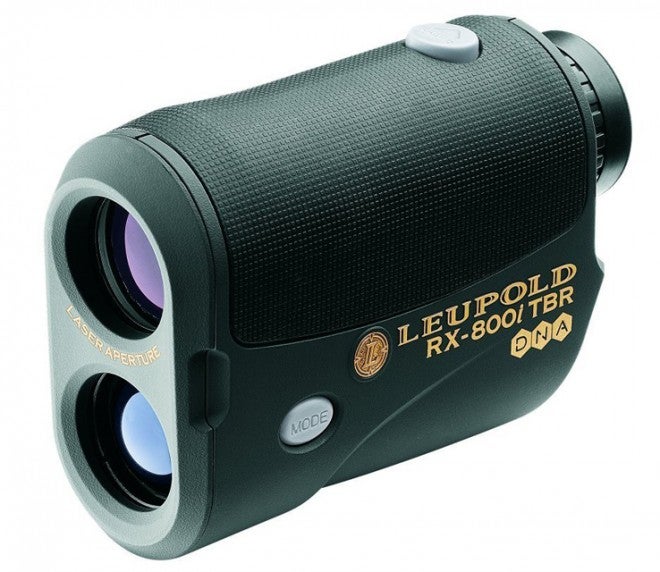 It's not that my eyesight is getting fuzzy at my post-60 years of age, but it is. But that's not the primary reason for having an electronic rangefinder in hand while hunting. Despite what most hunters think or say, most of us are pitiful at judging distances from our standing position to a game animal a hundred yards out in the field or further.
A rangefinder is key to making distance estimations when hunting all kinds of big game in America, including white-tailed deer, mule deer, antelope, bear, and elk. A quality rangefinder is ideal for varmint hunting coyotes, fox, and other vermin. Knowing that range within a half foot or so means that you can take those long-range shots with a lot more confidence.
Leupold makes a wide selection of handheld rangefinder units that can accurately measure distances from 500 to 1000 yards, as well as close-in ranges up to six feet. Such a rangefinder is highly useful for archery hunters as well as rifle hunters in any kind of terrain or hunting conditions. Models are even available that can compensate the range for the up or down angle of the shot being taken. Check out the versions available at Sportsman's Warehouse on line or at one of their many stores.
For years now I have been looking cross-eyed at the old binocular-type rangefinder I have and have grown skeptical of its accuracy. So I decided to jump in and buy a new model with current technology. After a considerable product search, I elected to buy the Leupold RX-800i Laser Rangefinder.
When I first opened the package, I was almost set back by how lightweight these new units are. It's a featherweight package to say the least. Now, this is good and bad. For carrying it is perfect. For holding steady, I recommend a fixed support of a tree stand bar, off a tree limb, mono-pod, or some other steady base.
The 6x23mm optics are crystal clear and the operational steps are simple. Insert the battery to fire it up, focus the eyepiece, point the unit at a "target", and hit the ranging button on top. The unit can measure in feet or meters. The 800i will range a reflective target to 800 yards, trees to 650 yards, and deer up to 550 yards. Where I hunt, these ranges are ideal for every stand we have.
The scanning reticle inside the unit can be changed to several different modes. Also on the screen is a battery status indicator letting the user know when the power source is about to die. This unit uses a CR-2 camera type battery. Make sure you use an alkaline or lithium type battery for longer power life. The unit is waterproof and comes with a one-year warranty.
Better be quick and get this one on your last minute Christmas gotta have list.
Bushnell Truth Rangefinder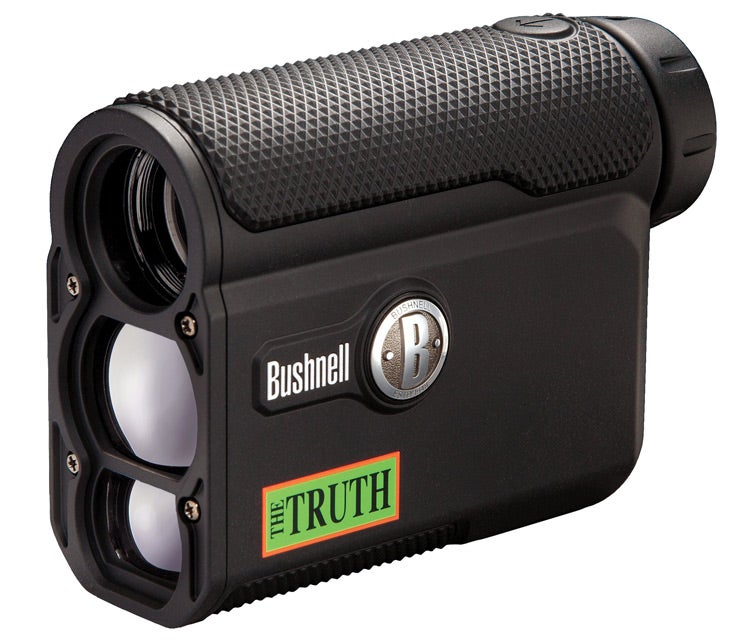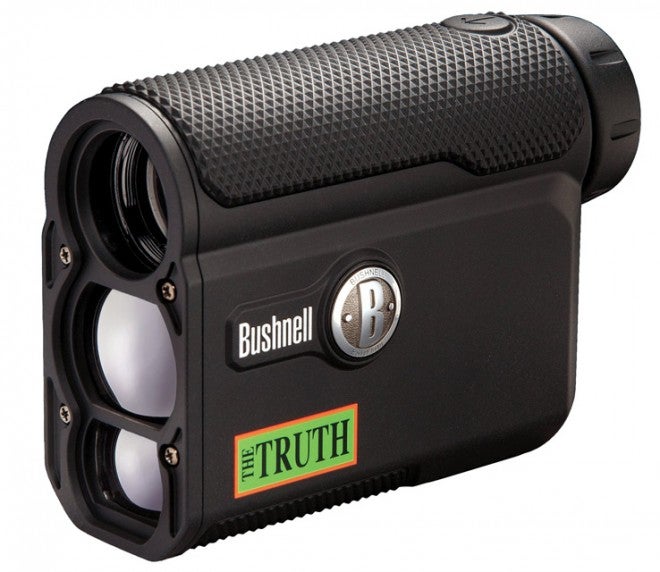 As someone who mostly hunts with archery tackle, a good rangefinder is pretty important, but they can be difficult to buy. Products range anywhere from $100 to $1,000 so where do you settle for a good cost effective rangefinder? Bushnell found the sweet spot as far price, quality, and features with the Bushnell Truth Laser Rangefinder.
The Truth Rangefinder retails at $199.99, so it's toward the bottom of the price range, but you get a lot for your money. With bow mode you get angle compensation with their ARC technology all the way out to 199 yards. Line of sight you can get accurate readings out to 850 yards. Many of the lower priced rangefinders perform poorly in low light due to low quality glass. I've found that the Truth Rangefinder does well in low light despite lacking a backlit display. It comes in 4X, which is just enough magnification for most hunting situations, especially when bowhunting. The unit's one-button operation makes it super easy to operate. Its size and shape make it comfortable in hand, and it's very sturdy. I actually dropped mine out of my tree stand by accident and it's no worse for wear!
If the hunter on your list is in need of a quality and affordable rangefinder, then check out the Bushnell Truth. If your budget has a little wiggle room and you're looking for some additional features as well as a backlit display, check out the Bushnell G-Force 1300 Laser Rangefinder which retails at $399.99.
Nikon P-223 3x32mm BDC Carbine Scope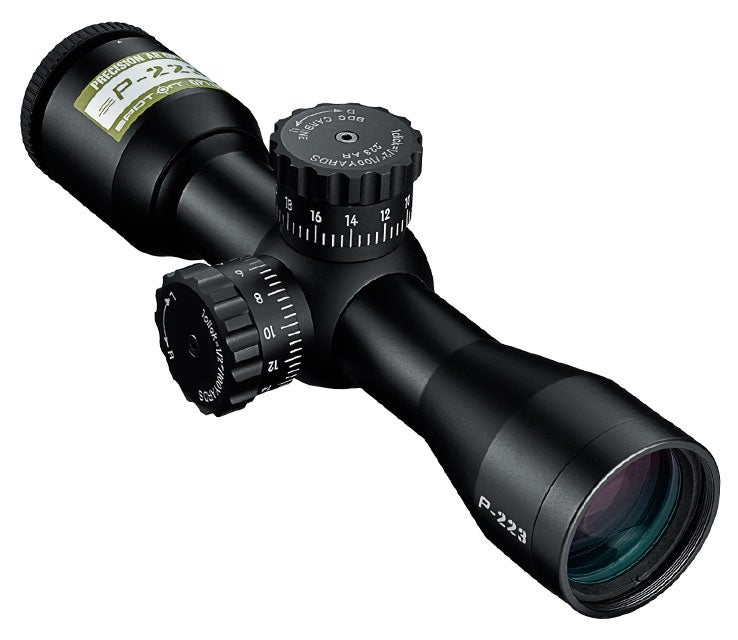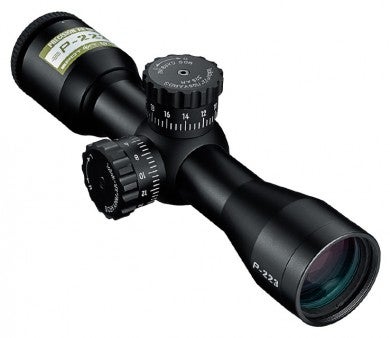 A few months ago I tested this outstanding, simple, and inexpensive AR-15 style scout rifle optic, and it performed marvelously. The simple fixed power 3X magnification allows plenty of peripheral vision on short range shots and still has enough magnification for me to put hits on the 12" steel targets at 500 yards using the built in BDC (Bullet Drop Compensating) reticle with 200, 400, and 600 yard hash marks esigned specifically for the ballistics of the .223 and 5.56 NATO rounds. The idea of the scope is to deliver a light and small optic to match the same traits of typical AR-15 Carbine rifles. The glass is fully multicoated and is nitrogen filled for ultimate clarity, and the o-ring seal makes this scope waterproof and fogproof.
Magnification: 3x
Objective: 32mm
Eye Relief: 3.4in
FOV at 100 yards: 35.6 feet
Diameter: 1 inch
Length: 8.1 inches
Weight: 11.2 oz
Nikon RifleHunter 1000 Rangefinder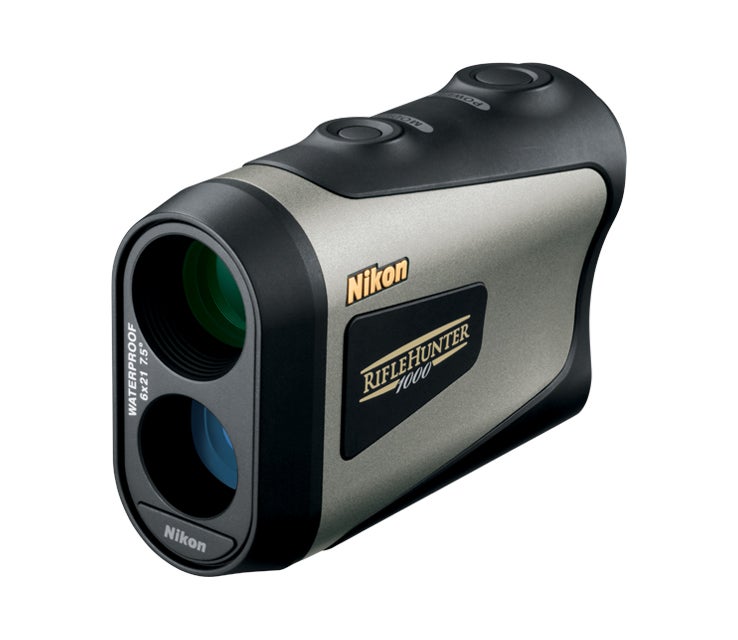 You have just spend $300 on new camo, $100 on premium match ammo, and probably $1,000 to get to from and into the hunt; you've also carefully zeroed your rifle and know what it can do at each known distance. With all of that invested, why risk a shot at an unknown distance?
The RifleHunter 1000 features a 1,000-yard range and extremely accurate .1 yard display readings on game, even if partially screened by grass or brush. The Riflehunter offers a larger ocular for easy viewing, a wider field of view, and the new Active Brightness Control Viewfinder for enhanced readability. It also features a waterproof/fog-proof body, Nikon's ID technology, Active Brightness Control, and multicoated 6x optics.
Easy single-button operation gives you the true ballistic shooting distance versus actual distance based the angle of the shot, so you will be dead on target regardless of what angle you are shooting from. This has become by favorite hunting and shooting tool to assure I have the right distance each and every shot.
Measurement Range: 11-1,000 yards
Magnification: 6x
Eye Relief: 18.3mm
Size (LxHxW): 4.6″x1.6″x2.9″
Power Source: 1 CR2 lithium (included)
Weight (w/o batteries): 6.9 oz.
Objective Diameter: 21mm
Nikon RifleHunter 1000 Rangefinder: Click Here
Trijicon ACOG 3.5×35 Dual Illuminated Red Horseshoe Rifle
Ok, so we went a little nuts by including a $1,200 optic on a Christmas gift list — but hey, maybe you want to buy a little something for yourself. Or in this case, a lot of something.
This Trijicon ACOG is no joke, and in fact it's probably overkill for everyone who isn't going into combat in the most demanding conditions. That said, for the preppers among us who figure they may end up wielding their AR-15 in a without-rule-of-law (WROL) situation, the ACOG is where it's at.
This particular ACOG is fixed-power, just like our boys in the military use (although they often use the 4X magnification). The magnification is high enough to take shots well past 500 yards, but it's not so high that if you're surprised by an angry hog up-close that it's going to be impossible to find him in the optic.
The "dual-illuminated" part of this product is a reference to the fact that it uses two power sources to illuminate its reticle: Tritium, and the Sun. Both of these power sources are good for years and years of no-battery operation, which is another reason that the ACOG is the optic of choice for preppers and the military.
So yeah, if you want your giftee to just completely flip out on Christmas morning, leave one of these bad-boys under the tree, but be sure to film the resulting fireworks for posterity.