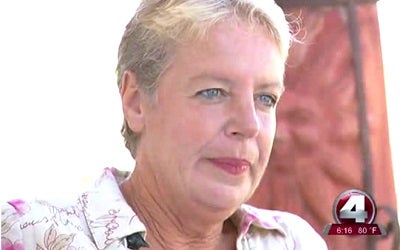 FOX4 aired a story about a Cape Coral resident, Robin Speronis, who has chosen to live without water or electricity. Soon after the live report, even though the address was not disclosed, Speronis' off-the-grid home was on the radar of Cape Coral code enforcement.
This video and article from FOX4 shows her frustration with the city officials.
The city says it only visited the home after the story aired because a citizen called for a welfare check, which the city deems a life safety issue. The city says the notice to vacate was issued due to the lack of electricity and water service to the home. Code officials needed to speak to the homeowner to see what options were being used for the water/sewer/electric needs and whether those options would comply with International Property Management codes.

While Robin says those modern comforts aren't mentioned as a requirement in the code cited by the city on the notice, she won't say whether she's been living in the home since the notice was posted. She does say the city is overreaching and threatening to take away her home — which she owns free and clear with taxes up to date.

"Where is the justice? Why did they choose me," she asks. "…because I was exercising my First Amendment rights of free speech in discussing living off the grid."

The city says it simply wants to communicate with the homeowner, saying she has ignored efforts to resolve the lack of water and electric issues. They also say she has refused their attempts to speak with her about a landscaping issue dating back to October.

A local attorney has since agreed to take on Robin's case for free. The city says if she can prove she can sustain herself and her home without water or electricity both parties might be able to come to a solution.
The city has to regulate on certain things like fire safety, sewage back-up, and cleanliness. Given that Speronis is living within the confines of a city, the city has the right to inspect the house. But she also has every right to due process and to avoid being kicked out of her own home.