There are a ton of small tools out there. Some of them, like the Gerber Artifact, are so bad they should offend you. Others, like the MBI HF-R, are remarkable. They're so good that they stretch the limits of technology. In reviewing EDC products for about three years, I have had chance to run across quite a few great tools. There is a part of me that wants to put together the ultimate keychain toolbox, a collection of tools small enough to fit on your keychain, but entirely useful on its own. If I were to do that, here is what I would pick and why. I am skipping pure customs because there aren't a whole lot of custom items in this size range, they aren't readily available, and I am not convinced they add a lot more performance over the production stuff in this size range.
Flashlight: MBI HF-R Ti Edition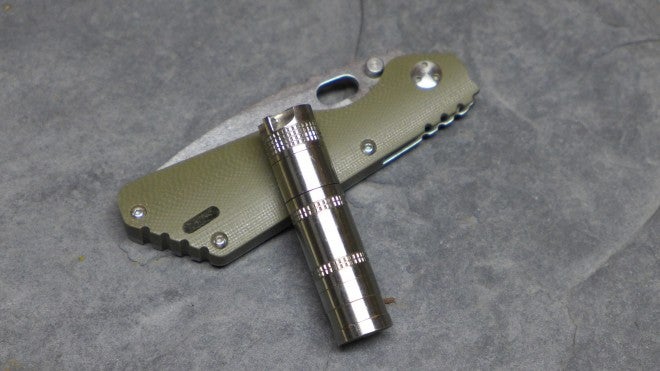 This is a no-brainer. The Steve Ku Quantum DD and D2 are quite good, but the MBI HF-R's 600 lumen high and revolutionary UI is too good to ignore. If you need an ultra compact light, such as for a keychain toolbox, this is it. It also happens to flex into a larger light using the supplied AAA body tube. It's a great light for a keychain, period. The Ti Edition adds a little bling, but the regular HF-R is pretty freakin' amazing on its own. This, however, is about the ultimate keychain toolbox.
Budget Pick: Olight i3 (with bolt on clip): Its not as tiny, bright, or blingy as the MBI, but it works, runs on a common battery, and is pretty cheap. The three mode output is very good. Avoid the one with the friction fit clip. They always suck.
Pocket Knife: Spyderco Ladybug with ZDP-189 and FRN Handles
The Dragonfly is probably a bit too big, but its little sister, the Ladybug, was designed for a keychain.  Keep it light by avoiding the stainless steel edition and opt for FRN. The Manbug in ZDP-189 and FRN is almost identical, so pick whichever better suits your grubby mitts. If you want a blade with good ergonomics in this size range and want to sharpen more, the sprint run Spyderco Jester in gray G10 is also a worthy choice. The blade shape and jimping is better on the Jester (I love where it is on the blade, way out towards the end), but the steel is better on the Ladybug.
Budget Pick: San Ren Mu 605. Oh yeah, super esoteric choice, right? Actually this is good little blade with decent 8Cr13MoV (decent largely because it is satin finished and not bead blasted), it has a choil, and it has a very solid blade shape. It is also a speck at 1.4 ounces. Finally, it comes with G10 handle scales. Who saw that coming on an ultra budget blade?
Multi-tool: Midnight Manager
Fundamentally the Midnight Manager does so much of what you need. It does none of it well, it has a blah light, blah pen, and blah blade, but it is all of that stuff at once plus a pair of scissors and some drivers. Personally I'd skip the SAK and opt for either one of the folders above on an OPMT (one piece multi-tool). If bling is your thing, I challenge you to find a cooler SAK than my custom Ti SAK Rambler with tritium insert and pocket clip.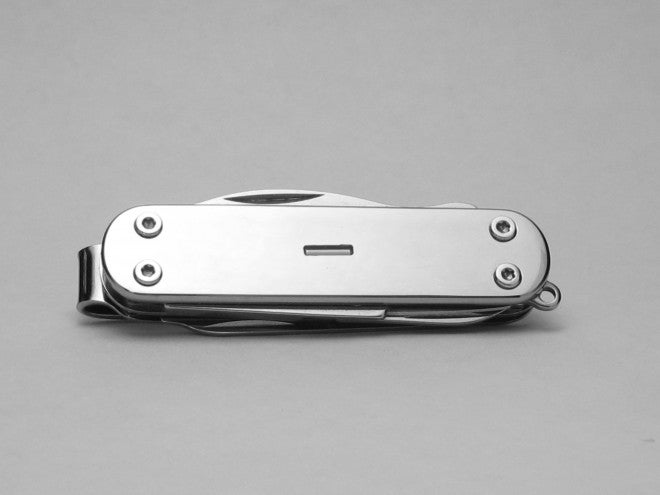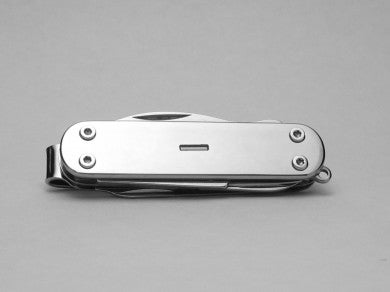 The maker has long since vanished in shame from the internet, but dang his work was amazing. This might be my most unusual piece of gear. I love it.
Budget pick: Seriously? The Midnight Manager is like $25. That said, the Gerber Dime is actually quite excellent. I'm not kidding. It is very good. Especially if you get one with good fit and finish. The design itself is outstanding. Plus it is like $15.
OPMT:  JPR Toucan
Okay, so I broke the no customs rule, but this OPMT is just too awesome. The sheath is quite innovative and the blade is very useful. The Boker rendition is to the custom original what a Hot Wheels is to a real Ferrari.
Skip it and wait for one of these gems to come on the market. I know there are more expensive OPMTs out there (Stellite Atwood Son of Mini Prything anyone?), but this about performance not man jewelry.
Budget pick: Gerber Shard: Yep another Gerber tool. This is also a very good design and there are no fit and finish issues, as it is just a solid hunk of metal. I also like the Nite Ize DoohicKey, but the lack of a Phillips driver puts it behind the Shard.

SHOP NOW
Pen: Trekker Space Pen
The chance that you need to write for a long time is pretty limited, so if you need just a quick jotting pen that can hang on a keychain, this is it. It runs the much beloved space pen refill and has a nice keychain attachment. It is also really cheap.
Budget pick: Same. Listen cheapo, sometimes you just have to bite the bullet and spend $18.
Fire Starting Equipment:  Ugh…
I think the idea that you will need to start a fire is pretty silly, but I guess it could happen. In that case, don't mess around and just get a peanut lighter. It's small, it is effective, and it will work. The firesteel thing can probably work longer, but it is not as sure a thing. If you have to go with a firesteel the ExoTac NanoStriker seems to be well received among the I-think-I-am-MacGuyver or The-world-could-end-and-my-keychain-will-save-my-life crowd.
Budget pick: Mini Match Firestarter. At $5 you get a firesteel that can fit on a keychain and/or in an Altoids tin. That is about all you can expect here.
Carry Method: Coated Aircraft Cable
Nothing is even close. For the price and weight you can't be the coated aircraft cable. They are $2 at your local Ace Hardware.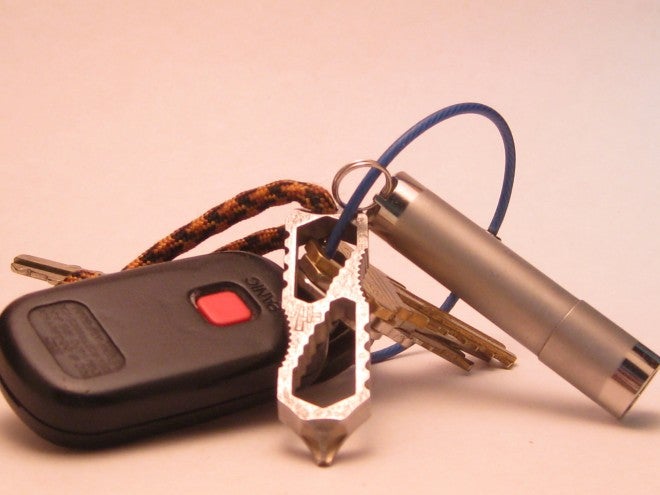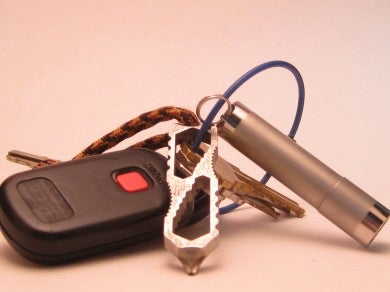 I wouldn't carry all of these, but if I were going to make a keychain toolbox it would have:
1. MBI HF-R Ti Edition
2. JPR Toucan Drop Point
3. Trekker Space Pen
4. Coated Aircraft Cable
That is a very good, all-bases-covered set up. If you're pressed, I'd swap out the Toucan for a Dime. A bit more functionality at a lower price, but it's a lesser tool, no doubt. I would never carry it on my keychain as I couldn't take it with me to work, so it would be a set up all on its own. It's not that pricey either, especially in the budget iteration.