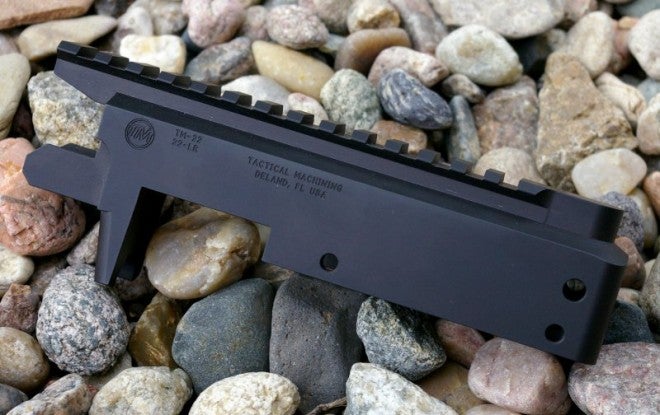 In 1964, Ruger introduced the investment cast 10/22, a rifle which can only now be described as a phenomenon among new and old shooters. Most of us not only have one, but several 10/22s in a variety of configurations due to the availability of aftermarket "hop up" parts. These parts have become so popular that many buy base model 10/22s just to begin a custom rifle. The original Ruger has improved over the years, but the aftermarket parts market offers shooters performance far from the capabilities of even the best and most accurate of the current crop of Stock Ruger 10/22 models.
Once you have done a few custom 10/22 builds, you start to realize that buying a stock Ruger to cannibalize is counter intuitive if you plan on replacing everything anyway. After we consider all the parts we want to change, many shooters are now starting off right with an aftermarket receiver for extra precision and an accuracy edge. The Tactical Machining TM 10/22 receiver is a deal among these usually pricey upgrades.
About Tactical Machining
Tactical Machining was started in 2008 to offer high quality AR parts, and the company continues to develop an interesting mix of products. They are one of the top providers of 80% AR receiver and 80% AR receiver kits. As you may know, Federal law allows anyone legally able to make their own firearms without registration or FFL transfer as long as they do not sell them. For the home machinist, non-ATF 80% receivers provide a fun project to finish the milling and create their own AR-15 receiver.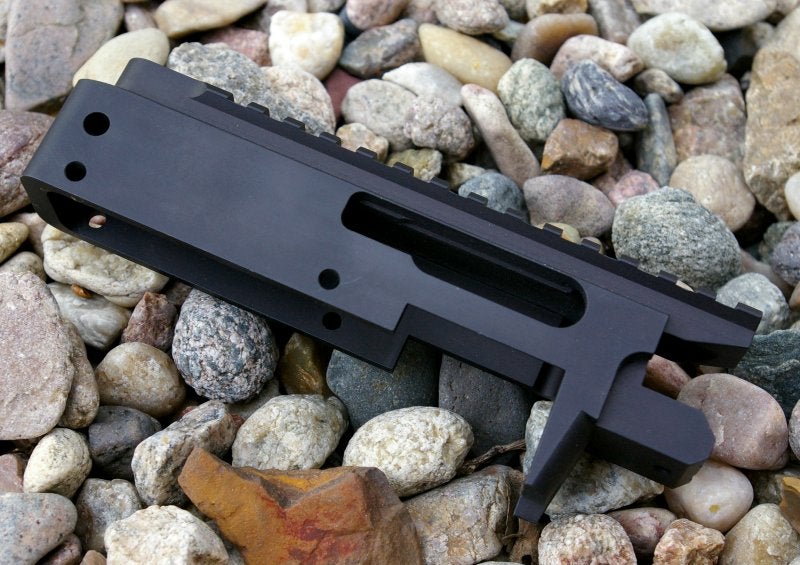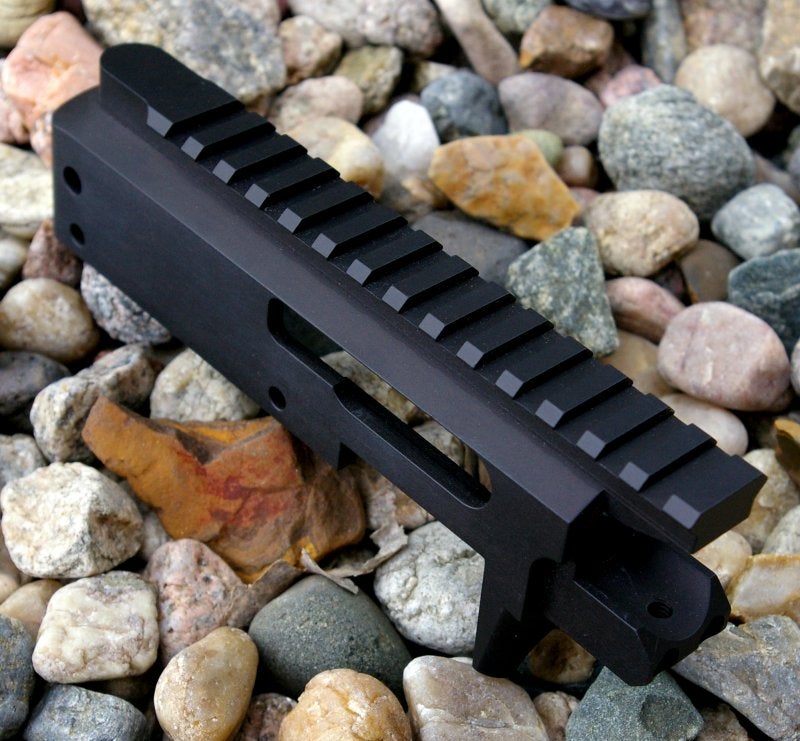 Other products include a complete finished line of products including AR accessories, complete AR upper and lower receivers, and of course this very affordable $129.99 billet 10/22 upper receiver that I used in this precision custom Tactical Machining/Kidd 10/22 build.
Fit, Finish, Feel, and Function
The fit and finish is excellent on the billet 6061 aluminum TM 10/22 receiver. Tactical Machining is definitely putting a ton of quality into their products at an amazingly low price. Tactical Machining TM 10/22 receiver is a flawless deep dark Type III hard black anodized finish.
The receiver is beautifully machined to very tight tolerances, which will deliver a very tight fit if you are using stock parts, but if you are using aftermarket parts, expect to do some hand fitting. In this case, my Kidd barrel took a bit of hand fitting. Kidd is known for very tight barrel fitting, and when coupled with the tight specs on the TM 10/22 receiver, it made for quite the hand fitting adventure over a couple hours. That noted, I would have it no other way for a precision build because you want that barrel so tight that the v-block really becomes superfluous.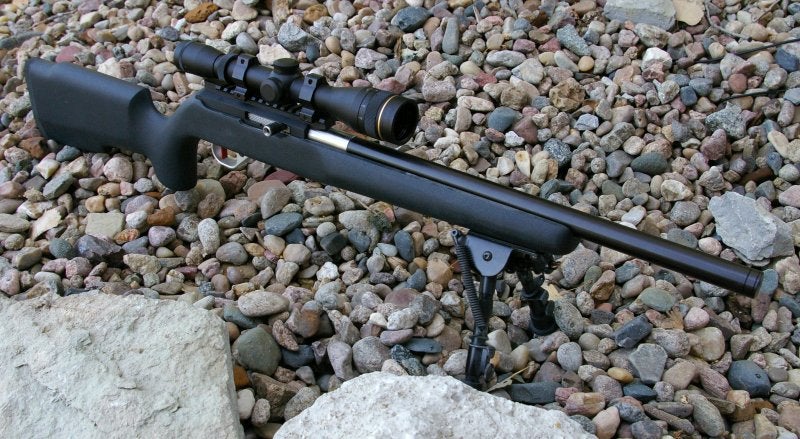 I ended up taking off all the anodizing in the receiver's barrel breech to get the Kidd barrel to fit with taps of the rubber mallet on the back of the receiver. Just a note: never seat the barrel by hammering on the muzzle end of the barrel. Always hit the back of the receiver with a rubber mallet to seat a tight 10/22 barrel. The stock barrel fit tightly without any modifications during initial test fitting, but aftermarket barrels almost always require fitting to some degree, especially in a tightly spec'ed billet receiver such as this.
It is your choice whether or not you want to sand and modify the barrel or the receiver, but in this case it was far easier to adjust the fit on the aluminum versus the stainless barrel.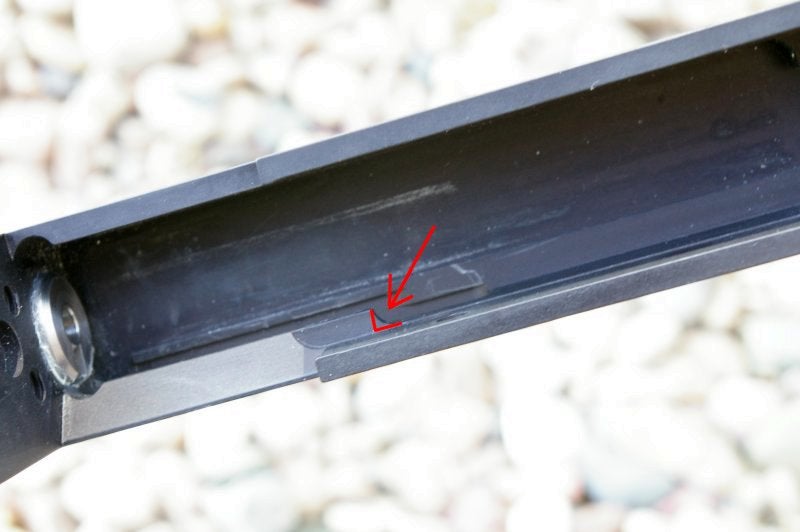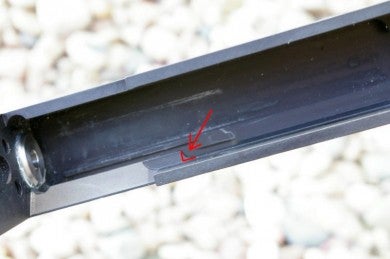 The only unexpected issue I had was that a bolt guide rail corner had to be squared off with a file to allow the gorgeous Kidd bolt to drop-in. This was a very minor, 2-minute tweak and is far from a deal breaker for me. The stock Ruger bolts have a pretty loose spec and did not require this modification, but the Kidd bolts are far more precise and did require the tweak. Chances are your factory stock Ruger bolts will drop in without this modification.
Functionally, the receiver dropped right into the Boyd's Tacticool stock used for the build and has worked perfectly. The Tactical Machining TM 10/22 receiver certainly has provided an excellent platform for my Kidd powered tack driver. Some of my best groups are right around .12" at 50 yards. No, that is not a typo — right at 1/8" groups at 50-yards. It is actually now common for me to manage sub 1" groups at 100 yards routinely if the wind cooperates. Significant kudos goes to the stunningly clear VX-2 Leupold 3-9x scope with adjustable parallax. Without out brilliantly clear optics, it would be infinitely more difficult to print those groups.
Features
From a value perspective, the TM 10/22 is the best deal in the industry for an aftermarket 10/22 receiver. It boasts many of the same features as competitors, but it has a price of only $129.99 versus the next least expensive competitor's $230 receiver. Not a bad deal at all to save $100 for a 100% American made product that offers everything the other competitors do.
The biggest features are the level of precision and an integrated extended Picatinny rail that provides a rock solid base for scope mounting. The integrated rail is just one less thing that can affect accuracy, thus offering a potential improvement and one less accessory to purchase. Overall this integrated feature is a great deal any way you slice it.
Other features include precision 6061 billet aluminum construction, breach cleaning rod access hole, and tight precision construction. I noticed the stock receiver pins fit tightly although for this build, so I switched over and used Kidd's precision pins. Unlike some of its competitors, the TM1022 receiver comes only in basic black, but at $100 less than the nearest competitor; I think many people will still buy two at a time, considering the price and features.
Build Specs
Kidd CNC bolt group
Complete 8oz/8oz 2-stage trigger assembly with flat trigger
Cocking assembly
V-Block
Bolt buffer & 18" 2lb. lightweight barrel
Tactical Machining TM 10/22 Billet CNC Receiver
Boyd Tacticool Stock
Leupold VX-2 3-9X33mm Rimfire Scope with Adjustable Objective
$1,076 as equipped.
Final Thoughts
Assembling your own custom 10/22 really only requires at most a rubber mallet, a punch, a screwdriver, a hex wrench, and maybe sandpaper and file for a little hand fitting. It is without a doubt one of the easiest firearm formats to assemble yourself. 10/22 rifles are an awesome platform. They are fun, cheap to shoot, and can be insanely accurate with the right performance components, and one of those components is the receiver.
I have had good accuracy from using a stock receiver, but my best shooting 10/22s all use billet receivers. I think a bit tighter and more precise receiver can deliver just a bit more accuracy via a much tighter overall barrel-to-receiver union. An integrated picatinny is just one less thing to go wrong.
Throughout this review, I keep coming back to the price and found myself muttering over and over again, "It's only $130." Yes, you may have to do a little fitting and tweaking if you are using aftermarket parts, but that should be expected with any 10/22 aftermarket component based build as they never go together perfectly. This is such as great receiver, I expect to use a few more in other builds going forward. It remains a first choice of receivers for a ground-up 10/22 build regardless of budget. Considering I can by two receivers for the price of one of the next priced competitors, this is definitely a highly recommend 10/22 receiver for your next custom 10/22 build..
Specs
Tactical Machining TM 10/22 Receiver
7075 T-6 Aluminum
Integrated Picatinny Rail
Integrated Cleaning Role Breech Hole
MSRP $129.99