Aero Precision COP Monolithic AR15 Upper Receiver
Major Pandemic 01.06.14

The original AR design was never intended to support optics, and the flat top receivers were a nice AR modification. But some optics require mounts further forward than the flat top can accommodate. There is also the issue that the barrel nut was never designed to be a stress member supporting a cantilevered forend; many feel this stress can effect both overall accuracy and forend mounted optic zeroing.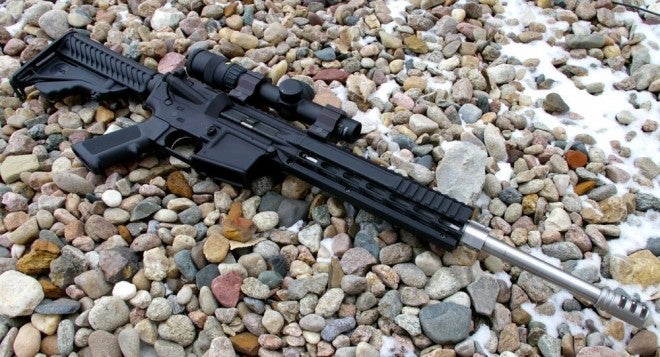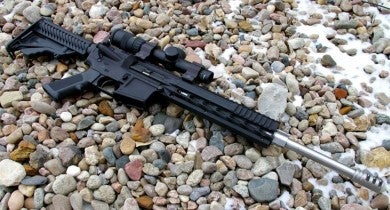 The Aero Precision COP AR upper solves these problems by offering a purpose built Continuous Optics Platform from the front all the way to the back of the receiver.
The COP is an incredible piece of engineering and has been independently tested by the military to be the strongest monolithic upper available all while being extremely lightweight and completely modular. The innovative COP kit design is supplied with a varied array of ten full and partial picatinny rails and blanks of which some include QD sling mounts. The rails can be slide on and off the female dovetails by removing just the screws retaining that rail. The result is a single platform with near limitless customization that can fit any current need and change easily based on how the shooter's style or equipment needs change in the future.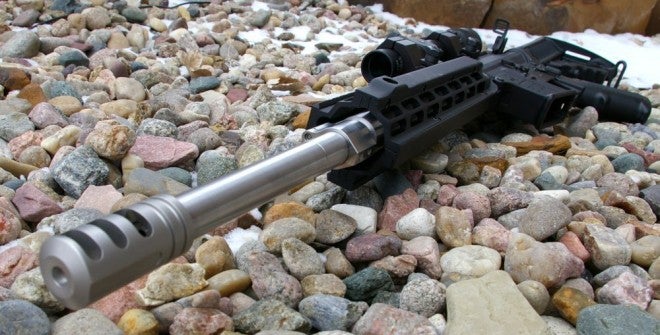 The Aero Precision COP monolithic upper build
In the last couple months I have been building a few "high end" AR platforms focused on light weight and 3-gun competition style shooting, but for this build I wanted to lean back a bit into a more defensive oriented, optic-driven build typically referred to as a Squad Designated Marksman rifle. The intent of a specially trained and sometimes specially equipped SDM within a military squad is the ability to precisely place shots at extended ranges while still maintaining the shorter range maneuverable capabilities of the M4/M16. From an equipment perspective, SDM rifles usually are upgraded to a more accurate barrel, free float, and magnified optic.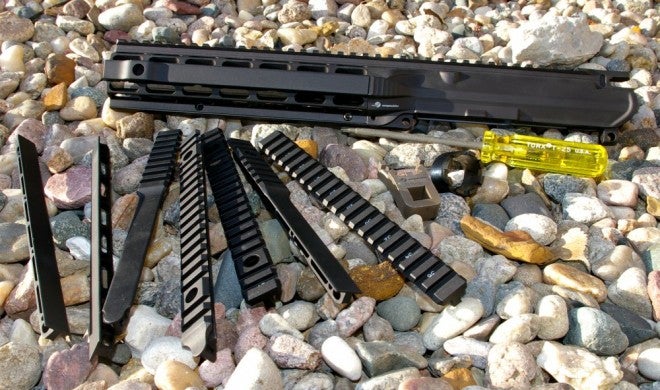 My intent was to build a more flexible, all-purpose platform which could deliver on both short and longer range, defensive, hunting, and competitive shooting. Because I am a bit finicky about what I wanted yesterday versus today, I also wanted the ability to easily customize the rifle from situation to situation without having to mount or un-mount hanguards just to add or move picatinny rails as needed. The flexibility of the COP was an obvious choice and allows me to change the forend configuration as needed.
For a SDM build you need a very accurate barrel. After speaking with John Hollinger at White Oak Precision (who manufacturers barrels for President's Cup competitors), he recommended I use one of his 16" heavy fluted Mid-Length SDM barrels coupled with his stainless low profile gas blocks and tubes which have been popular with his law enforcement and military customers. This 1:8 twist barrel is made from a Shilen button rifled blank and finished with White Oak's own .223 Wylde style chamber which provides reliability and accuracy with both .223 and 5.56 NATO rounds.
John noted the best situation for accuracy would be to upgrade to a longer 20" barrel, however the 16" was designed to provide more maneuverability and less weight (2.5lbs) with minimal loss of accuracy compared to their 18" and 20" models. To finish off the internals, a standard phosphated AR BCG was used, with a DPMS charging handle and Badger Latch, and Quite Brake from PRI. My Geissele triggered SSA-E equipped Aero Precision lower was used which was previously featured in my JP Enterprises build. I wanted a solid dependable day/night optic, so I choose to move my reliable Trijicon AccuPoint 1-4X24 scope over to this build with Tactical Millet Rings.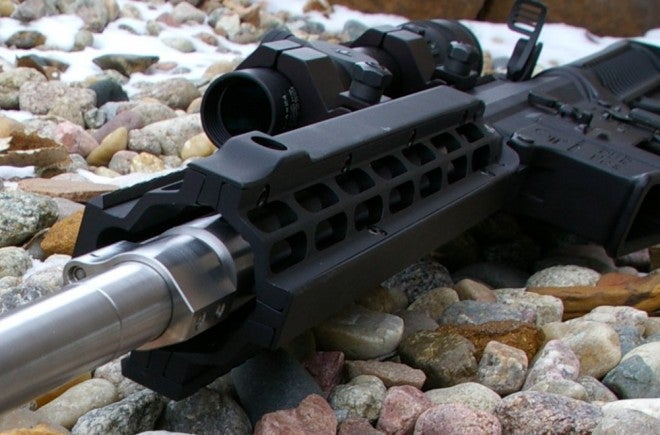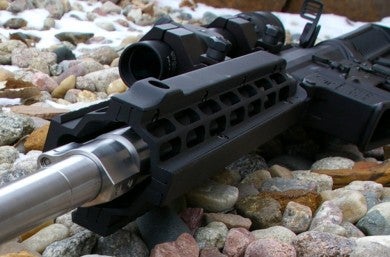 Fit, feel, & finish
Aero Precision's existing super tight tolerances and quality control required for their aerospace clients are continued in the firearm products. Keeping in mind that mil-spec is a range of tolerances, Aero Precision greatly exceeds those requirements. I have handled more than my share of receivers, and although almost all are made by a handful of OEM manufacturers such as Aero Precision (AP), not all are equal in quality. AP's are outstanding.
Even in the COP's heaviest 25oz configuration with all the full picatinny rails installed, the COP feels lighter and more substantial than a standard upper + forend setup. The blank rails are a greatly appreciated feature that enhances comfort vs gripping four feet of picatinny rails.
Like my previous Aero Precision standard upper and lowers featured in a JP Enterprises barrel kit build, the COP kit has a complete absence of tool and casting marks. The Type III hard anodizing is extremely consistent between the upper and lower. Overall excellent fit and finish.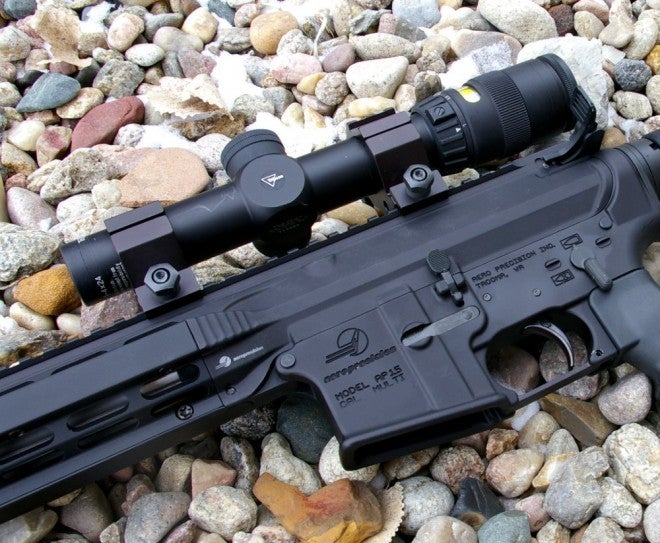 Features
The Aero Precision COP is available in carbine and mid-length models and is forged with 7075 T-6 aluminum. It's also finish milled, Type III hard anodized, and internally dry-lube coated for long-term smooth operation, increased reliability, and improved long-term durability.
The COP is really more of a nicely boxed kit (suitable for gifting…hint,hint) as everything you need to install the upper is included in the box with the exception of a torque wrench for the barrel. Along with the proprietary castle nut and nut wrench adapter, Aero precision even includes a USA made Torx brand T-25 driver for installation of the guards and rails, which I think is a great touch. Aero Precision is assuring every part on the upper is made in the USA and proudly has a US flag marked on the top of the picatinny upper.
In addition to the strong and light monolithic upper design, the ten included rails can be mixed and matched for any configuration the user wants. Seven of the rails are completely swappable and reversible at either 3 o'clock or 9 o'clock positions, and the remaining three rails are non-reversible and dedicated to the 6 o'clock position. The result is a single platform with near limitless customization that can fit the current needs of everyone and change easily based on how the shooter's style or equipment needs change in the future.
Other features include an installed forward assist and ejection door assemblies. The ejection door pin is concealed but can be removed without removing the barrel. For those that use a weak hand magazine grip you will find a nice thumb perch will improve your grip and give your thumb somewhere to sit.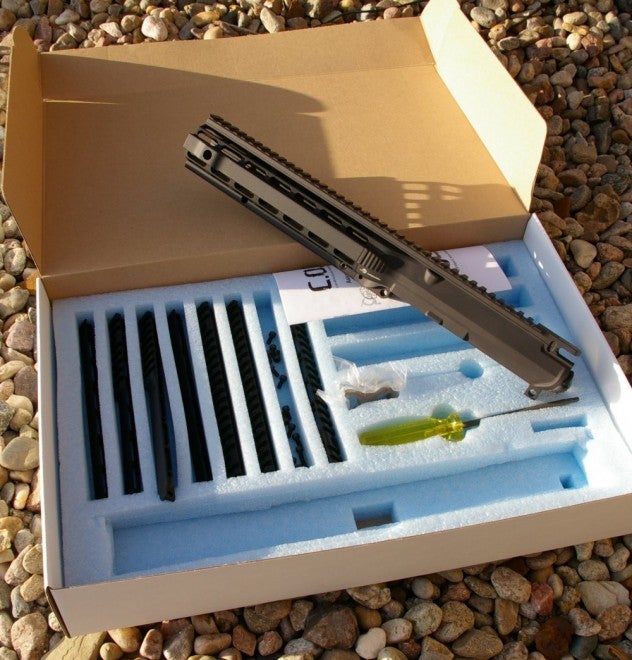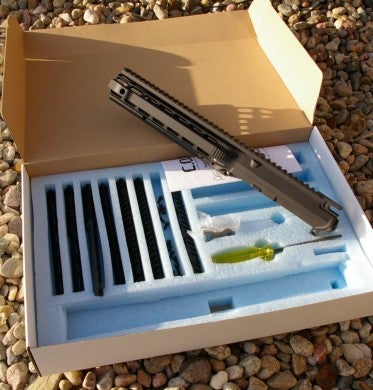 Function and final thoughts
From an assembly, build, and testing perspective, there were no issues. I love the flexibility of the swapping between the various included rails.
For those dying to hear the accuracy, I will spill the beans before you read my White Oak Precision SDM barrel review. Yes, in fact there is a reason so many have deep respect for John Hollinger and White Oak. The barrel delivered .65" groups with the 1-4X scope at 100 yards testing out some Hornady 5.56 NATO 55Gr GMX rounds. Higher power optics and more time behind the rifle should easily net smaller groups by the time the review is published.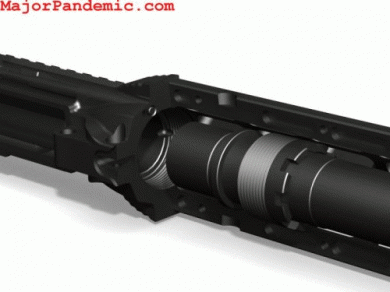 Final thoughts
For around $430 from a number of retailers, the Aero Precision COP is a outstanding value that provides all the accessory flexibility you will ever need in an AR platform with all the advantages of a stronger and lighter monolithic AR15 upper format. You will save a few dollars not needing to purchase a fancy forend, extra rails, and an expensive cantilever scope mount. Add that up and you can see quickly where the complete COP Aero Precision kit is a great deal as you change and modify what you want from your AR.
Specs
Free float customizable monolithic upper receiver and handguard kit
Forged 7075-T6 aluminum solid piece rail
Meets & exceeds Mil-Spec tolerances
Type III Hard coat anodized black finish
Dry lube on interior bearing surfaces, meets Mil-Spec
Laser T-Markings on Upper receiver and picatinny side rails
M4 feed ramp cuts are machined
7 "3 & 9 O'Clock position" reversible rails included
3 Full length smooth including one with a single QD sling mount
2 Full length 1913 including one with front & rear QD sling mount
2 Half length 1913 including one with a single QD sling mount
1 Full length 1913 with front & rear QD sling mount
1 Full length smooth
2 Half length 1913
3 "6 O'Clock position" reversible rails included
1 Full length 1913 with front & rear QD sling mount
1 Full length smooth
2 Half length 1913
Barrel nut wrench
Torque driver with rail system screws included
Concealed dust cover pin removable without barrel removal
Forward assist & Dust Cover installed
Barrel assembly, bolt and carrier group and charging handle are not included
Weak hand Magwell grip Thumb Perch
Fits all brands of AR-15 Mil-Spec lower receivers
Available in Carbine or Mid-Length Upper Receiver COP Kit
Weight 1lb 9oz with heaviest rails attached
Build specs
Aero Precision COP $500
White Oak Precision 16" SDM Barrel $370
(1:8 twist, .223 Wlyde chamber)
Basic AR BCG Phosphated $120
Aero Precision Lower $140
Geissele SSA-E Super Semi-Automatic Enhanced Trigger $200
DPMS charging handle with Badger Tactical Latch $85
Trijicon 1-4X24 AccuPoint scope $850
Millet Tactical 30mm Rings $50
DPMS parts lower parts kit $59
Re-purposed stock $0
TOTAL BUILD $2374