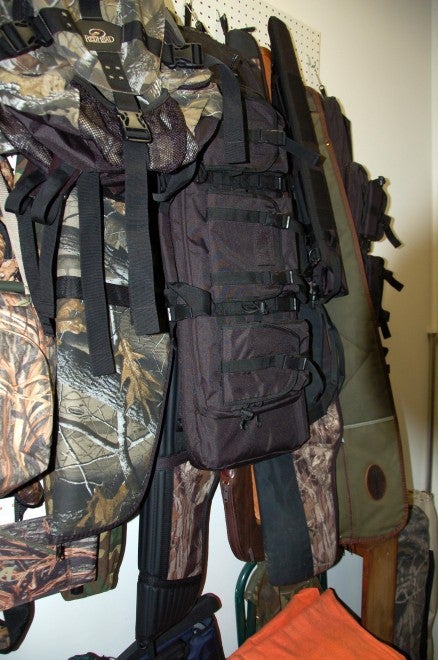 First and foremost, a quality gun case is designed to protect a gun by "encasing" it in material that should cushion it from bumps, bangs, scratches, and the outside elements. Ideally the case should be rather firm or hard shelled on the outside, but lined with soft material on the inside.
Well tanned and oiled leather is a great material for a gun case exterior. Leather used for fine gun cases is hard, stiff, weather resistant stuff. Gun cases also come in a wide variety of synthetics, mostly some form of nylon. Nylon wears well for a long time and also repels rain and mud. Some modern cases also have tough, rubber-like material sewn around places where wear can be especially hard, like the barrel end or around the carry handle section.
Gun cases are also made of canvas, suede leather, oiled cotton, and plain cotton. These cases can afford decent gun protection if they are thick enough. I prefer cases that are a bit stiff rather than limp. If the case can stand in the corner or leaned up against a truck or four-wheeler by itself when empty without folding over and collapsing on the floor, then it passes my test.
Inside linings need to be tough, but soft. I steer clear of the fuzzy wool type linings as they snag on everything. These kinds of linings also hold excessive moisture, which is detrimental to gun metal. Linings can be slick nylon, cotton, or other materials. Some may be waterproof treated. Check the product tag before you buy.
The weak link to most gun cases is the zipper. Buy one with a heavy duty zipper with padlock locking option. ABS plastic strap buckles work well, too, but they do break. Make sure they can be replaced by just slipping them off of the strap rather than cutting threads that would have to be sewn again.
The general types of gun cases discussed above cannot prevent outright abuse to an enclosed gun if the case is likewise mistreated. I have seen gun cases run over with a truck, a four-wheeler, dragged behind an ATV by mistake, dropped from tree stands, and left out in the rain all night. Some fine hunting rifles survived, but some did not. I've seen bent barrels, broken stocks, crushed scopes, and other damage. If the gun case is abused, expect the gun to be damaged eventually, no matter the care.
Ideally when a gun case gets wet through and through, it needs to be thoroughly dried out before it is used again. Sustained moisture can weaken the case or residual moisture could damage the gun later. An annual waterproofing spray can be applied to the outside of the case to add protection, and a quick spray inside would not hurt anything either.
Likewise, "soft" gun cases are not intended for long term storage. Despite the best treatment efforts, fabrics tend to retain moisture. Guns left in these cases over the off season might succumb to rusting. I have seen it happen several times, soI don't recommend gun cases for lengthy storage.
Hard cases are another type of heavy duty gun vaults. What sets this classification of gun cases apart is the attention to internal padding, exterior resistance to handling damage, and maximum locking capability. These cases are not cheap, but offer the ultimate in gun protection. They are also not meant for long term storage. Most are made of aluminum or heavy ABS plastic. Go with the metal.
Some guns these days come from the factory in a plastic, hinged, rigid "hard" case. These offer a measure of protection for carry to camp or in vehicle travel, but are not suitable as checked airline baggage. I have seen these cases come off the baggage claim monster with barrels sticking out the end, crushed, cracked, and broken. Just be forewarned.
Gun cases are a very common place hunting and shooting accessory that seems to get little attention, and yet they are responsible for protecting valuable guns and scopes from everyday dents and scratches. Buy a well made gun case, take care of it, and it will take care of your expensive guns.