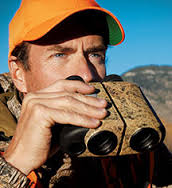 Any deer hunter must own a decent set of binoculars. Good observation glass is so essential these days for deer hunting that to deny it is just plain dumb. Even with 20-20 vision, how can anybody reasonably expect to detail out the antler structure of a buck at 100 yards in dying light? How in the world to you think you can see a button bump on the head of a yearling deer that you would otherwise mistake for a doe? You can't.
Human eyesight is pretty darn good — that is, if you're under 35 years of age and not already wearing corrective contact lenses or traditional eyeglasses. But consider the conditions under which most deer are usually shot. Most of the time it is during low light conditions of early morning or late afternoon. A lot of the time during deer hunting season, skies are overcast and cloudy. Even bright super sunny days can cause viewing issues.
Quality binoculars are often the cure to these eyesight observation problems. It is not just the magnification that can help a hunter identify the features of a deer, but just the clarity alone offered by looking through coated glass lenses can improve the over all viewing acuity. It's that clear view that can make the difference between counting points accurately or not, especially at long ranges in poor light. That is really what binoculars are for and why every deer hunter should have them.
This begs the question, of course, of which ones to buy — what magnification, brand, price range, features, etc? Welcome to shopping options that might drive you crazy. But that's a good thing.
Brands and cost? The old phrase "you get what you pay for" sure applies to hunting optics. I have always advocated spending more on a quality riflescope than the rifle itself, and I also recommend spending that much on a good pair of binoculars. How much is that? Well, it is better to save up and buy something good than spend just a little amount on a piece of junk.
First, shop a big box store just to see the selection and variety. I suspect that binoculars of any brand costing under $100 are probably not worth having. I have reviewed some binoculars priced $150-$200 that are not terrible, but I would only consider glass in this category as basic. Binoculars in the $500 to $1000 range will offer top optical quality and the best features. Units called "pocket binoculars" are too small, and the optics are usually too poor to be of any value for deer hunting
Naming brands implies bias, but here are my personal choices: Zeiss, Leupold, Alpen, Bushnell, Pentax and Nikon have strong reputations. I am not big on proprietary store name brands, but some might do on an ultra tight budget. Just don't compromise the quality.
The best optical power and objective lens size for deer hunting would be in the 7×35, 8×40, 10×40, 8×42, or 10×42 range. Divide the low number into the high number to get the optical resolution of those binoculars. The higher the number, the better the light transmission to the eyes, but the maximum amount the human eyes can utilize is 7.0. Anything beyond that is wasted.
Then 8×56 binoculars with a resolution of 7 should be ideal, but they might be too heavy.
For most deer hunting, the 8×42 would be perfect, but other features may be a trade-off. I prefer binoculars with a rubber armor exterior for easy gripping and to reduce rough use shock. Multi-coated optics are a plus, as is waterproofing and lens covers. A case and cushioned neck strap are lagniappe. Buy all the features you can afford, then buy a Vero Vellini binocular strap.
Mechanics find that a lot of tools are essential to their trade. Deer hunters are much like that. We need a good rifle, a better riflescope, and the best binoculars to ply our trade. Judging clearly what you are about to shoot is way better than guessing. Only a pair of quality binoculars can accomplish that. Save your money and buy the best.

SHOP NOW