There are AR manufacturers brands we know and see on the gun shelves, and then there are the OEM manufacturers whose names most of us rarely hear of. These AR-15 OEM (Original Equipment Manufacturers) are the ones who make and supply brand-able components for those who assemble and sell AR brands. The vast majority of AR brands all buy from the same base of suppliers, and it becomes all about the quality of those components and the skill of the builders.
This is a story I have been wanting to tell for some time as I think many do not realize where their AR parts are really coming from and where they are actually made. Yep, the secret is out: because it is generally prohibitively expensive to forge, mill, and finish your own receivers, create your own barrels, and make all the other miscellaneous tiny parts, only specialized, very high volume OEM shops can deliver high quality and cost effective base parts for AR builds.
In the case of receivers, most brands buy uppers and lowers from a very small number of companies such as Aero Precision and have their logo milled, engraved or etched during production. A year ago, few had heard of Aero Precision (excluding the really a hard core AR nerds), but if you are an AR shooter, you have almost certainly handled or owned at least one of their OEM premium quality branded upper and lower receivers.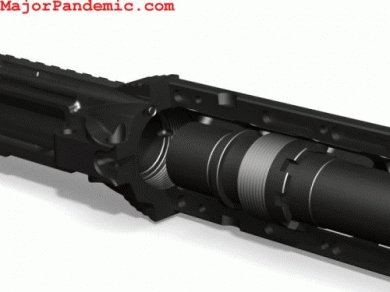 Interestingly enough, almost all the base component manufactures start and operate primarily in the aerospace industry, where forging and extreme high precision machining are commonplace and quality tolerances are exponentially tighter than any requirements in the firearms industry. Obviously Aero Precision is named for the aerospace market that they serve, with Boeing being one of their largest clients.
Aero Precision got into the OEM firearms manufacturing business, like most of its other OEM competitors, after someone in the company made a wildly successful initial run of receivers. In reality, to the transition from aerospace production to firearms manufacturing is really more of a FFL paperwork and and extra step in shipment than any real change in production processes. Parts look different, but forging, milling, finishing, and QC all remain the same.
Now that you know part of the story, it makes you wonder. What makes Aero Precision so well regarded that it has become the prefered OEM manufacturer for some of the biggest names in black rifles? According to Aero Precision and a few non-disclosable AR brands that brand Aero Precision receivers, it comes down to impeccably consistent quality. According to Charlie Silkett, CEO of Aero Precision, their well respected quality is the result of carrying over the same forging and machining tolerances and quality control processes they use in their aerospace manufacturing.
That's cool, but what do they make that I can buy?
Late in 2012, Aero Precision launched a consumer facing site simply to sell its own Aero Precision AR-15 products. With the political stupidity that caused the great gun rush of 2013, suddenly people found themselves on Aero's site, buying upper and lower receivers by the truckload.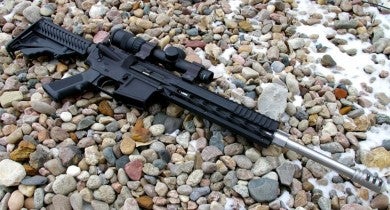 Aero precision has the only monolithic type upper available in the industry thanks to a totally moronic Patent awarded to LMT, shutting down everyone else and in the process squashing one of the best new ideas in the industry. Aero's COP Continuous Optic Platform was not impacted due to their component design, which is not a one-piece upper thanks to the rail modularity offered by the COP. The COP is a spectacularly strong upper receiver, offering everything you want now with the ability to swap things around anytime you change your mind later. Aero has licensed the design to another manufacturer in addition to offering it under the Aero brand.
Aero Precision also manufacturers standard Mil-Spec upper and lower receivers as well as a few unique receivers. Aero has a very well thought out, fully ambidextrous lower receiver for only $165. They also make a no-forward-assist upper receiver that still has the ejection port cover door instead of just a slick sided model. What I have liked best about Aero is that they are very very reasonably priced factory direct and even have some great deals on blems, un-anodized, and Ceracoated models, and hand matched sets. If you want it plain, naked, blem'ed, or coated they have it available. I have completed numerous builds with their receivers and have never had an issue.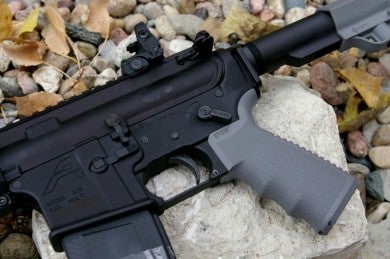 Tolerances and Quality Control
Instead of pulling random samples, each and every receiver and part is tested with hard tolerance gauges and pins after the end of 50 unit runs. If a tolerance or pin does not fit correctly, the part specs are heavily logged and then scraped, or if it's functional, then it's sold as a blem at a substantial discount.
Within each lot, Aero Precision will then pull 10%-15% of the run as samples for a full 100% CMM (Coordinate Measuring Machine) inspection. This highly detailed computer controlled measurement process is re-calibrated every twelve months and records 150 different part features (such as a bolt release slot) and correlates them against "True Position Tolerance." This aerospace tolerance testing gives Aero the ability to visualize part to part variances and how machining tolerances are holding.
Aero Precision also caries over quality control process sampling and SPC Charting (Statistical Process Control). Instead of just knowing whether a part's feature is within range, SPC Charting shows you where the tolerances were for each part in the run. The goal is to see all of the measurements groups tightly together within the control/tolerance range, but if you see part feature measurements randomly all over the control/tolerance range, then there may be some adjustment needed to assure consistent tolerances.
"The SPC process gives us and our clients direct visibility into the quality and tolerances of our production process," according to Silkett, "and it provides us a tool in all areas of aerospace, firearms, and precision manufacturing to assure our clients receive the highest quality and consistency in the industry from run to run even comparing products between periods of years".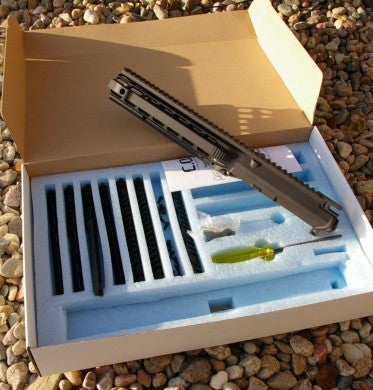 When I first started reviewing Aero's COP and lowers, they had no intention of becoming an AR parts brand, but when customers start demanding to purchase with cash in hand, it's hard to say no.
Due to the cost involved, Aero Precision is taking consistently repeatable manufacturing tolerances to a level unattainable by most machine shops. The un-discloseable customers I spoke with certainly believed Aero Precision delivers the most consistent and highest quality products in the industry. Some of those features noted were a complete absence of tool and casting marks on the forged receivers, consistent and perfect fit between batches, and available options and consistency of Type III hard anodizing finish colors.
All the uppers are forged with 7075 T-6 aluminum, finish milled, Type III hard anodized, include T-markings on the 1913 spec picatinny rails, and are internally dry-lube coated for long-term smooth operation, reliability, and durability.
New Innovation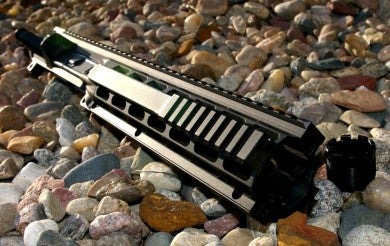 Due to the LMT patent debacle, LMT and Aero Precision are the only companies selling something that looks or functions like a monolithic upper. Aero's COP (Continuous Optic Platform) is definitely the most innovative and the only one that is forged. The new, forged, Aero Precision COP uppers are not only an incredible piece of engineering, but they have been tested by the military to be the strongest monolithic upper available, all while being extremely lightweight and completely modular. The design was extremely innovative in that the COP kit is supplied with a varied array of full and partial picatiny rail, blanks, and blank/picatinny versions with sling mounts which can be swapped on and off the upper by only removing four screws. The result is a single platform with near limitless customization that can fit current needs and change easily based on any how the shooter's style or equipment needs change in the future.
Final Thoughts
The Aero Precision uppers and lower I used are outstanding quality and I completely understand the resoundingly positive comments made by Aero Precision's customers. There are a plethora of AR brands out there, and I see the questions about various receiver brands online here and there. Some of those posts ask whether Aero Precision is a good receiver brand. Based on my experience with the three Aero Precision products, I can state that they are of exceptional quality, and I would certainly not hesitate to buy any of their products. After all, some of the biggest names in black rifles consider them the best.