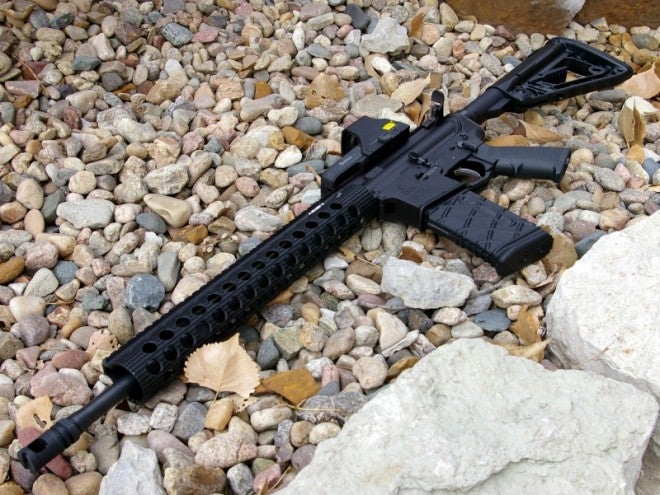 Let's face it: the gun industry is amazingly incestuous from a manufacturing perspective, and very few folks actually make their own parts. Generally, I'm not a big fan of most "me too" AR-15 companies popping up lately. Most are just screwing together parts from boxes; however, some offer something unique and/or have machining backgrounds and are actually making their own parts.
Mennie Machine Company (MMC Armory) has both. They've been running AR-15 parts for sometime as an OEM manufacturer, so offering offering completely in-house made rifles wasn't a stretch. I picked up a lightweight MMC Tactical C16.1 AR-15 for something light and handy and to see what this newer firearm manufacturer was delivering.
About MMC Armory
MMC Armory is not some startup CNC company popped up overnight in order to take advantage of the AR-15 market explosion. MMC Armory was established in 1970 and became a prime contractor for the U.S. government for building high-grade military components. Over the years, they've produced everything from military, automotive, diesel, and heavy equipment industries–and of course, firearms parts. Today, MMC Amory has more than 300 employees and a 225,000 sq. ft. facility with approximately 180 CNC machines in a ISO/TS 16949:2009 certified facility. By contrast, most large firearms manufacturers are nowhere near this large, nor do they have all these in house capabilities and certifications. MMC Armory knows precision machining, manufacturing, assembly, and even distribution. The challenge for MMC Armory will be the name.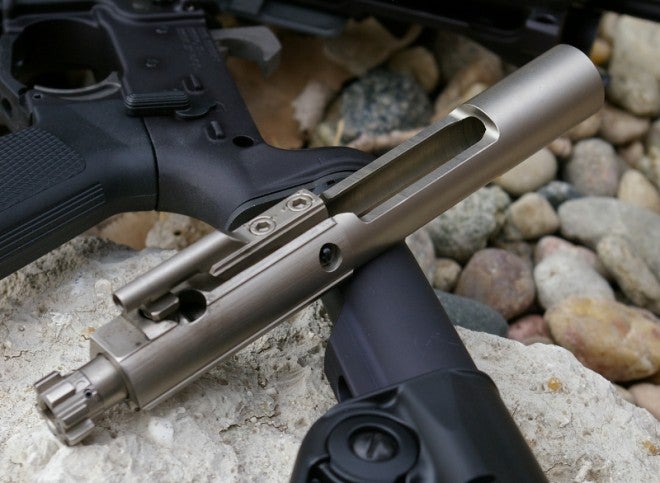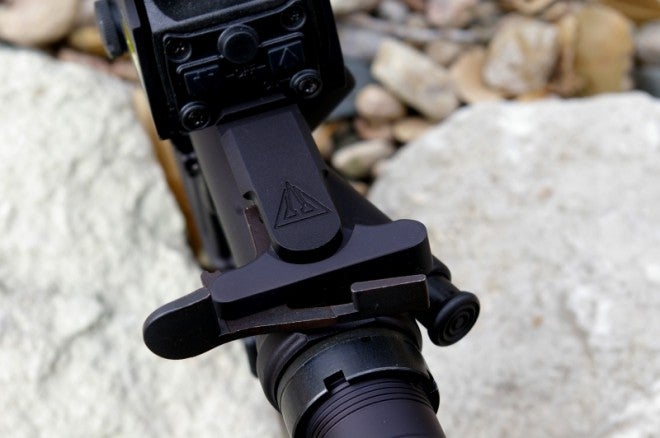 MMC Armory is facing a confusing branding issue. MMC Mennie Machine Company Armory should not be confused with MMC Moores Machine Company, who allegedly had some very serious challenges with quality, production, and customer service.
Nor should it be confused with MCC Matthew Carbine Company, which produces extremely high quality 80 percent billet lowers; MCC Mennonite Central Committee, a relief organization unaffiliated with guns; MMC Firearms Incorporated; or MCC Montgomery Community College. MMC and MCC are apparently popular acronyms. My advice to MMC, the Mennie Machine Company, as a very new brand, would be to rebrand quickly to maybe "Mennie Defense" since it is a separately operated division anyway and to avoid the confusion especially with the problematic Moore Machine Company legacy. (But what do I know. I just develop the marketing strategy at a senior level for a Fortune 100 company.)
Fit, Finish, Feel, and Features
The first thing to note is that, outside of the springs, trigger, Troy Forend, grips and stock, MMC Armory is making all other parts 100% in house. Yes, even the entire Bolt Carrier Group, buffer tube, receivers, and detents are made in house. MMC Armory could obviously make the forend as well, and even the grips and stock due to its ability to form plastics. Only a few other AR-15 manufacturers can make this claim of in-house production, which absolutely ensures product spec and source quality. With that noted, MMC Armory is delivering a top notch quality AR-15.
The assembly was nice and tight, and all the pins were driven in with care without marking up the receivers.The aluminum bits were nicely Type III anodized, which you would expect. However, a major upgrade is that all the steel bits, including barrel, gas block, even detents and pins, are all nitrocarburized (i.e. melonited) for protection. MMC NiBo (Nickel Boron) coats their Bolt Carrier Group. The BCG is a very nice component that is full auto rated and MPI tested, with a staked gas key.
MMC Armory's own combat muzzle brake design on the Tactical C16.1 AR-15 is excellent. It's basically the size of a standard A2 birdcage flash hider, but it still delivers excellent performance, keeping overall length to a minimum. The compensator even includes a wire cutting notch. I am sure MMC Armory will sell these $60 comps by the truckload.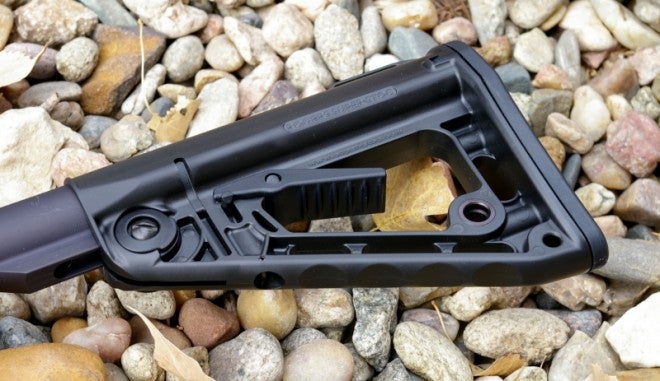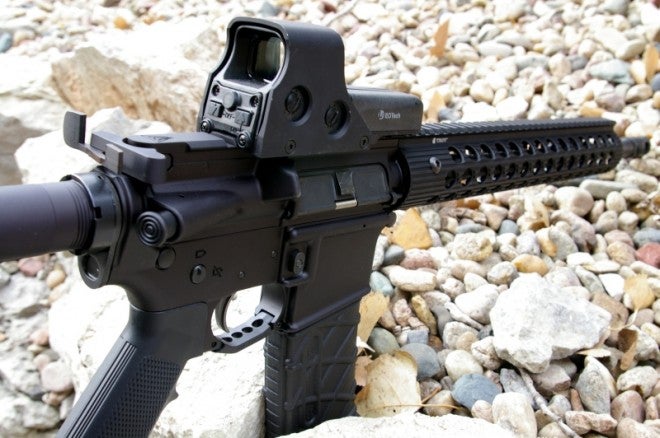 MMC Armory includes their own Enhanced Trigger kit, which is nitride-coated and tuned to deliver a 5lb brake with minimal take-up and a shorter reset. It's not a match trigger, but it's considerably smoother, crisper, and lighter than typical stock triggers. It reminds me of the ALG Defense triggers, which are probably the best stock triggers around. With the nitride coating, the trigger does take up smoothly and break cleanly.
The gas block is a clean, standard melonited unit with a stainless gas tube mounted up to MMC's own tapered 16.1" pencil profile. The tapered barrel design drops a lot of weight, even over a standard M4 design. To maintain accuracy, MMC Armory has extended and tapered the barrel near the receiver to deliver a bit more stiffness and heat tolerance at the highest stress area on the barrel. This longer extension seemed to enhance accuracy a bit during sustained fire, or maybe it was the all the high tech gadgetry MMC uses to chamber the barrels. They use four coordinate measuring machines and contour inspection machines to select the optimal chambering position instead of just ramming a reamer into chamber the barrel like some companies do. It's a process that maximizes chamber to bore alignment on the barrel and improves accuracy.
Other features on the Tactical C16.1 AR-15 include the proven Troy 13" Alpha Rail, ambidextrous charging handle, and a standard AR grip. MMC Armory includes my favorite Rogers Super-Stoc multiposition buttstock, which locks down solid unlike any other stock out there. MMC Armory polishes the interior of the 6-position buffer tube, a very unique tweak. This internal buffer tube polish smooths out the feel of hand cycling and significantly quiets cycling noise as rounds zip downrange. MMC Armory sources the unique waffle-looking mag that took a beating and performed beautifully during testing.
MMC Armory is starting to do some of their own molding, including the extended polymer trigger guard. These are all cool touches made in-house, which I hope they will expand to develop their own grip. A smooth, fatter, finger-grooveless grip similar to the Magpul grip would be my advice.
Overall quality from part to part was excellent, and for good reason. MMC Armory environmentally stabilizes all parts prior to measurement in a lab environment on top of machine inspection schedule intervals, post part inspection, and quality control of parts rolling out of machines.
Each rifle is assembled in a precision jig to assure alignment of each part and minimize damage to the rifle.
Functions and Accuracy
In these days of ammo shortage, I simply can't toss 1,000 rounds at a gun to test it like I used to. However, I did run a couple hundred rounds of reloads and factory ammo through the MMC Tactical C16.1 AR-15. An Eotech 512 was mounted up, and I went to work killing paper and steel.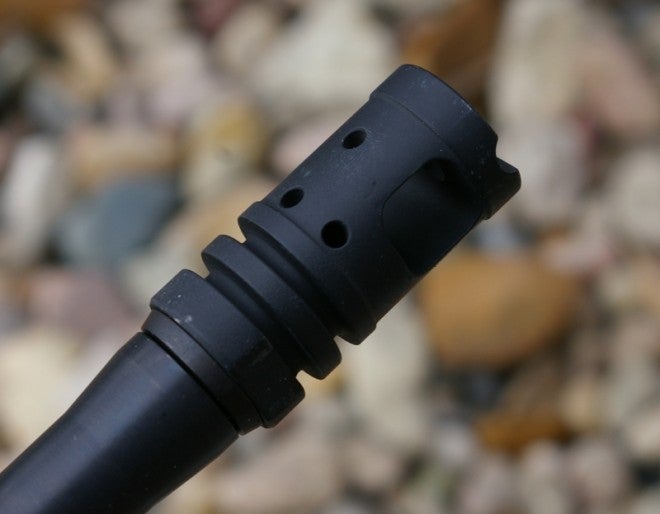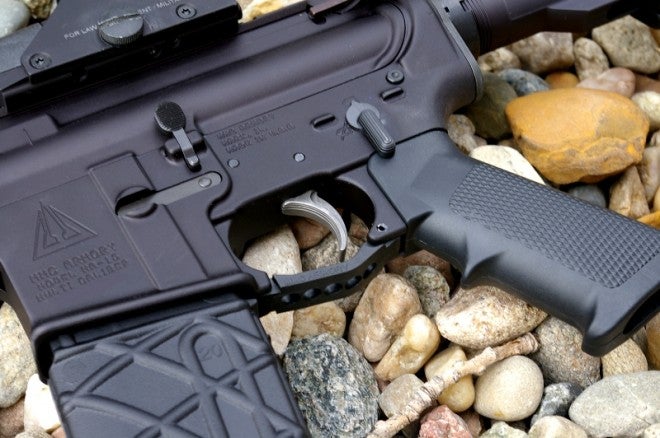 What I found was a very consistent shooting AR with surprising accuracy and zero functional issues. Everything worked as it should, and the compensator delivered a noticeable reduction in both recoil and muzzle rise. As equipped, the C16.1 is a nice, light, fast shooting gun.
For accuracy, I broke out boxes of the usual suspects with ammo from Hornady, Federal, and Winchester to see what the rifle could do. Even with the less-expensive Federal American Eagle ammo, I still managed ragged 1"-100 yard groups with my Nikon 8-32 Monarch Gold topping the gun for testing. Moving up to the premium target/match ammo lines, I still saw very good consistency. However, my groups dropped down to the .75" group range, with one good group with Hornday 75gr TAP ammo coming in at .72". I am sure some of this accuracy is due to MMC Armory's tapered barrel design and high tech chamber centering/cutting features, but frankly I was a little surprised that a light weight barrel delivered this accuracy.
Final Thoughts
MMC is going head-to-head with high quality, high value brand name companies. For example, this $1,600 MMC Tactical C16.1 AR-15 is an upgraded $1,500 Daniel Defense DDM4LV. The MMC adds Nibo BCG, Nitrided trigger, Troy Alpha rail, ambi-charging handle, and of course, the Rogers Super-Stoc over the DDM4LV. MMC is also delivering on all the high tech machining capabilities to assure very high tolerances between all components. The result is a very good deal on a base rifle with the solid base upgrades that deliver a premium, high grade, military-spec rifle.
I would argue the low price markets and premium custom AR-15 manufacturers have a bit more wiggle room when it comes to price. The premium battle rifle market is a tough space to be in, and it requires a deep investment in machining, technology, quality, and, as we know from Bravo Company and Daniel Defense, "branding." MMC Armory's machining, technology, quality, and prices are all in line, but I think their next hurdle will be getting the word out in a very crowded space.
The MMC Tactical C16.1 AR-15 shot well, functioned perfectly, and delivered surprisingly good accuracy for a lightweight barrel profile. The compensator was excellent. If you see an MMC AR on the shelf, pick one up. I think you'll be impressed with the overall fit, finish, and quality of this new rifle company. If you see Mennie on the side, you can be sure you're getting a very good quality rifle.
Specs
Upper Receiver: Machined from 7075 T6 to Mil-Spec, Indexing Marks, M4 Feed Ramps, hard coat anodize
Lower Receiver: Machined from 7075 T6 to Mil-Spec, Flared Magazine Well, hard coat anodized
Barrel: 16.1″ 4150 CrMV Steel 1:8 twist, Mid-length Gas System, nitride treated, M4 extension, modified Pencil Barrel
Chamber: 5.56 NATO
Trigger: Enhanced nitride treated Mil Spec single stage trigger, creep adjusted, polished engagement surfaces, crisp 5 lb break
Muzzle: Compensator
Bolt Carrier Group: Nickel Boron coated (lubeless operation), full auto rated, MPI test, staked gas key
Gas Block: MMC Armory Low Profile Gas Block
Charging Handle: Ambidextrous, hard coat anodize
Handguard: TROY 13″ Alpha Handguard
Buttstock: Rogers Superstoc & 6 position Mil-Spec Polished Buffer Tube
Magazine: 30 round polymer in black
Pistol Grip: Polymer A2 Style Grip
Trigger Guard: Flat trigger guard
MSRP: $1,639