Unique EDC Item: Lockpicks
Ashley 01.09.14

A standard EDC kit is typically comprised of a flashlight, knife, wallet, multitool, and writing instrument. But depending on each person's daily life, sometimes unconventional items can become unique additions to an everyday carry.
Once such item is a lock pick set. Available in several formats (as a keychain tool, a loose kit in a pouch, or a multitool-style device, to name a few), lock picks can add value and security to an EDC. Lockpicking as a skill has long been popular among makers and hackers, many of whom participate in competitive lockpicking, referred to as Locksport. A pastime among many security experts, understanding how locks work enables people to choose better options for the locks that protect their most precious belongings. As such, purchasing lock picks is now fairly straightforward, and many EDCers have found that lock picks are an unobtrusive addition to his or her pack. For tactical preppers or survivalists, lockpicking can become a vital skill during an emergency or disaster situation. Lock picks can also provide aid in daily life. The Helpful Hacker notes that lock picking is a practical skill, but can also be good for character-building and strategic thinking. Preppers Planet highlights the affordability and accessibility of the skill. Most lockpicking enthusiasts relate the activity to puzzle solving.
However, before investing in a set, there are a few things of which to be aware.
Legality
As with carrying knives or firearms, it's in your best interest to have an understanding of the laws in your area. The Open Organisation of Lockpickers (TOOOL) helps disseminate the legality of carrying lock picks.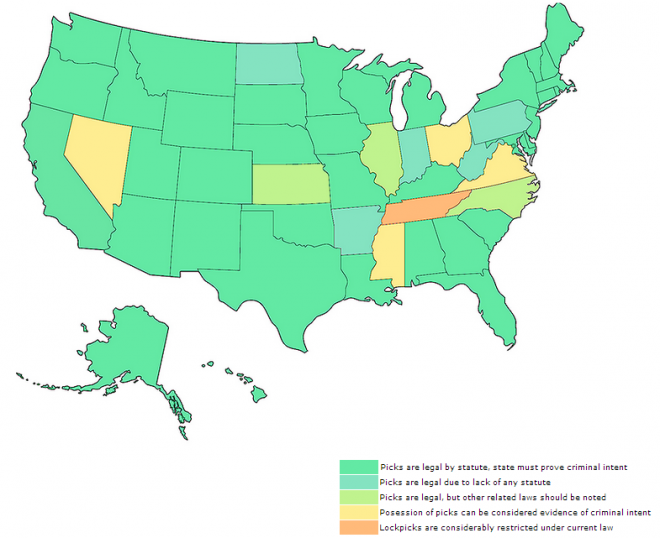 Lockpicking laws by state. Map courtesy of The Open Organisaton of Lockpickers (TOOOL).
The above map by TOOOL shows a general overview of U.S. lock pick legality. A state-by-state breakdown delves further into the intricacies of these laws. (TOOOL also provides legal information for other countries, so visit their website for more information.) Those who participate regularly in Locksport may also receive documentation for their lock pick possession.
While more of a moral consideration than legal–unless you caught, of course, where it then becomes legal–hobby lockpickers are highly against using lock picks in public or on locks that belong to someone else. One of the most well-known documents on lockpicking (written in the late 1980s and attributed to MIT, although the university has distanced itself from the document) is interspersed with cultural rules: "be subtle, do not steal anything, brute force is the last resort of the incompetent, do not hack alone (just like swimming)." Locksport International enforces this: "You may only pick locks that you own, or those to which you've been given expressed permission to pick by the rightful owner." If you're going to EDC a lock pick, use the tool ethically.
Purchasing
Lock picks are readily available on the web, so buying a set to get started is a relatively inexpensive.Southern Specialties has a great selection of different lock picks, as well as practice tools (well worth investing in, too). Amazon also has some picks available, but make sure you're buying lock picks, not precision tools. However, buying practice locks on Amazon is a good value. If a lock breaks while you're getting the hang of picking, it's not a total loss. It's also simple to make a set. All you need is one pick and a tension wrench. This Instructables guide might inspire you to try making your own.
Use
As with most EDC tools, it doesn't help if you don't know how to use it. Lockpicking can be a tough yet rewarding activity, and a variety of locks in varying difficulties means it's hardly a one-skill-fits-all endeavor. I suggest investing in different types of practice locks and checking out the abundance of great online tutorials. YouTube is especially helpful, as sometimes diagrams just don't do the trick. Thelockpicking document linked to above provides some beginner information about the innerworkings of locks, as well as different approaches to picking. Many hackerspaces and makerspaces host lockpicking events, and learning in person is one of the quickest ways to practice the new skill.