Spyderco's 2014 Lineup Features Cast Steel, New EDC Tools, and More
Jon Stokes 01.21.14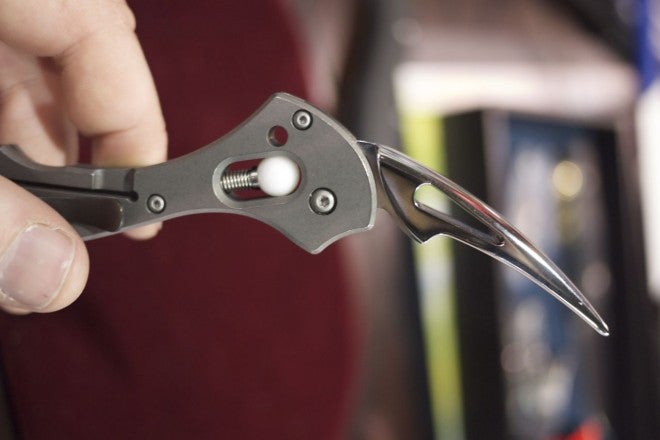 I stopped by the Spyderco booth at SHOT 2014 and got the chance to sit down with Marketing Manager Joyce Laituri, who walked me through many of the products that the company has launched in the past two weeks. Here's a quick summary of what I saw.
SERRATA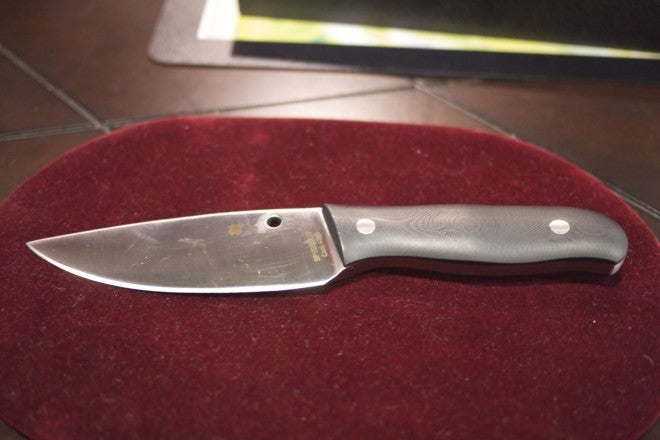 Spyderco's new Serrata sports a 4.65-inch, full flat ground blade made of casted 440C steel. Note that I said "casted," there, and not "forged." Instead of heating up the blade material and hammering it into shape, Spyderco makes a wax mold and pours molten steel into it. This makes a dendritic steel, which apparently has some different crystaline properties than a forged steel, and gives it added strength.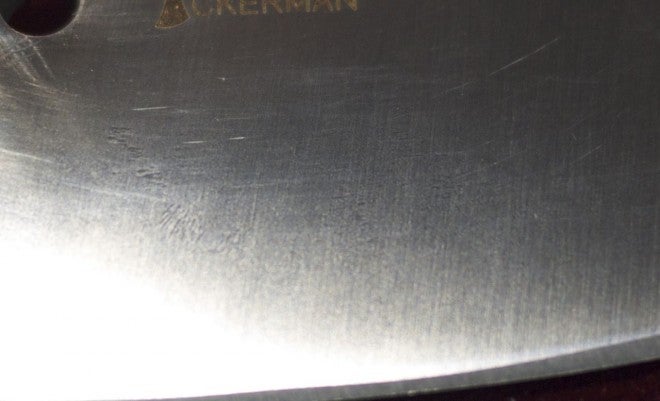 If you look closely at the picture above, you can see that the blade has some pits in it. This slightly pitted texture is a feature of the casting process, and it's the kind of thing you don't get with forging.
The knife has a black polished G10 handle and an overall length of 9 inches. It was designed by Stuard Ackerman, a custom knifemaker for New Zealand.
DRAGONFLY IN ORANGE FRN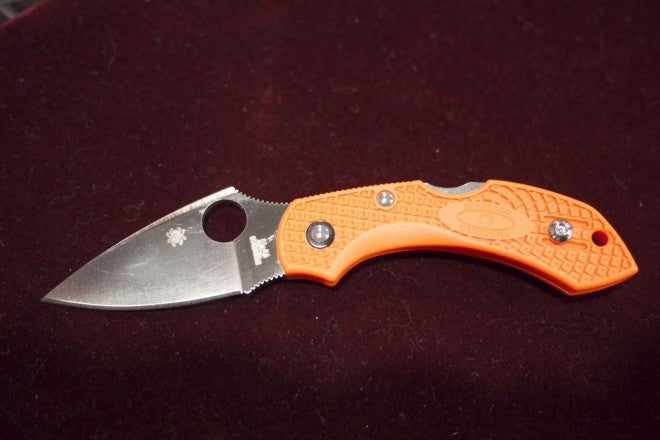 A while back, we published an ode to the Dragonfly as the world's best EDC knife, and now the company has updated it with a brand new orange-handled variant. So those of you who are Dragonfly converts but who have been looking for something a little more brighter and distinctive than the green FRN, you know what to do.
CLIPITOOLS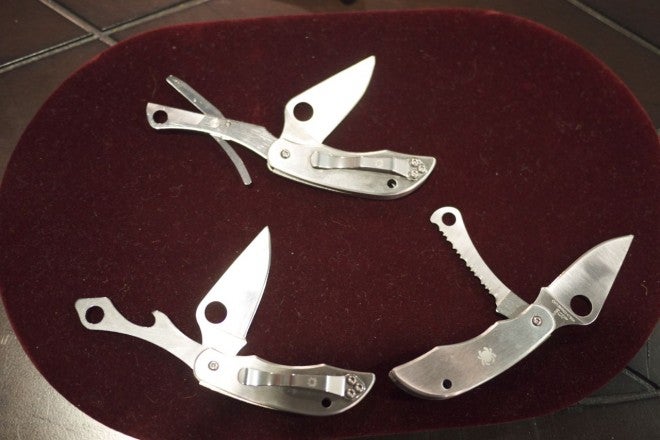 Building on the success of the Dragonfly for watch-pocket carry, Spyderco has launched a new line of small, EDC blades called Clipitools. The shot above shows you the three models available at launch. Basically these are small knives with a non-locking blade and a single extra tool, and right now they come with either scissors, a bottle opener/screwdriver combo, or a serrated blade.
These should retail for around $40, and future models will probably expand the array of tools on offer.
The construction is all stainless, and these are made in Spyderco's China facilities.
TUSK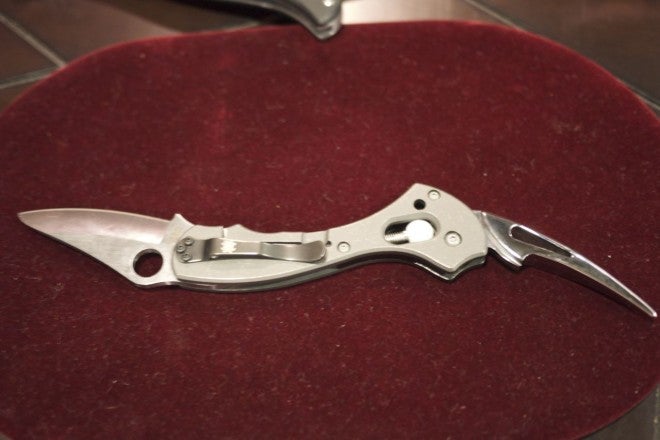 A little known fact about Spyderco is that the owner and founder of the company also owns a high-performance carbon fiber sailboat manufacturing company. The company has been interested in making sailing-friendly knives for some time, and the new Tusk model, shown above, has actually been in the works since the company's beginnings in the 80s. Spyderco numbers its SKUs sequentially, and the Tusk is actually SKU number 6 — that's how old this design is. But it wasn't until recently that the company had the technology to bring this to market.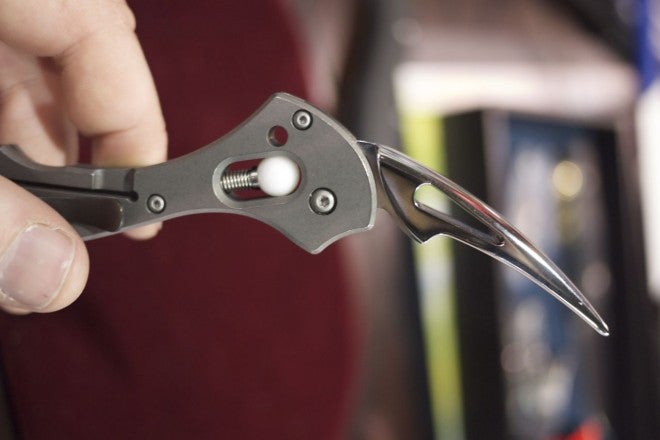 The Tusk's blade is LC 200 N, which is very resistant to saltwater corrosion. The marlinspike is 300 series stainless, and it uses a special version of Spyderco's ball bearing lock, which is one of the company's strongest lock types. The ball bearing is made out of ceramic so that it's rustproof, and the entire mechanism is exposed because enclosing it would give saltwater a cavity to get trapped in.
The handles are made of titanium, again adding to the rust-proof theme.
In all this is a great looking little tool that made me wish I knew something about sailing.
TATONKA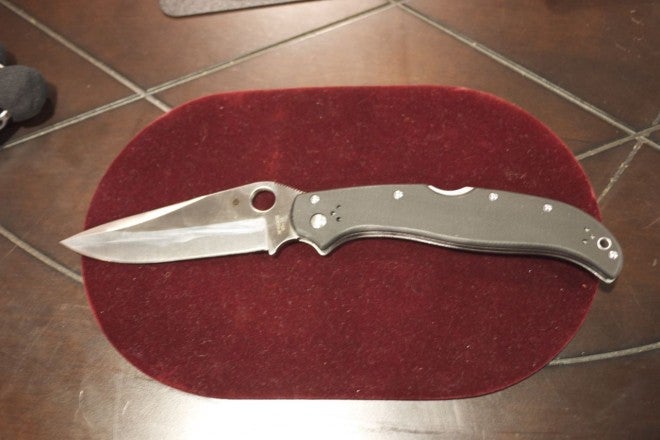 This is a ridiculously large folding knife with a 5 inch blade — well past the point where any sane person would have just gone with a fixed-blade knife. But apparently Spyderco does see some demand for these oversized fixed blades, so they make them. I mainly include this for the lol factor.
BATTLESTATION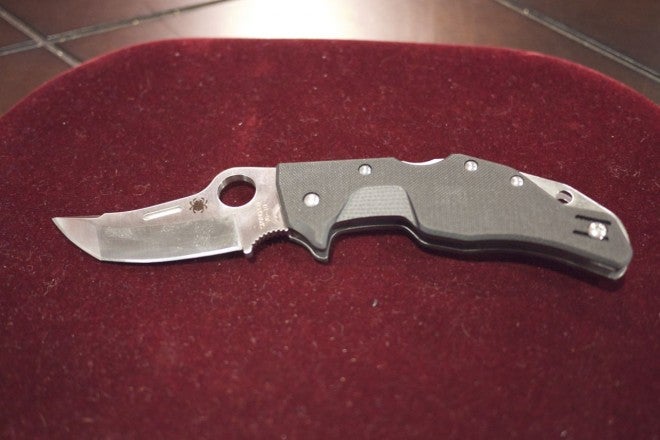 The Battlestation, shown above, is a crazy, beast of a knife designed by Romanian knifemaker Alexandru Diaconescu. It sports a VG-10 blade, textured G-10 scales, and an overall design that looks like something a Klingon would carry. I normally don't go for this type of knife, but I have to admit that I kind of liked it. It felt great in the hand, and it's very distinctive.