Midwest Industries Low-Profile Sights for the AR-15
Major Pandemic 02.03.14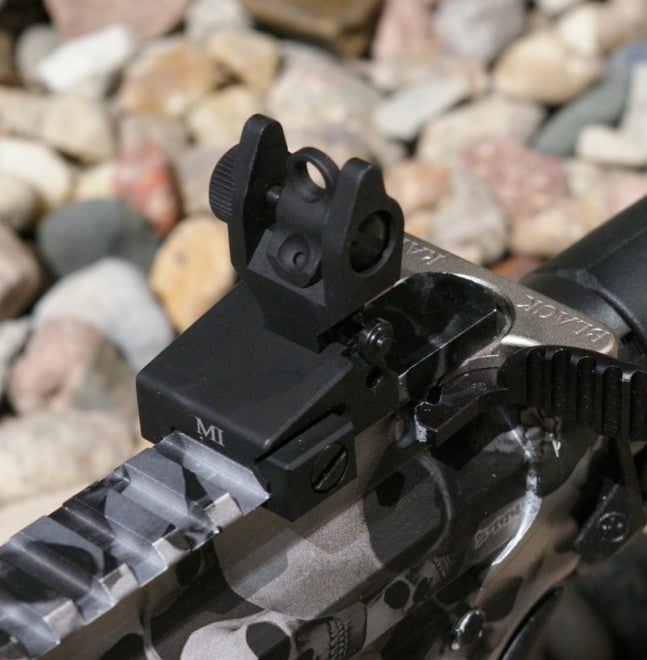 Some consider back-up sights a must-have, and some do not. I like them for one simple reason: once those sights are zero'ed, red dots can be moved easily from rifle to rifle and easily rezero'ed just by using the backup sights. When mounting scopes, the sights can usually be folded out of the way to mount the scope, but in many cases the rear sights need to removed. This clearance issue is one of the major challenges Midwest Industries worked to overcome with their very low-profile flip-up profile sight package.
Fit, Feel, and Features
Securely mounting the MI low-profile flip-up front and rear sights is a simple affair and requires only the included allen wrench. I have handled a few folding back up sights that are a little loose, but the Midwest Industries sights are tight and solid, and they're smooth operating due to the ball bearing detents.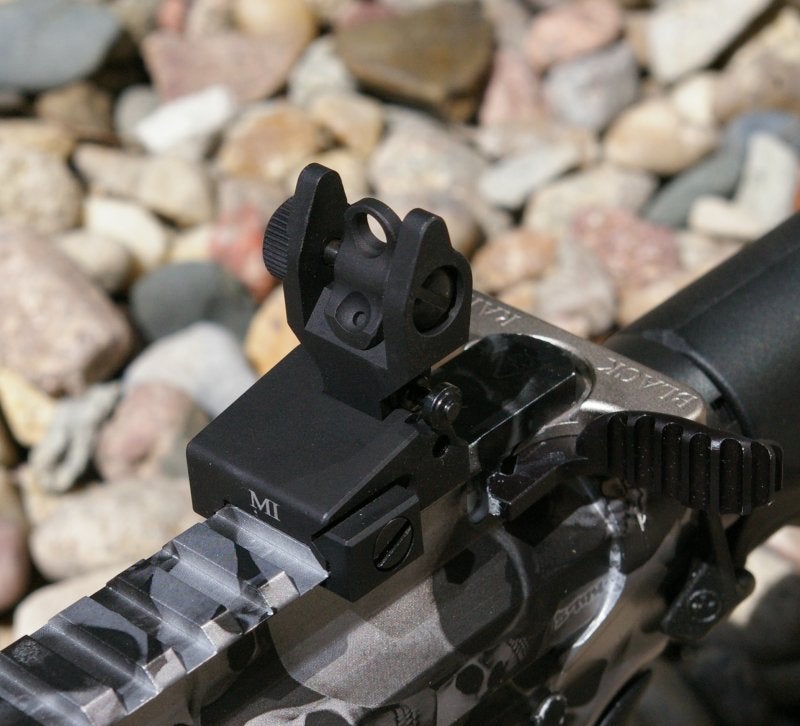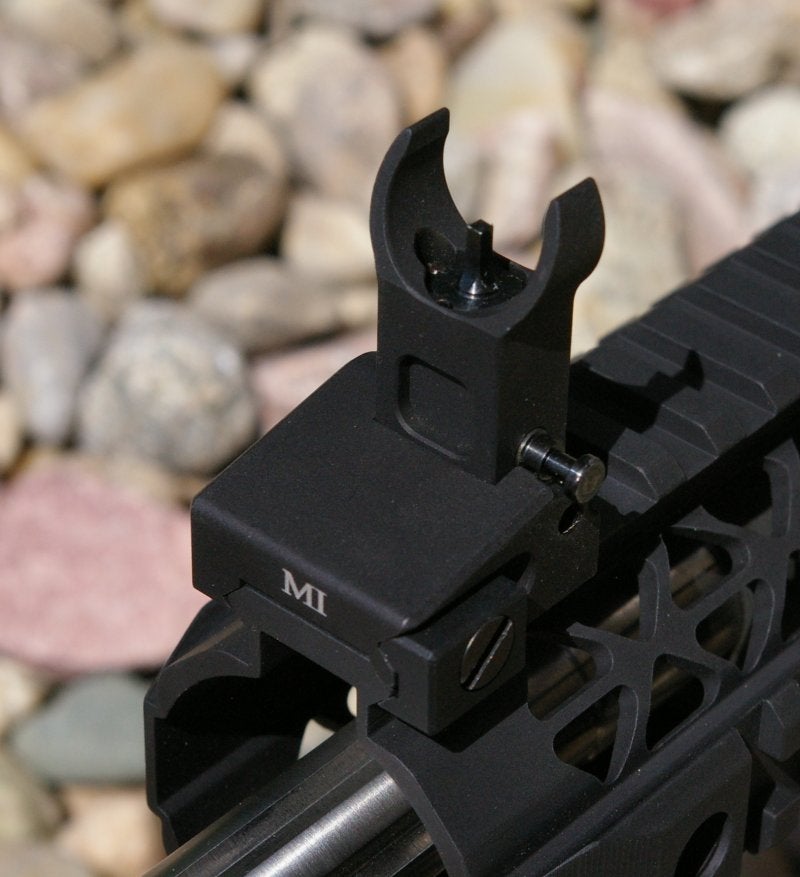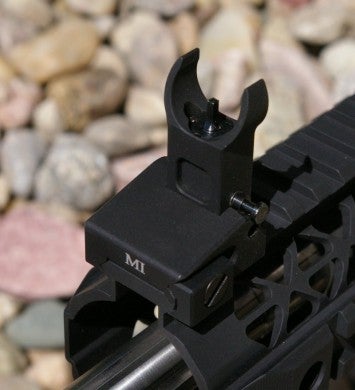 The sight package reviewed is considered "Same Plane." Same Plane means they are designed to mount to the same plane of picatinny rails instead of a shorted height front gas block (though they have that package available as well). The big advantage is the extremely low profile, dual aperture design, which has a total height from the picatinny of only .4375" when folding. From my experience this allows me to mount most scopes without having to remove the rear sight.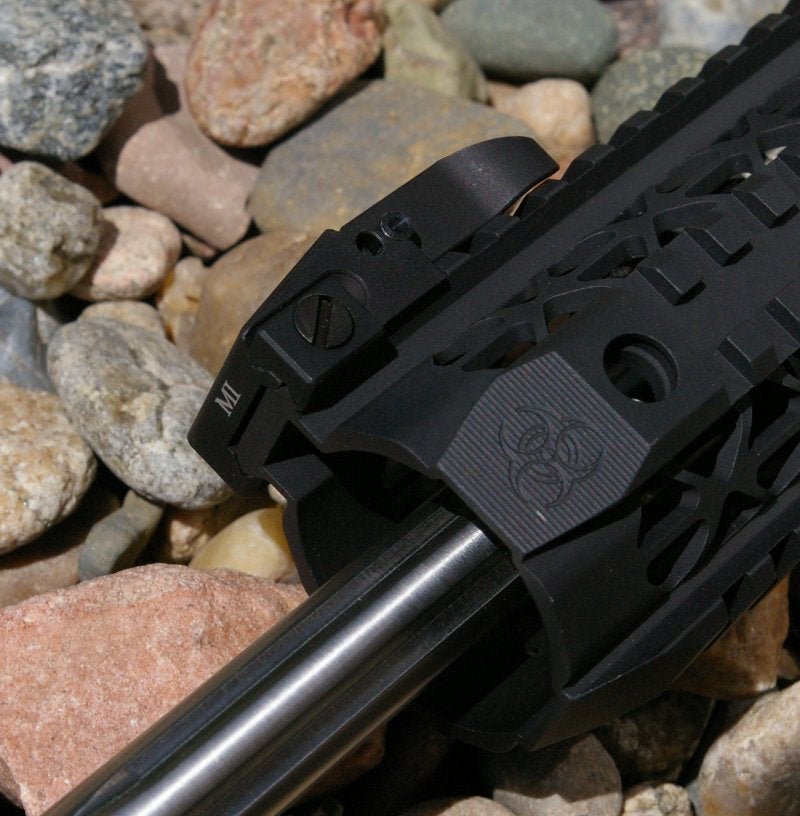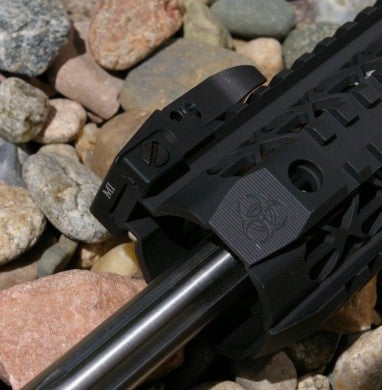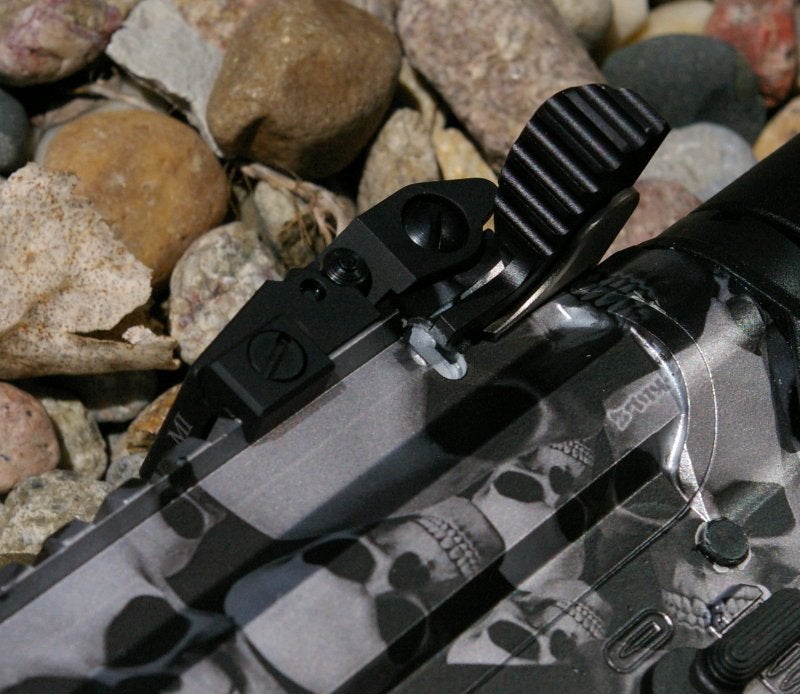 Flip the front or rear sights forward, and the large locking detents lock the sights securely. Front sight adjustment is done via a standard A2 style detent with an A2 compatible post. At the rear, windage adjustment is simple and familiar with hash marks on the sight and base for referenceable zero'ing; the standard small and large sized apertures can be flipped based on targeting needs. All the adjustments feel solid with hard clicking ball detents. This I like, because there is nothing worse that a sight that has been bumped and lost zero. I doubt that will happen with the strength of these detents. Both sights are constructed of 6061 aluminum and steel and hard coated.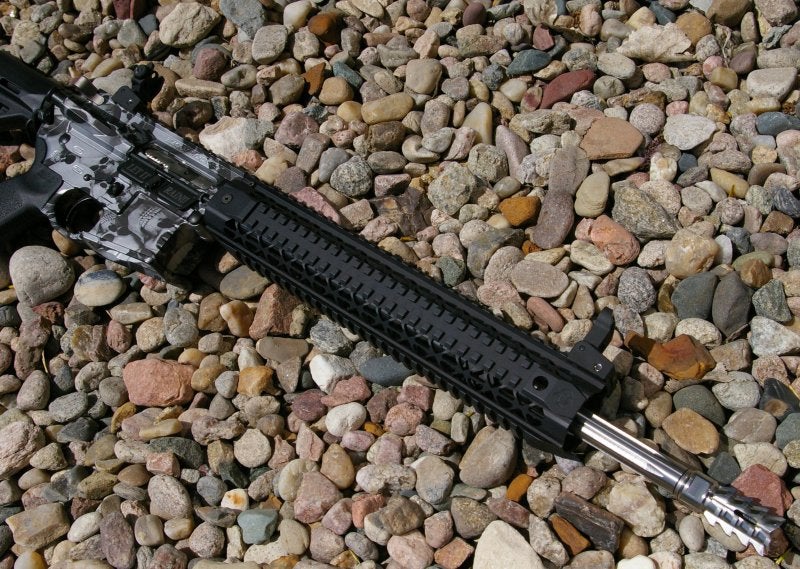 Final Thoughts
To have back up sights or not is a personal decision. The current crop of high end red dots and scopes will most likely never ever fail, that is unless there is an EMP or you run out of batteries, in which case you better have a good set of back up sights on your rifle. In an effort to always be prepared, I have a backup set of sights on every rifle I own. The Midwest Industries sights are excellent quality and priced competitively for folding metal back up sights, and of course the fact that they look awesome on my Black Rain Ordnance rifle is just an added bonus.
Flip-Up Rear Sight Specs
Same Plane Low Profile Back Up Rear-Sight
Total height from picatinny when folding is only .4375"
Extremely low profile dual aperture design
Locking detent with large surface area for maximum strength
Same ball detent battle proven design of popular #MCTAR-ERS sight
Lock detent button with stepped down turns to maximize grip in adverse conditions
Micro style windage knob features the same MOA adjustment as standard sights
Allen wrench included for installation
Low-Profile Flip-Up Front Sight
Uses standard A2 front sight post
Super smooth ball bearing pivot detent automatically locks in place when raised
Constructed of 6061 aluminum and hard coated
Total MSRP for the package is $209.95.