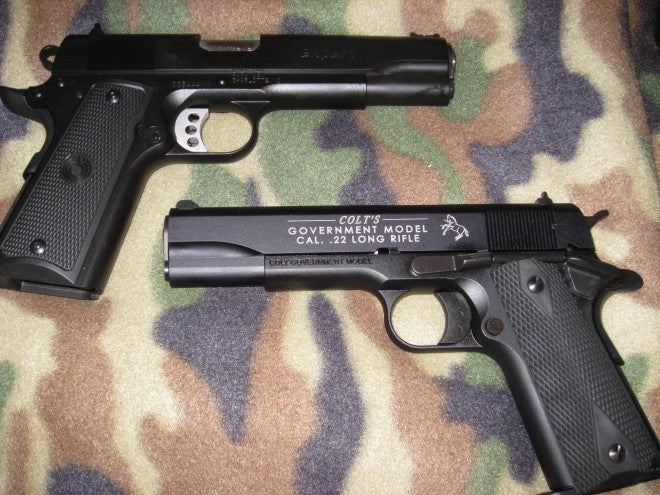 I just bought a new handgun that I had no intention of buying. At least, I had no intention of buying it until I held it and thoroughly inspected it, and then I succumbed to an impulse purchase.
It all started with a 10 percent discount coupon for the local Bass Pro Shops Members Only night.
I went with the goal of once again looking at the Browning version of their mini-1911 model in .22 long rifle. I admit it is a neat little gun, but "little" is the operative word. My big mitts just swallowed it up to the point that handling it was not giving me a comfortable feeling. So, I searched the glass gun display cabinet in more detail. Then my eyes caught the Colt.
Normally, I completely vet a firearm model before I invest in it. I look up Internet product reviews, scan You-Tube videos on the gun, and shop around for the best prices. I do a Gun Broker search, too, to see market prices and other details. I will investigate the manufacturer's web site to get specs and details on features. I usually find the gun at a shop to handle it several different times before making a final decision to buy it. Sometimes I change my mind, like I did on the Browning. I did none of this on the Colt 1911-22. It made me nervous.
However, I am here to report that the post-purchase investigation was all good. Every review that I read made me feel better and better, so my comfort level has been restored that it was a good buy. I've also confirmed all of those reports with actual use and shooting the pistol, but more on that later.
First understand that this Colt Government Model 22 is not a Colt. Well, it is in name, but it was manufactured by the Carl Walther gun company in Germany, a fact that is stamped on the frame of the pistol. This also helped to further increase my positive impression of the gun and its workmanship. The pistol is imported by Umarex USA of Fort Smith, Arkansas.
One may ask, why a .22LR in a 1911 format? First of all, the classic 1911 is my all time favorite handgun, bar none. I love the fit, feel, and positive recoil of the .45 ACP, and the 1911 is the best ever platform to handle the fat 230 grain ball cartridges. So why not a full sized model 1911 manufactured specifically for the .22 rimfire? It's not a conversion or an after thought design. It is a real 1911 geared for the .22LR.
The Colt/Walther (as I shall refer to it) gives one that is first handling it the feel that it is a full bore version of the 1911. The grip is the same and heft is just a tad over a full two pounds. The five inch barrel and other dimensions are very similar to most standard 1911 models chambered in the .45.
The exterior finish is a black matte. All the controls are like a standard 1911, too. The only big difference is the take down procedure. Because this Colt is a fixed barrel design, breaking the gun down is simple. The thumb safety, grip safety, magazine release button, and slide lock all work identically to the regular 1911, making this Colt an excellent choice for cheap training and realistic plinking. The sights are standard dovetailed rear and ramp front.
This Colt Government .22 comes with one 12-round magazine. I do wish gun makers would not skimp on the magazines and supply two as standard. I was able to quickly order two extras from Cheaper Than Dirt for $26 each. I read online that they are difficult to find, which means this gun is selling in the marketplace. The gun comes packed in a hard shell, black, plastic case with a cable lock, takedown wrench, and instruction manual.
Shooting the Colt Gov was a blast. With multiple brands of .22 ammo, the gun ran everything without a hitch. I read that it's best not to use low velocity ammo, so I went with regular to high-velocity and it digested it all without a glitch. At a 25 yard range over sand bags, I could print holes from 1.5 inches to slightly over 2 inches when I did my part. This was perfectly suitable accuracy for my needs, given open dovetail sights. It felt like handling my .45 1911s, which was the best part, except for the recoil of course. This was an excellent impulse buy if I do say so.