There are .22 AR-15s and then there is the Smith & Wesson M&P 15-22. It has been the number one selling .22LR format AR-15 on the market since its introduction for good reason: it works, it's pretty accurate, and it operates exactly like your standard AR-15 in every aspect. And, of course, it can pay for itself in only a couple thousand rounds.
The abuse my S&W M&P 15-22 has endured has been impressive. That includes being continuously banged about while hanging from a single point sling, with the flash hider often getting jammed into the range's gravel as I transition from rifle to pistol. Cleaning has been a vigorous spray down with WD-40 and pulling a Bore Snake through it. The point is, the rifle has been treated poorly and it still works perfectly. The most significant advantage of the S&W M&P 15-22 is that it is the only .22LR AR which functions perfectly as a training analog for reloads and mag changes.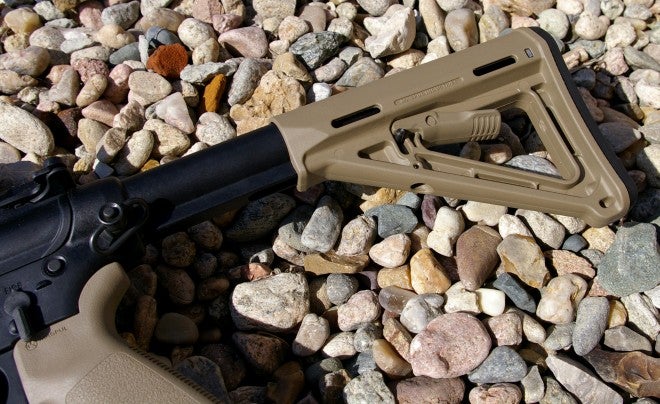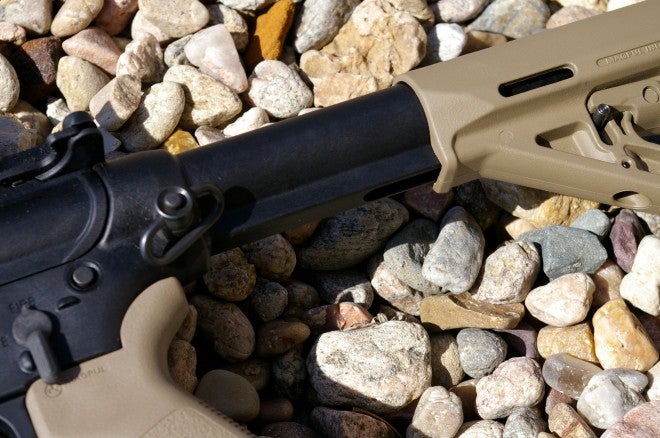 Fit and Feel
The fit and feel is really quite good for a first generation gun made almost entirely from polymer. I am sure S&W will make refinements along the way, but I have been pleasantly surprised that the S&W M&P 15-22 has remained solid despite the abuse I have fed it.
As with any great training analog, the closer you can match the fit and feel of your real AR-15 to the analog, the better. In my case, it made sense for me to choose the MOE version with freefloat tube. My version came complete with MOE grip, buttstock, picatinny covers, and flip-up Magpul sights. The result is that my hands and fingers are building muscle memory and that training has made me faster with my centerfire AR-15s.
One of the features of the polymer construction is that the AR is a very light 5.5lbs, or about 1-2lbs lighter than a standard AR, depending on the configuration. This is easily fixed for those that want to match the weight and balance of the S&W M&P 15-22 to their AR-15. Simply add stick-on, lead hobby weights inside the handguard and add weight inside the hollow buffer tube compartment .
The light weight makes me slow down a bit and focus on stabilizing a sight picture before the shot, plus it is a whole lot less fatiguing to shoot for 4-5 hours of straight training.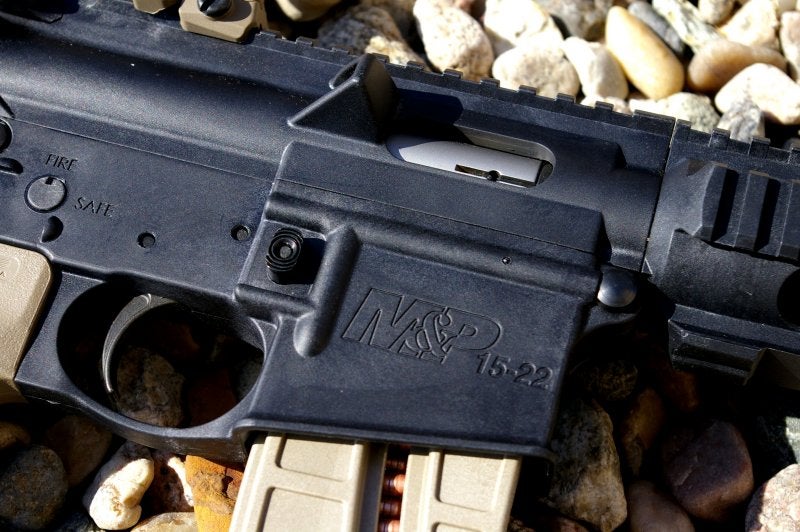 Features
Nearly the entire S&W M&P 15-22 rifle is made from their high strength polymer, which I have found to be very durable. The uppers and lowers are not compatible with a standard Mil-Spec upper or lower AR receivers, and they are designed around S&W's own proprietary magazine, bolt, bolt catch, barrel, functioning charging handle, and forend.
The parts that are readily interchangeable with any Mil-Spec AR-15 are the grip, 6-position buttstock, and trigger assembly. The capped hollow buffer tube is accessible by removing the buttstock and can be filled with all sorts of items. It could be quite handy for survival storage.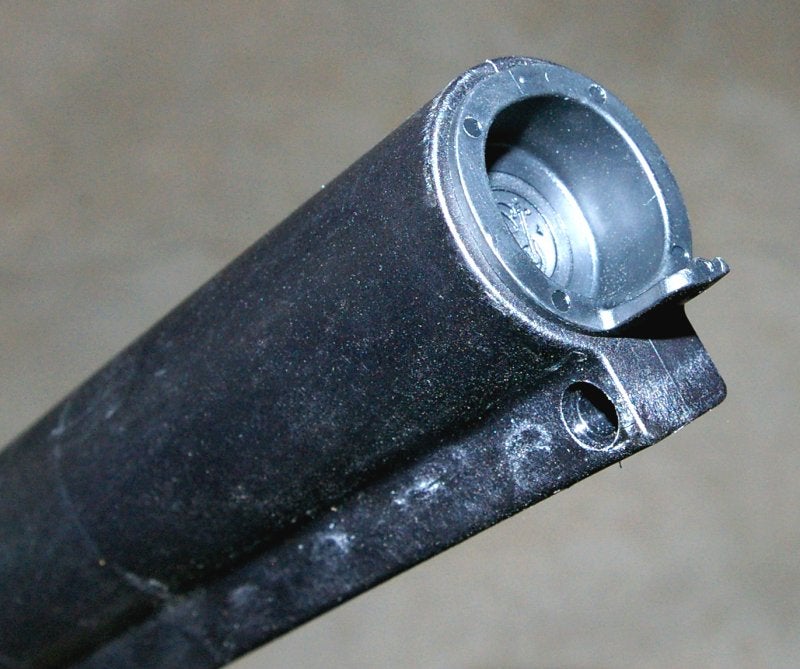 This is not an Atchisson style AR conversion. S&W has designed their own proprietary .22LR AR flavor from the ground up. The bad news is any Black Dog or Umarex style mags you might have will not work with this conversion. Other features include a functional bolt catch, two-position safety selector, case deflector, single point QD-sling mounts on left and right, and a recessed mag release.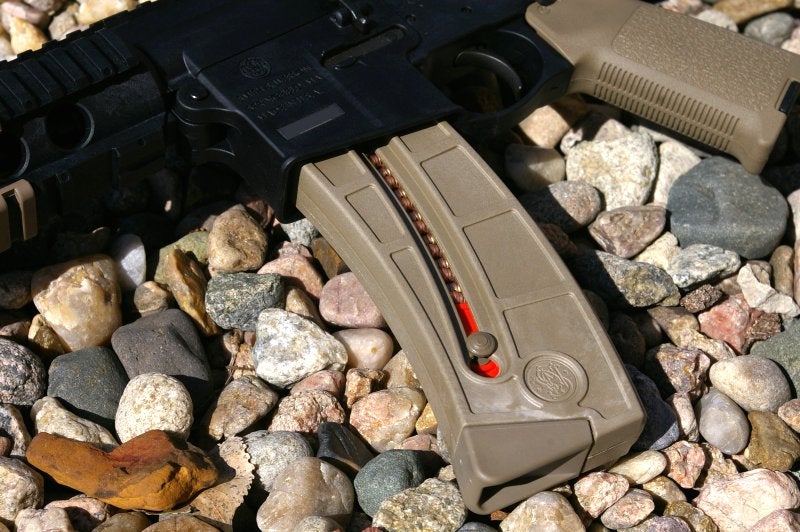 Function
Most .22LR ARs provide 95% functional operability of a standard AR, however the S&W M&P 15-22 is the only .22LR AR which maintains 100% functional operation as a training analog even for reloads/mag changes.
On the S&W M&P 15-22, a standard manual of arms reload is maintained; last shot bolt holds open, drop the mag, insert new mag, and hit the bolt release with the thumb. If you want to train for reloads, then the S&W currently is the only .22LR AR option.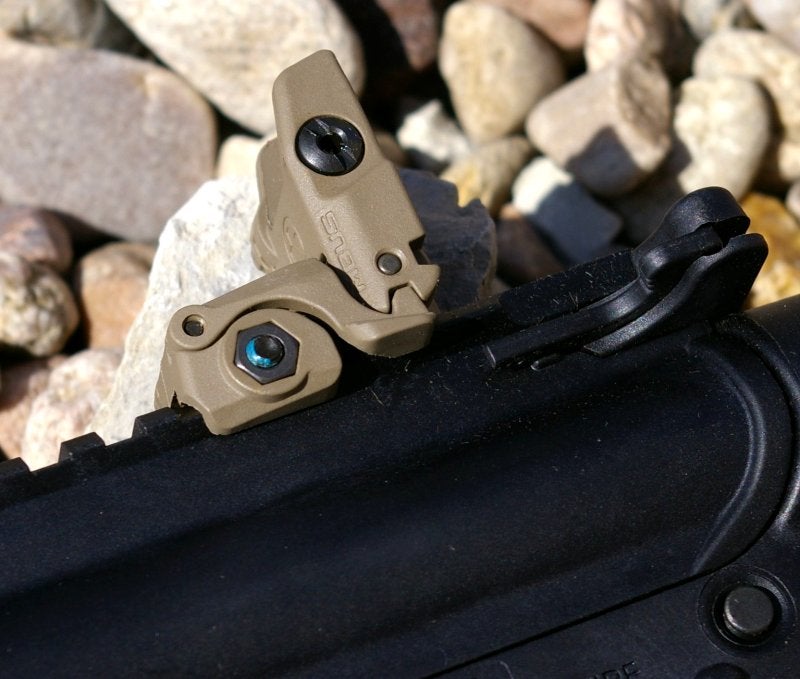 Thousands of rounds later, I have only had a couple random errors which were definitely the fault of the very inexpensive bulk ammo or a lack of cleaning/lubrication as rounds started to add up. Generally, I do not have any issues over a 500 round shooting session. When you go over 500 rounds, a squirt of lube assures there are no issues from the gunk. If the reliable 10/22 had a brother in the AR world this S&W M&P 15-22 would be it. The 15-22 has been without a doubt one of the most reliable .22LR semi-autos I have owned, especially considering it is routinely feed the cheapest stuff I can find on the shelves and rarely sees a detailed cleaning. I will note the feed lips do start to wear on a magazine after around 3,000 rounds, however it still feeds just fine.
Accuracy
Regardless of ammo, my best group with the M&P15-22 was .75" at 25 yards, unsupported, with most groups in the 1"-1.25" range. This accuracy is not particularly spectacular and far from what I would call Match Grade, but it's perfectly acceptable for training purposes, hunting, and plinking.
On the other hand, it is good S&W did not make this a tack driving .22 with a tight match chamber because reliability would certainly suffer. Would you rather have a training AR or a tack driver that can only chew on high end match spec ammo? Given the intent of the rifle, S&W made the right decision.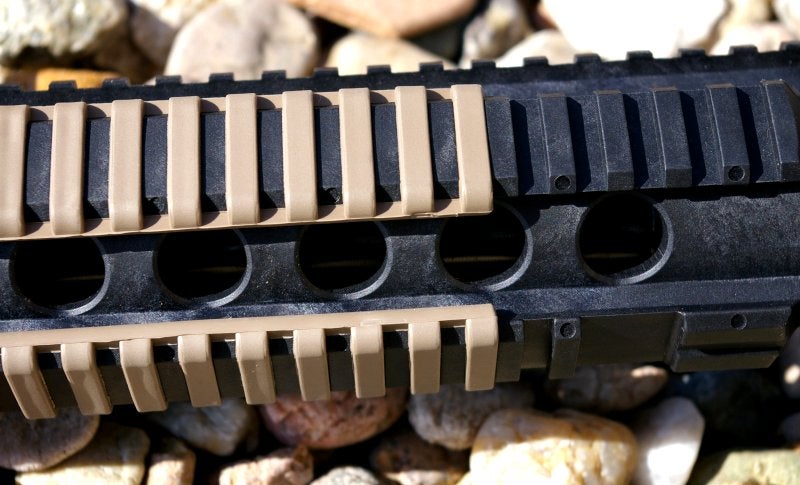 Final Thoughts
Accuracy noted, I would buy the S&W M&P15-22 again in a heartbeat. I would recommend it to friends, give them as gifts, and would even buy a second because this is a training tool and not a precision .22 Sportsmen's Challenge gun, and most importantly, it is a blast to shoot. As long as I can continue to regularly spin the 3", 1.5", and 1" steel spinners at 25 yards off hand, I am a happy S&W M&P15-22 carbine owner.
From a common sense preparedness perspective, this is the best .22 AR trainer you can own, and it gets those unfamiliar with ARs up to speed quick and cheap. It is also more than accurate enough for small game hunting, and with the hollow buffer tube and lightweight feel, it would also be a decent little survival rifle.
From every aspect, the S&W M&P15-22 provides the shooter with the experience and training of AR shooting at a substantial ammo cost savings. If you own an AR, you need one of these to train with regularly, and below is the justification you need.
The .22LR AR Justification
All three of my .22 caliber AR rifles have paid for themselves in very short order. The least expensive reliable .223 ammo I can find for training and plinking is $5.99 a box of 20 (2 box limit) or calculating it out $14.98 per 50 rounds. For .22LR plinking ammo, I usually reach for something like the Federal 325 count box for $13.99 (assuming MSRP price) which comes out to $2.15 per 50. Comparing .223 to .22, that is a $12.83 difference per 50 rounds. On a rimfire AR-15 such as the $500 street priced S&W M&P 15-22, it only takes 39 boxes of 50 .22LR or 1950 rounds and the gun has paid for itself. Obviously most ammo craze prices can make the break even point much faster.
Just make sure your 25M zero is the same on both your 5.56 AR and your .22LR AR. I use and recommend this printable 25M AR zeroing target from BobdBob.com for all my AR and .22 zeroing. It's simply the best target I have found for that purpose.
M&P15-22 Specs
6 Position Collapsible Stock
Functioning Charging Handle
Adjustable Rear and Front Sights
Two-Position Receiver Mounted Safety Selector
Cartridge Case Deflector
Bolt Catch
Recessed Magazine Release Button
High Strength Polymer Magazine
Light Weight, High Strength Polymer Quad Rail Handguard
Match Grade Precision Barrel (Note – Not from what I can tell)
M&P15-22 MOE – Flat Dark Earth
MSRP: $609
Street: $490
SKU: 811035
Model: M&P15-22
Caliber: .22LR
Capacity: 25 Round Detachable Magazine
Barrel Length: 16″ / 40.6 cm
Action: Blow Back Semi-Auto
Barrel Twist: 1 in 15″
Front Sight: Folding MBUS
Rear Sight: Folding MBUS
Overall: 33.75″ / 85.7 cm Extended – 30.5″ / 77.5 cm Collapsed
Stock: Magpul® MOE Stock
Weight: 5.5 lbs. / 2,494.8 g
Barrel Material: Carbon Steel
Finish: Matte Black and Flat Dark Earth