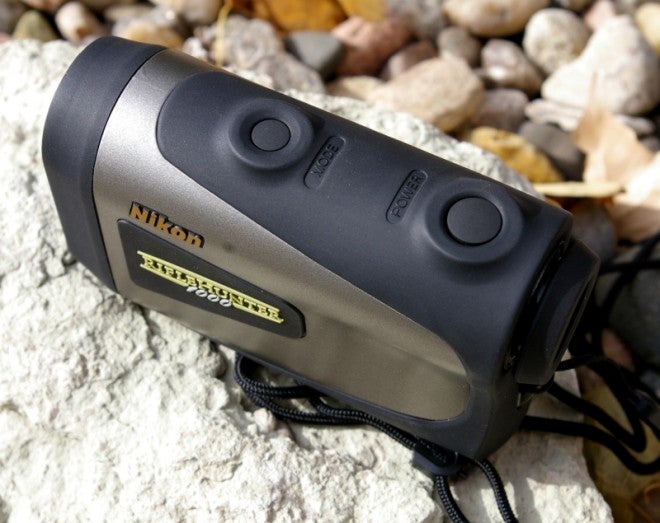 For well under $400, you can assure that you connect with everything from that squirrel at 15 yards to the steel gong at 800 yards. I picked up the Nikon RifleHunter 1000 Laser Rangefinder, which is just one step down from Nikon's top of the line Monarch Gold 1200.
Fit, Finish, Feel, Features, and Functions
Nikon's RifleHunter 1000 Laser Rangefinder is designed to measure distances from 11 to 1,000 yards in a compact lightweight package. The unit delivers the shot (horizontal) distance based on Nikon's ID Technology, which compensates for incline/decline shooting angles all the way up to a near vertical +/- 89 degrees. If you're shooting down/up a 45 degree incline and the RifleHunter 1000 shows 100 yds., then ballistically you should hold zero just as you would for a 100-yard zero. No other adjustment is required–simple. I found this especially handy ranging squirrels, however the Nikon also gives you the confidence to range and take the shot on that trophy ram way down below you in the gully. The unit can also be set for light of sight (linear) distance, if you have that need, as well as swapping from yards to meters.
Operation is simple: look through the 6X monocular eyepiece, press the power button, center your target, and press the power button again. About a second later, the yardage is displayed in increments of .1 yard/meter out to 999.9 yds., and then automatically powers off after 8-seconds. False readings can even be minimized by using Distant Target Priority mode versus the initial First Target Priority mode setting, which delivers faster measurements.
Consistency can be a bit iffy on some rangefinders. To test this, I headed to my range on different days in different conditions and pulled measurements on known 50, 100, 200, 300, 400, and 500 yd. distances. After looking through all the data of six range trips, the Nikon RifleHunter 1000 only varied about half a yard from day to day, which is excellent for a $386.95 MSRP rangefinder.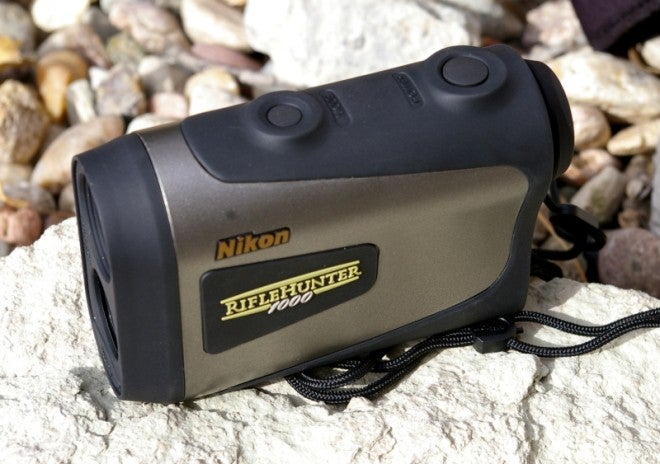 Bottom Line
As the saying goes, there are hunters who own rangefinders and those who have never tried them before. Once you try a well-built, easy-to-use rangefinder, you'll never hit the range or the trail without one, whether you have a pistol, rifle, or bow in your hand. I use this tool constantly. Once you're in the field, the Nikon RifleHunter 1000 gives you the confidence to take and make those shots that are within your practiced abilities.
Specs
Waterproof/fogproof (except battery chamber)
Measurement Range: 11-1,000 yds.
Increment Reading: 0.1/1 yds.
Increment Reading in ID mode: 0.1/1 yds.
Magnification: 6x
Angular Field of View (Real): 7.5°
Angular Field of View (Apparent): 43°
Viewfinder Display: Meters/Yards
Eye Relief: 18.3mm
Diopter Adjustment: +/-4°
Power Source: 1 CR2 Lithium Battery
Size (Length x Width x Height): 4.6 x 2.9 x 1.6 in.
Objective Diameter: 21mm
Exit Pupil 3.5mm
MSRP: $389.95
SHOP NOW