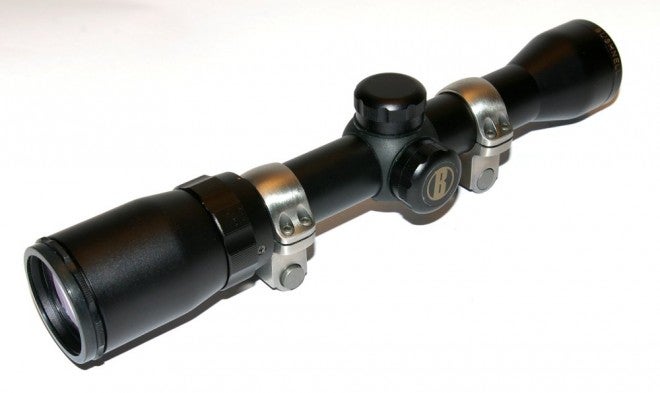 1-4X scopes have jumped in popularity as people realize they do not need a 20X scope. The challenge for the budget conscious is not spending $500+ on an optic. Enter the Bushnell Banner 1-4X scope.
In my case, adding a scope is an obvious choice for the Ruger 77/357 or other similar series rifles. The 77/357, like most 3-Gun rifles, are definitely tuned for shots under 150 yards. Likely, most shots will occur in the 50-75 yard range where open sight would be more than adequate, however a low power scope can definitely increase precision at those ranges for small game and shot placement.
Fit, Finish, and Feel
Bushnell has always been a leader in providing fine optics, and although the Banner series finish is not that of Bushnell's higher lines, it's more than fine enough to dress up a working man's rifle. I will be the first to tell you that you get what you pay for when it comes to optics. In this case, Bushnell has packed a lot of value in this scope with good quality fit, feel, and finish on this $75 street priced scope.
Features and Function
This 1" scope provided all the magnification required for both fast moving shots, higher precision shots at closer, smaller game, or larger targets at longer distance. The Circle-X reticle on the Bushnell Banner is unique and provides fast targeting via the circle and precision with the fine center cross-hairs inside the inner circle. Honestly, I like the reticle more than many scope reticles. The reticle is simple and works.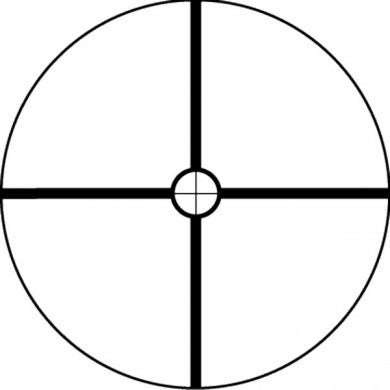 Final Thoughts
Does the scope delivers the performance of an expensive high performance optical? No, but it does provide above excellent optical performance for a $75 street priced scope. The Banner's 1X magnification is really close to a true 1X, but has a little more fisheye at closer 10-15 yard tactical distances. This is unnoticeable beyond those ranges. This is a high value scope and is a great all-purpose scope for everything from a .22 to hunting rifle to a startup 3-gun competition build. This is a sleeper in the Bushnell line and for $75 is a steal for the price and performs extremely well for the price with a reticle that I think is tactically better than many high end scopes.
Bushnell Banner 1-4X32 Scope Specs