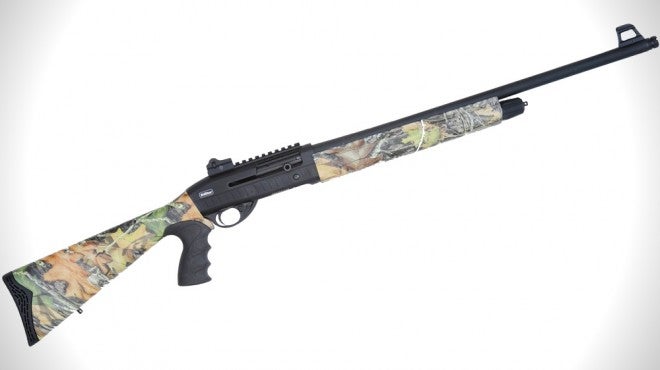 Turkey season is coming on strong and will be here before you know it. A recent announcement from Tristar Sporting Arms about a new tactical turkey gun made me wonder how many hunters prefer tactical guns over traditional ones.
When it comes to hunting shotguns, the word "tactical" usually means it has a pistol grip descending from the butt stock, rather than the more traditional buttstock with a built-in grip portion. The addition of a picatinny rail and high sights on the Raptor ATAC (see photo above) add to its tactical-ness.
While I prefer traditional guns (and usually hunt turkeys with an ancient over/under shotgun made in the 1930s rather than toting a newer scattergun), I do appreciate what a pistol grip can do for a gun's vertical stability. Grabbing that grip gives a shooter very good control of the gun and allows your hand to be in a somewhat more natural position.
The high sights, I'm not so sure about, but raising the line of sight above the shotgun may allow more of the target to be viewed, rather than letting the barrel and receiver hide much of it. This is more advantageous for turkey hunting than for traditional shotgunning such as wingshooting, skeet, etc.
Of course, a picatinny rail allows for easy mounting of scopes or other optical sights, and that can be mighty handy for turkey hunting.
The Raptor ATAC looks interesting and is priced below $500. For a semi-auto shotgun, that makes it appealing.
For me, hunting with Dad's old Browning Superposed 12 gauge is important because it ties me to my late father. The gun is well-balanced and much-used, and I love its traditional lines and graceful shape. It doesn't hurt that I've used it to bag all the turkeys I've taken so far.
So – what's your preference? Traditional, tacticool, or maybe somewhere in between?