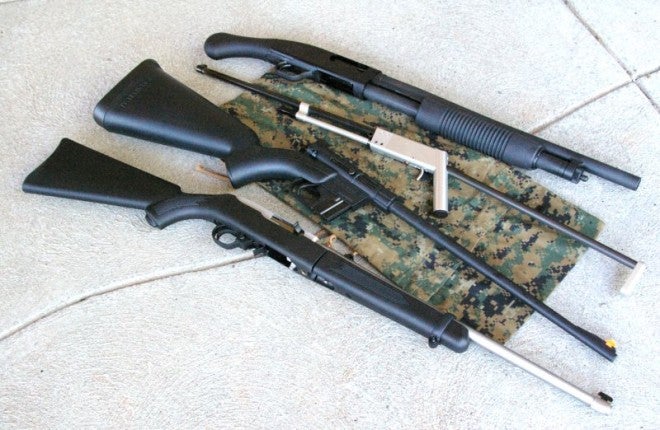 Over the last year I have reviewed four distinctly different take-down firearms that can each fill a unique niche stuffed in different types of bug out bags ranging from big power, lightweight and ultra light design, and reliable utility. These firearms include the Henry AR-7 Survival Rifle, Mossberg JIC II Shotgun, the Pack Rifle, and the Ruger 10/22 Takedown model.
Henry AR-7 Survival Rifle
Originally developed by Armalite, then poorly produced and riddled by problems when produced by Charter Arms and then Survival Arms, the AR-7 design has now been rescued by Henry Repeating Arms who has updated this historic design. This is a very light rifle that is totally waterproof and even floats. The AR-7 will stow inside the buttstock, delivering a short packable 16.5″ length. Pop off the buttpad, pull out a magazine, the action, and barrel, and screw it all together. In under a minute, you have a working, semi-auto 8-shot firearm all without the need for secondary storage and it floats which is a huge plus for the boaters.
The Henry AR-7 Survival Rifle delivers a balance between the ultralight Pack Rifle below and the Ruger 10/22-TD. The AR-7 has an amazingly light 2.5 lb weight, but with an 8-shot magazine fed semi-auto action, it's the lightweight semi-auto rifle winner. It's nearly half the weight of the 10/22-TD, but it still delivers multi-shot capability which the Pack Rifle does not. Henry has packed a heck of a lot of utility into a very light firearm, but it's a unique design which feels more or less like a full-sized rifle and yet unnaturally light. Of the survival rifles here, the AR-7 is the only one with an integrated scope rail. Being a semi-auto chambered in .22LR makes the weight of this gun+ammo option appealing. You could carry 250 rounds plus the rifle for the same weight as just the 10/22-TD without ammo.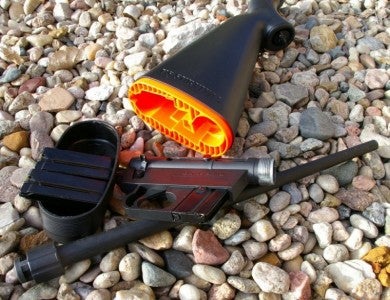 Henry has worked hard to overcome the AR-7's historical reliability issues caused by the previous manufacturers. This is a great lightweight option for those that work around water or feel the need to have multi-round capability.
Pack Rifle – .22LR
The Pack Rifle makes you immediately think of the James Bond Villain, the Man with the Golden Gun. The single shot Pack Rifle is made a very light 15.5 oz with the help of aircraft aluminum, carbon fiber, and limited use of stainless steel in strategic areas. Many will ask, "Really? A single shot?" But in the realities of an outdoor survival situation, there is no need to fend off a giant horde with an hour of sustained fire. In most of the U.S, the largest animal you may have to worry about is a raccoon, bobcat, or cougar, all of which can be dropped with a .22LR. In the wild, a hunting target will rarely give you the opportunity for a second shot, so you might as well make it count with a single shot rifle.
Without question, the Pack Rifle is the finest workmanship firearm of this group. You should own one regardless of whether it ends up in a pack or not. It's truly a gorgeous gun in silver, and I would imagine in the other candy apple colors it's even more stunning. The Pack Rifle shot from the bench is by far the most accurate of all the guns here, though not the easiest to shoot accurately. A simple red dot mounted on top would be perfect; however, that requires an optional scope mount. The barrel is a precision match grade button rifled Cro-Moly liner with a carbon fiber composite outer. The same type of carbon fiber is used for the butt stock tube of the rifle. Simple and elegant, all while being almost entirely weatherproof. Reloading is pretty quick considering this is a single shot. However, given the outstanding accuracy, I doubt you would need the extra shot.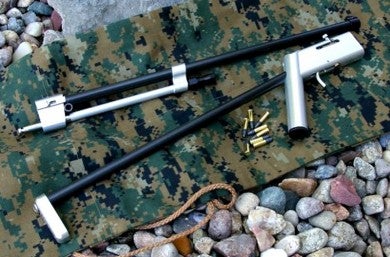 At 15.5oz this is a "no-brainer" packable firearm option as it weighs scarcely more than your average multi-tool. In addition to being insanely light, the Pack Rifle is a take-down design that stows in only 17" of space with very little bulk, which is perfect for packing. The handle and stock are also hollow, which allows storage of a little survival kit and/or extra ammo. Between the stock and handle, I stowed nearly 30 extra rounds. The stock tube does require a hex wrench for removal. However I was able to modify a small hex wrench to fit in the handle with the ammo, and the rifle does include a full set of hex wrenches. Pack Rifle also makes a scope mount and even a fishing rod conversion. This is a backup survival rifle so light that it makes it easy to be packed on every outdoor trek.
Ruger 10/22TD – .22LR
The Ruger 10/22-TD Take-Down model is, in essence, an exact duplicate take-down version of the top selling Ruger 10/22 Stainless Carbine model. The only distinctive features are its quick dissassembly and the quality case and pack. The 10/22-TD snaps to the shoulder and will make a pop can dance at 50 yards; it's a rifle that's easy to shoot accurately.
For those survival types, the pack provides ample room for a light get home bag. The receiver section is stored in one side with plenty of room left even if a standard sized scope is attached. The Ruger 10/22-TD is every bit a standard 10/22; it shoots and handles with incredible durability and reliability just like any other ruger 10/22 except that you can pop it apart and back together again round-trip in about 5 seconds flat. It can be assembled and shot in less than two seconds because it can be assembled with a magazine loaded.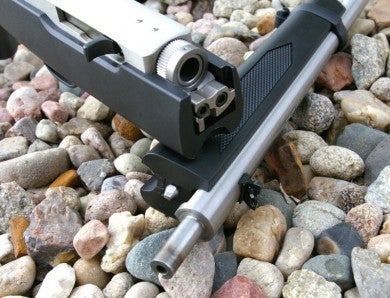 The bottom line is that this is the most durable semi-auto .22 LR take-down rifle you can own with an optional 25-round magazine. The 10/22-TD gives you a lot of potential firepower with optional 25-round magazines should the 10/22-TD be forced into self-defense use.
Mossberg JIC II – 12 Gauge
The .22LR is an under-rated round and can take surprisingly large game with proper shot placement. However, in some situations, a.22 may not have enough power for hunting or defense. For many, a 12 gauge pump action shotgun represents the pinnacle of a survival or defense firearm. This was the thinking behind the Mossberg JIC "Just In Case" series. The newer JIC II series takes the concept a step further with a simple 5.11 cordura pack-based carry solution.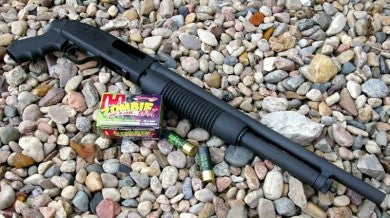 The Mossberg JIC II is simply a pistol gripped Mossberg 500 series 6-shot pump action shotgun with an improved cylinder choke. The significant difference of the JIC II is a case that holds the shotgun in a disassembled state with barrel and pistol grip removed for carry compliance in almost any state.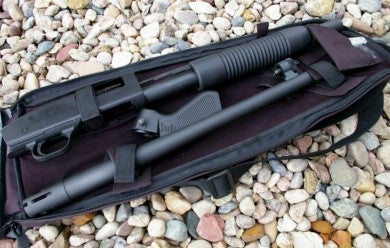 Pack a 50 round over the shoulder bandoleer ammo carrier packed with a variety of rounds, and you will have plenty of ammo for almost any situation. The JIC II is also the heaviest of the four bug-out guns in this article. However, this should give you a hunting advantage when hunting birds on the move. The other consideration is that you will need to assure you are carrying a variety of birdshot, buckshot, BB, and slugs to get the versatility of the shotgun that it can deliver.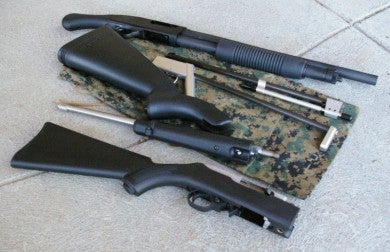 Final Thoughts
So which one should you choose? The answer depends on your intent. If you're in bear country or a potential defensive situation, I would pick the Mossberg JIC II in a heartbeat. If you're into some lightweight hiking or hunting, the Pack Rifle would be the perfect option or even a ultralight backup to a carried shotgun or rifle. If you're around water the AR-7 makes the most sense because it will float. As a general all-purpose rifle, you could use every day of the week, the Ruger 10/22TD is a hard option to pass up because it's an easy-to-shoot and durable 10/22.
Specs for Take-Down rifles
NAME

HENRY U.S. SURVIVAL AR-7 RIFLE

MOSSBERG JIC II

PACK RIFLE

Ruger 10/22-TD

MODEL

H002B

55340

PACK RIFLE

K10/22-TD

MANUFACTURER

Henry

Mossberg

Pack RIfle

Ruger

CALIBER

.22LR

12 Gauge – up to 3″ shells

.22LR

.22LR

CAPACITY

8-round Magazine Fed

6 rounds

1

10-round magazine fed, optional 25, 50, 100 round magazines

ACTION

Action type semi-automatic

Pump action with twin action bars

Single shot

Semi-automatic

LENGTH ASSEMBLED

Length 35″ assembled

28 3/4″

33″

37″

LENGTH COLLAPSED

16.5″ when stowed

18.5″

17″

18.5″

WEIGHT

Weight 3.5 lbs.

5.5lbs

15.5 oz

4.67lbs

STOCKS

ABS

Polymer

Carbon fiber and billet aluminum

Synthetic

SIGHTS

Sights adjustable rear, blade front

Sight front bead

Adjustable peep

Gold bead front, adjustable rear folding leaf

BARREL

16.5″

18.5″ w/ Cylinder Bore Choke

16.1″ Match Chambered Barrel

18.5″, 6 groove, 1:16 RH twist

CASE

Stores in stock

Custom 5.11 Cordura Case with shoulder strap

Handmade camouflage

Cordura case

Black

SPECIAL FEATURES

All Teflon coated finish

Gunlock & swivel studs

Hollow handle and stock tube for storage, integrated LED flashlight

Backpack case included

MSRP $

$275

$450

$425

$389

STREET $

$210

$350

$350

NAME

HENRY U.S. SURVIVAL AR-7 RIFLE

MOSSBERG JIC II

PACK RIFLE

Ruger 10/22-TD

HUNTING

SMALL – MIDSIZED GAME

ANY NORTH AMERICAN GAME

SMALL – MIDSIZED GAME

SMALL – MIDSIZED GAME

SAFETY

Thumb toggle

Thumb toggle

Manual safety

Manual safety

FORMAT

Rifle with feel of full sized rifle

Pistol grip shotgun

Rifle

Rifle

PRIMARY MATERIALS

Steel, ABS, Aluminum

Steel & Aluminum

Stainles Steel, Carbon Fiber, Aluminum

Stainless Steel, aluminum, Polymer

POWER

LOW

HIGH

LOW

LOW

ACCURACY OFF A REST

3

N/A

1

2

EASE OF ACCURACY
OFFHAND

4

3

2

1

CAPACITY

MEDIUM

MEDIUM

LOW

HIGH

FLOATS ASSEMBLED

YES

NO

NO

NO

SCOPE COMPATIBLE

YES – ADAPTER INTEGRATED

NO

YES – WITH OPTIONAL ADAPTER

YES – WITH INCLUDED ADAPTER

100% CONCEILABLE IN MOST 3-DAY PACKS

YES

NO

YES

NO

RECOMMNEDED FOR SELF DEFENSE

NO

YES

NO

WITH RESERVATIONS

APPROX SPEED OF ASSEMBLY TO FIRST SHOT

15 Seconds

30 Seconds

<2 Seconds

<2 Seconds
Ruger Firearms – http://www.ruger.com
Mossberg –