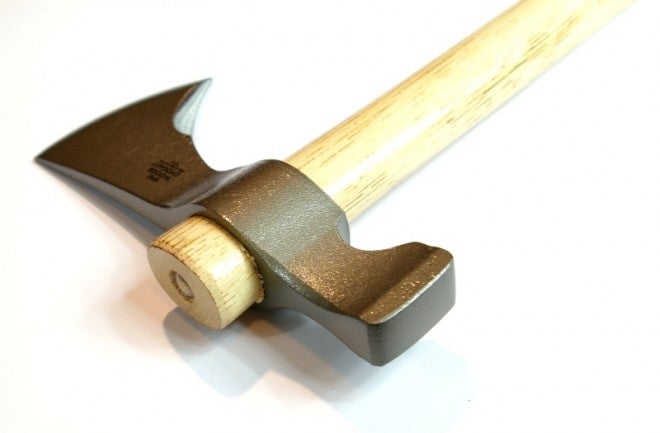 You can take the boy out of the country, but you will never take the country out of the boy. The  CRKT Woods Chogan T-Hawk Tomahawk takes me back to my country boy roots. The designer Ryan Johnson may make some of the fanciest certified high tech tomahawk designs, but his good old fashioned design with hot forged 1055 carbon steel head and hickory handle is what a country boy like me leans toward.
Fit, Finish, Features, and Functions
The overseas production for all CRKT knives is of very high tolerances and quality.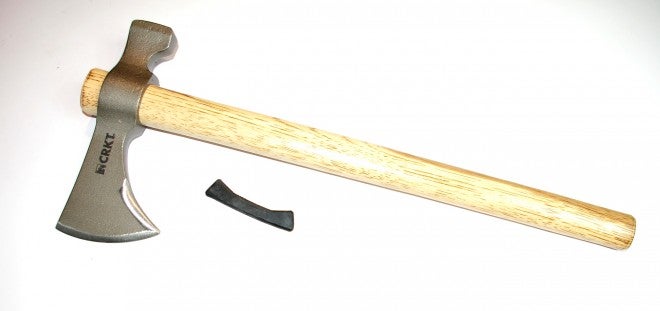 In the land of $150-$300 tactical tomahawks, the CRKT Woods Chogan T-Hawk delivers 100% of the functionality with less weight. It only sacrifices the top-end, extreme durability that one piece piece steel designs can offer. Surprisingly, Ryan Johnson, the designer behind this great $69 tomahawk, is the same guy famous for his high dollar fancy tomahawk designs.
Previously I reviewed the $185 CRKT Chogan from Johnson, and his designs are clearly created by someone who actually knows what works for cutting tools. Where the Chogan and Kangee models are combat and tactically focused, the "Woods" versions are faithful recreations of good old fashioned trapper tomahawks that can build a fire or build a cabin. Of course, Ryan has put his own spin on the designs to include a functional hammer head and an inner faux edge, which can be sharpened for defensive work.
Each CRKT Woods Chogan T-Hawk is made from a hot forged 1055 carbon steel head and fitted with a solid hickory handle. The edge comes covered with a rubber edge protector, which can be reused after the axe is unpacked. From one perspective, I would have liked to see an inexpensive leather edge protector, on the other, the rubber edge protector works and drops weight for a more packable tomahawk.
Back when I was a kid, we just called these hatchets. My old hatchet survived literally thousands of chops, cuts, and even swings that missed the head and hit the handle. Through all that, it never broke. The reason is that simple carbon steel and hickory handles are very forgiving to errors or brute force. Even better, a broken hickory handle can be easily fabricated out in the field should you ever actually break the handle or if a longer handle is required.
Final Thoughts
I tested the CRKT Woods Chogan T-Hawk on a variety of soft and hardwoods, from the prolific cottonwoods to working through some oak used in the Roundboy pizza oven. One of the harder chopping tasks is using the Woods to break down a couple shipping pallets for firing the pizza oven. This involved chopping and prying, which the Woods accomplished without a problem. This lightweight 2lb tomahawk can deliver everything you need from simple tree trimming, to survival shelter building, and perhaps defense if needed.
Specs
Dimensions
Open Overall Length 19.13 inches
Weight 2 lbs. 1.4 ounces
Handle: Tennessee Hickory
MSRP $69.99
Blade
Length: 4.21 inches
Thickness: 0.52 inches
Material: 1055 Carbon Steel
Blade-HRC 50-55
Finish: Hammer Finish
Grind: Flat
Style Front: Axe Back: Hammer
SHOP NOW