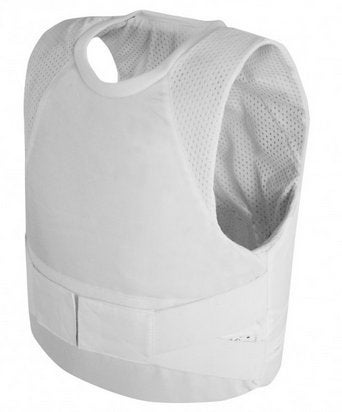 Most of us would like to believe that evil will only attempt to do us harm when we're at home with our AR-15 slung over our shoulder with one in the chamber, the Eotech sight on, and two insane dobermans to prevent any surprises.
But as we've seen over and over, bad things can happen anytime and anywhere, and you need to be prepared and trained to save yourself and your loved ones. Part of that is the realization that the evil shoots back or attacks with edge weapons while you fight for your life, and this is where Safeguard Armor Stealth makes perfect sense as a layer of protection for both ballistic and stabbing threats. For me, I wanted to know that I had an acceptable concealed armor option for use any kind of high risk situation.
From a survival perspective, body armor is making more and more sense. In fact, statically 75% of all gun related deaths could be prevented with just Level II body armor. It may become the best firearm accessory you have ever purchased.
Founded in 1986 SafeGuard ARMOR is a world-leading premium body armor designer with manufacturing operations in U.S. and Europe. The company has have been selling body armor to thousands of individuals and companies across the world and has grown from a small operation selling bulletproof vests to local companies to being one of the largest body armor companies in the world. SafeGuard now provides body armor to military, law enforcement, and civilians worldwide.
Safeguard has distribution centers around the world, including all over Europe, Canada, and of course the United States, so it is easier to purchase within your own country. That said, they ship to the US from pretty much everywhere, and my order was fulfilled through their European operations.
The Legality of Body Armor
Contrary to popular belief, purchasing and owning ballistic and edged threat body armor is illegal in only very few states. Check with your state and local state's attorney or police office, and if they "claim" it is illegal have them provide the state or local statute that limits/outlaws it. Referencing a specific statute prevents the officer or paralegal from mis-stating the law.
In my state there is no legislation limiting the possession or use of body armor other than the Federal mandate that no felon own body armor. In the US, a non-felon in a free state can purchase hard or soft body armor, but only soft armor can be legally imported without working for law enforcement or military. If a US citizen attempts to import hard body armor, you will get into some hot water.
Not being a felon, I placed my order with SafeGuard without hesitation. Although Safeguard has operations all over the world, including the US, my order was fulfilled via their UK headquarter location, cleared customs, and was delivered via FedEx to my doorstep. I purchased the SafeGuard Stealth, a soft body armor vest with 360 degree, Level II ballistic protection and Level 1 stab protection.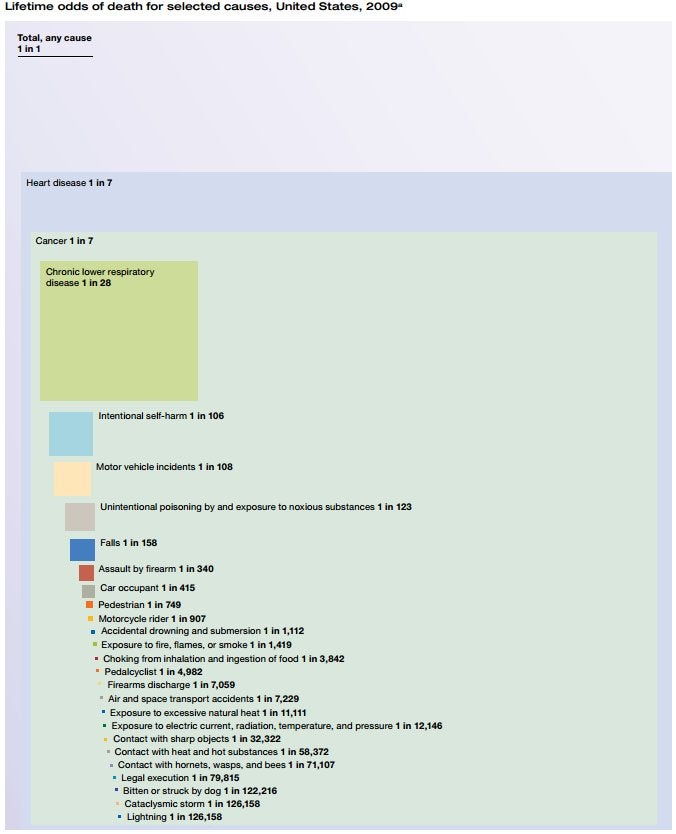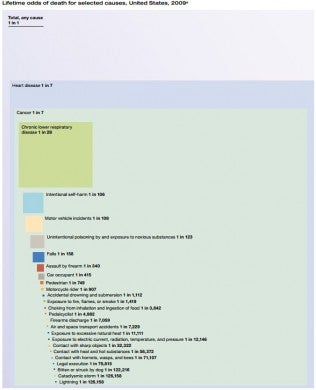 Fit, Finish, Features, and Functions
Following the fitment chart on the site, I selected the appropriate size. I was very surprised how thin and undetectable the Stealth armor was under a jacket or secondary, long cover shirt. It does make you look like you put on 10 lbs, but it does not stand out like the thick "overt amor" life preserver look the cops are wearing around. The vest was also very lightweight compared to other vests I have worn and handled, which just adds to the overall comfort of the vest.
As with any body armor, adding a Coolmax t-shirt under the vest will significantly improve comfort when temps heat up, but SafeGuard has already integrated that layer into the armor to reduce the added t-shirt bulk. The SafeGuard Stealth was specifically designed for covert/concealed use and offers white or black options. Thick and heavy is easy to do when it comes to body armor, but thin, comfortable, and light is a tough mix to get right. SafeGuard hit the mix with the development of the Stealth, delivering on all those goals to maximize comfort, protection, and concealability.
SafeGuard has a variety of body armor options available, from the very light Ghost model to the heavy full groin, shoulder, and arm Military models. The Stealth is ideal for users who want to hide the fact they are wearing a piece of body armor, such as door supervisors and close protection officers.
SafeGuard's protection ratings conform to NIJ ballistic protection standards. The Stealth is offered in a variety of protection options, including ballistic protection Level II, which stops handgun fired 9mm 124gr Remington and .357 158gr SJSP Remington rounds, or Level IIIa, which stops up to .44 Magnum rounds. You can find out more about each of the specific threat ratings on their site. The Stealth armor is also offered in several Stab and Spike protection levels.
Threat Level vs Statistics
Studies from both the Virginia Department of Justice and Pennsylvania Medical Center of their respective state homicides found that roughly 80% of all firearm related homicides were from handguns. Of those homicides, both sets of data indicated that over 98% of handgun deaths would have been prevented by a NIJ Threat Level II protection.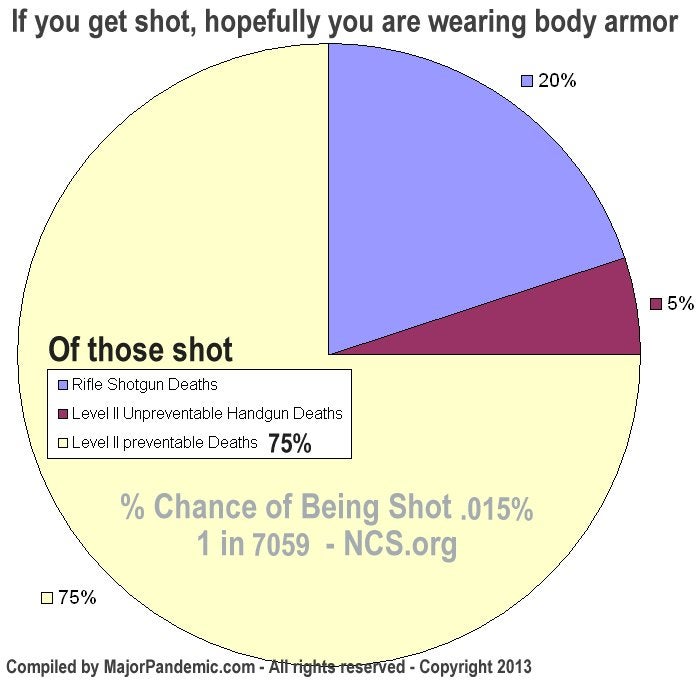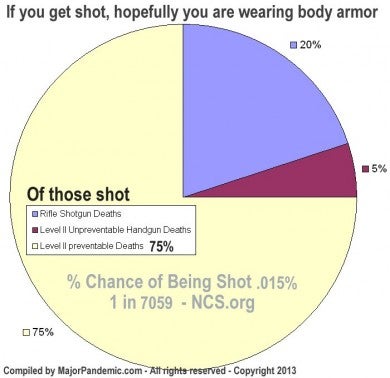 With every extra layer of protection comes more weight and bulk, so I opted for the Level II ballistic protection and Level 1 stab protection, which is designed to protect the user from the vast majority of ballistic and edged threats. The protection thickness to threat curve is non-linear, which means that each extra level of protection provides an incrementally smaller increase in protection but a noticeable increasing thickness of the vest. There is always a compromise, but with a my Stealth Level II armor that can stop 90% of typical threats, I feel well protected unless I suddenly found myself in a war zone.
Those that are uber paranoid may want to opt for an armored personnel carrier, and those folks can just bump up to the next threat level rating or pick up a supplemental hard armor plate to tuck into the vest.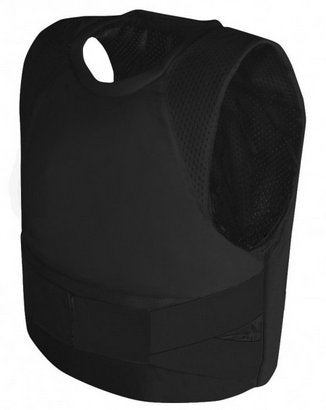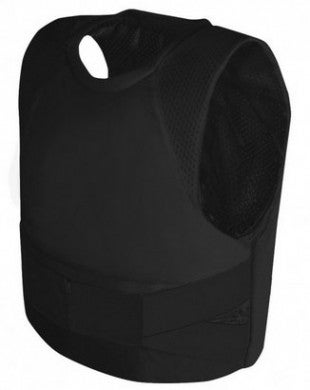 Final Thoughts
For covert discreet and concealable armor the Safeguard Stealth is of the best and thinnest I have seen or worn. Generally I do not live, work, shop, or play in high risk homicide ridden areas, but bad things happen everywhere.
There have been situations where I would have felt safer with an added layer of protection. I also love the ability to slip on the vest when investigating that random bump in the night. In my rural neighborhood we have a 40 min police response time and the ambulance is not much better… any extra chance I can get while defending myself during an encounter or surviving it after the fact is a great investment from my perspective.
Specs
NIJ Level II Ballistic Protection
NIJ Level I Edged Blade Protection
Delivered in 1-2 working days
Armor worth over $470 when new
Brand new cover worth $100
Weight: Approx. 5.5lbs
Made from DuPont Kevlar
MSRP $190
Warranty Info
This product comes with a 5 Year Warranty. All SafeGuard ARMOR™ products are tested in full compliance with the US National Institute of Justice (NIJ) 0101.03/04 standards. If any SafeGuard ARMOR™ products under warranty are deemed to be defective or faulty then SafeGuard ARMOR™ will replace or repair it free of charge. This is done at our own discretion.
Care
Do not fully immerse the vest in water.
Do not dry in direct sunlight.
Store body armor flat at all times.
Do not put DuPont™ Kevlar® panel inserts through the wash (can be lightly sponged with warm, soapy water if necessary).
Inspect armor for damage or defects prior to every use – NEVER WEAR DAMAGED ARMOR.
Always ensure DuPont™ Kevlar® panels are inserted the correct way (instructions on the panels).