In a world of one pound red dot sights, many of us want something light, tight, durable, and simple. When you add the word "affordable" to the equation, then the field of available small and light red dots shrinks further.
Fortunately, the price of quality red dot sights is coming down, and from a value perspective the Bushnell TRS-25 has led the pack for a while now. The Bushnell Trophy TRS-25 Red Dot sight is all of the above: an affordable, sub-$100, small, and light sight that provides all the the features of a full sized red dot in a waterproof, fogproof, and shockproof unit rugged enough for any application from air guns to shotguns and everything in between.
Fit, Finish, and Feel
Like all Bushnell products, the fit and finish of the Bushnell Trophy TRS-25 Red Dot Sight is excellent. At 3.7oz, it is waif-like compared to the typical full sized 12-18oz red dots, but the sight feels heavy and dense for its size.
At 2.4" in length and with a .87" internal exit pupil, the TRS-25 is a little larger than I had imagined from photos. This is a good thing, as it provides a large field of view will still remaining compact.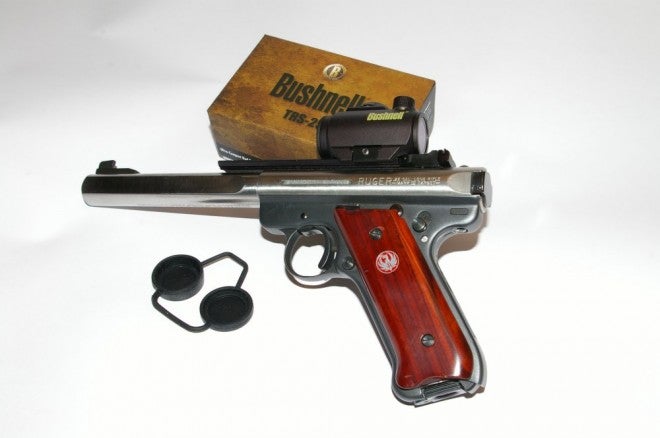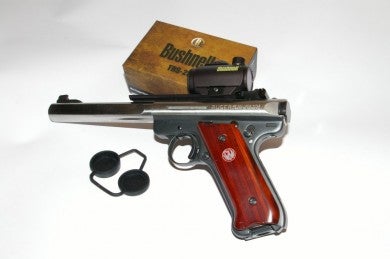 Features and Function
The Bushnell Trophy TRS-25 Red Dot Sight's integrated rail will securely attach to any Weaver or 1913 Spec Picatinny rail, and in my testing it returned to zero after being removed and re-mounted several times even on other guns. Once mounted and zero'ed on your favorite handgun, rifle, shotgun or any other firearm, operation of the Bushnell Trophy TRS-25 Red Dot Sight is simple: remove the included rubber bikini lens covers, adjust the red dot to the intensity you need for your shooting situation, and start shooting.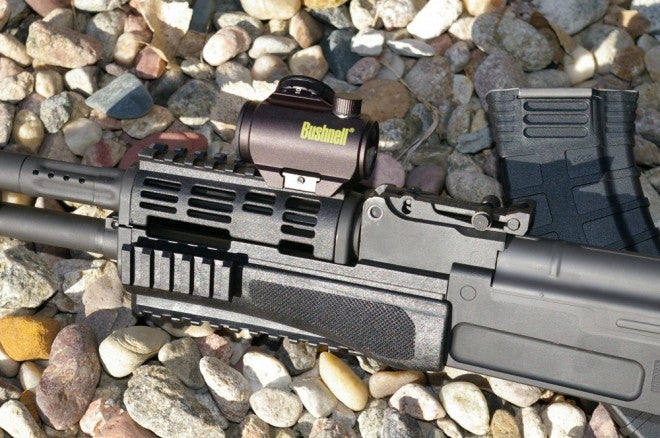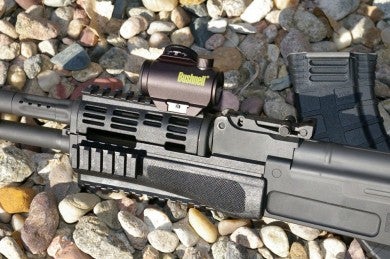 The TRS-25 mounted solidly on everything from my Gamo Airgun, to my Ruger Mark III .22LR pistol, to the forward picatinny of my Century Arms AK-47 Centurion 39 Sporter. The optic handled the shock of all guns just fine without any loss of zero when returning back to its home on the Ruger Mark III pistol. Bushnell includes with the sight, a very nice lens bikini cover, lens cloth, and a battery so you are ready for use right out of the store. For AR shooters Bushnell even has a new TRS-25 Hirise model with an included riser.
The dot strength dialed up high enough for bright sun light shooting and low enough for night shooting. The Bushnell TRS-25 is powered with the same readily available CR2032 lithium battery that powers most electric optics. Over the last four months of shooting, I am still on the same original battery, so I would believe the 3,000 hour/125 day battery life claims.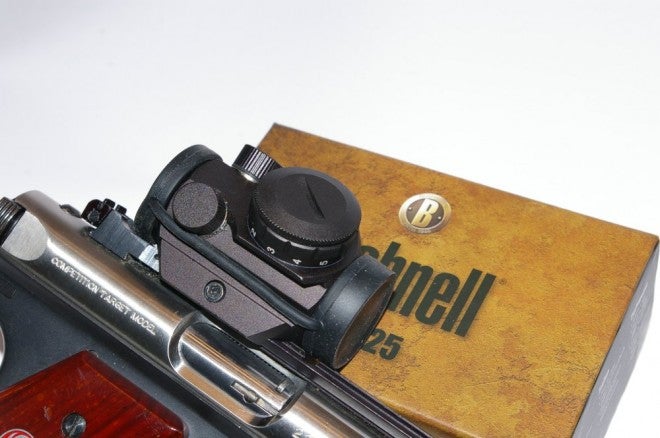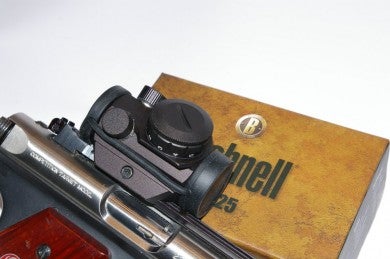 Final Thoughts
This is an awesome red dot sight with plenty versatility on a variety of firearms. Sights can get expensive and most folks are not willing to spend hundreds on a sight, especially for a .22. Typically priced at around $80, this is one of the best sights for .22 action shooting, and it has found a permanent home on my Ruger Mark III.
In the sea of red dot sights, the TRS-25 provides shooters with an affordable, widely available option in most stores for any type of firearm that tight, light, and durable. An outstanding sight option for well under $100… big thumbs up to Bushnell.
Specs: Trophy TRS-25 Red Dot
Model 731303
Use Any firearm
Optics Multi-coated optics
Amber-Bright™ high contrast lens coating
100% waterproof/fogproof/shockproof construction
Dry-nitrogen filled
Power CR2032 battery
Power / Obj Lens 1 x 25mm
Finish Matte
Length (in / mm) 2.4 / 61.8
Reticle 3 M.O.A. Red Dot
Field of View Unlimited
Adj Range [email protected]″@100yrds
Weight (oz. / g) 3.7 / 106
Exit Pupil 22mm/.87"
Eye Relief (in / mm) Unlimited
Mounting Length 1.1″ / 28mm
Model 731303
Click Value .5″ /14mm