KnifeTests.com Bark River Boone II Destruction Test
Ashley 03.25.14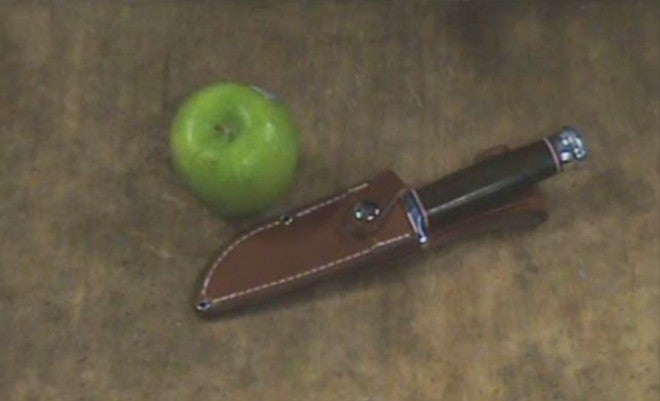 In this week's destruction tests from KnifeTests.com, Noss puts a Bark River Boone II fixed blade to the test. Another Bark River Knife and Tool knife, the Bravo I, was tested in last week's video. The Boone II is a little tricky to find online, but it retails for about $130.
Per usual, Noss begins by peeling an apple, which works well enough to peel in small pieces. The slicing tests fares similarly, and Noss acknowledges that holding the blade at a particular angle impacts the ease of slicing.
Rather than testing the sharpness with 10,000 lb. webbing, he instead slices through rope, and the knife performs well. A 2×4 test comes next, and Noss comments on the smoothness of the handle. The tip of the blade, understandably, snaps off after several poundings into sheet metal. The wood notch test follows, and an entire 20 minutes is dedicated to Noss pounding notches into a plank of wood using a mallet. After these tests, the blade edge begins to show wear, and hitting the edge against a concrete block–first without a mallet, and then with to aid in deeper cuts–continues to erode the edge.
However, Noss acknowledges that the damage is fairly minimal as a result of this test, but it's not unavoidable. It takes about 20 minutes to cut the concrete block in half, and the knife "holds up pretty well" so far–there's no looseness or warping of the blade. After just a few hits of the mallet on the blade point-down on a flat concrete block, the block is split in two.
A bending test snaps off about an inch off the top of the blade, and after withstanding an initial body weight test, Noss subjects it to another. But it holds up, and Noss tests the remaining blade sharpness by cutting through steel flat stock. A final hit to the handle with a mallet snaps the rest of the blade off the handle. Ultimately, the knife maintained an edge despite the tests.
Check out the 8-part test below. To view the next video, click on "Playlist" at the top left corner of the video.
SHOP NOW