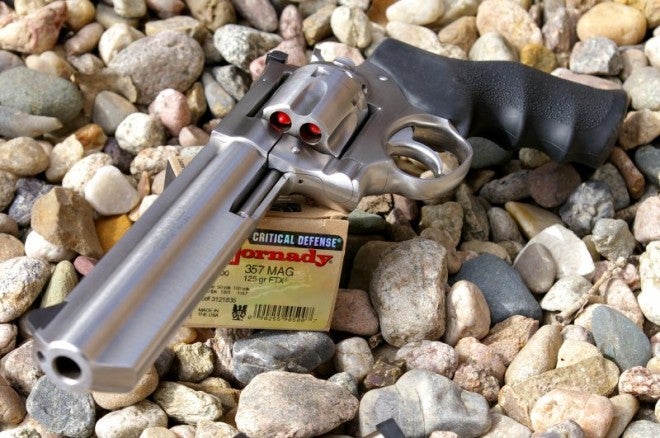 Sometimes when you are used to something short, 6" seems like a lot. In fact, 6" seems huge in the land of 3" barrel pistols, and with the Ruger GP-100, you can add heavy and thick to the list as well. Get your mind out of the gutter — we are talking about one of the most saluted and upright revolvers on the market.
Despite the fact that in the right light and camera angle the 6" barreled Ruger GP-100 makes for some pretty great gun porn, the GP-100 has been the cornerstone of Ruger's double action revolver line since its introduction in 1985. It has spawned the SP-101 and even inspired Ruger's new light weight line. The Ruger GP100 has been featured as a firearm for both villains and heroes in movies such as "Tango and Cash" and on television shows like "CSI:Miami" and "Law and Order."
Part of the popularity of the Ruger GP-100 is the big, beefy, bomb-proof design that handloaders depend on to test high pressure rounds; plus it also looks bad-ass. Beyond its "super size me" look, it is also among the most accurate factory .357 revolvers made and has stood the test of time from a design, function, and accuracy perspective. Although I already own one 4" .357 GP-100 model, I have lusted after the giant 6" barreled model for years and I was ecstatic to finally find one.
Fit, Finish, Feel, and Features
All those glowing accolades, I will say the current production brushed stainless steel model is not as well finished as my limited edition gloss high polish 4" version. The fully polished version had all the little corners knocked off and it felt like you were holding polished glass, whereas the current production version has a few sharp edges here and there. The beauty of a brushed stainless steel gun is that you can just use a little sandpaper to knock off any sharp edges and the gun finish looks perfect. I do wish Ruger would bring back the glossy mirror polish, as I think it adds to the glorious look of the revolver.
The features of the Ruger GP-100 are not expensive, but they're very well thought out. The GP-100 features a transfer bar safety to minimize accidental discharge from drop impact or as you are decocking the revolver. The cylinder locks up at three points for what is arguably the most robust and highest strength action on the market. The sights are excellent and fully adjustable. They are probably the most easily replaceable sights on any pistol or revolver on the market, with the largest varieties of aftermarket accessory sights in the market 2nd only to Glock.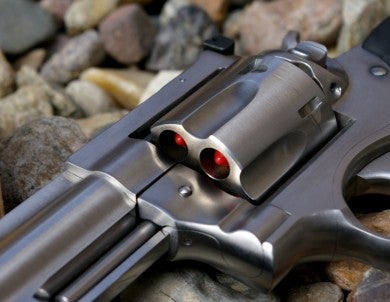 The gun features a Hogue rubber grip that takes the sting out of the heaviest .357 rounds and delivers a delightful grip when shooting the soft shooting .38 Special rounds for target practice, small game hunting, and plinking.
Functions and Accuracy
Where the 4" barrel GP-100 is the epitome of common sense and practicality for home and camp defense, hunting, and perhaps even open carry, the 6" is about as impractical as it comes for typical defensive tasks. Sure, whipping out an impressively long 11.5" piece of .357 caliber stainless steel would certainly do the job from a defensive perspective with a bit of added intimidation, but it is not going to be the fastest on the target or the easiest to carry at a whopping 2.8lbs.
Hunters love to scope the long barreled Ruger GP-100 and its big brother, the .44 Magnum Super Redhawk, to deliver very precisely placed hot loaded shots on everything from varmints and small game to deer. From my perspective, the extra 2" on the 6" barreled GP-100 does up the muzzle velocity a bit and provide for a longer sighting radius, but I will admit that I love big guns simply because I feel like a bad ass when I shoot them.
The other reason I am in love with this nearly 3lb gun is that I can shoot this gun all day long with .357 magnum rounds without it killing my hands or jarring loose the two steel plates and screws in my right arm. The weight and length of this revolver make it a blast even for the new shooters.
From a safety perspective, this is a great centerfire pistol to start and train shooters with simply because you can more easily control and track the muzzle as a trainer than with a short barreled semi-auto pistol. Heck, in many cases my gloved hand has grabbed the barrel to avoid a newbie from muzzle sweeping another shooter. Everyone loves this giant gun and I think everyone needs at least one absurdly huge gun in their safe.
From an accuracy perspective, the 6" barreled Ruger GP-100 is, drumroll, more accurate than my 4″ barreled model. The main noticeable differences to the shooter are the extra weight and longer sight radius, which make the revolver more precise and more stable to shoot.
My 4" model can hold a 2" 18-round group shot offhand at 15 yards with my standard 158gr reloads, but the 6" barreled model delivers about 1.5" groups at the same distance. Do I think the barrel delivers more accuracy? No, but I do think the extra barrel length, weight, and sight radius allow the shooter to deliver more accurate shots.
Off the sandbags, I can hammer golf balls all day long at the 50-yard line with my 158gr cast semi-wadcutter loads, but with great factory loaded ammo like the Hornady Critical Defense 125gr FTX, the GP-100 delivers consistent 1" groups at 50 yards off the sandbags.
Many of my friends consider it funnier than a hooker at a nun convention that I have a ClipDraw attached to this beast, but stunningly it is one of the best ways I have found to carry this oversized gun. With the right loose pants, I can actually carry this gun concealed, although it is a bit heavy.
Final Thoughts
Even if you find both your mind and body in the gutter, this all stainless steel beast will take the abuse and punishment, shake it off, and ask for more, because it's built for generational legacy levels of use and abuse. 1,000 years form now they will be digging up stainless steel GP-100s, cleaning them up, and shooting historic recreated .357 Magnum rounds through them, and will be stunned that their fission reactor bio-powder will still be no match for the Ruger GP-100. Whether you choose this huge 6" barreled model or the more practical 4" model, the GP-100 remains one of my recommended must-have guns.
Specs
Mod. #: 1707
Material: Stainless Steel
Finish: Satin
Front Sight: Ramp
Rear Sight: Adjustable
Barrel Length: 6.00″
Overall Length: 11.50″
Weight: 45.00 oz.
MSRP: $759.00